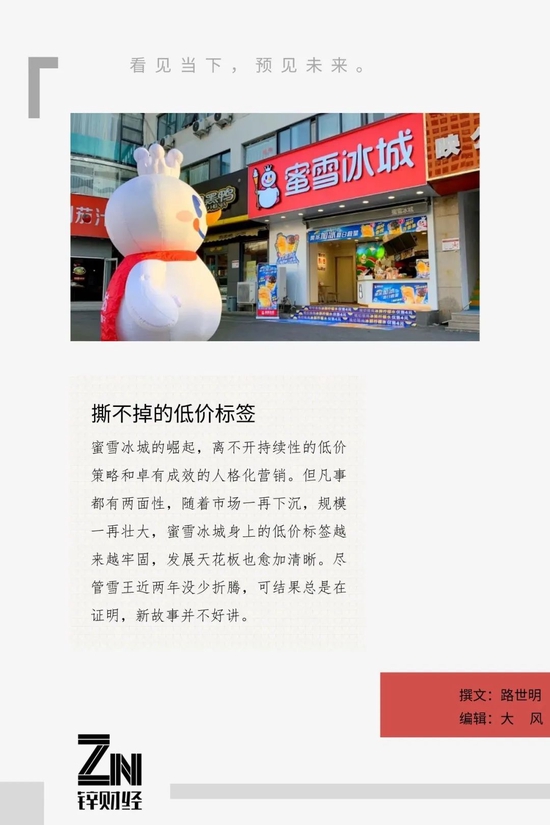 Welcome to the WeChat subscription number of "Sina Technology": techsina
Source: Zinc Finance
On September 9, the official website of the China Securities Regulatory Commission disclosed the "Report on the Initial Public Offering and Listing Guidance of Michelle Bingcheng Co., Ltd." by GF Securities. According to the report, as of August 30, Michelle Bingcheng's investment projects with raised funds have completed scheme design, filing, and environmental impact assessment.
As the "one tyrant" in the tea industry, Mixue Bingcheng, which has caught up with the market, has achieved a brand strategy of small profits but quick turnover and a sinking market. In just four or five years, the number of stores nationwide has exceeded 20,000. The "feat" of the home. On the basis of the super-large scale, the magical out-of-the-circle marketing has made its brand voice soar.
The growth rate of Michelle Ice City is regarded as a leader in the entire catering industry. However, in the face of an increasingly saturated tea market and management capabilities that do not match the scale, the "sequelae" of its high-speed rail speed has gradually emerged.
On the one hand, the profit of franchise stores continued to decline, resulting in a significant slowdown in the growth rate of Michelle Bingcheng stores; on the other hand, the lack of management experience led to frequent food safety problems. Coupled with the fierce market competition and high marketing expenses, Michelle Bingcheng, looking at the ceiling, had to find a new development path.
High-end tea, low-cost coffee, live streaming, opening stores overseas, setting up investment… In the past two years, Michelle Bingcheng has continued to expand its business territory, trying to find a second growth curve in many fields. The diversified development path is worthy of recognition, but judging from the results, Michelle Bingcheng has not told any new stories so far.
Dominate the sinking market
Focusing on the development history of Mixue Bingcheng, the low-cost brand positioning is definitely the core driving force.
In 2006, Michelle Bingcheng stood out among the same type of restaurants in Zhengzhou with its ice cream priced at 1 yuan. In 2022, Michelle Bingcheng has become a "milk tea savior for boys and girls in slums" with the help of ice cream for 3 yuan, lemonade for 4 yuan, and pearl milk tea for 6 yuan.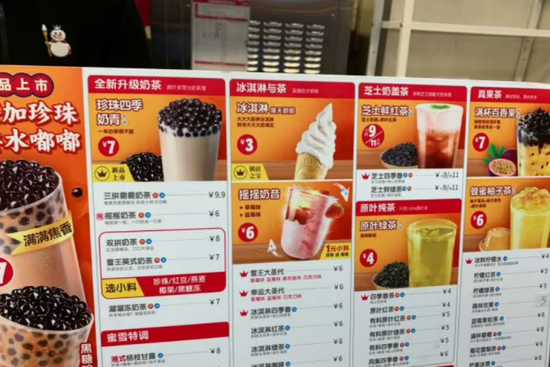 Low price means low material cost. Can high quality and low price really be both at the same time? The answer is yes. In the early stage of development, Michelle Bingcheng established its own raw material processing factory, mainly producing ice cream powder and crisp cones. Since then, it has continued to build a complete supply chain system to continuously reduce costs while ensuring product quality.
For more than ten years, Michelle Bingcheng's eyes have never left the sinking market. The low enough unit price per customer greatly meets the needs of the sinking market, and also allows Michelle Ice City to quickly gain market favor and embark on the development path of "encircling the city from the countryside".
According to public information, in 2014, there were only 1,000 Michelle Bingcheng stores. By June 24, 2020, Michelle Bingcheng officially announced that the 10,000th store was officially opened in Xinxiang, Henan. It has doubled tenfold in six years, and it is difficult to find a second restaurant in the entire catering industry at such an expansion rate.
But Michelle Ice City is not satisfied with this, and its story continues.
In January 2021, after completing the first round of financing of 2 billion yuan, the valuation of Michelle Bingcheng reached 20 billion yuan. Larger financing and valuation can increase the brand's voice to a certain extent, but for the scale of Michelle Ice City, this is obviously not enough.
In June of the same year, the official account of Michelle Bingcheng uploaded the theme song MV "You Love Me, I Love You, Michelle Bingcheng Sweet Honey" on station B, and then uploaded the Chinese and English bilingual version, with magical melody and simplicity. The lyrics made this theme song quickly popular all over the Internet.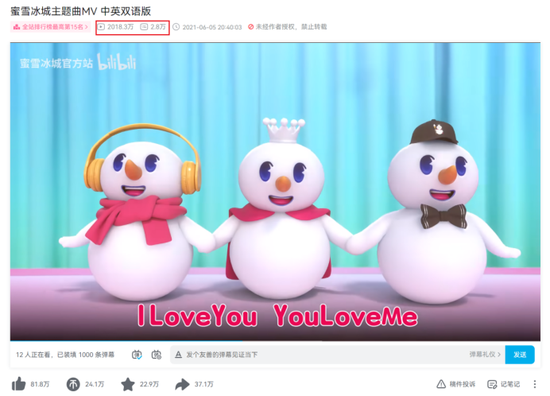 Source: Michelle Bingcheng official station B
The main point of marketing is to create hot spots, especially for young consumer groups. The theme song of Michelle Bingcheng is as simple and popular as its brand image. More importantly, netizens have re-created this theme song. The English, Russian, Japanese, Thai and other language versions have brought a huge wave of traffic to Michelle Ice City.
So in just a few days, Michelle Bingcheng has become a "well-known" tea brand, there are long queues in stores, and takeaway orders have been softly received. This is not over yet. In August 2021, Michelle Ice City relied on donating 22 million yuan during the flood disaster in Henan, ushering in a wave of wild consumption.
With these two successful marketing blessings and a series of preferential policies for joining, 2021 has become a year of crazy leaps for Michelle Ice City.
On August 29, Meituan Gourmet and Kamen released the "2022 Tea Beverage Development Report". The report shows that Michelle Bingcheng has maintained the number one growth in the number of stores in the past three years. In addition, according to the big data of Red Food, the number of stores in Michelle Ice City has reached more than 22,000.
As the first brand in the new tea industry with more than 10,000 stores, Michelle Bingcheng's growth rate is astonishing. But with the changes in the market, the overlord of the sinking market is also plagued by the sequelae of the high-speed rail speed.
sequelae of rapid expansion
After the theme song exploded, Michelle Ice City attracted interested franchisees from all over the country. According to media reports, the relevant staff responsible for the interviews of franchisees revealed that there are hundreds of interviews every day, but the pass rate of the initial test is only less than 10%.
Franchisees flock here because they "make money." But the market is always changing so fast. As the track becomes more crowded and its stores become more and more dense, this year, many Michelle Ice City franchisees shouted through the media that they are "not making money".
According to Michelle Bingcheng's current franchise plan, the franchise fee for stores in first-tier cities is 11,000 yuan. Including the costs of decoration, rent, first-phase equipment and raw material procurement, the cost of opening a new store is about 300,000 yuan.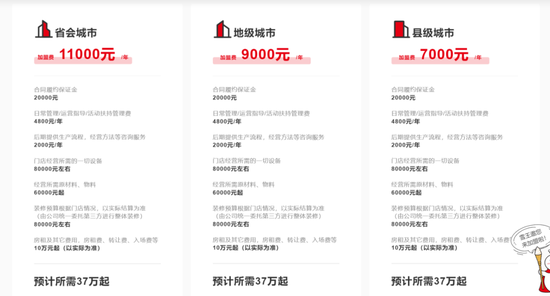 Source: Michelle Bingcheng official website
According to the daily sales of 600 cups, the gross profit of 50%, and the unit price of 8 yuan, the daily profit is about 2,500 yuan. Excluding the salary of about 1,000 yuan for the five employees, as well as the cost of rent, utilities, materials, etc., the profit is about a few hundred yuan, and it will take about two years to recover the cost.
It should be noted that this is the result under normal circumstances. If the cost of all aspects is not controlled enough, it is easy to cause losses.
For example, for takeaway orders, the platform will not only conduct commissions, but also require franchisees to pay additional fees for "top ranking" and "event promotions". Another example is that there are many franchisees who complain and are often fined by the regional manager. The company has various excuses every year for franchisees to buy materials. If the sales are not good, they can only smash them in their own hands.
The fact that franchisees do not make money does not mean that Michelle Ice City cannot make money. Michelle Ice City can control prices at a low level, relying on the complete supply chain system to reduce costs.
The huge store volume serves as the foundation of the whole chain, and Michelle Bingcheng has built a complete supply chain from R&D, production to warehousing and logistics. It can be found from the official website of Michelle Bingcheng that the brand of Michelle Bingcheng is operated collaboratively by three companies.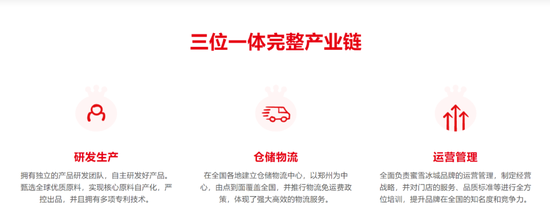 Source: Michelle Bingcheng official website
Among them, Zhengzhou Cross-Strait Enterprise Management Co., Ltd. is responsible for management and operation, Henan Dajia Food Co., Ltd. is responsible for R&D and production, and Zhengzhou Baodao Trading Co., Ltd. is responsible for warehousing and logistics. This means that as long as the franchise stores continue to expand, Michelle Bingcheng can continue to sell raw materials to the franchise stores and achieve stable revenue growth.
It's just that franchisees don't make any money, so what's the point of store expansion? Therefore, after entering 2022, although the growth rate of Michelle Bingcheng stores is still second to none, it has slowed down significantly compared to before.
What's more troublesome is that due to the low price, the profit margin is further compressed, and the system management level cannot keep up with the speed of opening stores, which makes Michelle Bingcheng lose its ability to control the supply chain, franchisees and other parties, resulting in food products. Security concerns become "the norm."
Taking a recent hot search as an example, a Michelle Bingcheng beverage store in Qiqihar City was fined 10,000 yuan by the local market supervision and administration bureau for violating food safety regulations. The illegal facts show that consumers bought drinks in the store, and two glasses of chilled lemonade were found to have worm-like foreign bodies.
In addition, on the Black Cat Complaint Platform, there were more than 4,080 complaints related to "Misue Bingcheng". Complaints mainly focus on "foreign objects in beverages", "difficulty in refunding after refunding orders", and "poor service quality".
New stories are not easy to tell
According to the "2021 New Tea Drinks Research Report", my country's new tea drink market is expected to grow by about 20% by 2023.
The ceiling is approaching, and some mid-to-high-end tea brands have to pay attention to the sinking market, develop low-priced products, and deploy in third- and fourth-tier cities.
At the same time, affordable brands represented by "Books and Burning Immortal Grass" are also reducing the investment in a single store and further grabbing the few remaining market shares. Under the combined force of the two, Michelle Ice City's sinking market advantage has been impacted.
In the face of more intense competition, Michelle Bingcheng has to expand its business territory and seek a new growth curve. But new stories are never easy to tell.
In 2018, Michelle Bingcheng launched a high-end tea brand M+, which featured freshly brewed tea and special blended milk and other beverages. The price was as high as 20 yuan. However, due to the lack of bright spots in the product and the fact that the main brand does not overlap with the target users of M+, almost no one cares.
The low price has become a label that is difficult to tear off at Michelle Ice City, and raising the price is not just as simple as changing the price of the product. If the high-end can't work, then copy another Mixue Ice City. In 2020, Michelle Bingcheng upgraded and re-launched "Lucky Coffee".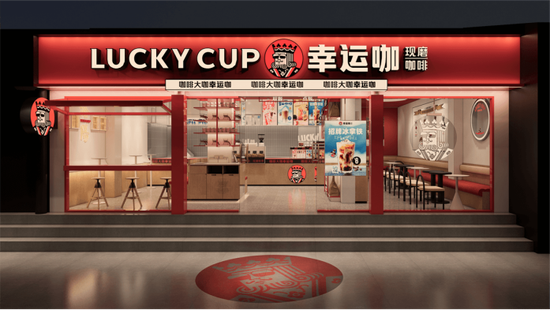 Source: Lucky Cafe official website
The pricing of 5 yuan American and 6 yuan latte continues Michelle Bingcheng's affordable and cost-effective play on milk tea. However, as of January 2022, there are only 500 Lucky Cafe stores, which is far from being able to shoulder the heavy responsibility of the second growth force of Michelle Ice City.
As the competition for new tea drinks enters the second half, turning its attention to overseas markets is also one of the new stories of tea drink brands. Since opening its first store in Vietnam in 2018, Michelle Bingcheng has entered Indonesia, Singapore, the Philippines, South Korea, Australia, Malaysia and other countries, with around 1,000 stores.
In overseas markets, Michelle Ice City still maintains a strategy of small profits but quick turnover. However, according to public information, most of its overseas stores are located in prosperous areas with expensive local rents.
Although the Southeast Asian tea drink market already has a certain consumer population and market foundation, the current initiative to upgrade is weak, and there is still a gap in development stage and concept with the new domestic tea drink hot.
How effective the Michelle Bingcheng model of burning money for expansion will be in the face of localization problems is currently unknown. But Michelle Bingcheng is not the first tea brand to go overseas.
As early as 2014, Wuyin Liangpin took the lead in opening its first store in the Philippines. In December of the same year, "Nayuki's Tea" also opened a store in Singapore. However, the performance of these brands in overseas markets does not seem to be ideal.
For example, the Taiwanese brand Combay once set a goal of opening 100 stores in Japan within three years, but it left the market after only one year. Another example is Nai Xue's first tea store in Japan, which was closed after only one year.
In addition to drinks, Michelle Ice City has also played e-commerce. Starting from 2021, Michelle Bingcheng has started to cultivate its own anchors. Based on the Snow King IP, it has created three retail product lines, including flower and fruit tea, snacks, cups, and blind boxes derived from the "Snow King" IP. Badges and other cultural and creative peripherals.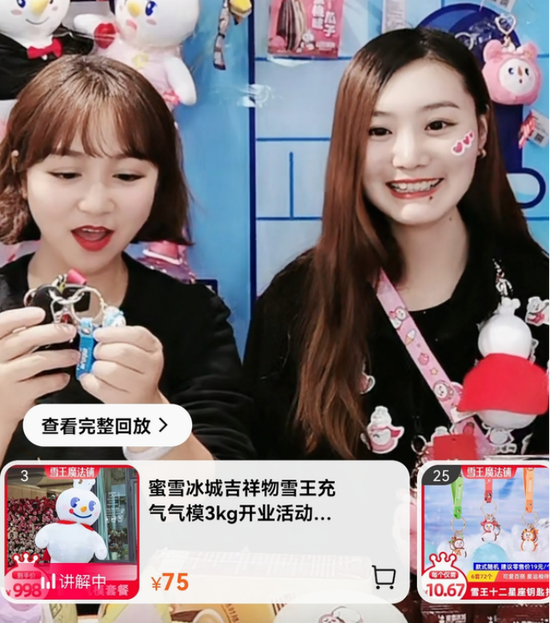 Source: Michelle Bingcheng Douyin Live Room
At the same time, Michelle Bingcheng also has layouts in various fields such as convenience store retail, craft beer, and venture capital.
The close action shows that Michelle Ice City is worried about its future development. Whether it can find a new growth curve is still a question mark.
According to the listing process of domestic companies, after completing the listing counseling, Michelle Ice City is about to enter the application stage. If Mi Xue Bingcheng is successfully listed, it is expected to become the "second share of new tea drinks" in China after Nai Xue's tea. Then the injection of funds in the secondary market may bring new opportunities to Michelle Ice City.


(Disclaimer: This article only represents the author's point of view and does not represent the position of Sina.com.)

This article is reproduced from: http://finance.sina.com.cn/tech/csj/2022-09-15/doc-imqmmtha7460655.shtml
This site is for inclusion only, and the copyright belongs to the original author.