Our daily intelligent life is being changed by the Arm instruction set.
A long time ago, Arm was mainly used in mobile phones and tablets. Since 2005, nearly 98% of the more than 100 million mobile phone sales per year have used Arm processor chips. Then, Arm's advantages of low power consumption and high performance became prominent, and it entered the fields of PC and data center.
Looking at the past few years, Arm has crossed the chasm, entered a turning point, and ushered in a new beginning. On this occasion, Arm updated the Neoverse roadmap and launched the Neoverse V2 platform (codenamed "Demeter"), which Nvidia will be the first to adopt.
Behind the milestone achievement
This year has been a landmark year for Arm, with several achievements.
For one, Arm has been used in every major public cloud. Globally, technology giants including AWS, Microsoft, Google, Alibaba, Oracle and other technology giants use the Arm instruction set. This means that Arm Neoverse is now available to every developer around the world.
Second, Arm is ubiquitous in the 5G RAN field. At the Mobile World Congress (MWC), Dell and Marvell announced a strong alliance. Qualcomm has also reached cooperation with Rakuten and HPE. Together with Nokia, Lenovo, Samsung and other companies, many more exciting projects are in the pipeline.
Third, DPUs developed based on the Arm architecture have begun to support cloud workloads. DPUs are extremely power efficient, while also processing network packets at extremely high bit rates, encrypting NVMe SDD traffic at gigabytes per second, and strengthening security between customers' workloads and the rest of the data center boundary. Arm provides powerful and extremely efficient cores, and chip suppliers can customize all efficient DPUs around Arm's CPU cores.
Fourth, NVIDIA has released Grace for AI and high-performance computing (HPC), which is based on Arm Neoverse's dedicated data center CPU, which provides the highest performance, twice the memory bandwidth and energy efficiency of today's leading server chips. Built for maximum performance, the Grace CPU super chip can hold 144 Arm cores in a single socket, achieving an industry-leading 740 points in simulated performance on the SPECrate® 2017_int_base benchmark.
All the above cases are related to Arm Neoverse, which is Arm's solution specially designed for data centers.

From SSDs to HDDs, from DPUs to video accelerators, today's infrastructure trends are toward customization, server CPUs or the last standard products. Arm Neoverse is uniquely positioned to lead the development of global computing infrastructure.
"Single-chip performance and single-thread performance are two key metrics for cloud decision makers," said Dermot O'Driscoll, vice president of product solutions for Arm's Infrastructure Group.
Dermot O'Driscoll said the single-threaded performance made it known whether workloads with the most "scaling" requirements and high performance demands could migrate to Arm. At the same time, high single-chip performance makes it possible to maximize the value of the investment with a large number of "scale-out" workloads running on the platform. Very large internet companies care a lot about TCO or TCO spending, but they are more concerned about the performance that TCO spending can bring, which is the key to profitability.
Hardware alone is not enough, the software ecosystem is also very important. Arm has been working hard to implement and optimize full-stack solutions over the years, from architecture and IP to technology libraries, runtimes and compilers, Arm has enabled the entire infrastructure software to extract maximum performance.
Arm Neoverse is a double repair of soft and hard, and has strong advantages in both aspects. A comparison example of Graviton2 and Intel Xeon from AWS shows that the performance of MongoDB is 117% better than that of its friends. Achieving this level of performance advantage requires both CPU architecture and software support. At the CPU architecture level, large virtualized workloads (LSEs), applications running on servers, were introduced with Armv8.1 to provide better performance. MongoDB also takes advantage of the OpenJDK runtime, so in OpenJDK it is necessary to ensure that LSE is recognized, enabled and optimized.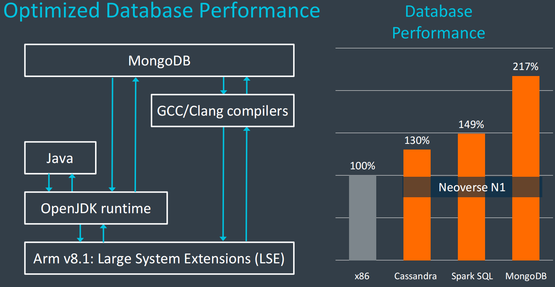 Arm Neoverse surpasses x86 in some ways, but it wants to do better.
After hitting multiple firsts
Two years ago, Arm divided Neoverse into V, N and E series based on the principles of power consumption, performance and area (PPA). Both power consumption and area are emphasized, and the parallel capability is powerful. The V series focuses on maximum performance and optimal TCO, and the core is larger.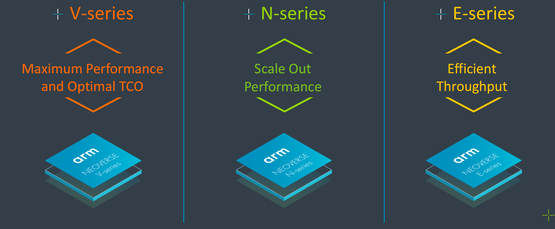 Since the introduction of Arm Neoverse, a large number of solutions based on such computing foundations have been launched. There is no doubt that Arm's unique business model, world-class engineering team, and diverse partner ecosystem have put Arm in a position to lead the development of next-generation infrastructure. Chris Bergey, Senior Vice President and General Manager of the Infrastructure Group at Arm, said:
"We believe that the core combination of V, N and E series, enabled by leading system IP, will cover more markets and be more efficient than our competitors. We are on par in terms of breakthrough performance or efficiency. Another The key principle is technological leadership."
It is worth mentioning that Arm Neoverse has set a number of industry firsts. Including, the first CPU with more than 1TB per second total memory bandwidth (Fujitsu A64FX), the first CPU with more than 100 cores on a single die (Ampere Altra Max), the first to integrate DDR5 and PCIe Gen5.0 The CPU introduced to the market (AWS Graviton3), the first CPU to break the 500 integer benchmark in the SPEC CPU 2017 benchmark (Ali's Yitian 710).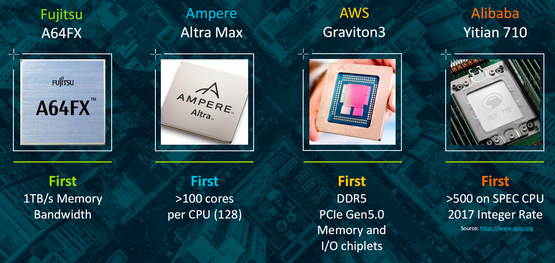 At the same time, these firsts create more powerful performance than traditional computing.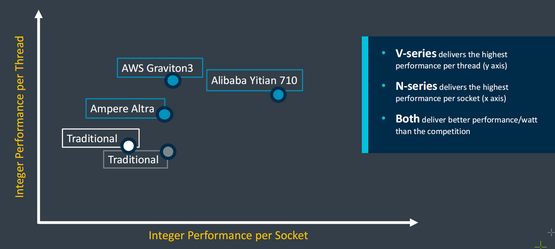 Infrastructure is ubiquitous, and it needs to be redefined, and it will be transformed in the future. One of the most worthy of study behind this is power consumption. The electricity expenditure of large Internet companies accounts for 30% to 40% of the total cost of ownership (TCO), which is only slightly behind the telecom network operators. Data rates are growing too fast. Computing workloads are growing rapidly and becoming more complex. ML and AI are playing a replacing role.
The high-performance, energy-efficient Arm Neoverse will be the key to infrastructure, and the dedicated processing and workload acceleration capabilities provided by the Arm ecosystem are the keys to transforming the future of infrastructure.
"To mark this fresh start, we're bringing an update to the Arm Neoverse roadmap today," said Chris Bergey.
The Arm update roadmap also includes the V, N and E series.
For the V-Series, Arm launched the Neoverse V2 platform (codenamed "Demeter"), which is equipped with the latest V-Series core and the industry's widely deployed Arm CMN-700 mesh interconnect technology. Neoverse V2 will deliver market-leading integer performance for cloud and HPC workloads and introduce several Armv9 architecture security enhancements.
At present, a number of partners have been designing on the basis of Neoverse V2. Among them, NVIDIA is using Neoverse V2 as the computing basis for its Grace data center CPU. Grace will combine the energy efficiency of Neoverse V2 with the energy efficiency of LPDDR5X memory to deliver twice the performance per watt of servers with traditional architectures.
In terms of E series, Neoverse E series CPUs are widely used in data plane processing, 5G RAN, edge networks and accelerators. To support this diversity, Arm has introduced the Neoverse E2 platform, which combines the Arm Cortex-A510 CPU with the scalable Neoverse CMN-700 and N2 system backplane, so that relatively constrained applications can take advantage of applications such as Expanded core count range, Arm System Ready compatibility, and cloud technologies such as PCIe, CXL, IO, and interfaces.
On the N-series side, as part of Arm's continued commitment to efficient performance and efficient throughput, a new generation of N-series products is under development and will be launched in 2023. The new generation of N-series CPUs will deliver generational improvements in performance and efficiency compared to the market-leading efficiency of the N2.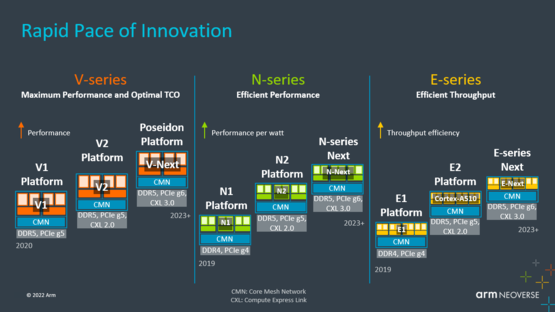 Summarize
The infrastructure market is being redefined, centered on Arm's high-performance, scalable efficiency computing, enhanced by its partners' specialized processing. Building on the principles of the Arm Neoverse Platform Roadmap, Arm will provide a new starting point for the global computing infrastructure, including scalable efficiency, technology leadership, a rapid pace of innovation and strong support from a unique developer community.
Text/Fu Bin
This article is reproduced from: http://www.guokr.com/article/462256/
This site is for inclusion only, and the copyright belongs to the original author.