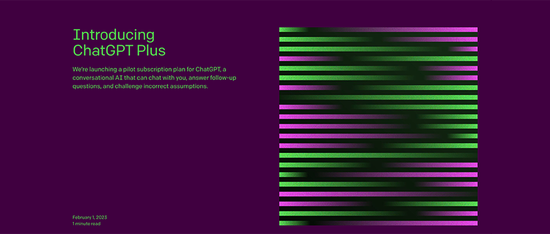 Fastest ever! The number of monthly active users exceeded 100 million in two months. Major mainstream search engines are about to enter the "ChatGPT era".
Author | ZeR0
Editing | Desert Shadow
Zhishi reported on February 2 that today, the American artificial intelligence (AI) company OpenAI released the ChatGPT pilot subscription plan – ChatGPT Plus. ChatGPT Plus will be available at a price of $20 per month, and subscribers can get a more stable and faster service than the free version, as well as the priority to try new features and optimizations.
ChatGPT is a conversational AI, fine-tuned by OpenAI's large model GPT-3.5. Because of its efficient question-and-answer ability and the ability to write multiple types of text, it has become popular since its launch at the end of November 2022. It is currently the most concerned in the AI ​​field. product.
According to a research report released by the Swiss multinational investment bank UBS (UBS) on Wednesday, ChatGPT has an estimated 100 million monthly active users in January this year, making it the fastest-growing consumer app in history. Citing data from data analytics firm Similarweb, the report said that an average of more than 13 million unique visitors per day used ChatGPT in January, more than double the figure in December.
By comparison, it took TikTok about nine months and Instagram two and a half years to reach 100 million monthly active users.
In just two months, the number of users of ChatGPT continued to skyrocket, giving its company OpenAI a first-mover advantage in the development and commercialization of this new chatbot. The ever-increasing usage, while adding huge computational costs, also provides a valuable amount of feedback, which will accelerate the improvement and optimization of ChatGPT.
OpenAI's largest investor, Microsoft, has also begun to use ChatGPT's technology to improve product competitiveness. After announcing an additional multi-billion-dollar investment in OpenAI last month, Microsoft has just announced the launch of Microsoft Teams Premium, an advanced paid version of its video conferencing and remote collaboration platform. Subscribers can enjoy the large language model technology supported by OpenAI GPT-3.5, Automatically generate meeting notes with AI.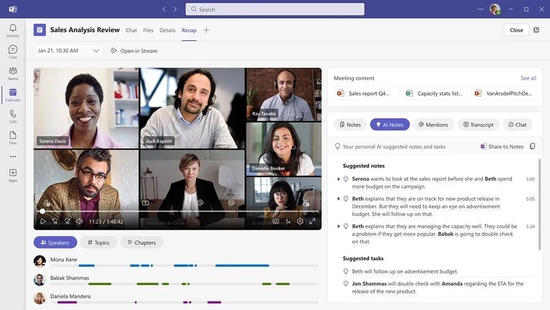 ▲The intelligent summary function will quickly generate the most important information of the meeting
According to previous foreign media reports, Microsoft is preparing to integrate a faster and stronger version of ChatGPT (based on GPT-4) into Microsoft Bing, the world's second largest search engine, in the next few weeks, which will challenge Google's dominance in the search field. .
Google executives clearly felt the threat from ChatGPT. Google co-founders Larry Page and Sergey Brin, who no longer manage Google's daily work since 2019, also re-participated in strategy formulation because of this urgent situation, and had several meetings with company executives last month. meeting to discuss the response to this new type of chatbot. According to foreign media reports, they support the plan to introduce more chatbot functions into the Google search engine.
Chinese search engine giant Baidu is also rumored to be planning to launch an AI chatbot similar to ChatGPT in March this year, and the initial version will be embedded in its search service.
Generative AI seems to be a major trend in the AI ​​industry in 2023. In addition to AI such as ChatGPT, which mainly generates text, AI-generated images and AI-generated videos are also becoming the focus of competition among technology giants and rookies. In the just-concluded Meta earnings conference call, Meta CEO Zuckerberg talked about "generative AI" more than "metaverse", and said that one of Meta's goals is to "become the leader of generative AI." ".
ChatGPT Plus is open to customers in the United States. OpenAI will begin inviting users from its waitlist in the coming weeks, with plans to expand the service to more countries and regions soon. At the same time, OpenAI will continue to support free access to ChatGPT for non-paying users.
OpenAI wrote in a blog post that ChatGPT was initially launched as a research preview so that it could learn more about the strengths and weaknesses of the system and collect user feedback to help improve its limitations. Since then, OpenAI has received feedback from millions of people, has made several important updates, and has seen users find value in a range of professional use cases, including drafting and editing content, brainstorming ideas, programming assistance and Learn new topics.
Last month, OpenAI released the professional version of ChatGPT Pro for $42 per month. At that time, a large number of users who were willing to "krypton gold" lined up to try it out. With the launch of a lower-priced, faster-response subscription version, ChatGPT is expected to inspire greater user enthusiasm.
In the future, OpenAI plans to continue to improve and expand this service based on user feedback and needs, and is actively exploring options for low-cost plans, business plans, and data packages to improve usability.


(Disclaimer: This article only represents the author's point of view, not the position of Sina.com.)

This article is reproduced from: https://finance.sina.com.cn/tech/csj/2023-02-02/doc-imyehtzq6668050.shtml
This site is only for collection, and the copyright belongs to the original author.