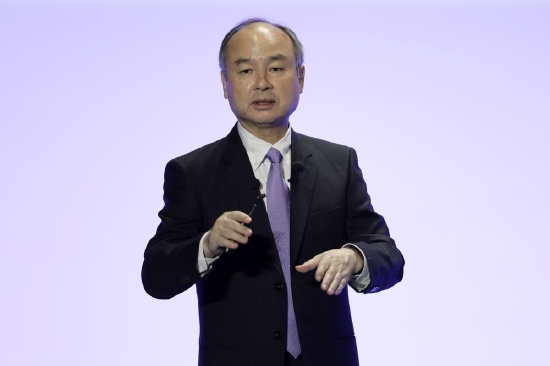 Sina Technology News Beijing time on the morning of January 26th, according to reports, as market valuations continued to decline, SoftBank's latest venture capital investment in the last quarter hit a record low, making the winter of entrepreneurship even worse.
SoftBank is the world's largest technology investment institution. It has invested in more than 90 startups in a single quarter and participated in financing worth US$30 billion. But the data shows that in the three months to December, the company participated in only eight investments, corresponding to a total financing of $2.1 billion. This is the first time since SoftBank launched the Vision Fund that the number of investments in a single quarter has dropped to single digits.
The Vision Fund actually invested less than $350 million in startups in the just-ended quarter, people familiar with the matter said. In the past five and a half years, the total investment of the Vision Fund has exceeded 144 billion US dollars, with an average of more than 6 billion US dollars per quarter.
Coincidentally, big-name venture capital institutions such as Tiger Global Fund, Sequoia Capital, and Kotu Capital have all tightened their pockets after suffering a sharp retracement in 2022. The multibillion-dollar rounds that have become commonplace in recent years have become a rare species as deep-pocketed investors have pulled out as valuations for technology companies have plummeted, reducing opportunities for lucrative exits.
"As all players slow down, we will see less and less unicorn news. But I think that after the past 3 years of carnival, this will be a healthy recovery period." Coral Capital CEO James Said James Riney. Global venture capital funding fell 37% last year to $527 billion, according to Preqin.
The Softbank Vision Fund once changed the entire venture capital ecosystem. They have provided billions of dollars in funding for hundreds of startups, forcing other investors to follow suit. By flooding private markets with low-interest money, SoftBank and its rivals have helped startups seek growth without the pitfalls of public markets. Early investors can wait for other investors to take over at a later stage, obtaining lucrative exit opportunities, driving up valuations in this opaque investment field.
But these big bet start-ups have faltered, dashing hopes of instant riches through massive IPOs. In fact, SoftBank's performance has been lagging behind other venture capital firms recently, and one of the Vision Funds is even insolvent.
Even after a year of shrinking valuations, investors are still worried about the magnitude of future drawdowns, and the uncertainty is hurting startups' ability to raise new funding, forcing startups of all sizes to slash costs . A recent survey of 450 early-stage startup founders in the U.S. and Europe found that about 80% did not have enough capital to last another year, and later-stage startups were forced to slash valuations significantly.
That means there could be a lot of startup M&A deals this year, as investors under pressure to exit pressure entrepreneurs to sell companies or shares to established players. Adobe's $20 billion acquisition of Figma is a typical example.
SoftBank invested in the world's most high-profile start-up companies, and suffered huge asset impairments as a result, resulting in a large loss last year. The Vision Fund lost $7.2 billion in the September quarter and posted a record loss of $17 billion in the June quarter.
SoftBank founder Masayoshi Son has pledged to take defensive measures if market weakness persists. But the company is unlikely to turn things around anytime soon. The company's results came under further pressure due to a weaker dollar. In the December quarter of last year, the dollar fell 9% against the yen, after seven consecutive quarters of strength provided some support for SoftBank's performance. Redex Research analyst Kirk Boodry said the Vision Fund unit could post losses again as a weaker dollar offset gains in local currencies.
Instead of continuing to ramp up deals, SoftBank invested 532 billion yen ($4 billion) in stock buybacks, pushing its shares up 15% in the quarter ended Dec. 31. It was also the stock's best quarter in nearly two years.
Budley said that although vision investment is unlikely to recover significantly in the short term, if it can promote the listing of chip design company Arm or complete the asset sale, it can reserve ammunition for the company's investment later this year. SoftBank spent about $32 billion when it acquired Arm.
But Masayoshi Son has to face the still weak IPO market. With a quick recovery unlikely, SoftBank executives said they were ready to tighten investment for a few more months if necessary.
"Our view on the market environment is pessimistic," SoftBank CFO Yoshimitsu Goto said on an earnings call in November last year, "but we have the ability to survive in this environment for a long time. We will also wait patiently." suitable time."
media reports
Sina Technology Sina Technology IT Home
related events
This article is transferred from: https://readhub.cn/topic/8mSMpztsPul
This site is only for collection, and the copyright belongs to the original author.