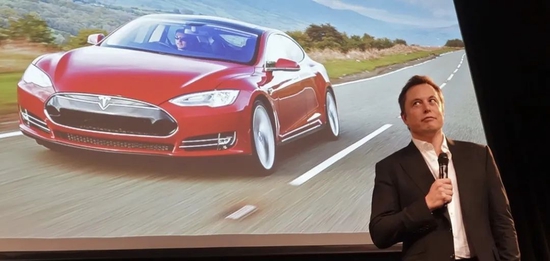 Welcome to the WeChat subscription account of "Sina Technology": techsina
Text/Juny
Source/Silicon Starman (ID: guixingren123)
The closely watched fourth-quarter earnings season kicked off this week. Unlike the tragic battle situation that many people had expected before, so far, the news from the big company level is not bad.
Although Microsoft's financial report yesterday's revenue and profit was lower than expected, and the growth rate further slowed down, the strength of the cloud service and productivity business sectors made Microsoft's stock price still withstand the pressure. Today, Tesla's fourth-quarter financial report was announced. After falling into price cuts and public opinion turmoil, Tesla unexpectedly handed over a surprising report card to the market.
However, a series of lawsuits and challenges surrounding Musk are still coming one after another.
Tesla's revenue and profit hit a new high, with annual deliveries exceeding 1.3 million vehicles
At the end of last year, Tesla launched continuous price reduction promotions around the world. This move made many investors suspect that Tesla's fourth-quarter performance was far from reaching the target. In addition, under the superposition of multiple factors including the market environment and Musk's turmoil, Tesla's stock price has fallen all the way to the lowest point in recent years.
But today, the financial report shows that Tesla's various data are still stable, and its revenue and profit once again hit a new high. Operating income in the fourth quarter was US$24.318 billion, a year-on-year increase of 37%, higher than market expectations of US$24.07 billion; adjusted net profit in the fourth quarter was US$4.106 billion, a year-on-year increase of 43%; net income per share was US$1.19, a year-on-year increase of 40% , not only broke the previous record of $1.07, but also exceeded the market's expectations of $1.12.
In terms of vehicle deliveries, Tesla's vehicle production and deliveries also hit record highs. In the fourth quarter, a total of 439,701 vehicles were produced and 405,278 were delivered, a year-on-year increase of 44% and 31% respectively. This also means that Tesla's annual production and delivery volume in 2022 both exceeded the 1.3 million mark, with annual production increasing by 47% year-on-year and delivery increasing by 40% year-on-year.
Tesla said that in the fourth quarter, the production of factories around the world reached their own quarterly highs, so that the production and delivery volumes in various places tended to be balanced.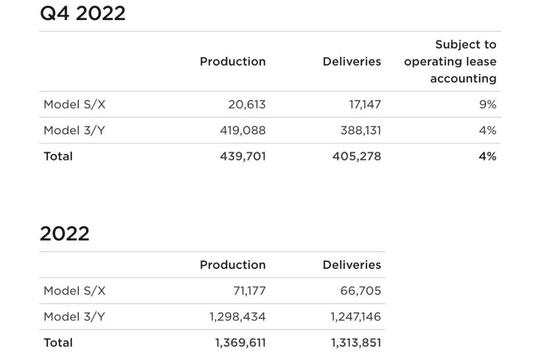 Picture from Tesla official
From the perspective of sub-items, the revenue of the automotive business recorded US$21.307 billion, a year-on-year increase of 33%. The most outstanding one this time is the carbon business, with revenue reaching US$467 million, a 63.3% increase from the third quarter.
But it wasn't all good news for Tesla this quarter. The first is a significant decline in profit margins. The company's overall gross profit margin in the fourth quarter was 23.8%, a decrease of 1.3 percentage points from the third quarter. The gross profit margin of the automotive business fell from 27.9% in the third quarter to 25.9%, which was significantly lower than market expectations.
In addition, free cash flow fell 49% year-on-year to $1.42 billion, far below analyst expectations of $3.13 billion. In the fourth quarter, the negative impact of foreign exchange on Tesla's revenue was US$1.4 billion, and the negative impact on profits was more than US$300 million, which was 20% less than the previous quarter.
But in terms of the outlook for 2023, Musk has been very positive this time. He said January saw Tesla's strongest order growth to date, nearly doubling production rates. In addition, he expects profits from software to accelerate. At the conference call, Tesla also said that the Cybertruck pickup is expected to begin mass production in 2024, and that the company is developing a next-generation vehicle platform and will disclose more details to investors on March 1.
Affected by the positive impact of financial reports and expectations, Tesla's stock price rose more than 5% after hours.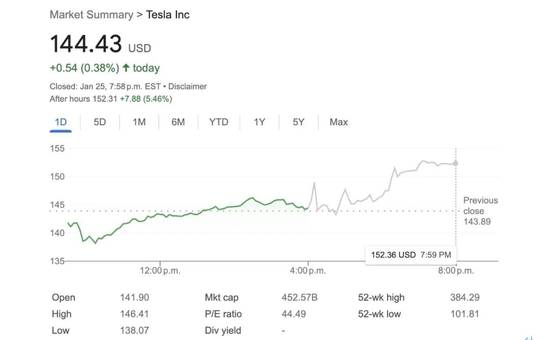 Image via Google
Desperate Musk, deeply involved in Tesla lawsuits and counterfeiting
Although he handed over a good quarterly financial report, Musk currently has far more to worry about than Tesla's performance. Last Friday, a class action lawsuit against Musk accused of securities fraud was officially opened in California, USA. Shock event.
In a recent court hearing, Musk was questioned and revealed more about what happened after the tweet.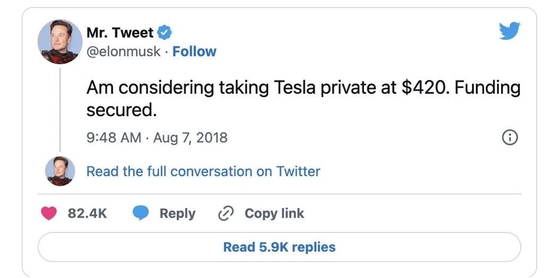 In August 2018, Musk tweeted a tweet about his plan to privatize Tesla at $420 per share, saying that he had received support and confirmation from investors, and the funds had been secured. Just when the market thought that Tesla wanted to be privatized soon, Musk unexpectedly issued an open letter more than a week later expressing his abandonment of privatization. From time to time, Tesla's stock price rose and fell sharply, and a large number of investors suffered huge losses.
After the incident, Musk was forced to resign as Tesla's chairman by the U.S. regulator, the Securities and Exchange Commission, and asked Tesla to set up a separate independent committee to review any tweets related to Musk's Tesla. In addition, he and Tesla were each fined $20 million. Tesla is also suing Musk for alleged securities fraud.
During the trial in the past few days, Musk denied all allegations of fraud, but blamed the Saudi sovereign wealth fund.
He said that a verbal agreement had indeed been reached with Yasser Rumayyan, president of the Saudi sovereign wealth fund "Public Investment Fund", which clearly wanted Tesla to be private and said it could provide tens of billions of dollars. funds. After getting the promise from the Saudis, he was absolutely sure about taking Tesla private before posting that tweet.
Musk added that even without Saudi funds, he had enough money to advance Tesla's privatization, including the sale of SpaceX shares, and various financial support from Oracle and Softbank. Therefore, he was not trying to "fraud" at the time.
Musk believes that his tweets at the time should be heard by the public, especially retail investors, but due to the 240-character limit on Twitter, the transmission of information is limited, but that is also clear to everyone.
In addition, Musk denied in court that the media reported at the time that the privatization offer was set at $420 per share because April 20 was International Cannabis Day. He said that this statement is strongly misleading. The price of 420 US dollars is not a joke, but the price of Tesla shares when he made the offer was 20% premium, which was exactly 420 US dollars.
Although Musk frantically claimed his innocence in the trial, he was obviously vague on some key issues. For example, whether the Saudi side has given a more substantive promise, the specific situation of the meeting between Musk and the Saudi Public Investment Fund, the transaction structure, etc., Musk said "it's been too long, I don't remember", and he also admitted that he was actually The exact amount of the investment has never been discussed with the Saudis. The trial is still going on, and if found guilty, Musk may have to pay billions of dollars for this incident.
In addition to the lawsuit, Musk was also recently accused of participating in Tesla's self-driving video fraud.
Recently, Ashok Elluswamy, director of Tesla's self-driving software, said that a video Tesla used to promote its self-driving technology in 2016 was not really self-driving, but was produced with post-production technology. In the whole process, Musk knew the whole process and personally instructed employees to "falsify".
Tesla employees disclosed that in order to make this video, the company used 3D mapping on the scheduled route, and the driver also intervened during the test. At that time, the Tesla car did not actually stop and accelerate automatically at red lights. and other functions. While trying to get the Model X to park itself without a driver, a test car crashed into a fence in a Tesla parking lot, but Tesla deleted that portion of the video and edited it.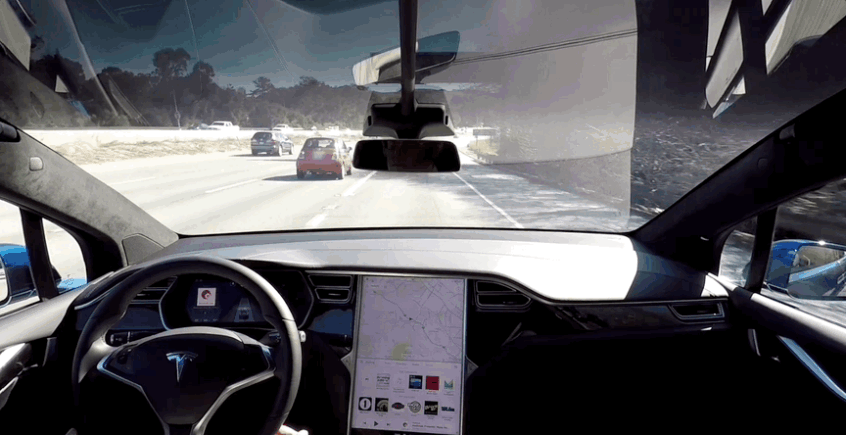 Tesla released this video about self-driving technology in 2016
During the video preparation process, Musk personally wrote an email to the Tesla Autopilot team titled "top priority", telling employees that their top priority is to make an amazing self-driving demonstration video, and made it clear that they can Encode some places in the demo video.
After the video was produced, it was placed on Tesla's official platform, and Musk also forwarded it. Although it was known that Tesla did not have the self-driving capability demonstrated in the video at the time, neither Tesla officials nor Musk made any explanations for the technical editing of the video. At present, the video has been taken down by Tesla overnight. .
Although Tesla's Autopilot has been controversial in the past few years, this is the first time that a Tesla employee has confirmed and detailedly exposed Tesla's self-driving promotional fraud.
200 billion worth evaporated, 100 bodyguards 24 hours personal protection
In the past year, Musk has suffered a Waterloo-style crisis, and various bad things have followed.
After his assets sat on the throne of the world's richest man in early 2021, and after his assets reached a peak of 340 billion U.S. dollars in November of that year, his net assets lost more than 200 billion U.S. dollars in more than a year, setting a personal record. Guinness World Records.
Not only has his wealth shrunk, Musk's personal reputation has also taken a sharp turn for the worse in the series of farces of the acquisition of Twitter, and there are no fewer troubles than Tesla. According to the latest news, SRI Nine Market Square LLC, the landlord of Twitter's San Francisco headquarters, has officially launched a lawsuit against Twitter, claiming that Twitter owed nearly $7 million in rent in December last year and January this year.
The property said Twitter violated the terms of the lease in December by failing to pay nearly $3.4 million in monthly rent, which they recovered from Twitter's security deposit. But in January of this year, the landlord continued to default on the lease and owed rent, and Twitter now owes $3.16 million in rent after drawing the remaining $266,000 in credit. In addition to the San Francisco office, Twitter's office in London was also owed rent.

Picture taken from Fox
In addition, due to the "bloody" layoffs started after Musk took over Twitter, it has also triggered a class action lawsuit initiated by affected employees recently.
Under a series of turmoil from Tesla and Twitter, Musk has also been uneasy about his personal safety recently.
Recently, Musk's father Errol said in an interview that in order to ensure his personal safety, Musk has carried out a comprehensive security upgrade to his home in South Africa, installed a large number of cameras and security facilities, and hired about 100 bodyguards 24 hours on duty to strictly prevent kidnapping incidents.
According to Errol, Musk's own security measures are stricter, and there are more than 100 bodyguards around him for personal protection at any time. Just a month ago, Musk said in a discussion on Space that he was at great risk of being assassinated and would never sit in an open car to participate in any parades.

This article is reproduced from: https://finance.sina.com.cn/tech/csj/2023-01-26/doc-imycnrwu0860088.shtml
This site is only for collection, and the copyright belongs to the original author.