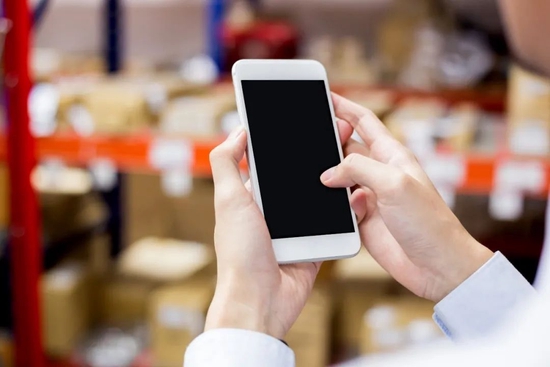 Welcome to the WeChat subscription number of "Sina Technology": techsina
Text / Li Xuanqi
Source/Zinc Scale (ID: znkedu)
"Dear customers, friends and partners: Once again, I sincerely thank you for your support and company! We really ran away, sorry…"
On the evening of September 16, two "running" announcements signed by Yiliangou were circulated on the Internet. Although the announcements were confirmed to be false information, the incident of consumers being deceived in purchasing Apple mobile phones on the Yiliangou applet still remains. Arousing attention, related complaints and "exposure posts" on major complaint platforms and social platforms continue to increase.
Soon, Yiliangou online mall has suspended services due to violations, which is specifically explained as "services have been suspended due to suspected fraud". At present, this applet can no longer be searched. Small programs with similar names to "E-Liangou", such as "E-Liangou Supply Chain" and "E-Liangou i", have all released announcements on their homepages, stating that they have run away from "E-Liangou". It doesn't matter, some small programs also have problems such as the mall being disabled or offline.
At present, the Longshan Police Station of the Yubei Branch of the Chongqing Municipal Public Security Bureau has filed a case, and the Chongqing Municipal Market Supervision Department has also been involved in the investigation.
Computer lessor: The computer was installed on August 1st and emptied on September 14th
Compared with consumers, He Feng (pseudonym), who runs a computer rental, sales and repair shop, may feel more intuitive about the whole process of Yiliangou's "running". Because, according to the registration information on the industrial and commercial platform, Yiliangou placed an order at the Zhibenjia digital store operated by He Feng 3 days after registration, and signed a computer digital 3C equipment lease contract.
"We received the order on July 31, and delivered the equipment immediately the next day. The lease term is 12 months, the rent is 1,500 months, and the deposit is paid in March." According to the contract provided to Zinc Scale by He Feng, the renter Chongqing Yiliangou Electronic Technology Co., Ltd. rented a total of 20 desktop computers, the model is Core i5, the monitor is a 22-inch Dell monitor, plus keyboard, mouse and other accessories, the total value of the equipment is 38,000 yuan.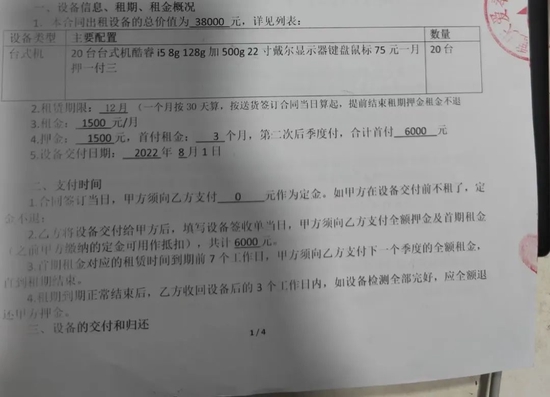 The computer digital 3C equipment leasing contract previously signed by Yiliangou
According to He Feng, after Luo Xiaoyi, the legal person of the affiliated company of "E-Liangou" rented the house, he contacted him to rent computer equipment and was "in a hurry". After installing the equipment, He Feng paid attention to the industrial and commercial information of Yiliangou.
According to industrial and commercial information, Yiliangou was established on July 28, 2022 with a registered capital of 20 million yuan. The shareholders are Shenzhen Kaisheng Technology Co., Ltd. and Zhang Yuchuan, and the legal representative is Luo Xiaoyi. Among them, Shenzhen Kaisheng Technology Co., Ltd. was established on August 23, 2021. The legal representative is also Luo Xiaoyi, the registered capital is 1 million yuan, the company address is located in Longgang District, Shenzhen, and its industry is software and information technology services. The business scope includes wholesale of shoes and hats, sales of daily necessities, sales of household appliances, and network technology services.
It is worth noting that the registered address of Yiliangou is "Jiahong Avenue, Longshan Street, Yubei District, Chongqing City", but the reporter of "Science and Technology Innovation Board Daily" previously learned from the relevant person in charge of the Market Supervision Bureau of Yubei District, Chongqing City. The local market supervision department has launched an investigation. After the staff arrived at the scene, the company was not found at the registered address. The person in charge also said that Yiliangou changed its registered address from Yuzhong District, Chongqing to Yubei District on September 9, and has notified the relevant local departments and set up a warning for the company.
"When I found out that the registered capital was 20 million, I thought that the registered capital of a new company was so high, and I felt a little overhang." In addition, five days after the installation of the equipment, He Fengcai added the contact information of Luo Xiaoyi, the legal representative of Yiliangou. But at that time, He Feng did not expect the accident to come so quickly.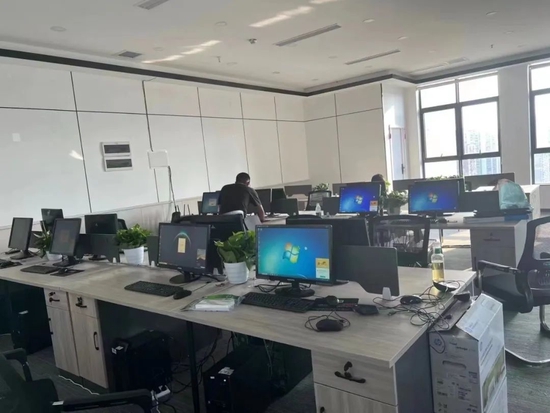 Yilian buys previously leased computer equipment
The real turning point came on September 14. On the same day, He Feng learned from a friend who is engaged in property work that "E-Liangou may (operate) abnormally." He Feng immediately went to the place where the equipment was installed, and the company's location in Chongqing Yubei Time City was checked. I also sent a confirmation message to Luo Xiaoyi before, but he blocked me when I sent it."
After arriving at Yiliangou Company, He Feng found out, "It's a mess, only the seats are left, and the computer is gone." After contacting the landlord here and checking the surveillance that night, he learned, "Around 8:00 p.m. on the 13th, we Computers and office chairs belonging to the landlord were removed from the property gate by more than a dozen people." He Feng deduced, "It may be that the boss lost contact for several days, and the employees realized that the boss had run away, and then moved the company's items together on the evening of the 13th. I have lost more than 30,000 yuan after subtracting the rent."
On the 14th, He Feng called the police to the Longshan Police Station in Yubei, Chongqing. "At the police station, I heard the police on duty receiving a lot of calls about Yilian." On September 16, the police at the police station contacted He Feng and said that the police station is currently collecting data stage.
As of September 20, according to what He Feng has learned, the police station has begun to receive victims who have arrived one after another from other places, and some employees of Yiliangou have returned some of the rented computers.
"Cattle" meets "Black Bull"? The amount involved may exceed 4 million yuan
As He Feng said, many victims have reported to the police. According to a previous call by a reporter from Finance and Economics, the Longshan Police Station, as of September 17, more than 30 victims had registered relevant information at the Longshan Police Station. According to the statistics of the victims themselves, there are two or three hundred people in the WeChat group of the relevant victims, and according to their preliminary statistics, the amount involved has exceeded 4 million yuan.
Zinc scale noticed that on the consumer complaint platform Black Cat Complaint, as of September 19, there have been 241 complaints related to Yiliangou, most of which were initiated in September, and most consumers have placed orders. Multiple cell phones.
Among them, some consumers said in their complaints, "During the period from 2022.9.10 to 9.13, I purchased five Apple mobile phones in the WeChat applet Yilian Shopping, with a total amount of 32,593 yuan. The merchant does not ship, nor does it I can't get through to the company's phone number, the customer service has no response, the company address has been visited, the building is empty, and now the WeChat applet cannot be opened.", "Buy 13 pink 128g*2, 13 in the WeChat applet of Yiliangou.com Black 128g*1, 13 white 256g*1, 14pm silver 128g*1, 14pm purple 128g*1, 14p purple 512g*1, the amount is 48189 yuan, it has not been shipped, the customer service does not reply, the platform has been complained, and now I cannot enter the applet. ", "I purchased a total of eight Apple mobile phones on the (E-Liangou) applet, but the applet has not been shipped yet, and there is no reply when I contacted customer service, involving an amount of 62,641 yuan"…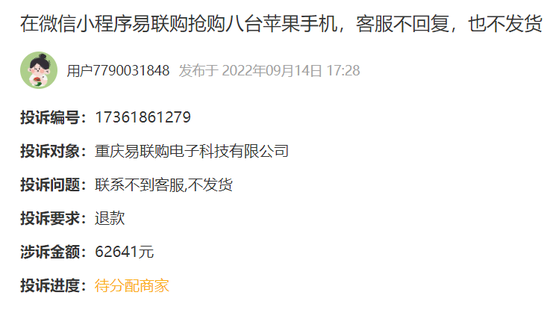 There are many related complaints on the black cat complaint
A number of consumers mentioned that Yiliangou sells mobile phones in the form of restricted purchases and timed snaps, stipulating that each account can only buy three mobile phones of the same model, and the pre-sale price of its iPhone 14 is 500 yuan cheaper than the official website price. It will also sell coupons worth 1,588 yuan to 2,000 yuan, so many consumers have snapped up multiple mobile phones.
Among them, taking the screenshot comparison provided by netizens as an example, the official price of Apple 14PROMAX512G sold on this platform is 11,699 yuan, and after using a 2,000 yuan coupon on this platform, it can be purchased at a price of 9,688 yuan.
According to the "Jinan Daily" report, a consumer paid attention to various pre-sale channels after the launch of Apple's new products. When he saw coupons on the WeChat applet "Easy Liangou Online Mall", "one The mobile phone is 1,000 yuan cheaper." This concession made him decisively pay more than 20,000 yuan on September 9 to buy an iPhone 14 Pro and an iPhone 14 Pro Max.
On Xiaohongshu, there are also many victims who are organizing rights protection. Under a rights protection post released on September 13, there are also many consumers who want to "beg to join the group".
In fact, earlier, other media also reported on relevant consumers. According to Henan TV's "Xiao Li Help" report, some consumers grabbed 11 iPhone 14 series and 4 iPhone 13 series on the online mall platform called "Easy Liangou", paying a total payment of 158,000 yuan. Later, because I could not contact the platform, I found out that I had been deceived.
Although on major social platforms, many netizens mentioned in the announcement of "running the road" on the Internet, "Don't be greedy for petty and cheap, you will suffer big losses… Don't be a scalper in the future. "The cow deceived the scalper", but not only did the incident involve a huge amount of money, the relevant personnel of the Yubei District Public Security Bureau of Chongqing City also said before, "It involves all parts of the country, and the police station in the jurisdiction is already conducting investigations, and a follow-up result should be given. ."
Digital shop scam: "fishing" at low prices and in installments
From the perspective of He Feng and consumers, it is difficult to imagine how a company that has only been established for two months has attracted so many people.
"Actually, the logic of Yiliangou was a scam from the very beginning, using low prices to attract customers mainly scalpers, because the most important thing for scalpers to receive goods is cheap. It will be shipped, in fact, it is cultivating trust and fishing for big fish." An industry insider told Zinc Scale that pre-sale is a common method, and there are also many third-party authorized stores on the e-commerce platform. New products are sold through pre-sale, but the quantity will not be too large, "and the price will not be greatly discounted."
"And in fact, to open a store on the top e-commerce platform, you need to provide authorization qualifications." The above-mentioned industry insiders said that perhaps the audit qualifications of small programs are not so strict.
Zinc scale has noticed that there have been many e-commerce mini-programs or online stores to attract consumers to buy new mobile phones at low prices before, and then run away. As early as February this year, 1818 Golden Eye also reported an incident. A consumer named Xiao Hu bought an Apple mobile phone through the WeChat applet "Infinite Lego". The official website price was 5,999 yuan, and the platform's discount price was only 4,999 yuan, but he never received the phone, and finally found out after entering the rights protection group. The victim is not alone.
Not only online stores and mini-programs are at risk, but there are also many netizens who have added to the WeChat store of digital stores on social platforms to conduct installment transactions, but have been deceived. Among them, some netizens once posted a post of "Don't buy Yixuan Digital, don't buy it", saying that after he transferred money to the digital store on WeChat to buy a mobile phone, "he used various excuses to ask me for money, and he took it with him. The reason why my ID card can borrow loan sharks threatens me to continue to transfer money… but I haven't received my mobile phone yet." And this is not an exception. Under his post, there are many comments saying "I was also cheated" and "Almost cheated." cheated", "this is an old liar"…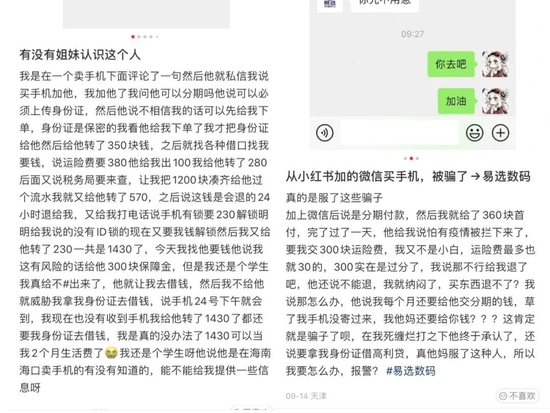 Many netizens have been deceived when buying mobile phones online
In addition, even if they do not run away, many digital stores on e-commerce platforms may have quality problems. For example, "Henan Metropolis Daily" has previously reported that some consumers bought an Apple 8p in a shop called "Youchuang Digital Crown Old Store" on Taobao platform, paid 3,350 yuan, and then repaired it because the screen of the mobile phone was broken. , I was told by the staff that there is a big problem with this mobile phone – the mobile phone I am using now is black 256g, and the mobile phone whose serial number is found is gray 64g.
Therefore, digital e-commerce is a mixed bag, and the attention of the "E-Liangou Incident" is more or less inseparable from its "arrogant" announcement, but this is actually just a microcosm of the chaotic ecology of the entire industry, which should arouse people, especially electronic The business platform attaches great importance to risk management and control.

This article is reproduced from: http://finance.sina.com.cn/tech/csj/2022-09-21/doc-imqqsmrn9950222.shtml
This site is for inclusion only, and the copyright belongs to the original author.