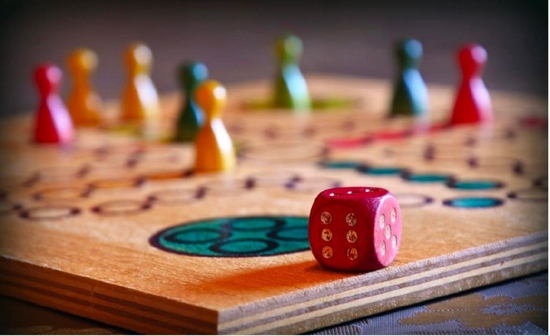 Welcome to the WeChat subscription number of "Sina Technology": techsina
text / go back
Source/Value Planet Planet (ID: ValuePlanet)
Since the beginning of this year, the "XX first shares" who were once famous in the US capital market seem to be approaching the red line of delisting collectively.
"The first fresh food e-commerce company" Daily Youxian received delisting warnings from Nasdaq twice in May and early June this year, respectively because it failed to submit its 2021 annual report and the company's stock price has risen 30 consecutive times. The trading day was below $1.
"The first share of Internet medical beauty" Xin Oxygen received an invitation to privatize in November 2021, but there has been no progress since then. Under the continuous supervision of the medical and beauty market by the policy, the share price of Xinxing has been below US$1 per share for two consecutive months.
In addition, Ronglianyun Communications (hereinafter referred to as "Ronglianyun"), which is "the first Chinese SaaS to go to the United States" and is supported by well-known investment institutions such as Sequoia Capital, Zhixin Capital, and Blue Vine Capital, is behind it. ) development is not optimistic.
In February 2021, Ronglianyun was successfully listed on the New York Stock Exchange. On the first day of listing, the stock price closed at US$48 per share, up 200%, with a total market value of US$7.9 billion (about 50.6 billion RMB). The intraday increase once exceeded 260%, and the market value reached a maximum of more than 9 billion US dollars.
Unfortunately, the good times didn't last long, and the company's stock price has plummeted since then. Since May this year, the stock price of Ronglianyun has remained at around $1 per share. This is also the case, and the outside world also jokingly calls Ronglianyun "melting cloud".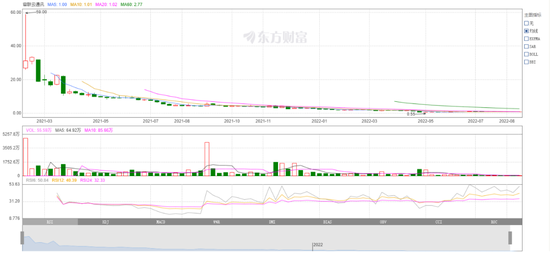 Source: Oriental Fortune
In May of this year, Rong Lianyun was warned for not submitting its annual report to the New York Stock Exchange on time. In June, it was once again warned by the New York Stock Exchange because the trading price of ADS was lower than the compliance standard.
So, what went wrong with the development of Ronglian Cloud?
Multiple problems to be solved
Sun Changxun, founder and CEO of Rong Lianyun, graduated from the Mathematics Department of Huazhong University of Science and Technology in 1998, and then went to Tsinghua University to study for an MBA. He first worked for a company called Gaoyang Sunsiyuan. In 2006, he became the company's vice president, responsible for the company's IMS converged communication products, video products, games and other mobile Internet products.
After several entrepreneurial failures, he finally determined his own entrepreneurial direction – providing integrated communication solutions, claiming to "make communication technology the cornerstone of your application". Ronglian Cloud, founded in 2013, is also the earliest domestic manufacturer to take root in the field of cloud communications.
Cloud communication here refers to packaging communication capabilities into API interfaces and SDKs, and selling them to enterprises to lower their use thresholds. To put it simply, the participants are mainly engaged in the resale business. For example, the SMS verification codes we receive in our daily life and the virtual calls made on third-party software are all realized through this service.
According to the data from the Prospective Industry Research Institute, the market size of the global Internet communication cloud will increase from US$570 million in 2015 to US$1.61 billion in 2018.
The huge market size, coupled with the early entry into the game, Rong Lianyun at that time can be described as completely "hitting" the aesthetics of capital. Statistics show that Ronglianyun has received financing from investment institutions almost every year in the few years after its establishment.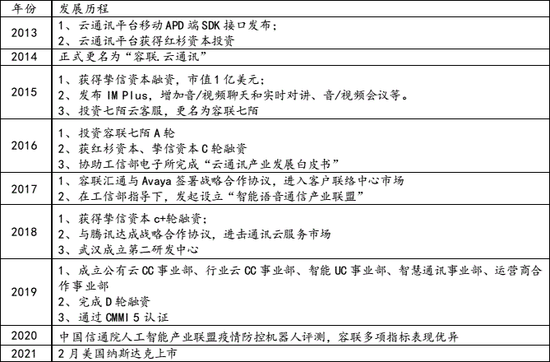 Source: Ronglianyun official website finishing
However, despite the boost of capital, the development of Ronglianyun has not been as fast as other companies, but has been in a tepid stage.
In 2020, the new crown epidemic has made many enterprises have the urge to "go to the cloud", and the demand for communication cloud in private domain traffic, retail customer service, e-commerce live broadcast, games and short videos has increased, and Ronglianyun has gradually become popular with the outside world. of attention.
In this context, Ronglianyun continues to enrich its product line through self-research or external acquisitions. For example, in 2021, Ronglian Cloud will acquire the CRM brand Cross River Bing. According to Sun Changxun, founder and CEO of Ronglianyun, by expanding CRM business, it can provide customers with a complete closed-loop service of communication-customer acquisition-customer retention-enhancement satisfaction. At present, Ronglianye's business mainly includes AI+communication, CC+UC+PaaS business, and IOT logistics business.

Source: Ronglianyun official website finishing
But there are many problems in front of Rong Lianyun. On the one hand, because the (SMS, verification code) business needs to purchase communication resources such as SMS from telecom operators, this business lacks bargaining power for operators, and has the characteristics of high operating costs, low entry barriers, and low gross profit margins.
From fiscal years 2018 to 2020, Ronglian Cloud's telecom resource costs were 231 million yuan, 293 million yuan, and 329 million yuan, respectively, and the revenue costs accounted for 73.7%, 76.4%, and 71.4%, respectively. However, the gross profit margin has been maintained at around 30% for a long time. Therefore, this business has also been criticized by many investors as a "count-up business".
On the other hand, the problem of long-term losses and unresolved profits persists. In fact, Ronglianyun's financial performance is not an isolated case. Since the SaaS industry has high initial investment costs, it must rely on a large number of customers and continuous repurchase in the middle and late stages to form economies of scale and share operating costs.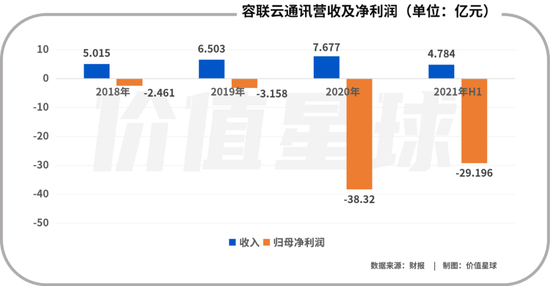 But the problem is that when Ronglian Cloud has not figured out how to improve its profitability in the future, its subsidiary, Ronglian Qimo, was suspected of wantonly collecting user privacy, buying and selling user big data, and assisting in responding to user complaints at the 3.15 party this year. and other issues were criticized by name.
According to the business manager of Ronglian Qimo, there are more than 30,000 customers on his platform, and some of them are engaged in the harassing phone business called "unfamiliar visits". They provide outbound calls for such telemarketing companies systems and lines.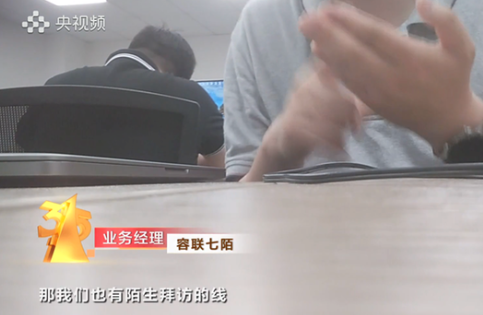 Source: CCTV
At the same time, Ronglian Qimo can also provide a number pool for companies making harassing calls. Each time a harassing call is made, a different number will be displayed on the user's mobile phone. This technology can be used to avoid user complaints and communication department supervision. Although Ronglian Qimo has apologized for the incident, and pointed out that the company will strengthen supervision in the future. But this also exposed Ronglianyun's failure to take responsibility in the company's management process to a certain level.
Sun Changxun once pointed out that Ronglianyun will become the Chinese version of "Twilio" in the future. But it is worth noting that as of August 26 this year, Twilio's total market value has exceeded 13.131 billion US dollars, and the company's share price is about 72 times that of Ronglianyun, reaching US$72.34 per share.
Ronglian Cloud VSTwilio
It needs to be clear that although Ronglian Cloud and Twilio are both in the middle of the Internet cloud communication industry chain, Ronglian Cloud is IM+RTC (instant messaging + real-time audio and video), while Twilio is IM PaaS. However, the development of Twilio still has a lot to learn from Ronglian Cloud.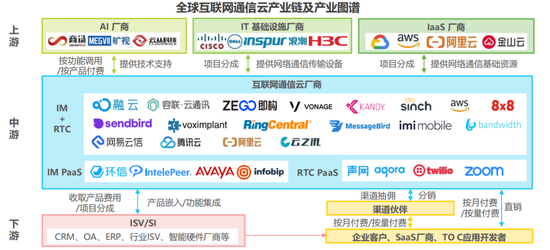 Source: iResearch Institute
For example, in the development process of Twilio, there has been a problem of over-reliance on large customers. In the early days of the company's listing, the combined revenue ratio of Uber and Whatsapp exceeded 20%, but in 2017, due to Uber's reduction in purchases, this also directly led to significant fluctuations in the company's stock price.
In the years since, Twilio has been working to improve the situation.
As the number of customers continues to rise, Twilio's dependence on a single large customer gradually decreases. For example, by the third quarter of 2020, the number of Twilio customers reached 208,000, and the increase rate continued to stabilize at around 130%. As of the 2020 Q3 financial report data, the company's top ten customers accounted for 14% of the revenue, and the risk of a single major customer has been basically eliminated.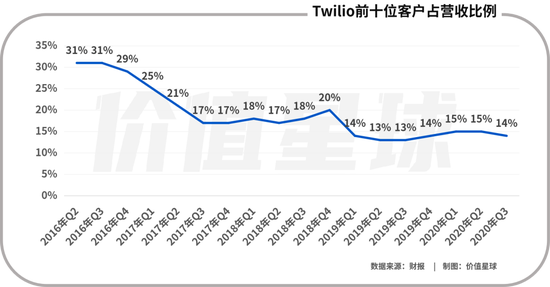 Compared with Twilio, Ronglian Cloud is still over-reliant on large customers. At present, Ronglian Cloud's customers are mainly TOB+TOG, covering eight industries including finance, manufacturing, education, energy, and the Internet. But according to Ronglianyun's prospectus, 1.4% of major customers accounted for 78% of the company's total revenue.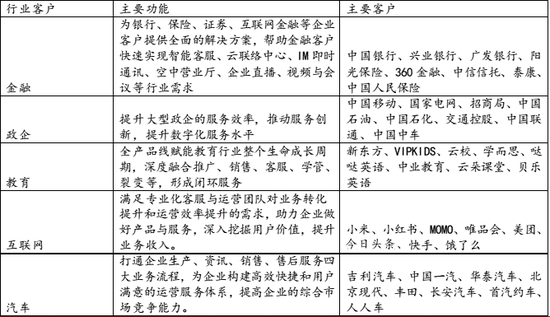 Source: Ronglianyun official website finishing
If Ronglianyun fails to improve this situation in the future, it may have an impact on the company's development in many aspects. On the one hand, in order to avoid the loss of major customers and ensure the continuous renewal of major customers, the company can only form an advantage through price. As a result, it has formed a lack of bargaining power for upstream communication providers and downstream customers, and Ronglianyun, which is in the "clamp layer", can only earn meager profits.
Combined with Ronglianyun's financial report, although the US dollar-based corporate net customer retention rate has increased from 86.8% in fiscal 2020 to 95.9% in the third quarter of 2021, this retention rate is still full of many uncertain factors.
Taking Alibaba, a customer of Ronglian Cloud as an example, in April 2014, Ronglian Cloud Communication and Alibaba Ju Wireless formally cooperated to provide communication capability interfaces and related technical support for Alibaba Cloud developers, and support developers through a series of activities . However, as Ali gradually deploys the cloud communication market, the name of Ali can no longer be seen in the external introduction of Ronglian Cloud.
In addition, with the continuous promotion of the "double reduction" policy, Ronglianyun's educational customers will also significantly reduce their investment in this area.
On the other hand, due to the complex business scenarios of major customers, companies are more inclined to purchase customized products. Such products generally have the characteristics of long product development cycle and long delivery cycle, which also determines that the cycle of Ronglianyun from signing contracts with major customers to final full payment is lengthened.
According to Sun Changxun, due to the impact of the epidemic, the company's payment cycle for major customers has been extended from the previous 90 days to 150 days, which will inevitably aggravate the company's cash flow risks.
If there is no sufficient cash flow guarantee, it will be difficult for enterprises to invest new funds to continue to acquire customers, which will eventually form a vicious circle.
Source: Futu Securities
It is worth noting that at present, foreign giants such as Zoom and Google, domestic Tencent, Huawei and other giants have made more and more frequent deployments in the field of cloud communications in the past two years, and the entire market has entered a stage of fierce competition.
On November 14, 2021, Tencent released the "Tencent Cloud Vision Cube" engine, which provides a fast live broadcast solution with a minimum delay of 800 milliseconds. In terms of clarity, the "Tencent Bright Eyes Extremely Fast HD Solution" can improve the clarity by more than 30% at the same bit rate. Under the condition of the same definition, the broadband consumption can be reduced by 45%.
Alibaba Cloud has successfully built a global real-time transmission network, which can minimize the end-to-end delay of live broadcasts.
If these big manufacturers start to "grab customers" with their traffic advantages and technology accumulation in the future, it will inevitably have an impact on Ronglian Cloud. In fact, the competition between big Internet companies and Ronglianyun is not only price, but also the systematic output capability of big companies. For example, although Ali's Ele.me is currently cooperating with Ronglian Cloud, when the services provided by Alibaba Cloud are more convenient in the future, they will most likely choose to invest in Ali's arms. As for many companies invested by Tencent's capital, when choosing cloud service providers, they may also fall in love with Tencent Cloud.
The direct problem brought about by the intensification of market competition is that the customer acquisition cost of Ronglian Cloud continues to increase. For example, the company's sales and marketing expenses increased from 58.1 million yuan in the third quarter of 2020 to 82.6 million yuan in the third quarter of 2021, an increase of 42.3%.
Summarize
For the current Rong Lianyun, it can be said to be an internal and external problem.
On the one hand, the competition in the communication cloud market is gradually intensifying, and the company itself is highly dependent on major customers, which puts forward higher requirements for the company's cash flow and customer acquisition capabilities.
On the other hand, other businesses of Ronglian Cloud have not yet exerted force, and the position of CPaaS business company is extremely embarrassing, lacking pricing power, and gross profit margin is too low. Perhaps under the crisis, Rong Lianyun urgently needs to settle down and build his own moat.


(Disclaimer: This article only represents the author's point of view and does not represent the position of Sina.com.)

This article is reproduced from: http://finance.sina.com.cn/tech/csj/2022-09-15/doc-imqmmtha7398940.shtml
This site is for inclusion only, and the copyright belongs to the original author.