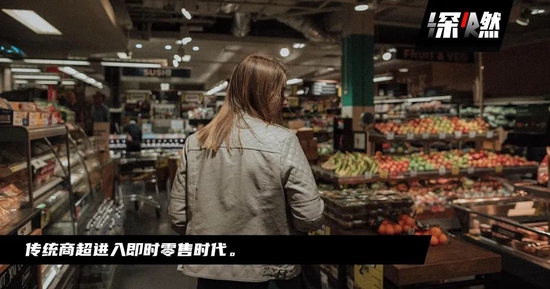 Welcome to the WeChat subscription number of "Sina Technology": techsina
Text / Tang Yahua
Source: Shenran (ID: shenrancaijing)
Xiaoyu, a post-90s white-collar worker, invited a friend to dinner at noon on the weekend. When she woke up, it was already 9:30. Considering that she had to change clothes when she went out to buy food, it was a waste of time to go back and forth, so she chose a supermarket near her home through a takeaway platform. Vegetables, meat, fruits, drinks… The app shows that the order arrives home in about 29 minutes.
In the supermarket, "You have a new take-out order, please handle it in time", the system prompt sound that often appeared in restaurants and restaurants sounded synchronously. The sorter bags, weighs, scans, and packs the target commodities according to the commodity list, and hand them over to the delivery guy who picks up the goods from the special channel. After half an hour, the ingredients for lunch arrived home on time.
Like the above-mentioned traditional supermarkets connected to online distribution, the business format that meets the immediate needs of consumers is the instant retail that is currently popular.
The reason for this is that the traditional offline-based business model of traditional supermarkets is in trouble. In recent years, except for a few special periods, traditional supermarkets have become very popular, and fewer and fewer people visit the supermarket every day. Large supermarkets are generally in a situation of sluggish growth, severe decline in performance, and lack of stamina. The traditional retail leaders who have developed in China for more than 20 years are collectively trapped in the offline quadrant.
Behind this, there are the impact of the epidemic, the impact of traditional e-commerce, changes in young people's consumption habits, and the limitations of traditional supermarkets themselves. However, consumption habits have migrated, but immediate consumption needs are always there.
Embracing instant retailing and transforming supermarkets into stores and warehouses is becoming the mainstream practice for supermarkets to break through. Warehouse membership stores and cloud warehouses are also possible directions. In addition, doing addition, increasing service and experience, doing subtraction, integrating logistics warehouse allocation, and reducing costs are all possible solutions for the upgrade of supermarkets.
The future of supermarkets is being redefined.
Traditional supermarkets trapped offline
Traditional supermarkets and convenience stores, because they are closer to consumers, can meet the immediate consumption needs of consumers within a few kilometers, and were once the main channels for most consumers to purchase fresh daily chemical products. However, with the development of e-commerce, the impact of the epidemic, and the solidification of the supermarket model, for various reasons, fewer and fewer people go to the supermarket.
Before 2021, Xin Xin, an Internet practitioner in Beijing, was a big fan of shopping in supermarkets. "I basically go to the supermarket every Saturday morning, bring my own canvas bag, and purchase supplies for the week." She often buys beef, yogurt, snail powder, all kinds of meatballs, as well as snacks and drinks.
The process of visiting the supermarket was also very immersive. Xin Xin listened to songs with headphones while picking things. The vegetables and meat in the supermarket were fresh and relatively cheap. "This is a must-do every week that doesn't cost a lot of money and is fun."
However, there is a problem for her to go shopping in the supermarket. She often buys too many things to carry. When the epidemic recurs, going out itself becomes a psychological burden. Later, Xin Xin found out that there are many channels to buy supermarket categories and deliver them to your door, so she started to use Meituan to buy vegetables, Daily Youxian, Dingdong to buy vegetables, Duodan APP and other products. Now, Xin Xin has not been to the supermarket for more than a year.
She recalled the last two trips to the supermarket, both unpleasant. She went to the nearby supermarket twice, and she quarreled with the people who cut the line at the checkout line, "Now that the Internet is so developed, I still have to check out offline to get angry. I can completely avoid this kind of thing by shopping online. "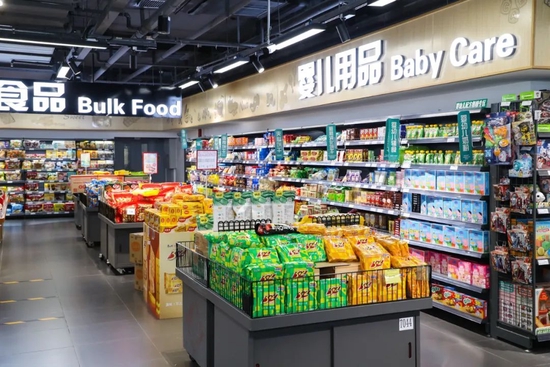 Moreover, it is difficult to make her feel happy when visiting the supermarket now. The display in the supermarket is very outdated, and she can imagine what is on each shelf. Unlike online channels, there are many fresh categories that she has not seen before.
Young people who don't like going to the supermarket are slowly turning to other alternative channels.
In the past, Xiaoyu mainly bought paper products, cleaning products and other daily chemical products in the supermarket. She solved this type of demand through traditional e-commerce, usually taking advantage of the big promotion to stock up on consumables for half a year at home. As for vegetables Most of the fruits are purchased through Meituan grocery shopping, Jingdong Daojia, Hema Xiansheng, etc.
Although she no longer likes to go to the supermarket, she still needs instant consumer goods such as yogurt, milk, bread, and fruit. It's also acceptable."
According to Euromonitor statistics, in 2021, the size of China's supermarket market has exceeded 3 trillion yuan, but the overall growth of the market is sluggish. The compound annual growth rate (CAGR) from 2018 to 2021 is only 2.6%, of which the hypermarket format is in the same period. CAGR was -0.4%.
The performance of the supermarket is not optimistic. On July 20, the "Top 100 Chinese Supermarkets in 2021" released by the China Chain Store & Franchise Association showed that in 2021, including Yonghui Supermarket and RT-Mart, which ranked second and third, 62 companies will experience negative sales growth, and those with negative growth will experience negative growth. The number of enterprises nearly doubled from the previous year.
The reduction in customer sources, the slow circulation of goods, and the repeated decline in performance make the development of supermarkets seem to lack stamina.
Zhuang Shuai, founder of Bailian Think Tank, explained that the development of supermarkets is limited, and the epidemic is one reason, and the other is the reason for the supermarket itself. Supermarkets have been developed in China for more than 20 years, but the original store layout and display do not meet the shopping experience and needs of young people. In addition, the operating system of supermarkets is too outdated, with too little innovation and change. And now there are many new and alternative shopping methods, including traditional e-commerce, front-end warehouse formats that arrive in half an hour, etc.
Wang Guoping, senior consultant of Linkshop, pointed out that the current leaders in the supermarket industry are not developing very well, and the specific reasons are different.
"Some blindly pursue concepts, such as being a super species, but they don't really manage the supply chain system, personnel, services, etc., they become popular in the opening stage, and soon enter a state of loss; some are warehousing member stores, just change it. On the shelves, larger packages of goods are piled up, but the core of warehouse-style membership stores is to select goods, which saves time for consumers. Many transformed supermarkets still have a large number of goods to choose from; there are also companies that tend to make quick profits. Money, spend energy in real estate, consumer loans and other fields, and are not willing to penetrate into the supermarket industry to upgrade." He said.
Practitioners are forced to actively seek change.
Real-time retail, store and warehouse integration, a new path for supermarkets to break through
The solution to the breakout of the supermarket is that the practitioners have come out.
With just-in-time retail transformation, it appears to be becoming a mainstream answer.
The established convenience store Lawson has successively entered platforms such as Meituan since 2018, and platform sales have accounted for 10% of Lawson's sales. Moreover, the overlap ratio of online and offline consumers is less than 10%, which means that most online orders are incremental. In the past 3 years, the local convenience store Meiyijia has experienced a growth rate of over 100% in orders from instant retail platforms. After the founder of Camry Tesco encountered the bottleneck of offline supermarkets, more than 20 new convenience stores have been opened on Meituan since 2020. At present, instant retail orders have exceeded offline.
Today, the top supermarkets are also all laying out the offline home business.
Since May this year, Walmart's Sam's Club has opened cloud warehouses in Shanghai, Wuxi and other places, selecting products with a high repurchase rate, placing orders online, and "fast delivery in one hour". In 2021, two Carrefour warehouse membership stores will open in Shanghai. Yonghui Supermarket has a store-warehouse integration and member warehouse stores, and it also cooperates with Meituan Flash Sale and JD Daojia.
Zhuang Shuai believes that the biggest value of instant retail is convenience. It can be delivered to your door within half an hour to meet immediate needs. In addition, because it is connected to offline stores, instant retail has a higher degree of trust, and it will be more convenient for users to return and exchange goods.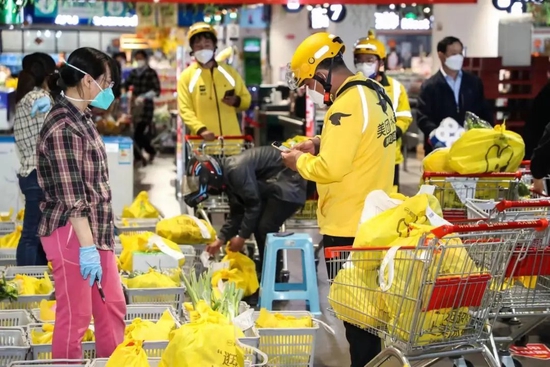 In recent years, some of the newly opened stores have taken the delivery of instant retail into consideration, and have specially created a rider channel, where riders can pick up goods directly from the window and ride out.
There are also practitioners who have created a new model of warehouse + community.
In mid-2021, Yiming opened a supermarket of about 800 square meters in Chaoyang District, Beijing, with a rent of 4.5 yuan per square meter, plus the shelves, freezers and the first batch of goods, a total investment of about 940,000 yuan.
Supermarkets are large in size, high in cost, and have no price advantage. The more fruits and vegetables no one buys, the slower the turnover, the less fresh things are, and the less fresh they are, and no one buys them. Such a vicious cycle, after half a year, Yiming shut down I went to the supermarket and lost more than 700,000 yuan.
After closing the store, she still has six or seven WeChat groups. As soon as she made a sound, she started to run a community. She set up a warehouse of about 100 square meters around the community, and promoted fresh vegetables, fruits and daily necessities through the community. . "Our products are 10%-20% cheaper than the surrounding supermarkets, fresh, and can be delivered to your door. We serve people within five or six hundred meters. If there is an order from a distant company, we will deliver it through instant delivery. The platform will deliver." Yiming told Shen Ran.
After the successful practice, Yiming began to expand to other areas of Beijing. At present, she has built five warehouses in several districts of Beijing. "We find Bao Ma or active staff in the corresponding community to serve as part-time sales, sorting and distribution by Our employees do it. One warehouse is equipped with four sorting and distribution employees, and one or two people are involved in community operations." According to Yiming, the Baiziwan Community in Chaoyang District had a revenue of 170,000 yuan in August and a net profit of 1.1%. -20,000 yuan.
Today, Daojia business has almost become the "second growth curve" of all traditional supermarkets. Introducing instant retail, upgrading into a store-warehouse integration, or building into a warehouse-style membership store, cloud warehouse, etc., and some "turning around", reducing the size of the store, or using warehouse + community to play new tricks.
Some people choose to distribute independently, and more supermarkets choose to settle in platforms such as Meituan to develop instant retail. The Meituan flash sale, which is an extension of food delivery, has been fully practiced, and it has been verified by the market in terms of technology and service capabilities for local merchants. The track is shifted to the supermarket industry. Large and medium-sized supermarkets, convenience stores, and grocery stores can all benefit from the instant retail platform.
Data shows that from January to July 2022, online orders for branded supermarket convenience stores on the Meituan platform increased by 39% year-on-year, and the number of related merchants increased by 20% year-on-year.
The 30-minute delivery of instant retail is a further extension and improvement of the convenience capabilities of traditional retailers. In this way, users can get the goods they need efficiently and conveniently. The supermarket not only expands from a fixed point of 500-1000 meters to a range of 3-5 kilometers, but also obtains incremental online customers. It not only expands the tentacles, improves the turnover efficiency and store value, but also more accurately meets the needs of consumers for supermarkets.
Redefine the supermarket
As a consumer, Xin Xin hopes that in the future, the offline supermarket will be flatter, and the entrance and exit will not be so complicated. "When I go to the supermarket, I will still compare the price with the online one. The offline is at least not much more expensive than the online. Doing instant retail, if the delivery fee is reasonable, I can accept it."
Users accept it, and practitioners actively participate in it. There is still a lot of room for the future of the supermarket industry.
Wang Guoping pointed out that there are three major directions for business and supermarket breakthroughs: the first is to take the line of efficiency. Specifically, it includes the model of instant retail, store and warehouse integration, and warehouse-style membership stores. Instant retail has greatly improved the delivery time. Warehouse clubs such as Costco and Sam use selected products to improve purchasing efficiency for consumers.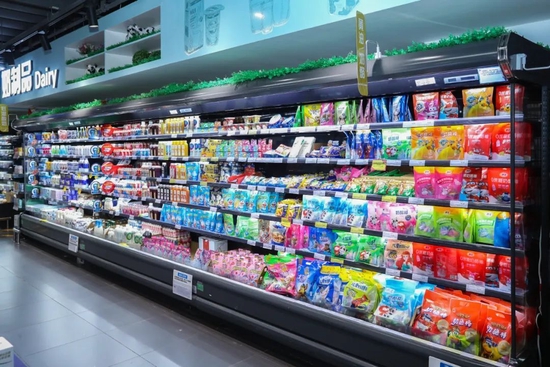 The second major direction is to increase services and experience on the basis of the original supermarkets. "For example, the early super species, now many transformed Internet celebrity vegetable markets, supermarkets + food courts, and some supermarkets are combined with some commercial streets and cultural tourism projects to change purpose consumption to browsing consumption, but at present The challenge is cost control."
Another direction is to reduce costs. He mentioned that it is very difficult to reduce the cost of supermarket stores. Now, the highest cost in the retail industry of the entire shopping mall is actually at the logistics and warehousing end, the origin end, the transportation end, and the warehouse distribution. Every small detail can reduce the cost. For example, building warehouses in specific cities, or co-stocking vegetables, fruits, and daily FMCGs can increase the gross profit margin of the supermarket industry.
In the first half of the supermarket industry, it was a story of large, comprehensive, self-service shopping. Up to now, user habits and industry shifts have forced supermarkets to start changing.
Judging from the data of the Meituan platform, traditional retailers are seizing the opportunity of instant retail to accelerate their recovery. From a global comparison, the Chinese retailer industry, which is based on faster service to local consumers, is also ushering in a rebound.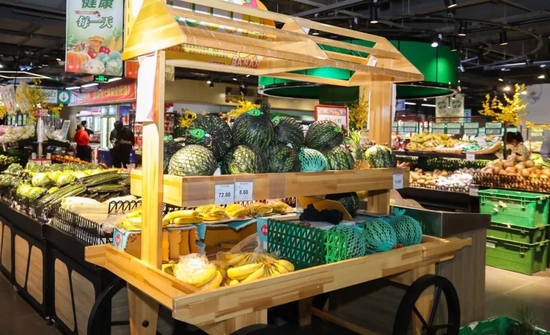 In the future, as more and more supermarkets open, there will be fewer and fewer customers in a single supermarket. What practitioners can do is to seize the desired customer group. In the past, the industry focused on purchasing and distributing goods for the whole customer base. In the future, it is more suitable to specialize in one direction, to make it deep and thorough, and to focus on the people within three kilometers of oneself.
Wang Guoping gave an example. For example, whether the supermarket chooses to sell ordinary grapes with a purchase price of 3 yuan for 9 yuan or 20 yuan for 50 yuan depends on their customer base. Grasping the characteristics of your own customer group can not only save consumers time, but also form stickiness.
In addition, he mentioned that the entire supermarket industry is currently in a relatively primitive state of management. In the early days, supermarkets had stores and warehouses, and they worked upstairs. Now many companies have established operation center headquarters, and the corporate system has begun to change, and the industry may have management. Institutional dividends brought about by reforms.
The supermarket owner Yiming plans to adopt a membership system in the future. Users can recharge and then get a certain discount, which will also make users more sticky. "The next step is to make smart containers that allow everyone to buy and pick up things 24 hours a day."
According to many industry insiders, in the future, large supermarkets will still exist, but the number will be reduced, and there will be more and more small and medium-sized supermarkets with complete categories. In addition, the integrated store-warehouse model that is more suitable for young people with instant retail will have more room for development.
"The retail industry is usually seen in a ten-year cycle, and it depends on what kind of model can survive in the future. Now it is more clear that the Meituan flash sale has already reached a large scale, the flywheel has turned, and the future will be Under the Matthew effect, it can drive many offline supermarkets and convenience stores to make new changes and upgrades," said Zhuang Shuai.
Wang Guoping judged that the current top supermarkets are down, and the lost personnel will be combined with the new model, and a new supermarket ranking may be seen in a few years.
With the further expansion of the scope of instant consumption, the blooming of various formats will become the norm. Supermarkets can be opened in prosperous business districts, or on the streets of the community. They can even jump out of the idea of ​​​​displaying products offline in brick-and-mortar stores, and completely "put the shelves into consumers' mobile phones".
For the future supermarkets, no one has discussed the topic of whether to do online or not. Make good use of all-scenario and omni-channels, and satisfy consumers' needs in terms of product selection, experience, convenience, etc., which is what players have to face. key test.
*The title image is from unsplash. At the request of the interviewee, Xin Xin, Xiaoyu and Yiming are pseudonyms in the text.


(Disclaimer: This article only represents the author's point of view and does not represent the position of Sina.com.)

This article is reproduced from: http://finance.sina.com.cn/tech/csj/2022-09-27/doc-imqqsmrp0621622.shtml
This site is for inclusion only, and the copyright belongs to the original author.