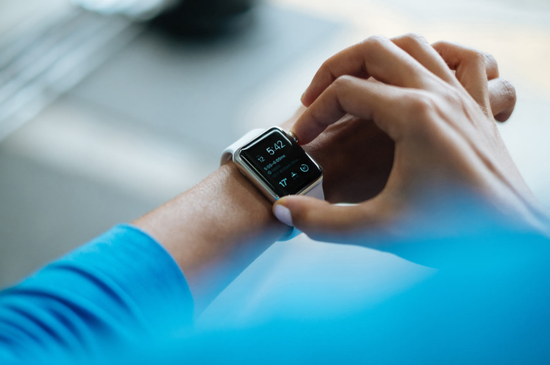 (Image from UNsplash)
Welcome to the WeChat subscription number of "Sina Technology": techsina
Posted by Hernanderz
Source: Institute of Values ​​ID: jiazhiyanjiusuo
In order to snipe Apple, Huawei has been a little busy recently. In addition to releasing the Mate 50, which is facing the iPhone 14, some media broke the news that Huawei will hold another press conference in October to launch new mobile phones and wearable devices.
Wearables may play a bigger role in this rumored event than phones. It is reported that Huawei will launch the Watch GT 4 series of smart watches and a new semi-in-ear headset FreeBuds 5 at one time.
Since being sanctioned, Huawei's mobile phone business has been severely damaged. Businesses such as automobiles, wearable devices and even cloud computing have become an important weight for Huawei to fill the revenue gap. In the famous "1+8+N" strategy, wearable devices have become one of the three most valued businesses of Huawei, along with smart homes and IoT ecosystems.
However, the high expectations of the wearable device business are not optimistic. According to IDC's latest report, China's wearable device shipments have declined for two consecutive quarters, with watches, bracelets and ear-worn devices all being spared.
The cold is spreading everywhere, and it is not just Huawei that is worried.

Sales plummeted across the board. Who is the worst among headphones, watches and bracelets?
The report of the data agency IDC may be the last document that many technology hardware manufacturers want to see – because IDC has not brought any good news for a long time. Sure enough, IDC recently released the latest "China Wearable Device Market Quarterly Tracking Report" and released a set of chilling data: in the second quarter of this year, China's wearable device market shipments were 28.57 million units, a year-on-year decrease of 23.3%. %, the chain also fell.
It should be noted that this is the second consecutive quarter of decline in China's wearable device shipments, and the decline has gradually increased. Data also from IDC shows that China shipped 25.84 million wearable devices in the first quarter of this year, down 7.5% year-on-year. Now it seems that the 37.53 million units shipped in the fourth quarter of last year and a year-on-year increase of 23.9% seem to be the last afterglow before sunset.
Even if you focus on the global market, decline is the main theme. Data show that in the second quarter of this year, the global wearable device market shipped 107 million units, down 6.9% year-on-year. Among them, among the top five manufacturers in terms of market share, all except Imagine Marketing, a rising star from India, experienced a year-on-year decline in sales.
Embarrassingly, before that, IDC predicted that China's wearable device market shipments would reach 160 million units in 2022, a year-on-year increase of 18.5%. Now that half a year has passed, less than 40% of the 160 million KPIs have been completed. I am afraid that IDC will slap itself in the face this time.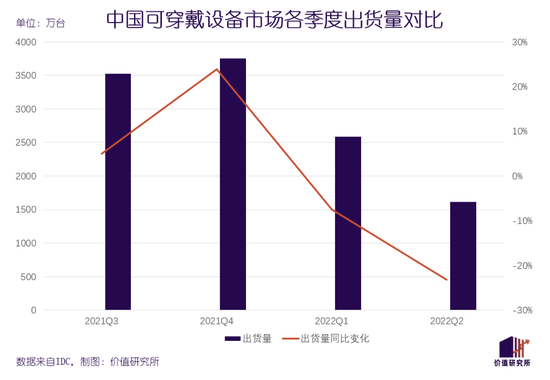 In the IDC report, wearable devices are mainly divided into three types: ear-worn devices, watches and bracelets. Judging from the specific sales in the past few quarters, the performance of bracelets is the worst, the shipments of ear-worn devices are the highest but the growth rate fluctuates quite a bit, and the shipments of watches are relatively stable, but the decline is becoming more and more obvious.
IDC's report shows that the shipments of wristbands have been on a downward trend since the third quarter of last year. Among them, the shipments in the first two quarters of this year recorded 2.63 million units and 3.83 million units, respectively, down 33.6% and 40.2% year-on-year. From the growth curve, the sales of bracelets have been declining for a long time. In the previous year, while the annual shipments of ear-worn devices and watches achieved year-on-year growth, the bracelet still experienced a year-on-year decline of 26.3%.
Looking ahead, the prospect of bracelets is also more dangerous than watches and ear-worn devices. According to data released last month by HCR XMfactory, 77% of respondents have no current plans to buy a smart bracelet. Among the remaining consumers who are willing to buy, 51.2% said that they have no purchase plan in the past six months.
Of course, ear-worn devices like watches and wireless headphones aren't as bad as bracelets, but they aren't much better either.
Like wristbands, smartwatch shipments also experienced two consecutive declines. Data show that in the first two quarters of this year, watch shipments were 7.16 million units and 8.46 million units, down 15.3% and 12.3% year-on-year, respectively. The only gratifying thing is that compared with the first quarter, watch shipments in the second quarter increased slightly, and the year-on-year decline also narrowed.
Looking at the sub-categories, the shipments of adult watches and children's watches are not much different. In the second quarter, they were 4.23 million and 4.24 million, respectively, down 14.5% and 10% year-on-year. However, due to a lot of negative news from leading manufacturers such as Xiaotiancai some time ago, it may have an adverse impact on the sales of children's watches.
On the ear-worn side, the past two quarters have been a mixed bag.
Data show that in the second quarter of this year, domestic shipments of ear-worn devices were 16.18 million units, down 23.2% year-on-year. Among them, the shipment of true wireless Bluetooth headsets was 12.73 million units, a year-on-year decrease of 22.1%. In addition to the significant year-on-year decline, compared to the first quarter of this year, the performance of ear-worn devices also declined significantly. Data show that in the first quarter, China's ear-worn device shipments were 15.96 million units, a year-on-year increase of 3.5%.
All in all, watches, bracelets, and ear-worn devices are in a pretty bad situation right now, and don't laugh at anyone.

Wearables can't sell, and price isn't the only reason
If major manufacturers want to bottom out, they must first figure out why consumers no longer buy it.
Just like "Why don't young people change their mobile phones", many consumers' answers to the question "Why don't young people change their watches/bands/earphones" also boiled down to an expensive word.
Taking watches as an example, in the past two years, major manufacturers have continued to add and stack materials in terms of functions, and at the same time, they have been concentrating on marketing, which has indeed brought about a wave of industrial upgrading. But with the increase, is the price.
According to the statistics of the Prospective Industry Research Institute, as of the first quarter of this year, the average price of 67 brands and more than 360 products surveyed has increased by nearly 12% compared with the same period in 2020. Among them, there are nearly 40 children's smart watches that sell for more than 300 yuan on the market. Some products of Kasladi, Honghao Guardian and Xiaocai are priced at more than 1,000 yuan, even with high cost performance. The well-known Xiaomi has begun to launch mid-to-high-end products priced at more than 400 yuan.
In addition to the overall sales volume, changes in the share of major brands can also see the impact of price on shipments.
For example, in the TWS true wireless Bluetooth headset market, Apple, which has always taken the high-end route, will face increasing competitive pressure. According to the latest research report released by Strategy Analytics in September, from 2021 to 2023, the market share of Apple AirPods will continue to decline, gradually being eroded by more cost-effective brands such as Xiaomi, BOAT and EDIFIER.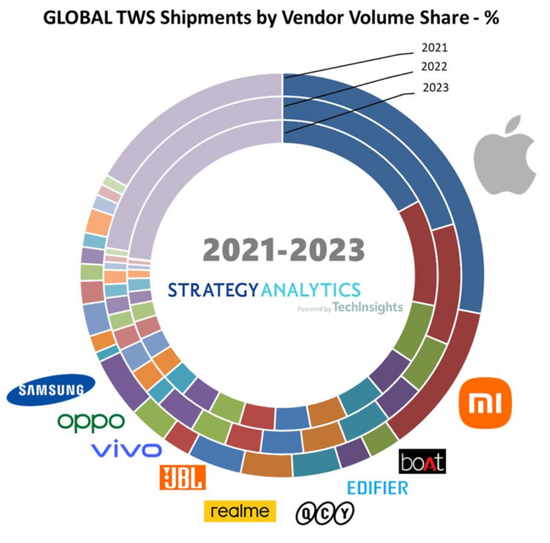 (Image via Strategy Analytics)
As mentioned above, bracelets are the worst performing category of wearables. The reason for this phenomenon is not unrelated to the overall upward trend in prices.
The same report from HCR XMfactory pointed out that when consumers buy bracelets and watches, the first consideration is performance/function, such as body detection, motion detection, etc. The data shows that among consumers who are willing to buy bracelets, 31.5% regard the accuracy of various monitoring functions as the first consideration, which is much higher than the 19.2% who consider cost performance.
Under the trend of focusing on functions and light on cost-effectiveness, manufacturers continue to pile up materials for bracelets, pushing up the price, which is quite reasonable at first glance. However, they may have overlooked one thing: when the price of bracelets and watches are getting closer and closer, there is a natural gap between the two in terms of function and even appearance, and it is not difficult for consumers to guess who should choose.
Of course, judging from the data, in addition to bracelets, watches and ear-worn devices have also declined in an all-round way, so it must not be entirely to blame for the price – the lack of innovation in functions will magnify the defects of cost-effectiveness, and the two can be said to affect each other.
Huang Renzi, editor-in-chief of well-known technology media Leitech (ID: leitech), told the Institute of Value (ID: jiazhiyanjiusuo) that the current wearable device market is saturated, and if there is no innovation in functions, shipments will definitely continue to be affected.
"TWS earphones have no new functions since noise reduction, and wearable devices on the wrist can only be rolled in the field of 'health' for a long time. The lack of innovation will make consumers lose interest in replacement and iteration, which in turn affects to shipments."
Judging from historical data, the explosion of domestic wearable device shipments began in 2019, and it has been nearly 4 years since then. Prior to this, the penetration rates of bracelets and watches were only 4.6% and 3.1% respectively. The penetration rate of TWS earphones will remain at a low level of less than 3% until 2020. There are still a large number of potential customers waiting to be developed, and the market has a huge increase. space.
But after the explosive growth in recent years, the penetration rate has increased significantly, and consumers are not easy to fool. According to IDC data, the penetration rate of TWS headsets in the iOS ecosystem has reached 36.5% in 2021, and the Android camp has also reached 18.6%. The former will increase nearly tenfold compared with two years ago.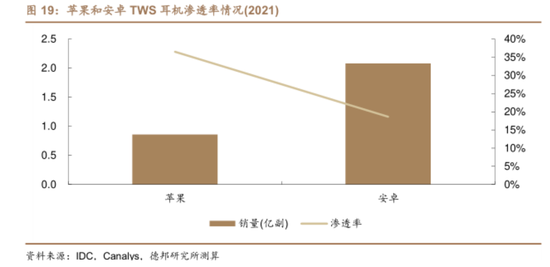 (Photo courtesy of the Debon Institute)
After the early baptism, TWS earphones, smart bracelets and watches are no longer new things to "try out", and consumers have become very picky. At this stage, it is obviously difficult for them to pay for the lack of innovative products.
In other words, if manufacturers want to break through the growth bottleneck, functional upgrades are an inevitable choice.

With new technologies, new products and new ecology, manufacturers are desperately trying to survive
To be sure, major manufacturers have not lost confidence in the wearable device market. The source of confidence is largely due to policy support.
In the past few months, the Ministry of Science and Technology, the Ministry of Education, the Ministry of Industry and Information Technology and other departments have successively issued a number of documents to encourage technology hardware manufacturers to explore new application scenarios and new functions of wearable devices. Among them, in the "Guiding Opinions on Accelerating Scenario Innovation and Promoting High-Quality Economic Development with Artificial Intelligence Video Application" released in July, it directly wrote that the elderly care field should actively explore scenarios such as home smart monitoring and smart wearable device applications.
Policy support is a reassurance for manufacturers. But at the end of the day, they still have to work hard to innovate in order to impress increasingly discerning consumers.
In which direction should innovation and upgrade be carried out? The Institute of Value (ID: jiazhiyanjiusuo) believes that the main points are as follows.
First, in the field of health monitoring, which is the main focus of most brands, efforts need to be made to improve the accuracy rate and increase the scope of monitoring.
The Apple Watch Ultra, which was unveiled at the Apple Autumn Conference at the beginning of the month, has improved the sensitivity of heart health monitoring and exercise monitoring, while adding car accident monitoring functions.
Official information shows that Apple Watch Ultra will use L1+L5 dual-frequency GPS system, which can improve positioning ability and also support users to switch functions in different sports scenarios through the left button, such as providing more complete body indicators during long-distance running. information display.
As for the car accident monitoring function that has attracted much attention, it is completed through the coordinated work of the three-axis sensor and the G-finger sensor. According to the data, this monitoring function can sense the impact force of up to 256G, including different situations such as frontal, side, rear-end collision and rollover.
Secondly, it is to open up new application scenarios and product types – that is, to find new popular models other than the "old three" such as bracelets, watches and ear-mounted devices.
Google fiddled with it for a while many years ago, and then the smart glasses that were left behind have now become the darling of big manufacturers again.
Lenovo's newly released Yoga smart glasses on September 1 is known as a "breakthrough" product for C-end consumers. Unlike the first-generation players such as Google, Lenovo smart glasses have found their own new selling point: display function. The Yoga smart glasses that put the "display on the head" are the latest masterpiece.
According to the evaluation of Lei Technology (ID: leitech), this new product is equipped with two Micro-OLED screens from BOE, using the current mainstream 1920*1080 full HD resolution. The application of high-end panels, coupled with new technologies such as free-light curved lenses, Yoga smart glasses have achieved the same level of ultra-high pixel density with about one-tenth the area of ​​a mobile phone screen.
Third, open up ecological connections and create a complete intelligent ecological chain.
At this point, wearables and markets such as mobile phones and smart homes face the same problem.
"When the functional innovation of a single product has entered a bottleneck, many manufacturers hope to connect the single product into a whole, and use the ecological concept to add value to the product," Huang Renzi said to the Institute of Value (ID: jiazhiyanjiusuo). Apple, Huawei, Xiaomi and other manufacturers have adhered to the ecological concept for many years, and have been fully popularized in various smart hardware fields.
But it is not easy to build an ecological chain – in addition to the integration between hardware and hardware, it is also a difficulty to realize the interconnection of software and hardware. Only when the barriers between different hardware devices and software systems are completely broken through can the ecological construction of wearable devices be considered a success.
At present, Apple is the best manufacturer in ecological construction. When each generation of Apple Watch functions is updated, Apple will also be equipped with corresponding software to help users fully use the functions, such as heart rate monitoring, atrial fibrillation warning, etc. The problem with Android manufacturers is that they seem to have lost their ability to innovate while crossing the river with Apple.
In Huang Renzi's view, how to achieve comprehensive innovation from products to ecology is a problem that major manufacturers need to think about in the future.
"Future product innovation can no longer be limited to single product innovation, but should be innovation in ecology and overall experience, and use a comprehensive layout to drive and revitalize the development of wearables."
The expectations of consumers and people in the industry have been passed on. As for whether manufacturers can do it, only time can give us the answer.

write at the end
During the "Win-Win Huawei Innovation Week" held recently, Zhang Wei, president of Huawei's terminal BG smart wearable and sports health product line, introduced the proud "seven years and five generations" technological innovation to the media.
According to Zhang Wei's introduction, Huawei's self-developed vital signs monitoring technology has completed five update iterations in the past seven years, and now has medical-grade blood pressure monitoring capabilities and electrocardiogram monitoring capabilities. Data shows that Huawei has obtained more than 80 patents in the field of blood pressure measurement alone.
"Smart wearables are a product form that everyone is very optimistic about. We need to build a technological 'moat'," said Zhang Wei. Like Huawei, there are also leading manufacturers such as Apple, Xiaomi, Samsung, OPPO, vivo, and Honor that specialize in technical difficulties. After the end of the initial price war, technology involution has become the new theme of the wearable device market.
Of course, as mentioned earlier, consumers are happy to see this changing trend. Only when the functions are innovated and upgraded will consumers be willing to pay for these new products.
topic of the day
Which wearable device prospect is more worth looking forward to, watch, bracelet or earphone? Or another new product?
Welcome to share your views in the comment area. The director will select 3 high-quality views in each issue and give away (You/Ai/Teng) any monthly membership (Note: Featured message ≠ Winning message, the director will take the initiative to contact the winner recipients)
——Recommended reading——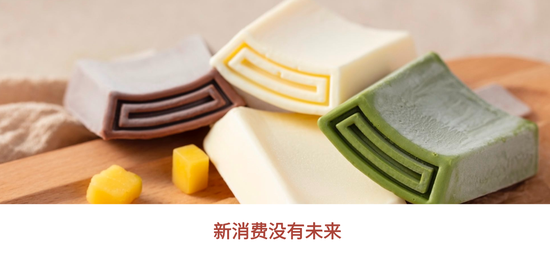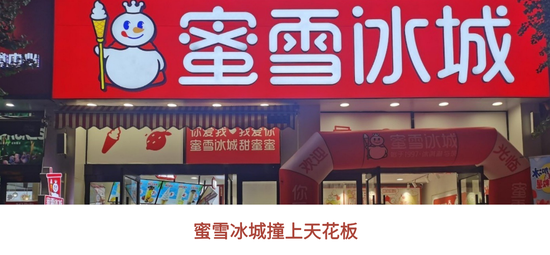 (Disclaimer: This article only represents the author's point of view and does not represent the position of Sina.com.)

This article is reproduced from: http://finance.sina.com.cn/tech/csj/2022-09-23/doc-imqqsmrp0234375.shtml
This site is for inclusion only, and the copyright belongs to the original author.