New cool products will be tested for free for the first time, and many high-quality talents will share their unique life experiences. Come to Sina Public Test and experience the most cutting-edge, most interesting and fun products in various fields~! Download the client and get exclusive benefits!
This morning, OPPO Chief Product Officer and OnePlus founder Liu Zuohu announced that the OPPO Developer Conference will be held on August 30, and said that it will bring "the era of integration of all things, a new answer to 'ecology'".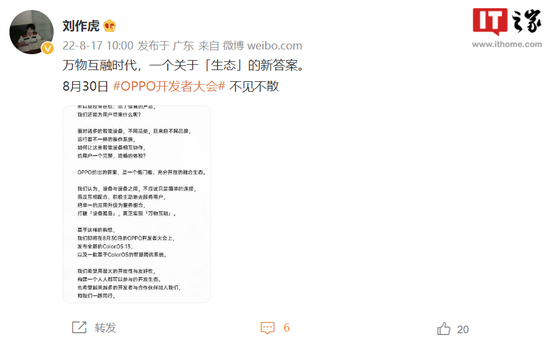 Liu Zuohu said that in the past ten years, smart devices have completely changed people's way of life. According to statistics from research institute iResearch, it is expected that by 2032, the number of smart devices per capita will reach 12 .
Faced with many smart devices of different categories, from different brands, and running different operating systems, how to make these smart devices cooperate with each other and give users a complete and smooth experience? The answer given by OPPO is a low threshold and fully open integration ecology.

We believe that devices should not be simply connected, but should cooperate with each other and actively serve users, upgrade a single application into a service combination, break the "equipment island", and truly realize "the integration of all things". .
According to Liu Zuohu, based on this concept, OPPO will release the new ColorOS 13 and a smart cross-end system based on ColorOS at the OPPO Developer Conference on August 30.
IT House has learned that the ColorOS 13 public beta version has been first adapted to the official version of Android 13 . Models include OPPO Find X5, Find X5 Pro, and OnePlus 10 Pro. OPPO said that ColorOS 13 integrates the underlying security and privacy features of Android 13 and provides customization features similar to Google's Material You.
According to previous revelations, Coloros 13 adds new folders, NFC college campus cards, double-click the power button to quickly display the health code, media playback center, supports the home screen world clock to display clock information in different time zones, adds cards to the desktop, and upgrades Super Recording to version 2.0 , optimize Xiaobu to suggest cards and mobile phone screencasting, etc.

media coverage
Sina Technology IT Home 36Kr
Related events
This article is reproduced from: https://readhub.cn/topic/8iy1GBTrywZ
This site is for inclusion only, and the copyright belongs to the original author.