On April 28, the pre-sale release of FAW Toyota Beyond Zero bZ4X was officially opened. A total of 5 models of the new car were released, and the pre-sale price was 220,000 yuan to 300,000 yuan (after subsidies). With the empowerment of the e-TNGA exclusive architecture and the blessing of a number of advanced technologies adopted by Toyota for the first time, the bZ4X has made breakthroughs and innovations in various aspects such as styling, interior decoration, driving experience, and driving performance, depicting a different pure and pure experience for the industry and users. The new era of electricity.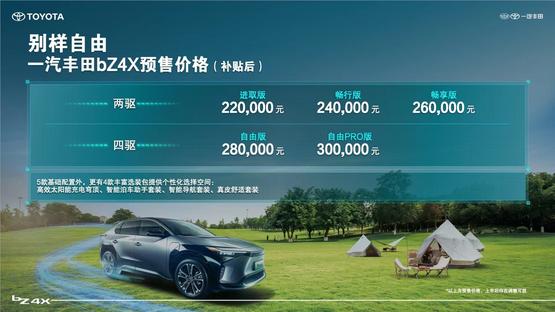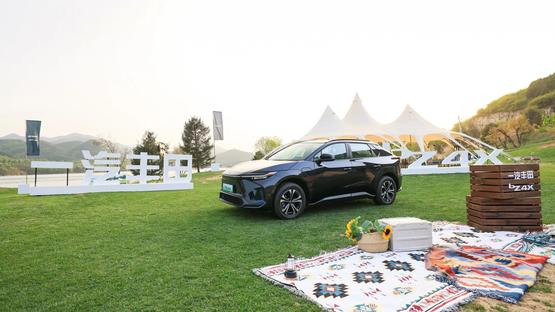 "Camp" between mountains and rivers, bZ4X brings you a different kind of freedom
In order to more intuitively show the naming meaning of TOYOTA bZ pure electric exclusive series "beyond zero emission value", as well as the different charm of bZ4X. Different from the previous traditional model, this pre-sale release creates an immersive outdoor camping live broadcast for the audience.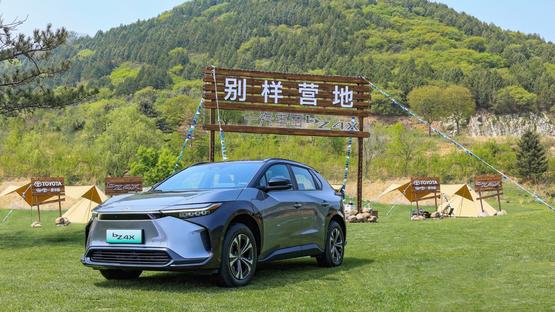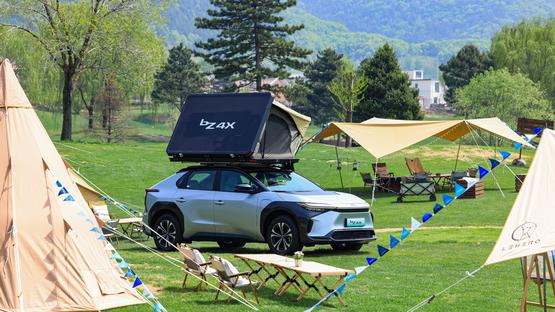 In a different camp built by FAW Toyota, bZ4X blind booking owners and senior camping experts gathered together to interpret the true meaning of different freedom with their own stories, exchange new outdoor lifestyles, share new car experience, and explore the technical strength of bZ4X , and jointly look forward to the new future of pure electric travel. In addition, "Xiaojuan and the residents of the valley" also came to the camp and brought a fresh and refined band Live Show to everyone. It can be said that the pre-sale release of bZ4X has transcended the product itself and sublimated to the heart-to-heart communication between the brand and fans.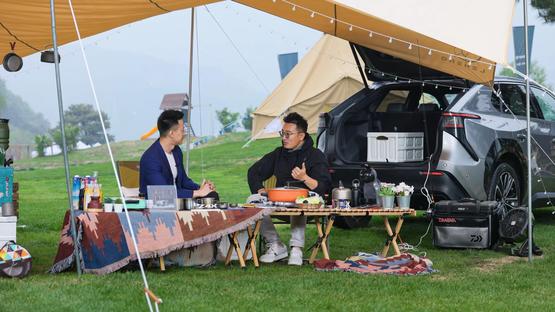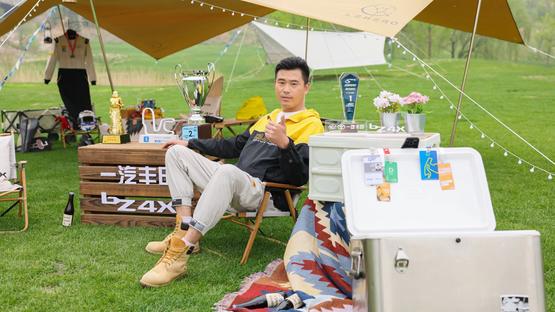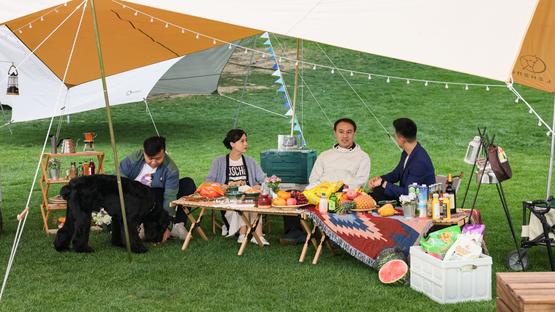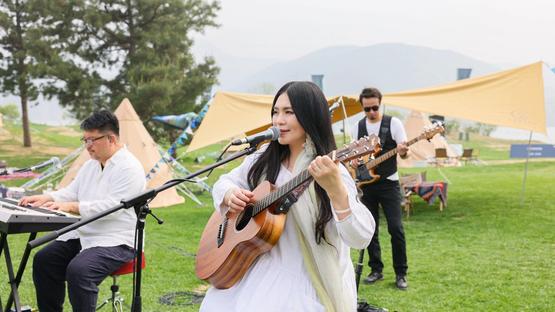 Strength beyond imagination, bZ4X leads BEV value to a new high
As the first pure electric SUV of FAW-Toyota bZ series, bZ4X fully embodies the "people-oriented" value of TOYOTA bZ pure electric exclusive series, and realizes a different style, a different driving control, a different kind of wisdom, and a different kind of The four core advantages of safety define the future direction of BEV with the product strength that surpasses the same level of models in an all-round way.
The bZ4X adopts the Hi-Tech and Emotion design theme, which integrates the technological sense of BEV with the vehicle. The digital in-vehicle ecosystem of the smart cockpit supports voice recognition and easily realizes human-computer interaction.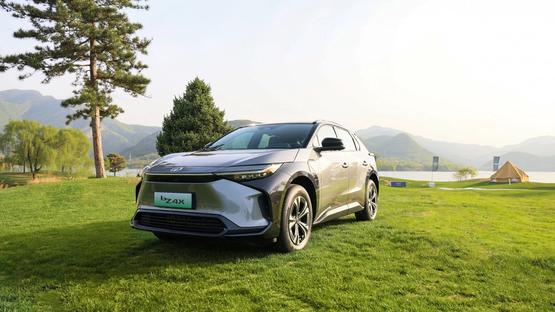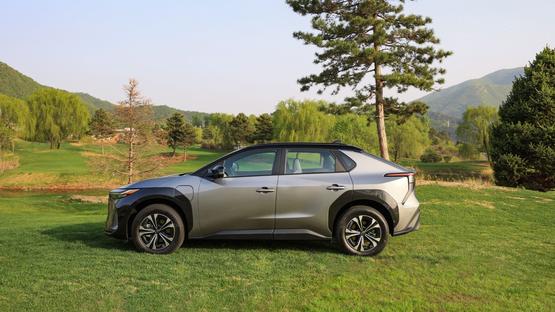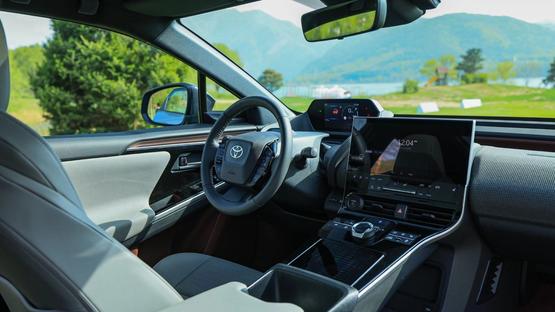 bZ4X is equipped with low attenuation and high safety driving battery, the minimum CLTC energy consumption is only 116Wh/km, and the maximum CLTC cruising range can reach 615km. At the same time, the battery of bZ4X is developed with the goal of 90% battery capacity retention rate after 10 years, which is the world's top battery, aiming to create an electric vehicle that can be used for a long time.
In terms of driving control, the bZ4X is equipped with X-MODE four-wheel drive off-road assist mode (equipped on four-wheel drive models), and with the newly developed Grip-Control intelligent creep mode, it can meet the needs from daily life to light off-road use. It is worth mentioning that the bZ4X's high-efficiency solar charging dome (optional) can increase the cruising range by about 1750km each year by absorbing the electricity converted from solar energy. At the same time, the bZ4X is equipped with an external charging function, which can be used as a power source in outdoor or emergency situations.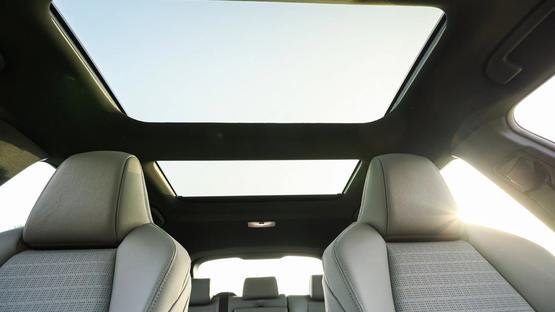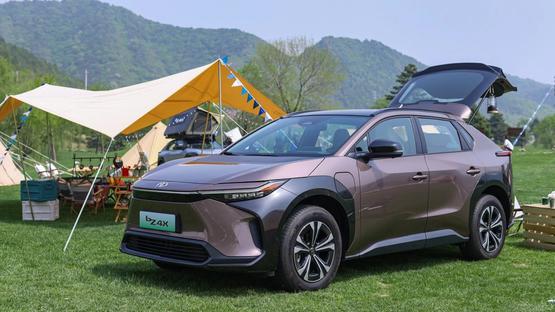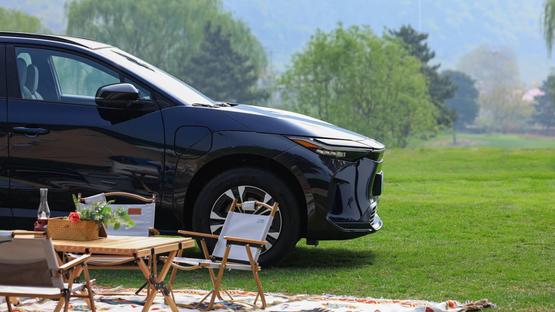 The new "TOYOTA SafetySense Smart Travel Safety Assistance Package" combines many intelligent driving assistance functions to create all-round protection for users in situations such as congestion, smooth driving, and getting on and off the car. In the body structure, the bZ4X adopts an all-round collision response structure, which can protect the occupants, battery safety and other vehicles. In terms of battery safety, bZ4X strengthens the "prevention" of battery failures and "timely detection when there are signs of failure", and provides users with a solid security guarantee through multiple monitoring systems.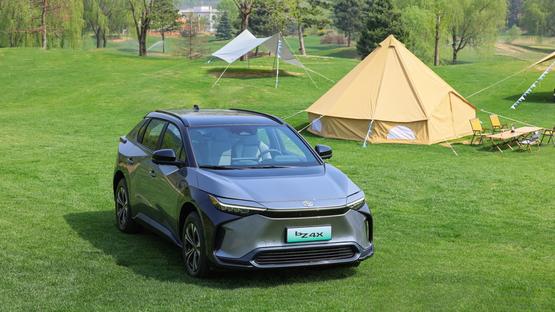 Generous pre-sale benefits to help users travel freely
In this pre-sale release, FAW Toyota also brought rich and considerate courtesy, and the "Free Travel Package" helps users open up a new pure electric experience. Among them, "freedom of car purchase" includes pre-sale exclusive customized gift packages worth 2,000 yuan, up to 8,000 yuan replacement subsidy, 6,000 yuan additional purchase subsidy, 0 interest rate for 2 years/minimum 60% repurchase within 3 years and other financial service products. "Freedom to use a car" can enjoy charging piles delivered upon purchase and free door-to-door installation, 10-year or 200,000-km free basic maintenance, and 10-year or 200,000-km electric drive system free warranty. "Freedom of Travel" includes 1,888 yuan of electricity card subsidy for pre-sale transaction customers, 2,000 yuan of electricity card subsidy for transactions through the brand's micro-store referral within the year, up to 10 valet charging per year & unlimited valet maintenance free service .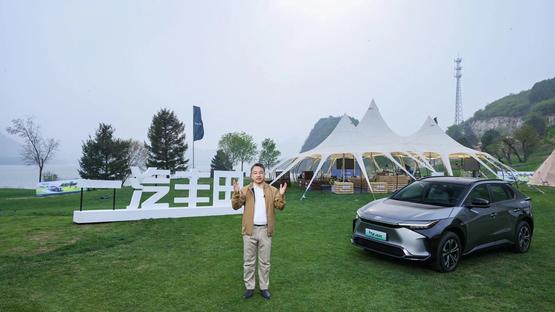 Multiple policies cover the entire life cycle from car purchase to car use, helping users to start a different free journey without worry. It is worth mentioning that in order to meet the diverse needs of users, FAW Toyota will also provide scooter services in the future. For users to purchase cars, FAW Toyota will adopt the offline "key store" sales model in the future to ensure user experience. At the same time, FAW Toyota will also build an online store to make it more efficient and convenient for users to view, buy and use cars. Not only that, FAW Toyota will also plan key cities and set up multiple experience spaces, so that consumers can have access to the TOYOTA bZ pure electric exclusive series.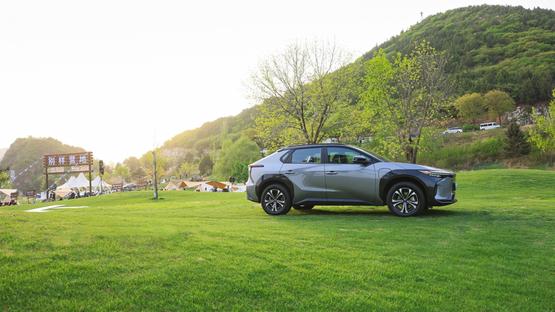 Backed by the deep brand accumulation, the bZ4X will be more confident on the pure electric track. Toyota has accumulated 25 years of electrification technology, and the global sales of electrified models have exceeded 20 million, and it has maintained a record of zero battery accidents. In China, FAW Toyota is also a leader in the hybrid market. After introducing the first hybrid model Prius in 2005, FAW Toyota actively promoted the new energy strategy, realizing dual-engine (HEV), dual-engine E+ (PHEV), and E The coverage of various power forms of engine (EV) and hydrogen engine (FCEV) provides consumers with more abundant low-carbon travel options.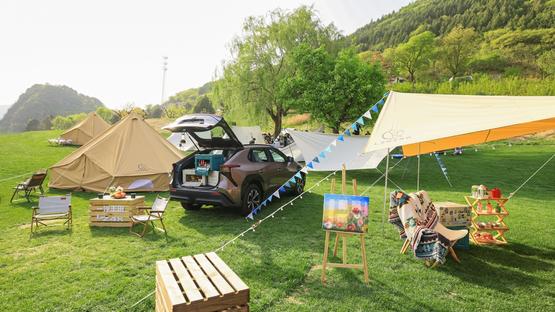 In addition to the mature product system, FAW Toyota's adherence to Toyota's QDR manufacturing standards and the base of 9 million customers across the country will make the bZ4X superior, and achieve both sales and reputation in the future. Next, FAW Toyota's TOYOTA bZ pure electric exclusive series products based on the e-TNGA exclusive architecture will also be gradually improved. By then, more abundant and higher-quality pure electric models will be introduced into the market, bringing more surprises to users.
This article is reproduced from: http://www.guokr.com/article/461371/
This site is for inclusion only, and the copyright belongs to the original author.