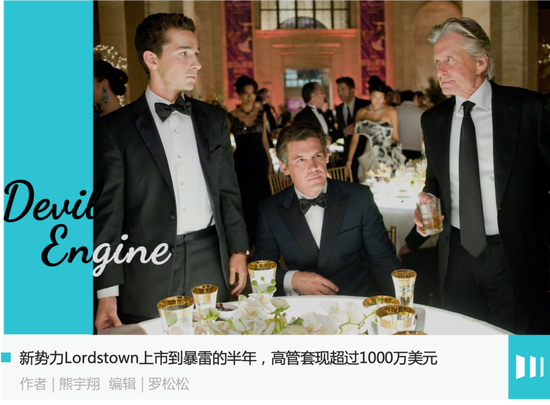 Welcome to the WeChat subscription number of "Sina Technology": techsina
Text / Xiong Yuxiang
Source / Yuanchuan Research Institute (ID: caijingyanjiu)
In the development process of electric vehicles, although bearish institutions will be late, they will never be absent.
Before Tesla achieved continuous profitability, it was shorted by the well-known short "Citron" for five consecutive years, triggering an epic "long-short war" on Wall Street; in 2020, Citron was eyeing Wei, whose stock price skyrocketed at that time. It was determined that its stock price was seriously inflated. In June this year, the short-selling agency "Grizzly Bear" made another move, saying that Weilai had exaggerated its revenue and net profit margin through the battery leasing business, causing Weilai's stock price to fluctuate.
The short-selling agency is like a "big brother", closely watching the every move of every listed company, ready to give a heavy blow at any time, and to some extent it also plays the role of "scavenger" in the market, exposing some fraudulent companies to the truth. .
In the past two years, Nikola and Lordstown, two new forces born in the United States, have been severely taught by short sellers, and they have also let the world appreciate how wild the American version of PPT is.
"The Next Tesla"
In 2014, Tesla had just set off a boom in Silicon Valley, Trevor Milton (Trevor Milton) founded the truck company Nikola with the other half of the famous electrical scientist Nikola Tesla's name. In the world of cars, I and Tesla are divided.
Before that, Milton was a less-than-successful serial entrepreneur. In the mouth of the employees, he is energetic and eloquent, "can sell snow to Eskimos without snow", just like a youth version of Musk[1]. But Nikola's path isn't quite the same as Tesla's.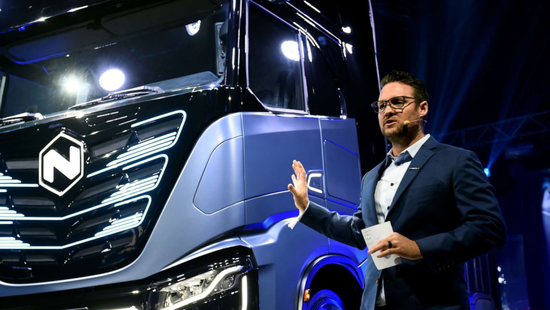 Nikola founder Milton
In 2016, the hydrogen-fueled semi-trailer Nikola One was released. In this commercial debut, Milton fully demonstrated his eloquence and ambition. In the public plan, Nikola will not only build hydrogen energy and electric trucks One, Two, Tre, but also be responsible for the operation and maintenance of hydrogen energy trucks, and also sell hydrogen fuel, and plans to build 700 hydrogen refueling stations in North America [2] ].
This kind of full-chain ecological anti-play is only a year later than LeTV. However, the U.S. capital market preferred to call Nikola the Tesla of the truck field at the time.
When Milton felt Musk to cross the river, WorkHorse, an electric truck company founded by Steve Burns, could hardly hold on. It lost $36.5 million in 2018, and at one point there was only 1.5 million in the account. US dollars, which made him decide to start anew[3].
In October 2019, GM's Lordstown plant in Ohio was about to close after years of losses, and thousands of auto workers faced unemployment. At a critical moment, Burns came as a white knight and announced the acquisition of the factory and the establishment of the eponymous company Lordstown, which will be transformed into an electric vehicle production base with an annual production capacity of 500,000 vehicles, where the electric pickup truck Endurance will be produced.
Burns, who didn't know it at the time, had picked the perfect timing.
A few days later, Tesla released the electric pickup Cybertruck, which received 200,000 orders in three days. The following year, Nikola also released the Badger, a hydrogen-fueled pickup. In the United States, pickup trucks sell more than 2 million units every year, and new energy pickup trucks will be a 100 billion market.
Nikola and Lordstown, who originally competed with Tesla in dislocation, entered the same track as Tesla. In June 2020, Tesla's stock price soared three times year-on-year, and investors who failed to get on the rocket were eager to find the next Tesla. Fueled by capital and media, Nikola and Lordstown were pushed to center stage.
In the same month, Nikola was listed on the Nasdaq. The market value of Nikola, which has not produced a car, reached 30 billion US dollars, surpassing Ford, the second largest car company in the United States, and the latter's annual sales are 2 million vehicles. The listing of Lordstown is also on the horizon, and the secondary market is also hungry for orders worth billions of dollars.
If all goes well, the highlights for Nikola and Lordstown will come in September 2020.
That month, GM announced that it would exchange $2 billion worth of assets and technology for an 11% stake in Nikola and escort the latter to produce a Badger pickup, forming an alliance against Tesla. Lordstown also received a $75 million investment from General Motors, and at the juncture of the upcoming listing, it appeared in the White House as Trump's important achievement in saving the manufacturing industry, and the President personally brought the goods.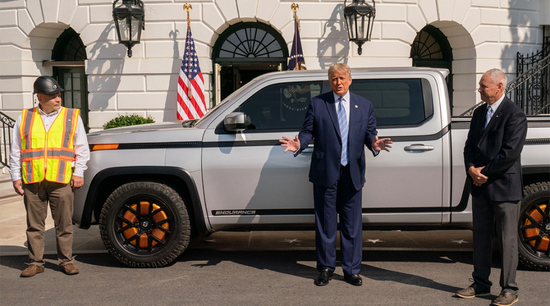 Trump stands at White House for Lordstown's electric pickup truck
It looks like it's going to be a fruitful fall: Nikola and Lordstown get capital, executives achieve financial freedom; GM hires two younger brothers to help its electrification transition; investors find the next Tesla; the government is finishing The great beauty of ZTE with the return of manufacturing – everyone has a bright future.
Until someone stood up and asked: Why is everyone running blindfolded?
bubble burst
The short-selling agency "Hindenburg Research" was founded in 2017. The company was named after the hydrogen airship "Hindenburg" that caught fire and crashed and killed 36 people, intending to point out that many man-made disasters could have been avoided.
In the first three years of its establishment, Hindenburg was unknown, until 2020, they wanted to understand one thing – the name was anti-hydrogen and anti-overheating, and they were destined to be short-selling new energy vehicles.
On September 10, 2020, two days after GM announced plans to invest in Nikola, Hindenburg released a 20,000-word short report, accusing Nikola's story of being a complex scam intertwined with a large number of lies[4]. And this report also reveals a truth: constructing a glamorous scam with great prospects often requires simple fraudulent techniques.
For example, the Nikola One claimed to be fully functional when it was released, but it was actually just a car shell, and even the electricity for the lights was provided by the plug under the stage.
For another example, Nikola claimed to have developed all key components, but the key inverters were actually purchased from suppliers, but Nikola covered the supplier's trademark with electrical tape and successfully mastered the ability of self-development.
Also, Nikola once released a "real shot" video of her truck driving on the road, but in fact there was no power unit on the truck at all. The team dragged it to the top of a long downhill slope to let it slide, and then deliberately adjusted the shooting angle so that the The truck looks powerful…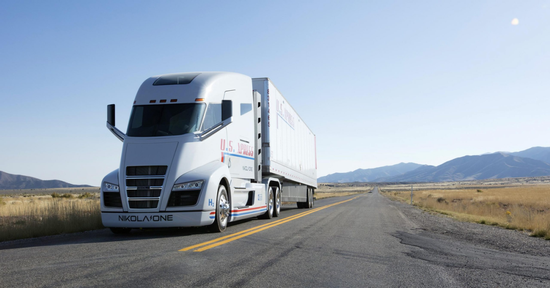 Nikola later admitted that the car in the video was actually coasting
These simple methods, the other side of the ocean will always be an expert when he sees Evergrande, which has been "working hard for three months".
Faced with the exposed short-selling report, Nikola angrily denounced the shorts for trying to manipulate the market, while GM, fearing that its reputation would be damaged, came forward to help, saying that it had conducted proper due diligence on Nikola and that the transaction was beneficial to both parties[5]. However, under Hindenburg's 53 consecutive questions with strict logic and a sense of oppression, these evasive statements appear pale.
Investors suddenly woke up. The hydrogen version of Musk they thought was actually Jia Yueting from North America.
Two weeks after the short-selling report was released, Milton was sacked by an angry board of directors, but this did not save Nikola's credibility. Nikola's stock price plunged, and its market value fell by 80%. A group of executives decided that the trend was over and left one after another.
When Nikola fell from the altar, Lordstown just reached the top. After the founder Burns and Trump chatted and laughed at the White House, in October 2020, Lordstown was successfully listed and raised $500 million, but they were too ostentatious. Unfortunately, they became Hinden Fort's next target.
Just half a year later, Hindenburg published a short-selling report on Lordstown, pointing out that this company is just a golden and jade, and the core technology in its hands is actually the same as that of many Internet celebrity milk tea shops – hiring queuing and inflating orders.
Hindenburg found that Lordstown publicly claimed to have 100,000 orders, but the company not only did not charge customers a deposit, but instead commissioned some intermediaries to place "empty orders" at a price of $50 per piece, thereby exaggerating the number of orders and creating a hot market. illusion. The biggest customer that ordered 14,000 pickups (worth $730 million) from Lordstown was actually a two-person studio.
In terms of real technology, Lordstown has very few hands on it, and even tried to copy the Model 3's open source patents (unsuccessful) in terms of core battery technology. During the first road test, the Lordstown test car ignited spontaneously after 10 minutes on the road [7]. There are indications that Lordstown is far more than half a year away from mass production as it claims.
Facing the already famous Hindenburg, after a symbolic struggle, Lordstown quickly completed the process of changing CEO – stock price plummeting – production troubled, and finally had to sell the factory to Foxconn, which was transformed into a car manufacturer, relying on the latter to replace it. Work to change fate.
However, the stories of Nikola and Lordstown are even just the tip of the iceberg of American PPT car manufacturing.
Since 2020, Tesla's demonstration effect has been superimposed on the flood of liquidity brought about by the release of the US dollar, which has set off a new round of new energy vehicle capital boom in the United States. Gained a market capitalization of billions to tens of billions of dollars.
But Tesla built thousands of Roadsters before going public, and the total number of production cars delivered by the above-mentioned companies before going public is – 0.
Two years later, they still haven't started delivering. The industry is full of tragic images of stock prices plummeting and bubbles bursting – Canoo said that the funds in hand are not enough to build cars, Fisker told users to wait two years, and ELMS completed the vehicle company from listing to bankruptcy within one year. The fastest legend.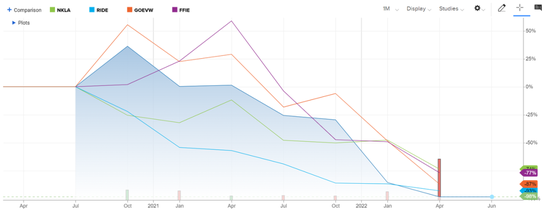 The stock price of the new American car-making power is like a roller coaster
So the question is, in the US stock market where Musk was fined $20 million for privatizing Niu X and lost his chairman seat, why can these companies go public without even building a single car? Fangfang thunderstorm?
capital gluttonous
Behind every spectacular capital chaos, there is an overstretched financial innovation.
In 2020, the raging new crown epidemic and plummeting U.S. stocks made it difficult for many companies to plan IPOs. When a large number of companies were waiting to be fed, SPACs were pushed to the forefront.
A SPAC is a listed company with no actual business, similar to an A-share shell company. Their existence provides start-ups with a way to find money on the curve: through the acquisition of SPAC companies to go public and complete financing. Compared with the traditional IPOs of US stocks, SPAC listings are faster, have fewer restrictions, and are particularly loosely regulated.
In the past, SPAC was not a mainstream financing channel, but in the sluggish period of US stock IPOs in 2020, investment banks such as Goldman Sachs, Bank of America, and Citi have vigorously developed SPAC listing business. With the endorsement of top investment banks, the SPAC market has prospered rapidly, raising US$83 billion that year, a year-on-year increase of 500%[8].
In this capital feast, the most favored industry is electric vehicles, and the main players are retail investors.
The result is that these companies don't need to go through strict layers of screening. Through SPACs, they can even save a car shell and start selling another "accelerating the world's transition to sustainable energy" to ordinary investors. dream.
In these dream-chasing journeys without supervision, how much protection ordinary investors can obtain mainly depends on the degree of responsibility of the SPAC company and the sponsor. But the hot money is too turbulent, and the conscience is unbearable.
In the spring of 2020, after Lordstown ran through traditional financing channels but failed, Goldman Sachs introduced him to a SPAC company founded by former Goldman Sachs executives: DiamondPeak. The founder of the company, Hamamoto, had previously invested in real estate and knew nothing about car manufacturing, but this did not prevent him from hitting it off with Lordstown after passing more than 150 companies (including many real estate companies)[9].
The New York Times broke the news in a report that when the former Goldman Sachs partner inspected Lordstown, he mainly focused on the hot "money scene" of electric vehicles, rather than the reliability of the Lordstown team. Because the cost of acquiring Lordstown's equity is low enough, it will not suffer losses even if the share price crashes [10].
However, the founders and executives of the new car-making forces will not be indifferent as the stock price collapses. Due to the looser restrictions on SPACs, they can cash out faster and do not need to share the same fate with the company during the long equity lock-up period. .
During the short window period between Lordstown's listing in October 2020 and before the thunderstorm in March 2021, a number of executives operated accurately and cashed out more than $10 million in total.
Before Nikola's SPAC listing in June 2020, founder Milton couldn't wait to use the purchase rights of the company's stock as collateral when buying private farms. At a time when the company was mired in fraud and its share price plummeted, he still cut his holdings twice, cashing out $284 million worth of stock.
At the same time, Nikola paid a fine of $125 million to the SEC (US Securities and Exchange Commission) for Milton's lies, which made the cash flow that was not wealthy worse.
Because the SPAC's sickle is too favorable, in 2022, the SEC announced that it will urgently strengthen its supervision. In order to avoid responsibility, investment banks changed their enthusiasm and reduced or even canceled this business, but the PPT car-making under the urging of SPAC is already a chicken feather.
According to the statistics of LaCroix, an American lawyer, 10 electric vehicle companies will be involved in SPAC-related lawsuits in 2021, and most of them are still in progress[11].
Despite this, no one has yet been sentenced. In this rush of capital feasts, the executives of the new car-making forces, SPAC companies and Wall Street have achieved mutual wealth, and the years have been quiet.
But there will always be someone who has to carry the load for them.
In 2021, investors filed a class-action lawsuit against Lordstown, with 70-year-old retail investor George Troicky appearing as lead plaintiff. On his Lordstown investment, he lost $860,000—the equivalent of 10 years of income for an average American family.
References
[1] Nikola founder Trevor Milton is facing criminal fraud charges. Insiders say a history of lies brought down the billionaire once considered the new Elon Musk. Business Insider
[2] Nikola: "Tesla" sample of hydrogen energy heavy truck, CITIC Construction Investment
[3] GM sells Lordstown factory to the offshoot of a struggling EV startup, The Verge
[4] Nikola: How to Parlay An Ocean of Lies Into a Partnership With the Largest Auto OEM in America, Hindenberg Research
[5] GM conducted 'appropriate diligence' on $2 billion Nikola deal, CEO Mary Barra says, CNBC
[6] GM cancels deal to build Nikola (NKLA) electric-hydrogen pickup truck after many controversies, Electreck
[7] The Lordstown Motors Mirage: Fake Orders, Undisclosed Production Hurdles, And A Prototype Inferno, Hindenberg Research
[8] SPACs Party Like It's 2020, Ruth Saldanha
[9] Electric Vehicle Makers Find a Back Door to Wall Street, The New York Times
[10] Behind the Lordstown Debacle, the Hand of a Wall Street Dealmaker, The New York Times
[11] And Again: Another Post-SPAC Merger EV Company Hit with Securities Sui, Kevin M. LaCroix

This article is reproduced from: http://finance.sina.com.cn/tech/csj/2022-08-10/doc-imizmscv5685973.shtml
This site is for inclusion only, and the copyright belongs to the original author.