Original link: https://phuker.github.io/posts/dafen-oil-painting-village.html
Recently we visited Dafen Oil Painting Village for half a day.
This time we mainly want to visit the " First Exhibition of World Art Master Giorgio Morandi in South China ". This exhibition has dozens of authentic works of Giorgio Morandi . Sajia is a layman in the field of painting, but he took art classes in high school before, read some popular science, and knew a few famous paintings. Before coming to Sajia, I didn't know Giorgio Morandi well, but I gradually got to know his life and works through watching this exhibition.
When we got off the subway and entered Dafen Oil Painting Village, we could see advertisements for this exhibition on the billboards on the lampposts when we looked up. Across a street, there are shops related to oil paintings. We walked to the end and saw the Dafen Art Museum, then went up to the second floor to buy tickets to enter the exhibition hall. There are many well-dressed girls blocking the entrance of the exhibition hall. They don't go in to see the exhibition, but they just keep posing, taking selfies and hers. I never expected that this place would also become a place for Internet celebrities to check in and take pictures.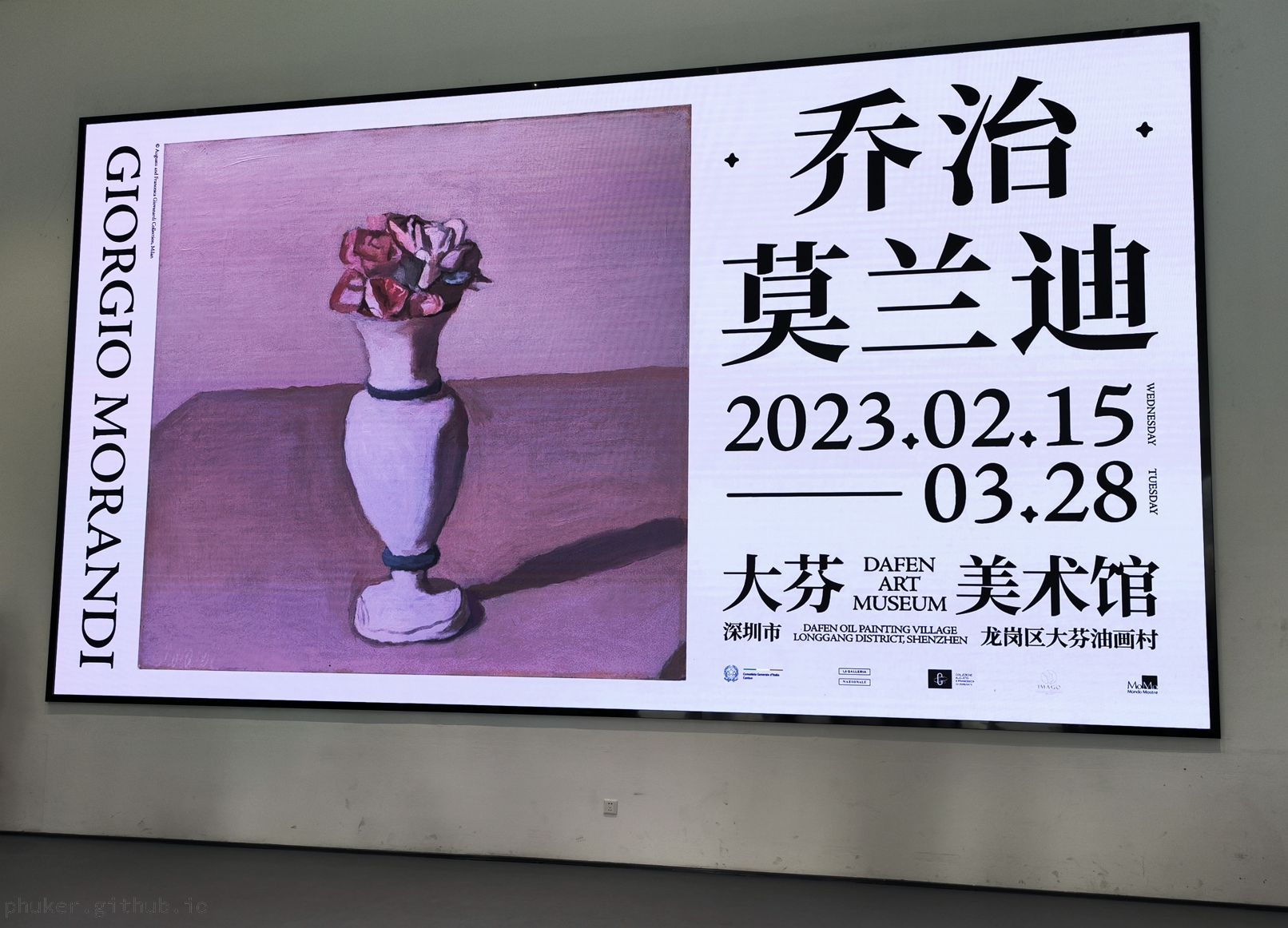 Showroom entrance
Squeezed into the exhibition hall, there are still many people inside. The works are all hung on the wall, and a warning rope is pulled in front of them. Some works are crowded with people, so you can only look at other works first, and then squeeze to see them after they leave. Sajia took a few photos of the painting, and when I came back to look at it, I always felt that it was different from what I saw on the spot. Not only are the colors inaccurate in the photo, but the brushstrokes, thickness, reflections and texture of the painting are also lost. Both the still life and the landscape seem ordinary, and people can no longer experience that kind of shock, as if the "soul" in the painting is gone.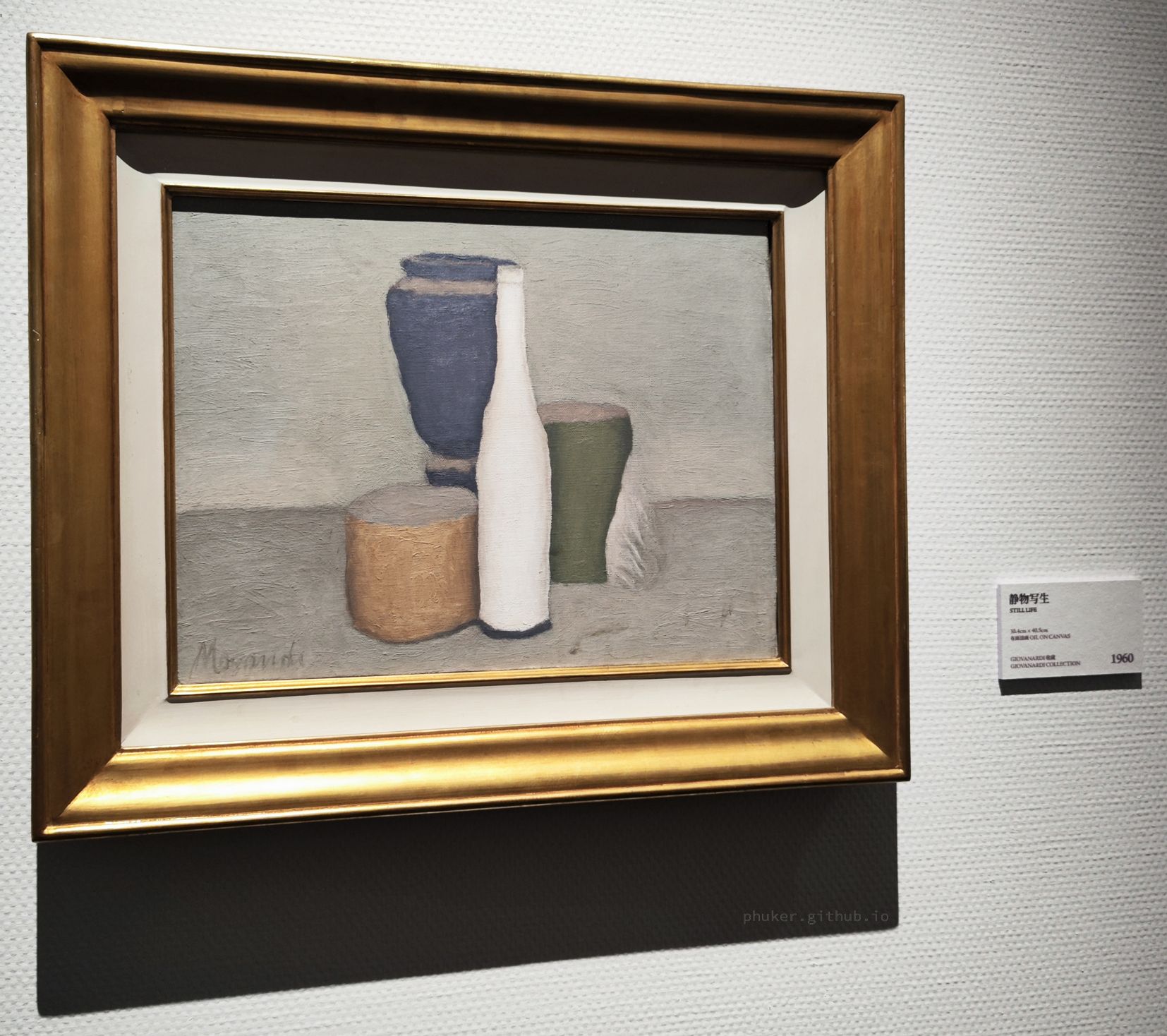 Still Life | 1960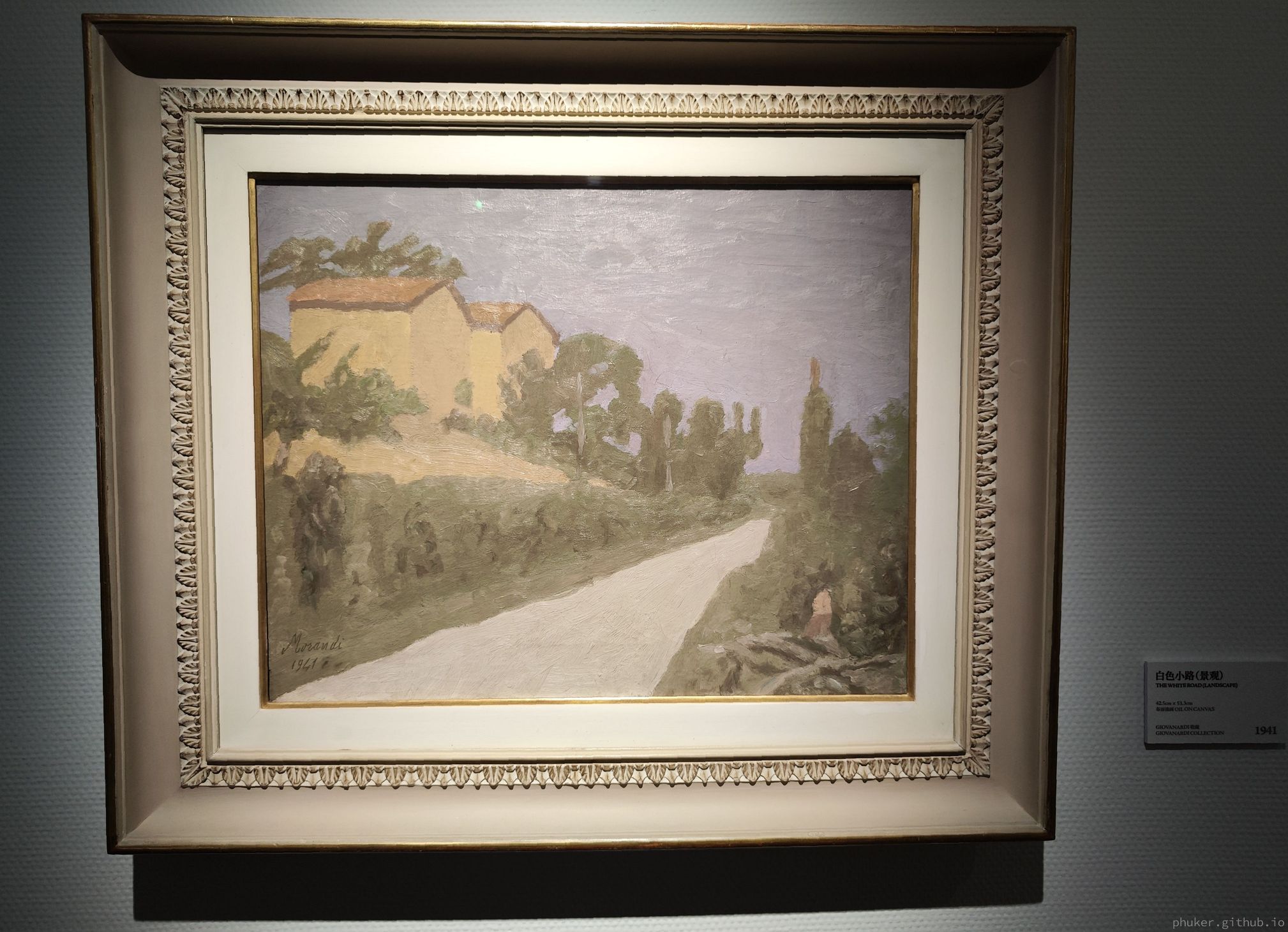 White Path (Landscape) | 1941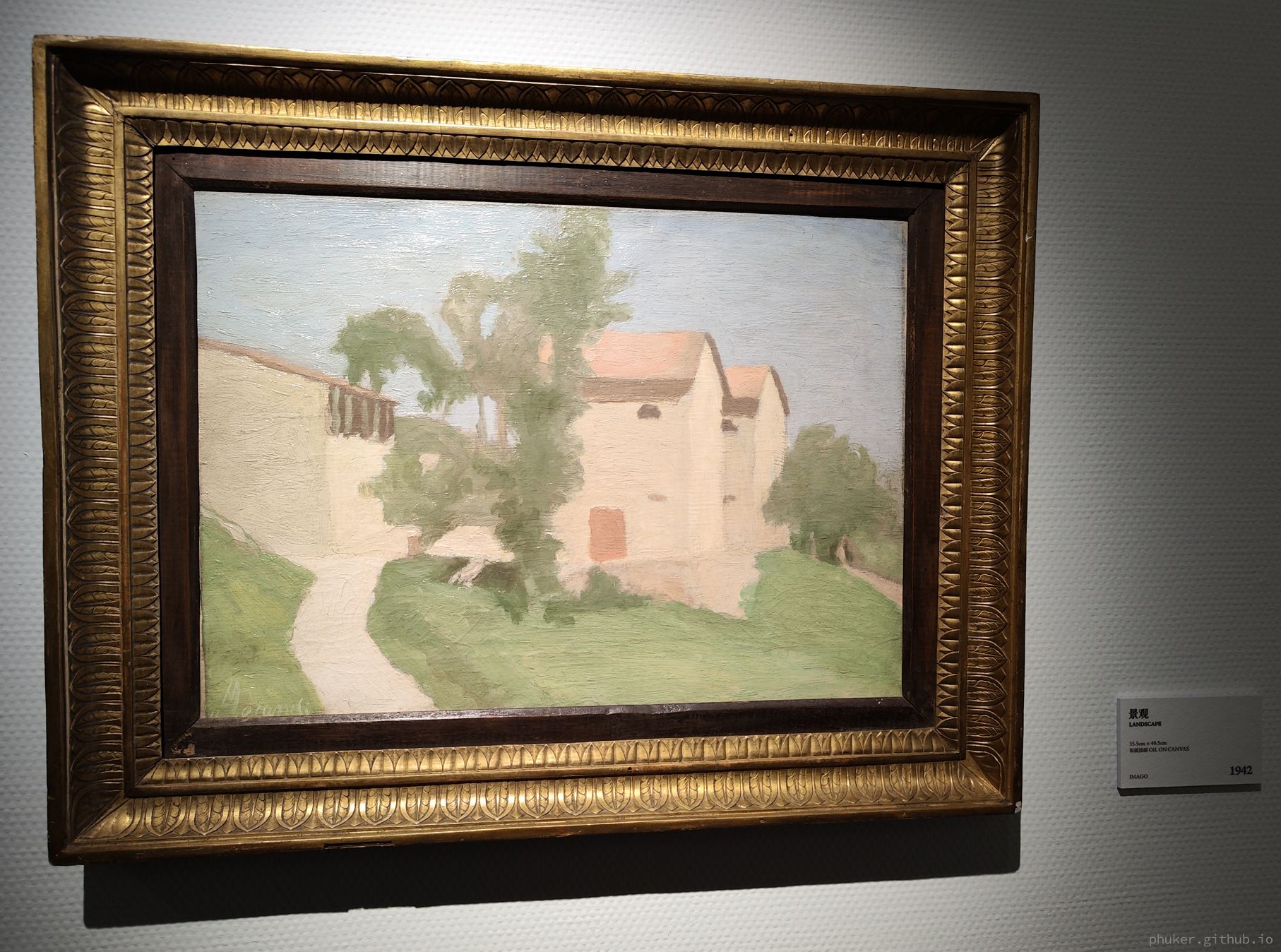 Landscape | 1942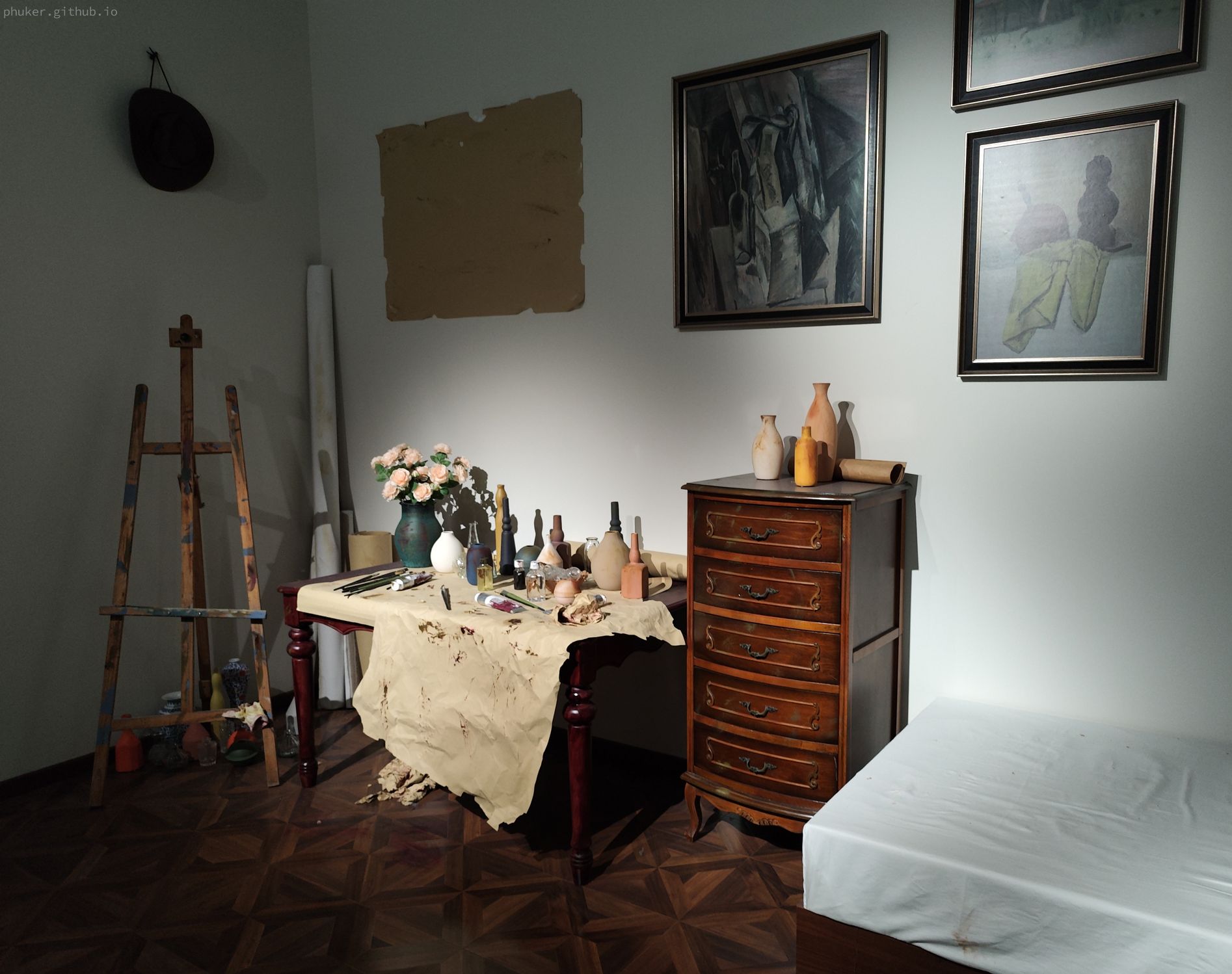 Giorgio Morandi studio set
As a layman, Sajia can't say anything about it. He just thinks his paintings have a kind of attraction, which can attract me to stare at them and observe them carefully. The seemingly simple bottles, jars, flowers, and suburban scenery seem to be carefully disguised, but they are actually not simple. I don't know why I can feel a kind of calmness, tranquility and eternity from inside.
Perhaps Sajia and Giorgio Morandi have some common pursuits. A few years ago, there was an essay " Living on a Tree " with full marks in the college entrance examination. After reading it, Sajia felt very ashamed, just like a high school model essay with gorgeous rhetoric. Sajia writes articles and often revises them repeatedly, just trying to accurately convey the thoughts to readers with as popular and concise words as possible.
After we came out, we went down to the first floor to visit the exhibition " Occurrence·Discovery—Shenzhen·Chinese Freehand Oil Painting Tour ". Most of the works in this exhibition are freehand, abstract and hazy contemporary works. Looking around, the color saturation is generally higher than that of Giorgio Morandi's works, and the style is obviously different. Here are a few interesting works: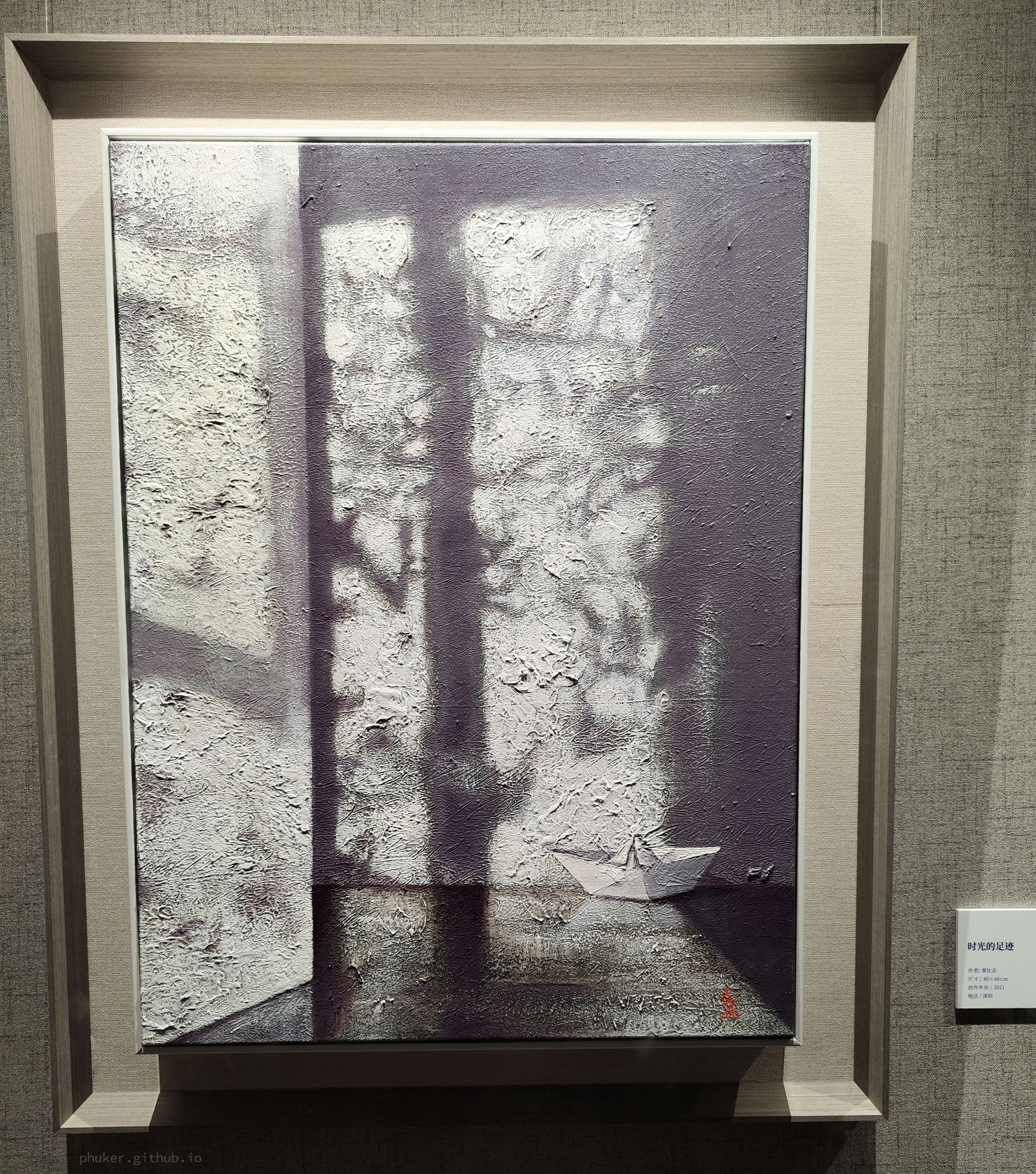 Footprints of Time | Li Zhuangzhi | 2021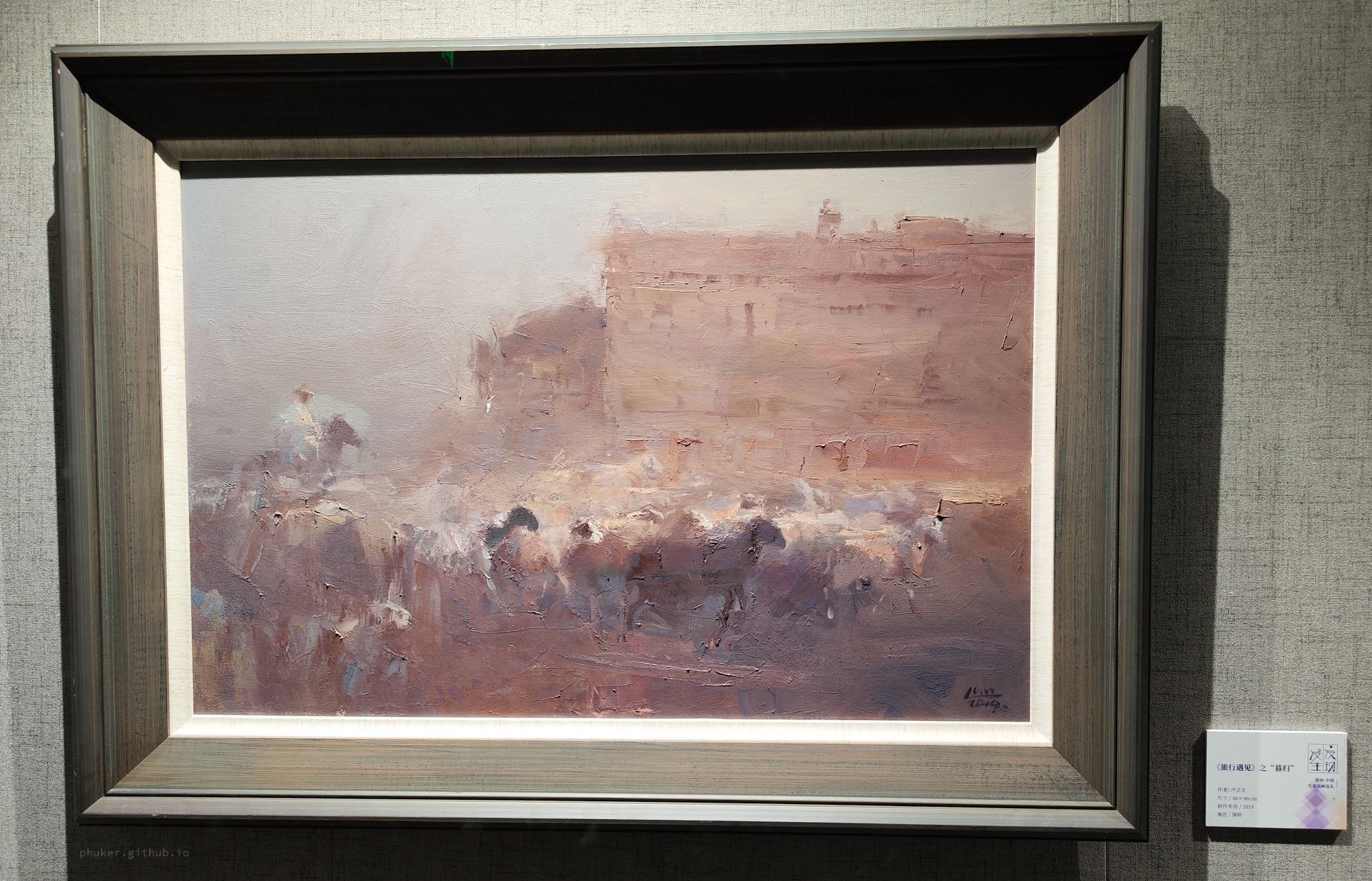 "Twilight Return" of "Travel and Encounter" | Lu Weiwen | 2019
Visit Dafen Oil Painting Village¶
When we came out of the art gallery, the sun had not yet set, so we walked around the village for a while.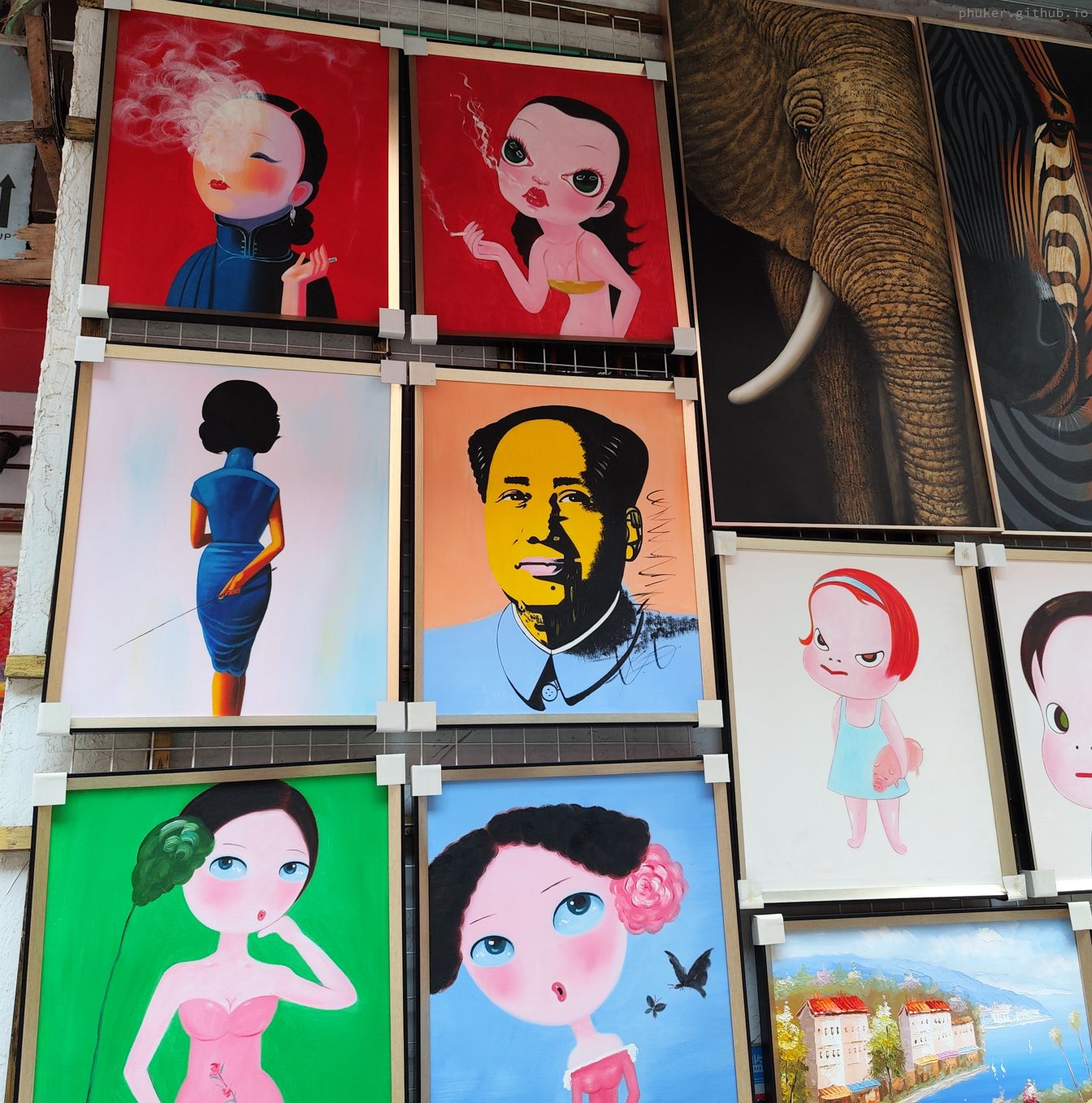 Portrait of Mao Zedong (copy) | Andy Warhol | 1972 ~ 1973 | Pop Art
Sajia has seen some of Yue Minjun 's works before, and the " cynical realism " shown by "Smiling Man" resonated with me. I found his copied works in a store this time, and I was very pleasantly surprised, which is also unexpected and reasonable.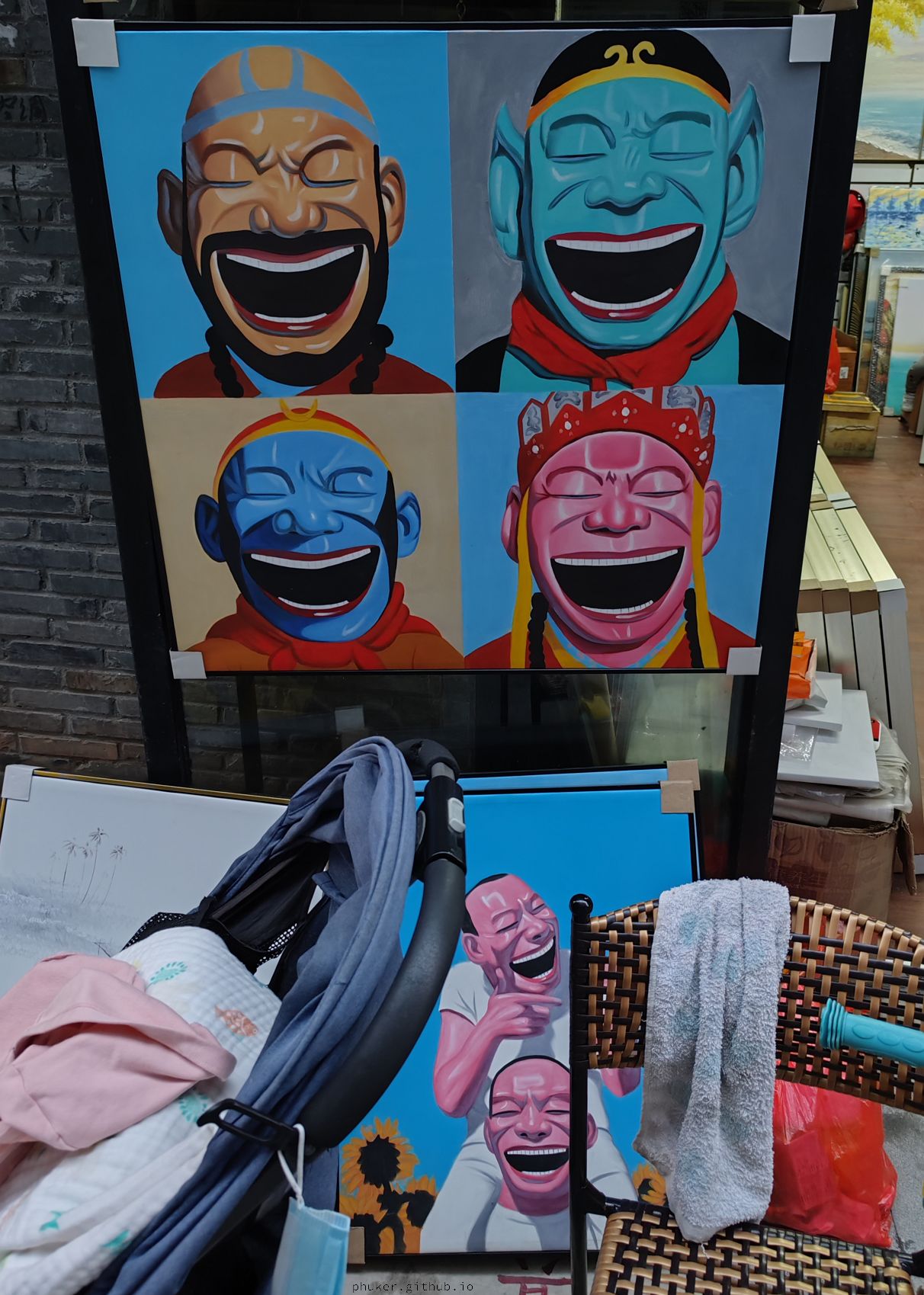 Journey to the West (copy) | Yue Minjun | 2011
The entire Dafen Oil Painting Village has formed an industry around oil paintings. Both sides of the roads and alleys are mainly self-produced and sold oil painting shops and studios. There are also picture frame and mounting shops, painting material shops, and shops that guide zero-basic tourists to copy photos and experience painting oil paintings. There are oil paintings of various themes here, and there are many copies of famous paintings. Almost every family has famous paintings by Van Gogh and Monet . There are also landscape paintings (even iPhone wallpapers), auspicious decorative paintings, standard portraits of leaders, portraits of contemporary celebrities, etc. In addition to oil paintings, Sajia also saw Chinese paintings, embroidery, and calligraphy works. In many shops, I saw the boss sitting in a shop full of oil paintings and copying famous paintings or photos. Some posted photos next to them, and some put monitors next to them. There is no need to go to the field or exhibition hall for copying. Some bosses were still broadcasting live on their mobile phones. There are some painters' resumes posted on the door of the store, maybe we also met some celebrities in the industry. The price of these oil paintings is not expensive, you can buy small ones for a hundred and ten yuan, and larger ones for only a few hundred yuan. Sajia was very puzzled after seeing it. After all, people have to eat just right. I don't know how their production and sales are, and can they support themselves? Sajia seldom sees original works here. Do they have the opportunity to choose to pursue art or business, choose original breakthrough or mass production, choose to be a master or a craftsman? How do they face the contradiction between ideal and reality?
After coming back, after getting to know Sajia, I realized that it is the most important production and trading base of commercial oil paintings ( line paintings ) in the country and even in the world. Relying on the advantage of low cost, nearly 10,000 painters here can reproduce millions of commercial paintings in batches every year during the peak period. Most of the industrial workers are from Yeluzi. They cannot be called painters or painters, but can only be called painters. After a brief training, they can enter the assembly line to work. The painters on each assembly line only need to be responsible for a part of a famous painting. In this way, Dafen Oil Painting Village even created the miracle of more than 400 painters producing 360,000 paintings in one and a half months. Therefore, some people call it "Huaqiangbei of the art world" with some criticism.
We watched the documentary " Van Gogh in China " again. In the film, Zhao Xiaoyong copied Van Gogh's famous paintings for more than 20 years, and dreamed of seeing Van Gogh. Finally, he arrived in Europe and saw the authentic works of Van Gogh, but felt shocked, lost and confused. I feel the same way, feeling that the pursuit of art is indeed a luxury. But once the idea of ​​creating original works was born, and their own positioning was changed, the bottom painters embarked on a long road to pursue art.
Further reading:
This article is transferred from: https://phuker.github.io/posts/dafen-oil-painting-village.html
This site is only for collection, and the copyright belongs to the original author.