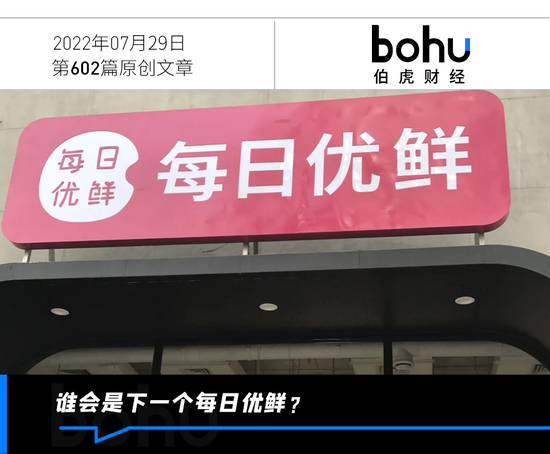 Welcome to the WeChat subscription number of "Sina Technology": techsina
Author | Tori
Source: Bohu Finance
On July 28, internal news broke out that Daily Youxian "disbanded in place": "There was a 20-minute online meeting just now, and the company as a whole was disbanded" "Only work until the 28th" "I have no money, and I have been procrastinating. There is no way out today."
According to public information, Daily Youxian has accumulated losses of more than 10 billion since 2018, and still owes 1.65 billion to suppliers, owes employees 3 months of social security funds, and whether wages in June and July can be paid is unknown. Obviously, 200 million yuan of "life-saving money" is only a drop in the bucket even if it arrives.
Regarding the bankruptcy rumors, the staff of Daily Youxian responded that under the goal of achieving profitability, the company adjusted its business and organization. Businesses such as next-day delivery, smart market, and retail cloud will not be affected. However, some reporters visited Daily Excellent Fresh Beijing headquarters and offline stores on the spot, and the buildings were already empty, and some stores still had a notice of rent arrears posted on the door.
It is not without warning that the building will collapse. Daily Youxian has been repeatedly reported to be in arrears with suppliers, facing a crisis of delisting, withdrawing from 9 cities in 3 days, and completely shutting down the "extreme speed" business for half an hour. "Daily Fresh" becomes "Next Day Fresh".
"Seeing him rise from a high-rise building, seeing him banqueting guests, and seeing his building collapse." It is really embarrassing that the former "first fresh food e-commerce company" has fallen to such a level.
The first share of fresh food e-commerce, once the darling of capital
Daily Youxian was established in 2014, and its founder Xu Zheng had another resounding name at that time – "mathematical genius".
Indeed, before the establishment of Daily Fresh, Xu Zheng's journey was smooth and smooth. He won the first prize in the Mathematical Olympiad at the age of 15, and was recommended to the Junior Class of the University of Science and Technology of China to study mathematics and minor in business administration; in 2009, Xu Zheng became Lenovo's youngest at the age of 28. The general manager of the division is responsible for the notebook division of Lenovo China, and has raised the average annual revenue of the division to 30 billion yuan.
Later, Xu Zheng was attracted by Liu Chuanzhi and was in charge of the Joyvio agricultural project under Lenovo. It was there that Xu Zheng had the idea of ​​​​starting a business, and finally resigned to found the daily excellent fresh O2O e-commerce platform, as well as the first before The warehousing mode provides consumers with a faster logistics experience and ensures the freshness of products.
The front warehouse mode is to build a small warehouse near the community, and move the goods originally stored in the outer suburbs of the city forward. After the user places an order, the goods will be dispatched nearby. This model greatly improves the delivery efficiency of fresh food, shortening the time from placing an order to receiving the goods from the previous 1-2 days to 0.5-1 hour.
A young genius, with a well-known corporate background, handsome appearance and long-term vision, Xu Zheng, a fledgling entrepreneur, quickly won the favor of investors. The parties include Tencent Investment, CICC Capital, Legend Ventures, Goldman Sachs Group, Tiger Global Fund and other well-known investment institutions.
At that time, the competition in the fresh food e-commerce industry was far from fierce, and with the support of capital, the daily excellent fresh food made great progress. In 2018, the proportion of daily excellent fresh users has exceeded 50%. At the same time, the layout of selected fresh products for all categories has been completed. The cold chain logistics system of Jisuda has also covered 20 major cities across the country, and door-to-door delivery in 30 minutes has become a The most prominent competitive advantage of Daily Fresh. In 2019, the number of front-end warehouses of Daily Youxian exceeded 1,500. In the same year, Daily Youxian's revenue also achieved a high growth of 69%, reaching 6 billion yuan, and GMV (gross merchandise transaction) reached 75.9 billion, ranking first in the industry.
At the same time, the fresh food market is characterized by high demand and high repurchase, and the market is growing rapidly. According to data from the China Business Industry Research Institute, the scale of fresh food e-commerce transactions in my country will reach 465.81 billion yuan in 2021, a year-on-year increase of 27.92%.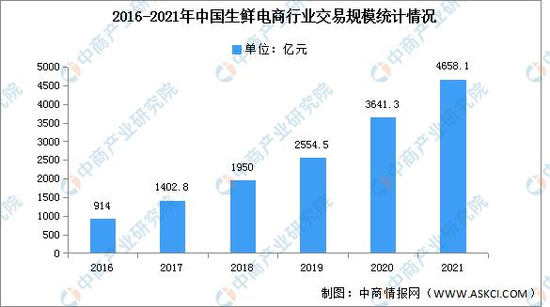 (Photo source China Business Intelligence Network)
Although the penetration rate of fresh food e-commerce in China is currently low, with the development of fresh food e-commerce, the maturity of the model, and the formation of users' online shopping habits, it has maintained a growth trend in recent years, and the penetration rate has increased to 7.91 in 2021. %.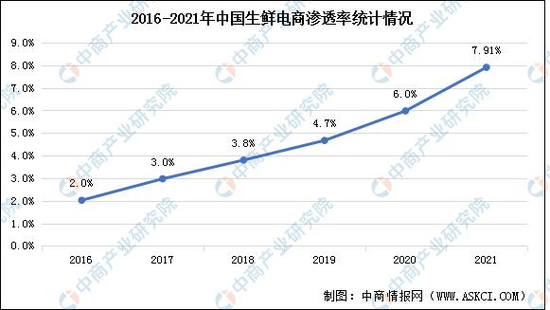 (Photo source China Business Intelligence Network)
Consulting firm Euromonitor also predicts that China's fresh food market will exceed the 6 trillion mark in 2023. By then, e-commerce will become an important channel for Chinese consumers to buy fresh food.
With the support of capital, Daily Youxian has been on the list of China's unicorn companies less than 3 years after its establishment. In November 2019, the company's valuation reached 20 billion yuan (about 3 billion US dollars). On June 25, 2021, Daily Youxian officially landed on Nasdaq, with an IPO market value of US$3.2 billion, becoming the "first fresh food e-commerce stock".
The end of daily excellent fresh, the sadness of fresh food e-commerce
However, Daily Youxian broke on the first day of listing, evaporating more than a quarter of its market value; then the stock price went down all the way, and on April 20 this year, the stock price fell below $1 and received a delisting warning.
The lack of "hematopoietic" ability of Daily Youxian may be an important reason for the decline of the secondary market.
Xu Zheng himself once publicly stated, "It is not difficult for fresh food e-commerce companies to just burn money for scale growth, but it doesn't make any sense. In the knockout round of 10 billion to 100 billion, those players whose business has not yet achieved profitable growth. , the operation will become more and more difficult." However, Daily Youxian is a typical example of burning money for scale, not to mention burning up 10 billion, the pre-position of heavy capital and the high cost of customer acquisition also make it deeply Trapped in the quagmire of losses.
In the peak period of 2019, the number of front-end warehouses of Daily Youxian reached 1,500. However, with the high cost and increasing losses, the front-end warehouses of Daily Youxian were closed on a large scale. As of the end of the third quarter of 2021, The number of front-end warehouses of Youxian Daily is about 631, a decrease of nearly 60% compared with the end of 2019. From June 30 to July 3 this year, it closed its business in 9 cities in a row, including many mega cities such as Guangzhou and Shenzhen. , and with the full closure of the daily excellent fresh business for half an hour, the front warehouse model has completely become the history of the daily excellent fresh.
Zhang Shuai, a former employee of Daily Youxian, said frankly that Daily Youxian has overturned the business model since its establishment. This also shows that the front-end warehouse model cannot be profitable, right?
According to the analysis of Northeast Securities Research Report, the performance cost of the front warehouse model is as high as 10 yuan/order to 13 yuan/order, which is about 3 times that of traditional central warehouse e-commerce, about 2 times that of platform-based e-commerce, and about 6 times that of community group purchases. . The performance costs of Daily Fresh from 2018 to 2020 were 1.239 billion yuan, 1.833 billion yuan, and 1.577 billion yuan respectively, accounting for 34.9% of total revenue and up to 59.6% of operating expenses.
In addition, the expensive customer acquisition costs have also overwhelmed Daily Youxian. From 2018 to 2020, Daily Youxian spent a total of 2.124 billion yuan on marketing and sales. As far as the entire industry is concerned, the customer acquisition cost of fresh food e-commerce has reached about 300 yuan per person in 2019. With the intensification of industry competition, the cost of fresh food e-commerce customer acquisition has soared, and it will already exceed 300 yuan per person by 2022.
At present, profitability is still the main goal of Daily Fresh, but there is little hope. Daily Youxian's financial report shows that from 2018 to 2020, the daily net losses of Youxian were 2.232 billion yuan, 2.909 billion yuan and 1.649 billion yuan respectively. It is expected that the net loss in 2021 may exceed 3.7 billion yuan.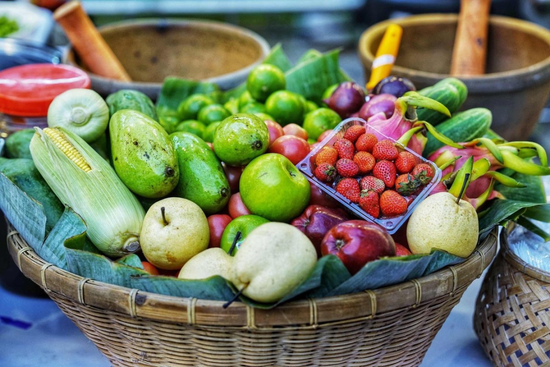 (Image source network)
In addition to the lack of internal "hematopoietic" ability, Daily Youxian's external "blood transfusion" cannot keep up.
Tencent was one of the first investors to take a fancy to Daily Fresh. Tencent's shareholding ratio once reached 8% when it went public, but in the face of this bottomless pit of "burning money", Tencent gradually became impatient. According to public information, Li Zhaohui, a managing partner of Tencent Investment, has resigned from the board of directors of Daily Youxian in November 2021, and Li Zhaohui has served as a director of Daily Youxian since June 2017.
In addition, the entire fresh food e-commerce investment market has gradually become calm in recent years, and financing events have gradually decreased. According to the statistics of iiMedia Research, the investment and financing amount of the fresh food e-commerce industry in 2020 is as high as 41.857 billion yuan; by 2021, the financing scale will be cut in half to 19.901 billion yuan; as for this year, it is almost never heard of fresh food e-commerce. received financing. Today, fresh food e-commerce can only survive the capital winter by improving its own profitability.
After Daily Youxian went bankrupt, the former employees did not have much nostalgia for the company, and even called out on social platforms such as Maimai, "Totally disgusted", "Did the boss make a fortune and run away overnight?" It is understood that , Xu Zheng did not attend the meeting on the afternoon of the 28th. The person in charge of the daily excellent fresh business department said that Xu Zheng was said to have gone into hiding, and it was also said that Xu Zheng "had gone to Hong Kong". However, according to the latest news, the founder and executive team are actually still in Beijing.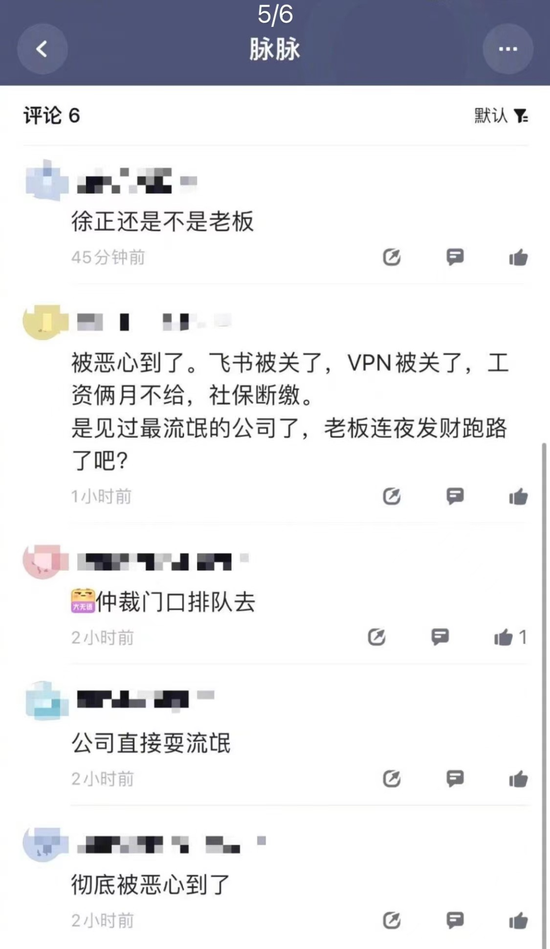 (Screenshot of Maimai from the Internet)
"Genius" Xu Zheng's character may have been widely questioned in the company, and there may have been signs of collapse in the daily excellent fresh organization, and the loss of employees' trust in leaders is inseparable from repeated speculative failures relation.
Everyday Youxian has tried many projects but failed, such as creating a single item of dragon fruit and durian, imitating Hema as an offline supermarket, incubating the social e-commerce platform "Daily One Tao" and the community group buying APP "Everyday". Daily fight", and the development of unmanned shelves for convenience shopping, etc. However, they have not been cautious enough, have not repeatedly verified, and have not been patient enough to wait for their clearly dominant projects to blossom and bear fruit.
In addition, a middle-level manager of Daily Youxian revealed to the media that "Daily Youxian has a lot of cadres, and there are many towns and towns", and that the "traditional abuse method" will be popular in the company's resumption, "greeting family members" directly, and some subordinates who have been criticized. Self-slap in the face for the attitude. This kind of corporate culture and team spirit makes people disagree.
The front warehouse mode fails,
It's Dingdong's turn to buy groceries next?
Some analysts believe that for a long time in the future, fresh food e-commerce will present a situation of multi-mode and multi-player coexistence, mainly including O2O platforms (JD Daojia, Meituan Flash Sale), front-end warehouse mode (Daily Youyou). Xian, Dingdong grocery shopping, Meituan grocery shopping, Pupu supermarket), integration of warehouse stores (Hema, Qixian) and community group buying (Meituan Select, Duoduo grocery shopping).
As for Dingdong Shopping, which was listed in the same year as Daily Youxian and belongs to the front warehouse model, the current life is not very good, just like a pair of "difficult brothers".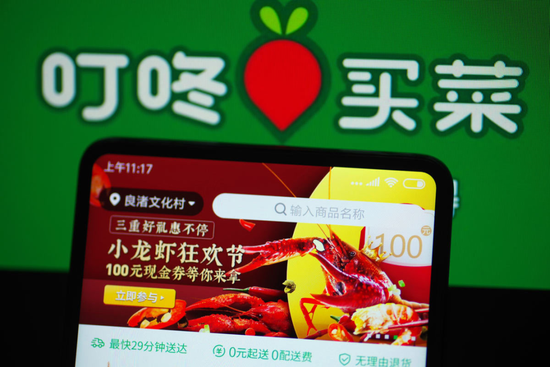 (Image source network)
On June 29, 2021, 4 days after Daily Youxian was listed, Dingdong Maicai officially landed on the New York Stock Exchange. Ding Dong's "hematopoietic" ability is also worrying. From 2019 to 2021, Dingdong Maicai lost a total of 11.48 billion yuan. In addition to the 477.4 million yuan in the first quarter of 2022, Dingdong Maicai has accumulated a loss of about 12 billion yuan in less than four years. In addition, Dingdong Maicai has also been cold in the capital market, and has not received external financing since its listing in the United States at the end of June 2021.
In terms of the layout of the front-end warehouse, the number of Dingdong Maicai reached 1,400 in the peak period in 2021. Since May this year, Dingdong Maicai has closed Tianjin and Hebei one after another due to its inability to bear the high cost of the front-end warehouse. , Guangdong, Anhui and other places, there are only 27 cities that are operating normally, nearly 10 less than in their heydays.
In order to make a profit, Dingdong Maicai has set its sights on the new concept of pre-made dishes, and in March this year, it launched the B-end prefabricated food independent brand "Vibrant Fresh Food"; in the C-end market, Dingdong Maicai also has Dingdong. More than 20 private brands such as Ace Cuisine, Dingdong Damanguan, Boxing Shrimp, etc., the number of SKUs exceeds 1,000.
The prefabricated vegetable market is indeed a blue ocean market. iiMedia Research predicts that by 2026, the size of my country's prefabricated vegetable market will exceed one trillion yuan. However, the intensity of market competition should not be underestimated. According to data, there are 66,700 pre-prepared vegetable-related enterprises in my country, of which nearly 30,000 will be newly registered from 2019 to 2021.
Whether Dingdong Maicai can win the prefabricated food track by virtue of its fresh food e-commerce supply and channel advantages is still inconclusive. The problem in front of all fresh food e-commerce companies. After all, no one wants to be the next Daily Fresh.
Reference source:
Lei Feng.com: Everyday is fresh, life is on the line
Science and Technology Innovation Board Daily: Daily Excellent Fresh "dissolves" suspicion
E-commerce headlines: Everyday Youxian retreats, and the front-end warehouse comes to a life-and-death juncture
Hexun.com: Daily Youxian did not wait for 200 million life-saving money! The headquarters has been empty, and there are early signs of "sickness"
36Kr Finance: Wages arrears, layoffs, and credit, how long can Daily Fresh can last?
E-commerce News: Putting pre-made dishes on the table, Dingdong shopping has also changed
*The first picture and accompanying picture on the cover of the article, the copyright belongs to the copyright owner. If the copyright owner believes that his work is not suitable for everyone to browse or should not be used for free, please contact us in time, and this platform will correct it immediately.


(Disclaimer: This article only represents the author's point of view and does not represent the position of Sina.com.)

This article is reproduced from: http://finance.sina.com.cn/tech/csj/2022-07-29/doc-imizirav5968734.shtml
This site is for inclusion only, and the copyright belongs to the original author.