Welcome to the WeChat subscription number of "Sina Technology": techsina
Text / Meng Huiyuan
Source/Zinc Scale (ID: znkedu)
In the past few days, the news that Daily Youxian's convenience shopping business was acquired at a price of 30 million yuan has gone viral on the Internet.
The outside world is amazed. In 2017, the hottest year in the unmanned retail industry, Daily Youxian Convenience Shopping successfully completed two rounds of financing, with a total financing amount of 197 million US dollars, or about 1.347 billion yuan. "Blood transfusion" funds, but in the end it still ends in "meat cutting".
While curious, Shenzhen Daily Convenience Technology Co., Ltd., which took the risk of taking over the daily excellent fresh convenience shopping business, completed the acquisition in less than 3 months, knowing that the follow-up operation will continue to invest a lot of maintenance costs, why? Will be so optimistic about this business.
In fact, as a new direction for the future development of convenience stores, unmanned retail has been widely recognized by the industry as having certain development potential due to the advantages of saving labor costs and penetrating all-time consumption scenarios. The shortcomings of the actual operation are also obvious: poor anti-theft ability, serious homogenization, and poor consumer experience.
Whether unmanned retail can once again set off a "splash" requires the market to verify.
30 million yuan "low sale", the future of convenience shopping is uncertain?
Looking back on the past, the most beautiful time for the daily Youxian convenience shopping business was that it won the favor of capital in 2017, and successfully completed two rounds of financing, with a total financing amount of 197 million US dollars, or about 1.347 billion yuan. Investors include Tencent Investment, CDH Investments, Qiming Venture Capital and Legend Capital, etc.
Choosing to enter the game in 2017, the hottest year in the unmanned retail industry, to achieve such an achievement may be the light of "time". At that time, Daily Youxian convenience shopping business, which was born smoothly, mainly covered scenarios such as office buildings. Daily Youxian hopes to use convenience shopping to cover all user scenarios and form a two-way strategic synergy with Daojia business.
However, it backfired, and the business did not cause much splash in the subsequent years of its operation. According to Daily Youxian's 2021 Q2 financial report data, daily Youxian's other income in the quarter was 40.4 million yuan, a year-on-year increase of 23.6%. This growth was mainly due to the increase in sales of its convenience shopping business products.
Wait until 2022, although we can see the convenience shopping business start to exert force. For example, in January this year, Daily Youxian Convenience Shopping announced a wholly-owned acquisition of Beijing Zaixia Technology Co., Ltd. The company mainly distributes in communities, hospitals and other places with relatively dense populations, and sells a variety of products including milk drinks, instant lo-mei, bread and snacks, etc. After the acquisition was completed, the daily Youxian convenience shopping has more scenes, and its points have reached nearly 10,000.
But the greatest value of this action may be to provide a large number of "additional heads" for the acquirer-daily Youxian convenience shopping has 14,000 devices, and there are about 8,000 in operation. Calculated according to the purchase price of 30 million yuan, which is equivalent to the value of each device of 2,142 yuan.
Relevant industry insiders believe that Daily Youxian's move "is to ease the repayment pressure of suppliers and buy time for listed companies".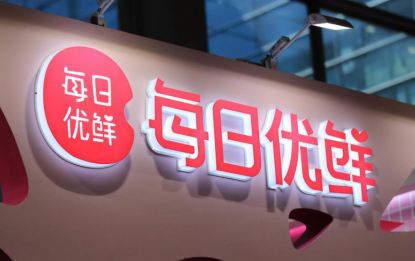 Daily Youxian 30 million yuan "cheap sale" convenience shopping business
As for the buyer's intentions, people in the industry have two completely different views: some people believe that even though the price of 30 million yuan to acquire this asset is already "picked up", it is impossible for the buyer to take the money. There is a high probability of holding and continuing to operate the asset;
Another part said that although the selling price is not high, the operation risk of convenience shopping is very high. If it still does not perform well as when operating under the daily excellent fresh, it will be difficult to find a third party to take over in the future. According to the minutes of experts from Jiuqian Zhongtai, Daily Youxian Convenience Shopping currently only exists in first-tier cities, and the cost is relatively high, requiring local teams to maintain.
Has the new "time" of unmanned retail arrived?
In fact, unmanned retail was once regarded as a new opportunity for the future development of convenience stores. Especially in the past two years when the convenience store brands such as Convenience Bee and Duodian have been deeply involved in the "store closure" storm, they have been widely recognized by the industry as having certain advantages due to the advantages of saving labor costs and being able to penetrate all-time consumption scenarios. Development potential.
Judging from relevant news reports, since the first half of this year, Convenience Bee has successively "temporarily closed" some stores. However, according to recent news, convenience stores in many cities have not been able to reopen for a long time, and many stores have closed or withdrawn; there are many convenience stores facing similar difficulties, but they are backed by Wumart, but they have not taken the lead due to their geographical advantages. The market has shrunk sharply after testing the convenience store model; at the same time, many e-commerce brand co-branded convenience stores that have risen around 2018 have run out of stores.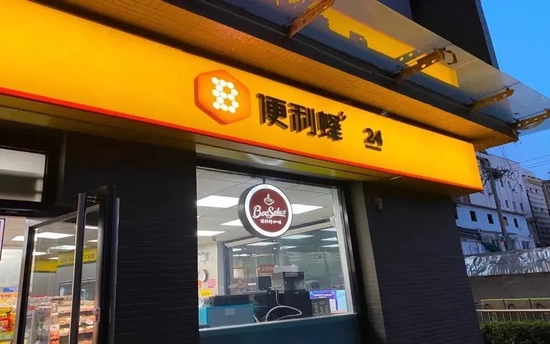 Very brief product description
It is reported that since last year, many convenience stores have also experienced low peak seasons. Generally speaking, every summer is the peak season for the sales of convenience stores and water products. In order to adapt to this consumption rhythm, convenience stores often expand the freezer area and update beverage brands in advance. But the fact is that even in summer, the peak passenger flow is still breakfast and lunch, and the decline in popularity of the convenience store industry is obvious.
Some industry analysts believe that in the absence of price advantages and category advantages, while the industry is facing internal competition, factors such as the squeeze of new consumer brands and the rise of new tea brands are also important reasons for accelerating the decline of the chain convenience store industry. . The experience of brands such as Convenience Bee and Duodian just confirms the fact that the convenience store industry as a whole is facing a bottleneck.
How can you stay out of it if you are in it and lack a unique competitive advantage?
However, at a time when chain convenience store companies are eager to explore new ways to survive, the reason why the acquisition of Daily Youxian Convenience Shopping leads to the association that "the acquirer will hold and continue to operate the asset is very likely". Unmanned retail has ushered in another "time" inseparable from the relationship.
From the actual situation, with the rise of labor costs, unmanned retail has gradually become the future development direction. At the same time, the popularization of mobile payment, the development of emerging technologies such as big data, artificial intelligence, and cloud computing have provided unmanned services. Important technical support; coupled with the positive impact of the epidemic, has further promoted the widespread popularization and application of contactless consumption. According to data, the market size of my country's unmanned retail industry will reach 28.27 billion yuan in 2021, a year-on-year increase of 24.6%.
All of these have brought a new consensus to the unmanned retail industry: to achieve large-scale benefits, many improvements may still be needed, but the development prospects and potential have been verified to a certain extent.
In other words, the first "time" of unmanned retail comes from the optimism of capital, so that companies that are new to the game have enough cost to try and make mistakes. The second "Tianshi" is based on the current market maturity, and users have enough knowledge to understand and use this operating model.
Adapting to changes in the environment, we can see many new developments from 2022: SF Express, a subsidiary of Feng eFood, completed 300 million yuan in Series A financing in February; Nongfu Spring, Yuanqi Forest and other beverage companies have also set up The launch target of terminal equipment; the prospectus disclosed by Youbao at the end of May further promoted the unmanned retail industry to come to people's eyes again… The trend of unmanned retail "turning red" is beginning to take shape.
The overall positive development trend of the industry remains unchanged
Of course, the "injury" of unmanned retail is also obvious, which is why some people are not optimistic about the acquisition of Daily Youxian convenience store.
From the perspective of the unmanned retail market structure, the current unmanned retail market in my country is mainly based on vending machine retail. In 2021, the retail market share of vending machines in my country will be 95.9%, and the market share of other unmanned retail will be 4.1%.
Because unmanned shelves are generally deployed in non-open scenarios to provide retail services for fixed consumer groups, unmanned shelves can meet consumers' close-range and immediate consumption needs, but the rate of cargo damage is high, the homogeneity is serious, and Poor consumer experience has always been a major constraint on the development of unmanned retail.
Specifically, one is the poor anti-theft ability. Most of the early unmanned shelves are open unmanned shelves, and quite a few are not equipped with the latest technologies such as artificial intelligence, so consumers can directly touch the goods and take them away.
In this regard, it is reported that the biggest difficulty in the implementation of the daily excellent fresh convenience shopping is the damage of goods. If the customer does not close the cabinet door in time after purchase, the goods will be stolen. According to Jiu Qian's information, at the beginning, the cargo damage rate even reached 50%. If you want to solve this problem, the update cycle and cost of old equipment need to be considered in place.
The second is serious homogenization. Because the entry threshold is low and there are many market participants, companies often use subsidies to expand the market in the early stage of industry development. As a result, problems such as price wars and blind expansion of points also appeared frequently.
More importantly, after the subsidy ends, the prices of goods in unmanned shelves are often no longer competitive, and users cannot be retained for a long time. The use of regional specialties and own products for differentiated competition may be a more effective solution.
The third is poor consumer experience. Unmanned shelf operation companies are highly dependent on mature operation models and logistics systems. Now, when this model is used, replenishment, cleaning, sorting, and after-sales still need to be done manually. Once problems occur in these work links, consumers will not Good impressions come one after another, and if you want to change users' views later, you will have to spend more time and cost.
It is understandable that when any industry moves from the initial stage of development to maturity, it needs to achieve long-term and stable operation in all aspects from capital, technology, manpower, as well as supply chain, refined operation, and scene value creation.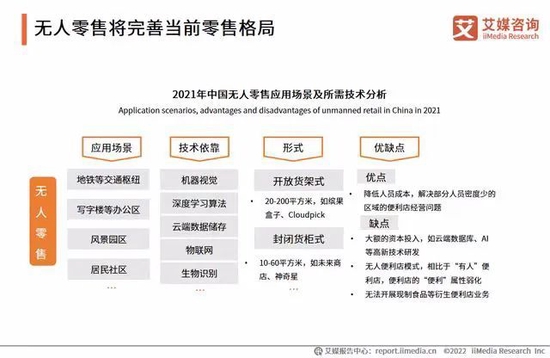 Source: iiMedia Research Consulting
Although at present, many unmanned retailers such as Daily Youxian Convenience Shopping have not achieved commendable results, it is still certain that the overall development trend of the unmanned retail industry will not change. . The only difference is who can live "after the dawn".

This article is reproduced from: http://finance.sina.com.cn/tech/csj/2022-08-28/doc-imiziraw0043062.shtml
This site is for inclusion only, and the copyright belongs to the original author.