Author | Zhou Qian
Editor | Peng Xiaoqiu
36氪 was informed that "Duolaimu Technology", a provider of visual and spatial perception technology, has recently completed a Pre-A round of financing of tens of millions of yuan. The investor in this round of financing is Songhe Capital. The financing funds will be used for team expansion, product implementation and technology. iterate.
With the iterative improvement of autonomous driving technology, various unmanned driving scenarios are gradually implemented, and driving safety has always been the focus of the industry. At present, the requirements for safe collision avoidance are no longer limited to forward and backward directions. It is not enough to only achieve 360-degree coverage of environmental perception. Front, back, left, right, up, and near, and all-round collision protection in the whole scene is the real challenge. .
Liu Ji, the founder of "Duolaimu Technology", noticed that the current mainstream environmental perception solutions are firstly through massive data accumulation and AI training, and secondly, the use of high-precision lidar sensors to perceive the contours of objects, which can continue to reduce Corner Case ( Extreme scenarios), but the data cost, training cost and time cost paid by these methods are huge, which also increases the complexity of the system, and the coverage of anti-collision scenarios still needs to be continuously updated and expanded.
Hardware cost reduction, software efficiency enhancement, and user payment are all connected at the same time to achieve a balance between costs and benefits, and the autonomous driving business model can be established.
"Duolaimu Technology" CTO Wang Limeng told 36氪 that research from Harvard University shows that human vision has two different perception channels, corresponding to two different brain regions. One brain area is responsible for recognizing objects from visual signals, and then understanding environmental information after seeing clearly; while the other brain area is mainly responsible for motion perception and spatial perception. Even in the absence of object recognition and perception, it can be directly judged based on motion information. In the event of a collision, the obstacle is avoided subconsciously by instinct.
Based on the dual-channel mechanism of human visual perception, scientists and engineers of "Duolaimu Technology" have developed a visual bionic algorithm. The camera equipped with this technology can combine pure motion perception with object recognition perception just like the human eye. It can make self-driving cars truly have human-like perception capabilities, and even when encountering obstacles that have not been trained by AI, they can detect the danger of collision according to the results of motion perception.
The algorithm of "Duolaimu Technology" to realize the human eye bionic is not to directly measure the spatial distance, but to predict the collision time on each pixel based on the motion characteristics of the object on the image plane, thereby constructing a "2D image plane + collision time" " three-dimensional space.
On the basis of this three-dimensional space, the algorithm can directly calculate the position of the collision, whether it is in the middle, scratched, or has enough safe space to miss. In addition, this algorithm is not only applicable to the left and right directions, but also to the vertical direction to detect collision hazards from high altitudes, such as height limit bars.
Specifically at the product level, the product line of "Duolaimu Technology" is divided into the pre-installation market and the post-installation market.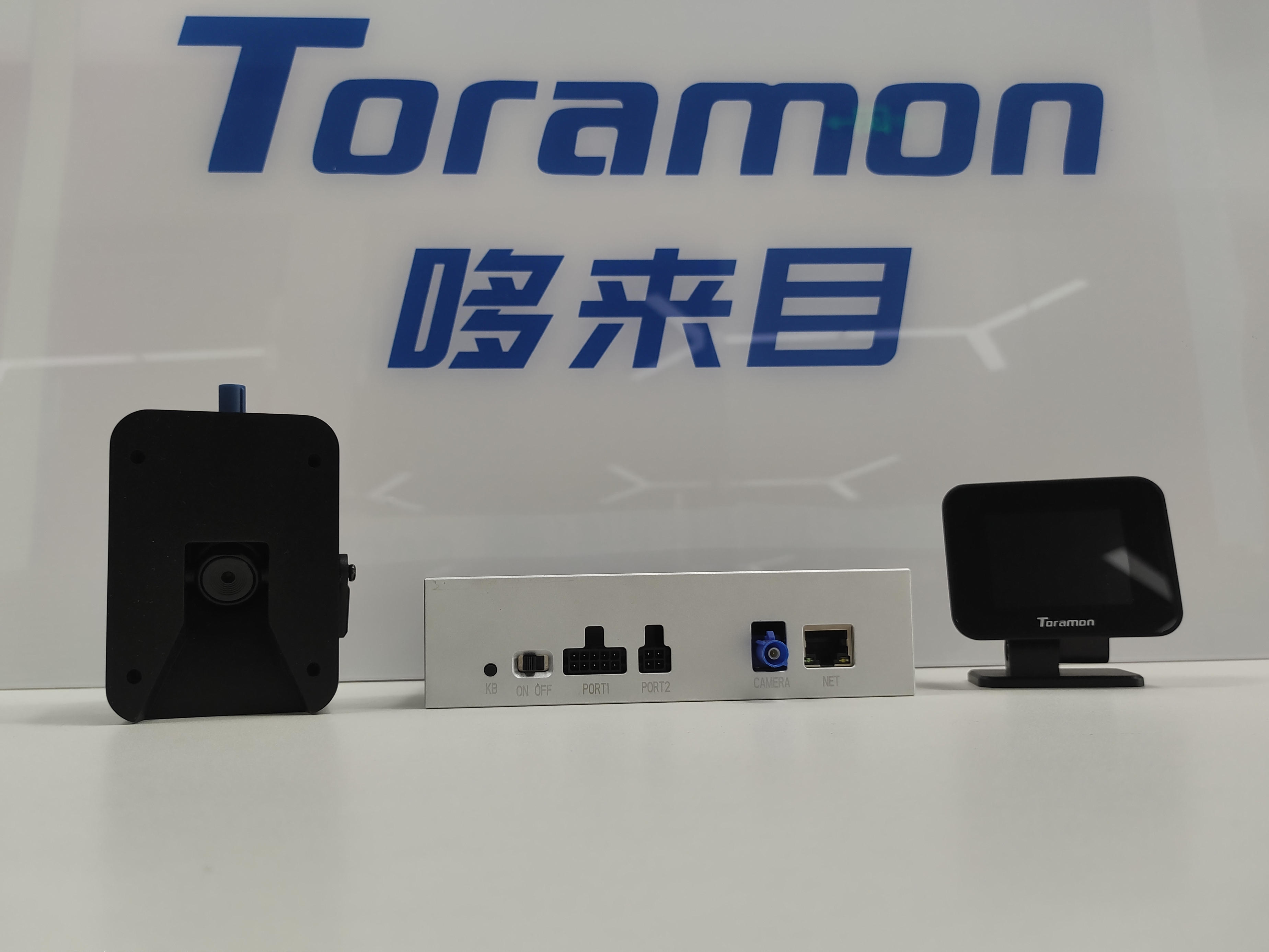 Doleim ADAS products
In the pre-installation market, "Duolaimu Technology" provides bionic visual perception core IP, software modules and autonomous driving safety solutions, which can be integrated into smart cameras or autonomous driving domain controllers. The pure software suite Nobleye includes three forms: Front, Surround and Allroad, corresponding to front-view, surround-view, and all-round visual perception solutions. "Duolaimu Technology" is also actively working with Tier1 and OEMs with software self-development capabilities. Cooperation, the visual bionic algorithm is tooled and provided to customers in the form of software SDK, which is convenient for customers to independently develop high-level assisted driving functions.
In the aftermarket, "Dolaimu Technology" provides rear-mounted ADAS camera systems for users of commercial vehicles and passenger vehicles (such as RVs, cold chain vehicles, trucks and buses, etc.), and has developed a self-developed set of split cameras. The system will also launch an integrated camera system this year, which is more convenient for users to install, and uses domestic chips to achieve substantial cost reduction. The new product integrates a number of safety assistance functions including driving recorder, forward collision warning, and height limit warning.
The monocular integrated camera of "Duolaimu Technology" is easy to install. Unlike the image recognition based on the monocular solution, the installation position is inside the windshield, no additional fixings are required, the lens orientation is adjustable, and no need for binocular cameras. Just as rigorously calibrated.
In terms of team, "Dolaimu Technology" consists of two teams of overseas scientists and domestic engineers. Founder and CEO Liu Ji is a doctor of optoelectronic precision instruments from Chongqing University. He has more than 18 years of experience in leading a team and 13 years of IT work experience in Japan. He used to be the Asia Pacific CTO of Jefferies Securities in the United States, and the VP of HSBC Japan, Nomura Securities, and Deutsche Commerzbank. . Co-founder and CMO Yang Fan is an MBA from Chongqing University and has more than 15 years of marketing experience. He used to be the marketing manager of Huawei.
Recently, the research and development team of "Duolaimu Technology" has been further strengthened, and Dr. Wang Limeng, an expert in active safety system design, has joined the company as the company's CTO. Dr. Wang received his Ph.D. in Machine Vision Algorithms from Karlsruhe Institute of Technology, Germany. He served as the head of active safety software development for a well-known German car company, and the deputy chief engineer of autonomous driving at a well-known domestic car company. He has 10 years of ADAS system mass production experience.
Regarding this round of financing, Dr. Yan Yang, managing director of Songhe Capital, the exclusive investor, said that the smart electric vehicle industry has developed for more than ten years, and the technical structure, industrial structure and business model have been constantly evolving and iterating, from commercial and special vehicles to passenger vehicles. , from post-installation transformation to pre-installation for mass production, from simple scenarios to complex scenarios, from distributed architecture to centrally integrated architecture… These changes are the logical necessity to accelerate the large-scale commercialization of autonomous driving, while "cost" and "Safety" has always been the main bottleneck for the commercialization of autonomous driving. Most of my country's current autonomous driving solutions are highly dependent on high-cost components such as millimeter-wave radar, lidar, and large computing power chips. In the absence of a considerable mass production scale, "cost reduction" is a big challenge; The "Corner Case" that people are concerned about is the most thorny issue in autonomous driving safety.
We believe that solving the "cost" and "safety" issues of autonomous driving requires a new approach, starting from "first principles", simplifying complexity, and overcoming challenges through cross-disciplinary integration. "Duolaimu Technology" uniquely and skillfully integrates medical human eye bionic technology, artificial intelligence algorithm and integrated circuit technology, and uses low-cost ordinary cameras to better overcome many specific difficult scenes in "Corner Case" . Going hand in hand with "Dolaimu Technology" reflects the concept of "hard technology cross-border and crossover" adhered to in the early technology investment of Songhe Capital. In the future, Songhe Capital will continue to support the development of "Dolaimu Technology". The introduction of industrial resources and other aspects will help the growth of enterprises. It is also hoped that the technology and products of "Duolaimu Technology" can make unique contributions to the development of my country's autonomous driving industry.
media coverage
36Kr Investment Community Investment Network
This article is reproduced from: https://readhub.cn/topic/8hXn1Rz3Efq
This site is for inclusion only, and the copyright belongs to the original author.