36氪 was informed that Ellipse Space (Beijing) Technology Co., Ltd. (hereinafter referred to as "Elliptical Space") announced that it had completed hundreds of millions of yuan in Series A financing at the beginning of this year. This round of investment was led by Huixin Investment and Mr. Yang Xiangyang, a well-known angel investor. Hanchuan Intelligence, Qingdao Yulin and Hainan Hongna also participated in the investment. Previously, Ellipse Time and Space received nearly 100 million yuan of pre-A round investment from Lihe.
Di Fengping, President of Ellipse Space and Space, said that the funds from this round of financing will be used for the production, launch and application marketing of satellites for its integrated communication, navigation and remote operations.
Elliptical Space-Time was officially launched in 2020. It was co-founded by the former major national aerospace engineering experts and has academic support from the Space Digital Technology R&D Center of the Research Institute of Tsinghua University in Shenzhen. After two years of development, Elliptical Space-Time has the leading core technology and invention patents for integrated satellite communication, navigation and remote control, and will provide real-time wide-area comprehensive perception services to the global market.
The Elliptical Space-Time Plan will launch and complete the real-time wide-area comprehensive perception satellite constellation before 2025, the "Star Pool Project", using satellites and ground terminals to provide customers with 10-minute high-resolution multi-mode responsive remote sensing, two-way IoT communication, A comprehensive perception service integrating space-based centimeter-level navigation enhancement.
Relevant data shows that from January to September 2021, my country launched a total of 42 remote sensing satellites and 7 communication satellites. Due to the maturity of technology, cost and commercial applications, commercial remote sensing satellites continue to be favored by the market and capital. Users in related fields The demand is also increasing, which is one of the important reasons for the increase in the number of remote sensing satellite launches in my country.
Di Fengping, President of Ellipse Spacetime, said that with the rapid growth of digital and intelligent demand in various fields, the application scope of satellite remote sensing is rapidly expanding, but the improvement of digital level requires multi-source data support. Different from other commercial satellite companies, Elliptical Space-Time focuses on homologous multi-dimensional information perception services based on remote sensing capabilities, combined with satellite-based IoT communication and navigation enhancement.
Di Fengping said to 36氪: "In a wide area, in order to achieve digitalization and intelligence, it is necessary to establish correlation at the data level, but the current situation is that satellites can provide users with IoT data, navigation and positioning data, and remote sensing data. are relatively isolated, so elliptical space-time positions the service as a channel-to-remote integration."
The basis of the elliptical space-time real-time wide-area comprehensive perception service is its independent intellectual property rights of communication, navigation and remote integration satellites. According to reports, its satellite has broken through a number of core technologies, and realized three functions of high-resolution multi-mode remote sensing, two-way IoT communication and satellite-based navigation enhancement on one satellite; the satellite system has been lightweight designed to control the weight within At the same time, a special constellation configuration has been designed, and the "Star Pool Project" can achieve global all-weather communication, navigation and remote integration services with only more than 100 satellites.
At the same time, its remote sensing payload has four functions of visible light, hyperspectral, medium and long-wave infrared, and radar, and has a very short delivery time of remote sensing data; its satellite-based navigation enhancement accuracy can reach centimeter level, and its communication payload has global real-time two-way IOT communication ability.
The integrated satellite communication and remote control enables elliptical space-time to have a unique application mode of sky-earth linkage: when the ground target object has an abnormality or a specific change, the sensor on the ground will actively trigger the satellite remote sensing to take pictures, and efficiently send the customer within 10 minutes. Deliver data.
Di Fengping said that this plays a crucial role in the supervision of smart spaces and wide-area facilities. For example, monitoring of railways, oil pipeline networks, power transmission lines, etc.; smart water conservancy, precision agriculture, fishery supervision, financial insurance, disaster prevention and mitigation, environmental monitoring and traceability, and whole supply chain supervision. Actively trigger real-time remote sensing services to provide accurate and real-time multi-dimensional data for follow-up work. At the same time, satellites can be linked with drones and unmanned ships to achieve intelligent perception and autonomous control of the sky and the ground.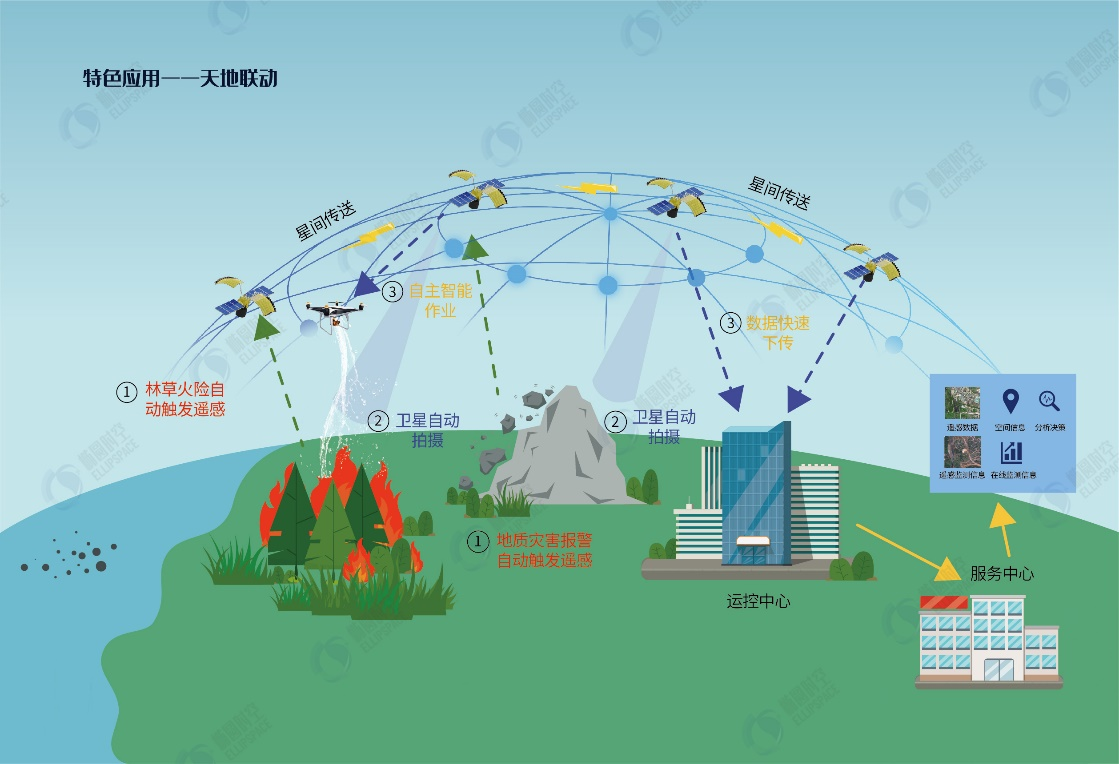 Elliptical space-time sky-earth linkage application mode
For customers, the application mode of Tiandi Linkage enables them to realize an unmanned and autonomous closed-loop of monitoring, system evaluation and prediction, operation planning and scheduling execution. For example, in the field of UAV operations in agriculture, electric power, forest fire prevention, etc., the existing business has been based on remote sensing images, navigation and positioning information as data support, and in the future, combined with the elliptical space-time satellite constellation's ability to integrate communication, guidance and remote control, it will have the ability to monitor the environment from the environment. Full closed-loop management and control capabilities from perception, real-time data transmission, mission planning to UAV scheduling, and autonomous operations.
In addition, Di Fengping also said that the Tiandi Linkage Model will be deployed on the basis of mature products on the ground, with the communication module developed by Ellipse Space-Time, which greatly reduces the application cost of customers.
In terms of operation mode, Ellipse Space-Time mainly has two charging modes. On the one hand, it charges information service fees, including comprehensive sensing information of remote sensing, multi-mode remote sensing fusion information, satellite-based navigation enhancement services, and IoT communication services; on the other hand, it charges Profit by providing a solution that seamlessly connects the heaven-earth linkage service with the user's existing business system.
Di Fengping said that Elliptical Space-Time is driven by demand, and has comprehensively constructed an integrated system architecture of space and ground, breaking through core technologies and opening up the industrial value chain from space technology to space applications, which is relatively rare in the aerospace application market, which also reflects The technical barriers of elliptical space-time; at the same time, because elliptical space-time can provide more timely and comprehensive information perception capabilities, it has stronger market competitiveness in meeting the specific needs of customers.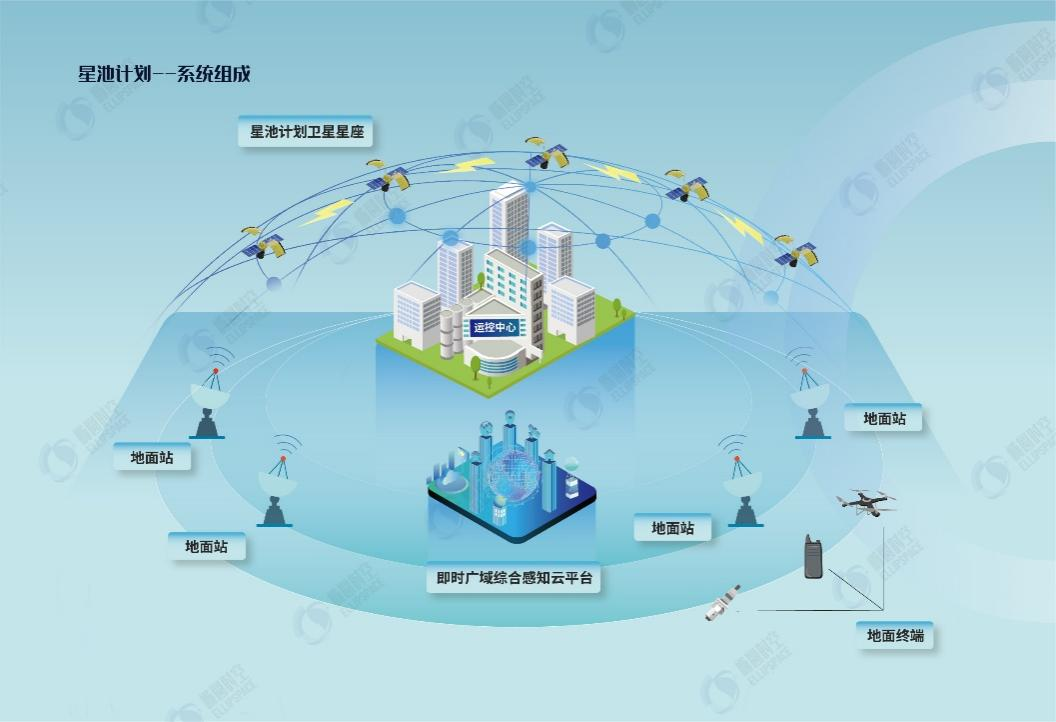 Elliptical Space-Time Star Pool Planning System
In terms of personnel, Ellipse currently has more than 100 employees, of which more than 70% are R&D personnel. In addition, Elliptical Space-Time's first integrated satellite of communication, navigation and remote control is expected to be launched by the end of this year.
media coverage
36Kr Investment World Startup State Sprout Investment China Network
This article is reprinted from: https://readhub.cn/topic/8gSXRsnsls3
This site is for inclusion only, and the copyright belongs to the original author.