On April 21, 2022, Shede Wine Industry announced its first quarterly report for 2022. Although Shede has a quarterly report performance forecast before, the official report released today still brings more surprises. Among them, the revenue growth exceeded the upper limit of the performance forecast, and the net profit growth rate was also at the upper limit of the performance forecast range.
The data is very good.
Let's take a look at the performance report of Shede Wine for the first quarter of 2022.
1. Core business indicators
Operating income was 1.88 billion, a year-on-year increase of 83.25%. Deducted non-net profit of 517 million, a year-on-year increase of 72.45%. To be honest, I'm not very demanding, and I'm very satisfied with a 40% increase.
2. Other financial report data
1. Contract liabilities
As of Q1 2022, contract liabilities were 391 million, a decrease of 267 million from 658 million at the end of last year. In the face of 83% revenue growth, this data does not need to be too entangled. We also know that in the second half of last year, willing to have a certain degree of pressure. Q1 released this year.
2. Cash flow from operating activities
Cash flow from operating activities was 380 million in the same period last year and 419 million this year. Cash flow from operating activities is lower than deducting non-net profit.
I took a general look, mainly because the salary of employees is relatively long, which has increased by 190 million. This partly affects the growth of cash flow from operating activities.
That's it, corporate development, shareholders and employees share the benefits.
3. Information about the top six shareholders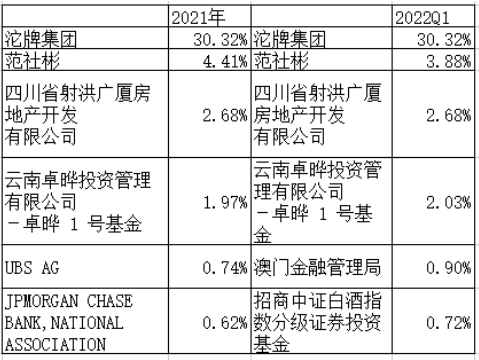 The major shareholder has not changed; Niu San and Fan Shebin have slightly reduced their holdings; foreign capital has been withdrawn; and China Securities Baijiu has been included.
4. Sales data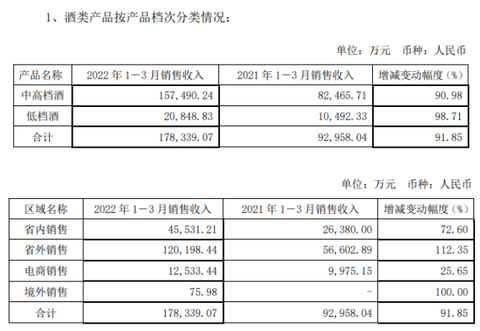 The growth in sales revenue of liquor of different grades is relatively balanced. The increase in sales outside the province is greater than that in the province. The situation is very healthy.
3. Capacity expansion
When the first quarterly report was released, it was willing to announce its capacity expansion plan at the same time. The details are as follows:
In order to continue to promote the old wine strategy, based on the in-depth analysis of the liquor industry and its own actual situation, Shede Liquor Co., Ltd. (hereinafter referred to as the "Company") plans to invest in the construction of a production increase and capacity expansion project (hereinafter referred to as the "Project" or "the Project") , in order to enhance the company's original wine production and storage capacity, improve product quality, so as to better ensure the company's high-quality sustainable development. The project is expected to have a total investment of 7,053,695,200 yuan, a planned land area of ​​about 1,774.11 mu, and an estimated construction period of 5 years. After completion, the company expects to add about 60,000 tons of original wine annually and add about 342,500 tons of original wine energy storage. The newly added koji-making capacity is about 50,000 tons.
Erma commented on L:
7 billion investment is slightly more. Five years later, the production capacity of 60,000 tons of original wine and the storage capacity of 342,500 tons of wine will be built. Subsequent development is guaranteed.
Four, two horses comprehensive review
Many people say that it is useless to be willing to report in the first quarter, and the second quarter will be affected by the epidemic. That is certainly true. But there is no understanding of the essence of value.
The first thing we need to know is that many liquors, including Shede, will be affected by the epidemic, and may not perform well in the later quarters of this year. It is not ruled out that the performance growth for the whole year of this year will drop to 20%, and it may even be extreme, with a negative growth of 20%.
But if you look at the company's value from the perspective of discounted free cash flow, you will find that the impact of the one-off factor of the epidemic on the company's value this year is negligible. But let's see how much the stock price has fallen.
Why am I very satisfied with this first quarter report? The first quarter report shows that the company can achieve rapid growth with little impact from the epidemic, especially the growth outside the province is very good, which shows that the nationalization of willingness is very successful. Then we can just wait patiently for the epidemic to pass.
————————————————————————
Erma's book "Noise and Insights" on how ordinary investors build a stock investment system has been released on JD.com, Tmall and Dangdang.
Stock investment is a profession that most people do not make money, but it is also a profession that ordinary people can make money if they do it right. The key is to recognize that you are an ordinary person and build an investment system that suits you as an ordinary person
Today, I will raise a small question, and welcome everyone to discuss it together:
If you go back to 2008, when domestic milk powder was hit hard by the melamine incident, at that time you would think that domestic milk powder still had spring, would you dare to buy Yili at that time?
There are 55 discussions on this topic in Snowball, click to view.
Snowball is an investor's social network, and smart investors are here.
Click to download Snowball mobile client http://xueqiu.com/xz ]]>
This article is reproduced from: http://xueqiu.com/3081204011/217840532
This site is for inclusion only, and the copyright belongs to the original author.