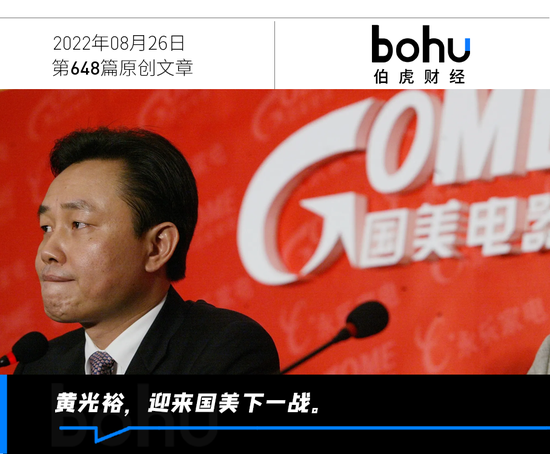 Welcome to the WeChat subscription number of "Sina Technology": techsina
Text / Lingling
Source/Bohu Finance (ID:bohuFN)
Huang Guangyu, a 53-year-old businessman, lowered his proud head.
On the evening of August 19, Huang Guangyu issued an open letter. He said, "It seems that time has changed, and we have not anticipated the difficulties of implementation. Coupled with the long-term disturbance of the epidemic, there is a certain gap between reality and this goal."
In February 2021, Huang Guangyu, who was released from prison, proposed a development goal to the management team: "Strive to use the next 18 months to restore Gome to its original market position."
According to the financial report data, Gome's retail revenue in 2021 will be 46.484 billion yuan, a slight increase of 5.36% year-on-year. Although it has achieved positive growth for the first time in five years, there is still a gap of more than 30 billion yuan from the peak of 76.695 billion yuan in 2016.
Now, 18 months later, Huang Guangyu has to set a new goal.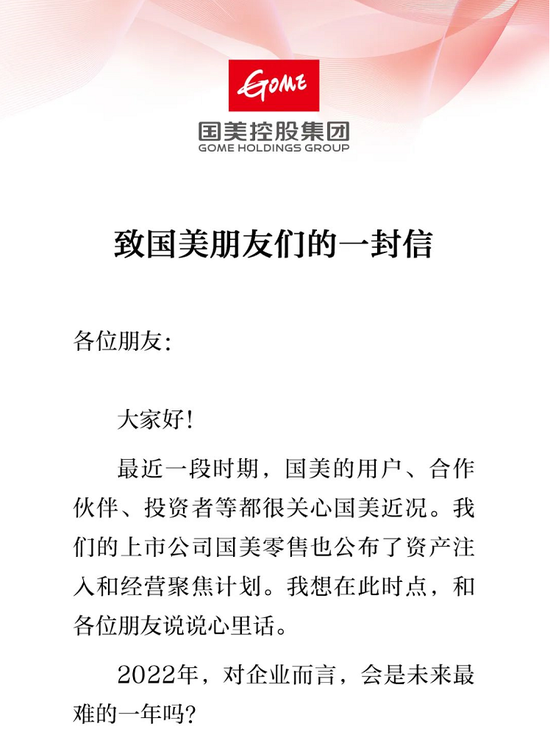 After 18 months of shock, the king did not return
These 18 months, the improvement brought to Gome is very limited.
From the perspective of revenue, Gome's revenue in 2021 will be 46.484 billion yuan. Although there is the first year-on-year increase in recent years, compared with the previous decline, the revenue growth of more than 2 billion yuan seems quite "powerless".
From 2018 to 2020, Gome's three-year revenue was 64.356 billion yuan, 59.483 billion yuan, and 44.119 billion yuan, almost a step of 10 billion every year.
To this day, Gome is still mired in a swamp of losses.
The financial report shows that from 2017 to 2021, Gome continued to lose money, with losses of 450 million yuan, 4.887 billion yuan, 2.590 billion yuan, 6.994 billion yuan and 4.402 billion yuan respectively.
Shares are also getting sluggish. Three years before Huang Guangyu was released from prison, Gome's share price hovered around HK$1. Since then, after Huang Guangyu was released from prison, the stock price quickly rose to 2.5 Hong Kong dollars. But what followed was a steady decline. As of now, Gome's share price is about HK$0.25, and its market value has dropped to HK$8.787 billion.

(Gome stock price)
Obviously, in the past 18 months, Gome did not take the script of "The Return of the King", and there were many shocking plots.
Since April, Gome has started layoffs that have swept across all departments. In early August, rumors of layoffs came out again. "There are very few people in the headquarters office." A Gome employee said, "In the past, every 12 noon, if you wanted to take the elevator downstairs, you had to wait a lot. Now you can enter by pressing the elevator."
Changes in top management are also frequent. Last year, former Baidu executives, Gome Online CEO Xiang Hailong, Gome CEO Zhang Deju, and Gome Retail President Wang Junzhou left Gome for various reasons.
The newly appointed managers Ding Wei, Cao Chengzhi and Hu Guanzhong are no longer Gome's management. According to media reports, the longest among them has been in management positions for no more than a year.
This rushing wind is also blowing to the supplier side.
In April, Whirlpool issued an announcement claiming that Gome was in arrears with the due payment and did not give clear commitments and arrangements. To this end, Whirlpool terminated its business cooperation with Gome.
Gome said that there was no default in payment, and accused Whirlpool of chaotic internal management and unclear accounts.
In the past 18 months, Gome is not without achievements. Huang Guangyu mentioned in the open letter that although our team has made considerable achievements and progress, many key nodes are gradually forming results, such as new model stores, sharing and co-constructing supply chain platforms, and entertainment marketing.
However, these advances appear to be minimal compared to the new Gome projects that have been smashed.
unhappy "really happy"
The "Really Happy" app, the "Dressing Home" app and the "Discount Up" app are the three most important things for Gome after Huang Guangyu's return in the past 18 months.
According to the concept, what "Really Happy" needs to do is a socialized shopping interest e-commerce business, and to provide consumers with an entertaining and socialized shopping experience.
Consumers can snap up orders through the app, draw lottery prizes and play games on the app. At the same time, young people who like to socialize can create grass notes and evaluation videos on the app, and then advance to become KOLs or professional buyers.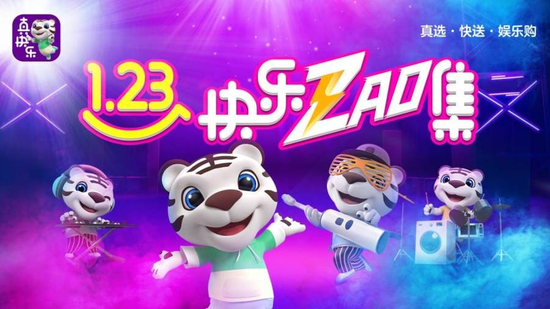 (Image source network)
Obviously, this move towards "entertainment marketing" demonstrates Gome's ambition to create a closed-loop link from content to e-commerce.
Huang Guangyu also mentioned that 200 million users have been accumulated in the Gome system, but all of them are offline traffic, and he hopes to activate them through "true happiness" and transfer them online. In other words, Huang Guangyu tried to create a new sustainable business model for Gome through the 200 million offline traffic.
In order to promote the development of "True Happiness", Gome has invested a lot of money and manpower. According to Wired Insight, Gome will spend 962 million yuan to promote the "Really Happy" app in 2021. In addition, offline store employees are also required to guide customers to place orders through the "Really Happy" app, and the indicator was once as high as 90%.
Gome's employees also participate in "swiping" and publish their personal works on the app. An employee revealed, "If it is not paid, the salary will be deducted by 200 yuan."
However, under the great effort to build, "really happy" did not bring happiness to Gome. According to the financial report data, in 2021, the "Really Happy" App will have 440 million annual visits, stable monthly active users of more than 50 million, and annual active buyers of 16.83 million.
Compared with JD.com's 570 million active buyers and Pinduoduo's 869 million active buyers, it is nothing compared to that.
The "dressing home" app was launched in April last year, pointing directly to the trillion-dollar home improvement market. According to Gome, "Dressing Home" will use VR, AR and other technologies to solve the three major problems of consumers' worry about decoration, opaque price, and uncontrollable budget. Within three years, "dressers" will achieve 500 billion GMV, and the ultimate goal is to occupy 30% of the home improvement market.
Opportunities in the home improvement market are indeed attractive. According to the research report of CICC Securities, the current scale of my country's home improvement market exceeds 2 trillion yuan, and it is expected to maintain a compound growth of nearly double digits in the next five years.
However, the sweetness brought to Gome by the home improvement market has obviously not been seen yet, and there is a lot of suffering – it has been exposed to large-scale layoffs and arrears of wages. Gome said that since 2022, the home improvement industry, which is the main business of "Dressing Home", has been greatly affected by the epidemic, and the company's revenue has suffered a great impact.
On the other hand, the "Fold On Fold" App is a little transparent. Since the trial version was launched in August last year, there has been almost no splash, and the market presence is close to zero.
Huang Guangyu wrote in the open letter: "Will 2022 be the most difficult year for companies in the future?"
There is no doubt that the overall environment in 2022 is not optimistic. This also brings greater challenges to Gome's "18-month goal".
Affected by the epidemic, the home appliance market has also suffered a lot. Data show that in March this year, the overall home appliance market across the country shrank by about 12% online, while the offline market shrank by 15%.
In addition, affected by factors such as strengthened supervision and the epidemic, the real estate industry continued to slump. In this context, the home improvement industry is also unavoidable.
In the past 18 months, Huang Guangyu has worked very hard. According to media reports, Huang Guangyu arrives at the company at noon every day and does not leave until 2-4 in the morning.
From the second half of 2021, Gome has arranged accommodation for executives at the headquarters location in order to keep up with the rhythm of the boss.
Gome's growth story is a tough one to tell, but it continues.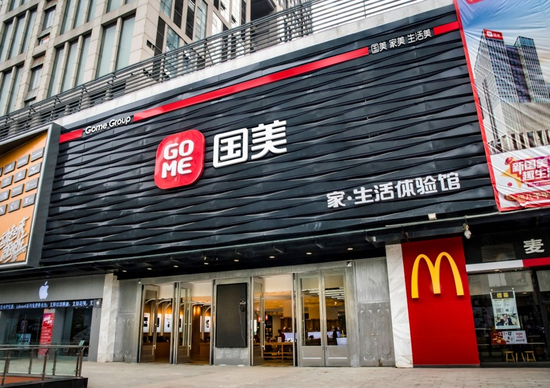 (Image source network)
Gome, need more time
Huang Guangyu mentioned Gome's new goals in the open letter.
"As a major shareholder, I will promote the management team to realize the promise of better performance in the future, and realize the three-year strategic development goal of '1+1+1'."
According to the plan, Gome will achieve higher profitability in 2023 and reach the highest level in the past, reach the best level in history in 2024, and significantly surpass the best level in history in 2025.
This goal, for Gome, is still highly challenging.
Under the new strategic goal, Gome will focus on its main business and reduce its weight. For example, focusing on the main business of retail of electrical appliances and consumer electronic products, forming an exhibition (offline boutique experience), sales (online and offline omni-channel self-operated + shared supply chain), integrated solutions for home electronic products, pan-home appliances There are five main profit models including extended products and value-added services (delivery, after-sales, extended warranty, paid membership operation, etc.).
Businesses that cannot be profitable and achieve positive cash flow in the short term will be stripped from the listed company by Gome.
In addition, closing down low-efficiency stores, opening new large and good stores, expanding franchise stores, comprehensively optimizing the layout of the national store network, and not investing too much in the real happiness project are also Gome's current "slim down" position.
"We still need more tolerance and support from everyone, and we need everyone to give the company more time and space," Huang Guangyu said in the letter.
However, the person who should give Gome a little more time at the moment may be Huang Guangyu.
After all, Huang Guangyu is still the same Huang Guangyu, the "natural enterprising, pioneer", but Gome is no longer the Gome that it used to be.

This article is reproduced from: http://finance.sina.com.cn/tech/csj/2022-08-26/doc-imizmscv7897973.shtml
This site is for inclusion only, and the copyright belongs to the original author.