36氪 was informed that Handheld Workshop (Guangzhou) Intelligent Technology Co., Ltd. (hereinafter referred to as "handheld workshop") completed an angel round of financing of nearly 10 million yuan. This round of financing was invested by Qiji Chuangtan and Bay Area Incubator. Feng Yang, founder of Pocket Workshop, said that this round of financing will be used for business aspects such as product iteration and marketing.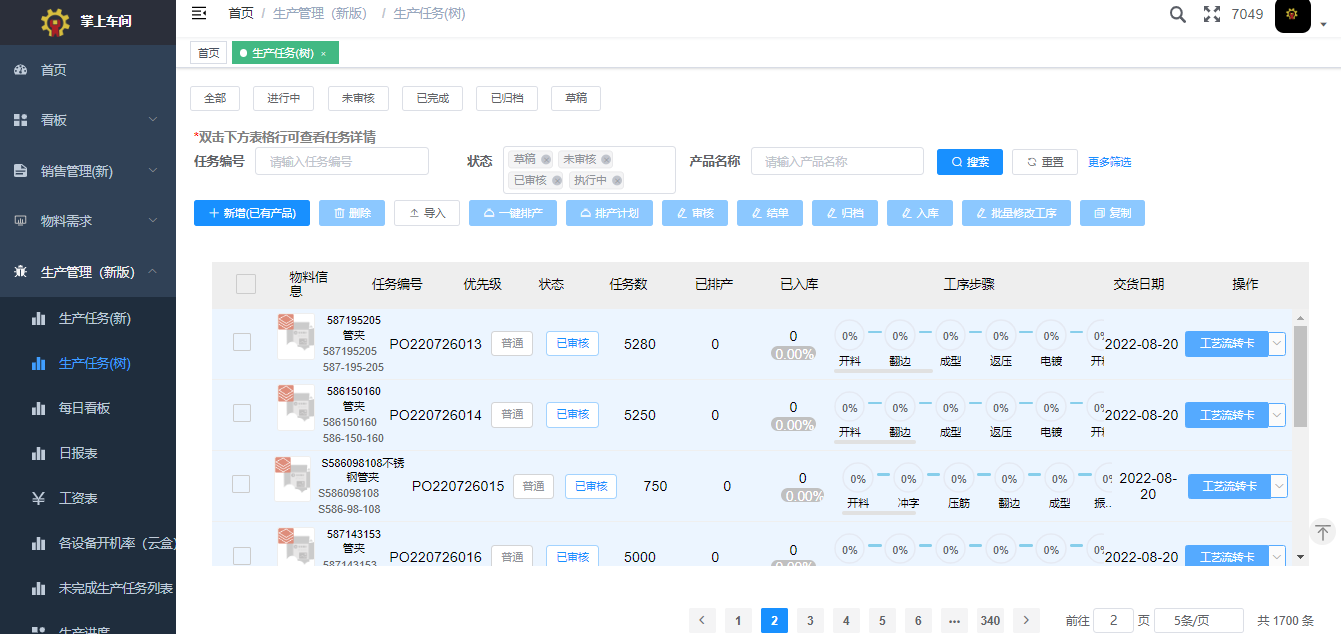 Handheld workshop system interface
Pocket Workshop, established in 2021, is a digital factory solution provider. Pocket Workshop is committed to providing small and medium-sized factories with highly versatile, scalable, and lightweight digital solutions, using an easy-to-operate SaaS platform to solve the management pain points of small manufacturing enterprises and help them complete transformation and upgrading .
The wave of digital upgrading of small and medium-sized factories in my country continues, especially in recent years, the epidemic has once again promoted the process of digitalization, transformation and upgrading. Large-scale enterprises are digital and can rely on capital and technology to establish their own digital systems, covering from front-end to back-end, and using customized MES, ERP and other systems.
However, small and medium-sized enterprises are limited by the scale and business volume of the enterprise, and it is unrealistic to adopt all customized solutions. Feng Yang said, "Customized digital solutions need to simulate and control multiple management levels of the factory. This cost structure determines that it cannot sink to small and medium-sized customers, and small and medium-sized enterprises have clear digital needs. Such needs should be addressed with new product forms."
The SaaS system of the handheld workshop is designed according to the factory production task chain and key execution nodes in the production process, such as management nodes and process nodes, and is more suitable for the management system of small and medium-sized factories that is not too complicated. The task chain of the handheld workshop includes material procurement, incoming materials, product delivery, equipment maintenance, etc., which runs through the entire production cycle of the order and production management links. Process nodes correspond to specific process processes, including stamping, welding, grinding, spraying, and more.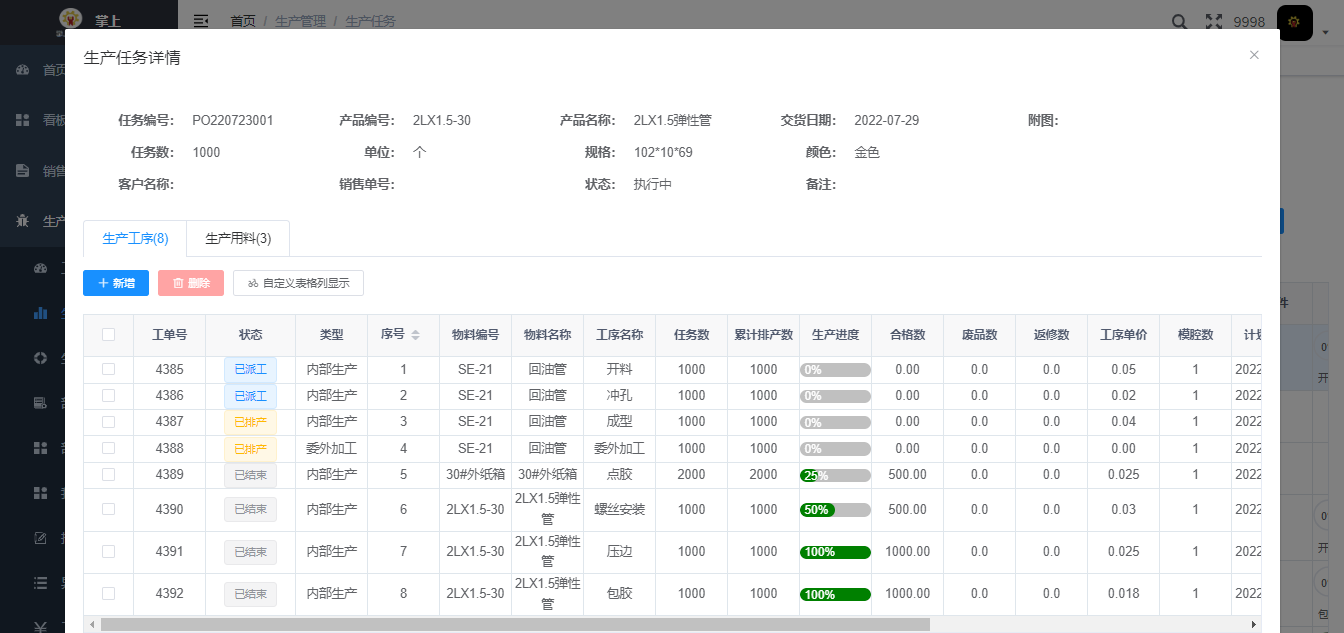 Handheld workshop system interface
Using task links and process nodes, the handheld workshop SaaS system is more modular and unitized, and can realize all-round functions such as sales management, production management, inventory management, and procurement management. Importantly, SaaS platforms allow customers to customize the task flow.
For example, under the production management module, the user can add or modify the entered process flow, the work order of the manufacturing unit and other information at any time, so as to adapt to the production of existing products and new customized products; Material requirements and material information, inventory management and purchasing management modules will also be linked accordingly.
Feng Yang said: "Customized task process and task information is the embodiment of a 'weakly coupled' system capability. Compared with the 'strong coupling' of traditional MES and ERP systems, this model is more suitable for the production and operation of small and medium-sized factories. Happening."
In terms of software and hardware interconnection, the Pocket Workshop SaaS links every machine, equipment and manufacturing unit through intelligent hardware, and relevant data will also be automatically uploaded to the platform. At the same time, for old equipment, the handheld workshop can also transform it so that it has the ability to open up data. Feng Yang said to 36Kr: "In terms of data, process data, including equipment operating status, production rhythm, etc., will be automatically uploaded. Operational data will be completed in the form of automatic upload and manual confirmation."
In terms of material information, the traditional ERP system needs to scan and enter materials, but this method is not friendly to small and medium-sized factories. First, the coding system will consume a certain degree of manpower and resource costs, and secondly, it is inconvenient for workers to manually scan the code during the production process. For this reason, the handheld workshop adopts the material input method of touch screen click, which can not only complete the information input and product tracking, but also make the whole process convenient and fast.
During the implementation of the specific plan, the Handheld Workshop will provide users with on-site assistance for 7 days. On the one hand, it will complete the system launch and the access of software and hardware equipment, and on the other hand, it will guide customers to complete the establishment of tasks and basic procedures. Entry and worker operations, etc.
Feng Yang said: "Our products can be launched in three days, and the 7-day assistance service is mainly to allow customers to get started with the system faster, and we can solve any questions in time. Now the service system of the handheld workshop is '7 days' Resident assistance + 3 months remote supervision + 6 months irregular return visit'"
At present, companies that have launched lightweight management systems in the market include Heihu and Xinnuyun. Feng Yang believes that the advantage of the handheld workshop is that it faces small and medium-sized enterprises in multiple industries, and has strong product scale capabilities. greater market competitiveness.
Handheld workshop currently has more than 40 customers, including sheet metal, automotive appliances, steel structure, machining and so on. In terms of profit model, the handheld workshop will make quotations according to the actual needs of customers, business volume and post-service services, and the cost ranges from tens of thousands to hundreds of thousands of yuan.
media coverage
36Kr Venture State Investment Community
Related events
This article is reprinted from: https://readhub.cn/topic/8i0L7qxtpNE
This site is for inclusion only, and the copyright belongs to the original author.