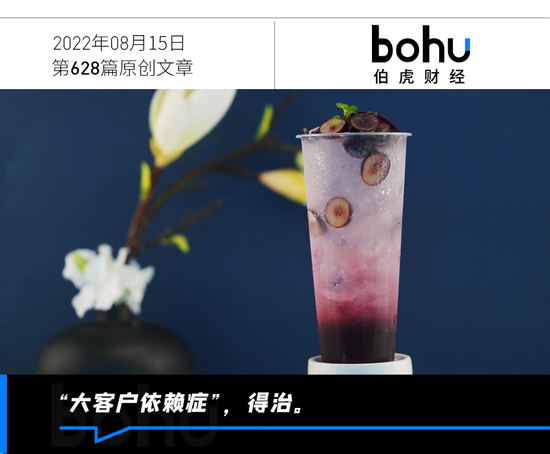 Welcome to the WeChat subscription number of "Sina Technology": techsina
Author | Tori
Source: Bohu Finance
The hottest new tea drinking track in the past two years has been filled with grief this year: Nai Xue's tea has crossed the bottom line of food safety several times, the tea's beautiful appearance has closed on a large scale in Changsha, the base where it started, Hey Tea's price has dropped to bid farewell to the era of 30 yuan, and other than Nai Xue "The second share of new tea drinks" has not appeared for a long time… Aside from the new tea drinks that have now been rolled into a "Red Sea", capital has found a "new love" – ​​a new tea supply chain enterprise.
The latest IPO news of the new tea supply chain is Nanwang Technology, which provides paper bag packaging for HEYTEA and Michelle Ice City. It is reported that Nanwang Technology has officially submitted a listing application to the Shenzhen Stock Exchange, and will be held on August 10th. review.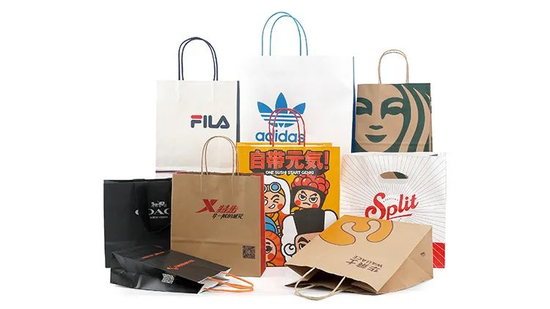 (Nanwang Technology's paper bag products/Photo source network)
Prior to this, many companies in the new tea supply chain had IPOs or applied for listing, including Sanyuan Bio, which made erythritol for Yuanqi Forest, Dexin Foods, which provided Starbucks and Naixue with beverage accessories, Nongfu Spring, Nai Xue makes raw juice, field shares of fresh fruit, and Hengxin Life makes paper cups. Nanwang Technology ranks as the "oldest seventh" in this team.
Best time to go public?
A large-scale new tea brand often has dozens or even hundreds of suppliers. In 2021, Nai Xue's tea will have more than 20 suppliers of strawberry products alone. Compared with new tea drinks, most of the supply chain companies that provide them with just-needed materials have single products and small scales. They are like screws on the machine of new tea drinks companies, with little energy but indispensable.
With the rapid growth of new tea companies in the past two years, the development of supply chain companies has also entered the fast lane. The most intuitive feeling is that they make more money.
For example, from 2019 to 2021, the revenue of Tianye shares was 290 million yuan, 266 million yuan and 459 million yuan respectively, and the net profit rose from 24.32 million yuan to 65.17 million yuan; similarly, by selling paper cups and straws, Hengxin Life From 2019 to 2021, the net profit increased from 70.2656 million yuan to 81.2361 million yuan. According to its prospectus, the company will sell up to 2.1 billion paper cups and plastic cups in 2021, earning 700 million yuan a year.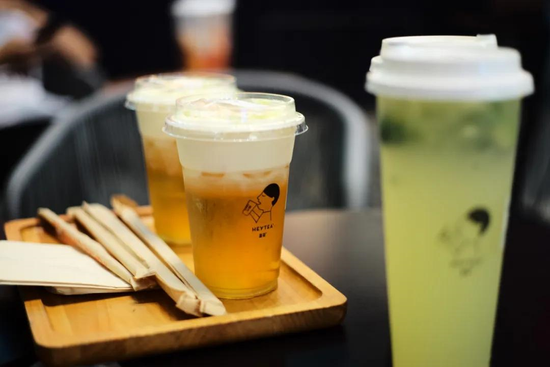 (Photo source network)
It is a pity that "there is no lasting banquet in the world", and the new tea drink that takes the lead in making money is "going down" visibly to the naked eye. The "China Catering Category and Brand Development Report" predicts that in the next 2 to 3 years, the growth rate of new tea beverages will gradually slow down and be adjusted to 10% to 15%. The data is that the market size of China's new tea drinks has expanded from 57.51 billion yuan to 293.85 billion yuan, a five-fold increase.
Some leading tea brands have seized the market dividends of the previous two years, and used the power of capital to open stores and expand wildly. According to the "2022 China Catering Business Research Report", Michelle Ice City will add 3,846 new stores in 2021, bringing the total number of stores to 20,000; Shuyi Burning Immortal Grass will add 1,953 stores, bringing the total number of stores to 7,000; Nai Xue's tea 326 new stores were added; the number of HEYTEA stores also reached 897, which is close to 1,000 stores.
When the market is booming, everyone may still be able to make money, but when the market is down, the store opened by the "unable to drink" new tea drink will change from capital to debt. Nai Xue, who has lost more than 230 million yuan in half a year, is alive and well. example.
The new tea drink with huge losses and no "imagination space" is cold in the capital market in an instant. According to the data from the Hongfan Brand Research Institute, as of November 25, 2021, there will be 32 financings in the new tea beverage industry in 2021, with a disclosed total of over 14 billion yuan, reaching the peak in the past 10 years. However, entering 2022, the new tea drinking track has a total of 16 financings in the first half of the year, with a financing amount of about 1.4 billion yuan. Compared with the decrease in the amount and quantity of financing in 2021, the overall capital heat has cooled.
In order to save themselves, tea companies that used to focus on the high-end market are eyeing the affordable market. In fact, in 2021, tea drinks with a unit price of less than 20 yuan will take more than 90% of the market share. Among them, the consumer group corresponding to a unit price of 10-15 yuan accounts for the highest proportion, accounting for 57.3%, and only 6.4% of consumers can accept it. Milk tea with a unit price of 20 yuan and above.
Therefore, the leading tea brands, mainly HEYTEA and Nai Xue, took the lead in starting the price war. On January 7, HEYTEA adjusted the price of some products, among which the price of pure tea was reduced by 3-5 yuan, the price of 5 fruits was reduced by 2-3 yuan, and the price of cheese was reduced by 1 yuan. No price hikes this year. Subsequently, Nai Xue's Tea also launched the "Easy" series priced at 9-19 yuan, of which Easy American Coffee and Easy Golden Peony are as low as 9 yuan a cup, and promised to release a new low-priced product every month.
Influenced by the whole body, the price reduction of front-end products compresses the profit space of new tea companies, but also brings about an increase in the cost pressure of the back-end supply chain. However, supply chain companies that "transfuse blood" for new tea companies rarely have bargaining power. In the face of strong new tea giants, supply chain companies have to cut prices to keep customers. Under the "double attack" of rising costs and falling prices, The life of supply chain companies may become more and more difficult in the future, so some analysts say that these two years may be the best time for new tea suppliers to IPO.
Supply Chain Enterprises' "Big Customer Dependence"
One of the main reasons why new tea supply chain companies do not have bargaining power is their serious "dependence on major customers". First, their revenue is highly dependent on the top brands of new tea drinks.
Taking Hengxin Life, a supplier of paper cups and plastic tableware, as an example, from 2019 to 2021, the procurement ratios of the top five suppliers, led by leading new tea brands such as Naixue and Chabaidao, were 75.22%, 66.57% and 61.16% respectively. %.
The degree of dependence on major customers of Tianye shares is increasing year by year. From 2019 to 2021, the sales revenue of the top five customers accounted for 49.68%, 44.61% and 68.17% respectively, and the proportion of revenue contributed by new tea customers also soared from 4.20% to 61.82%.
(Tianye shares prospectus)
Secondly, there are many enterprises in the new tea supply chain, the product category is single and the technical barriers are small, and the homogenization competition is serious. In front of the giants, suppliers are accustomed to retaining customers at low prices.
Professor Chen Lihua of Peking University Guanghua School of Management pointed out that most Chinese enterprises are based on the "lowest price as the core" supply chain management model, which is essentially a "bean sprouts model", which does not pay attention to supplier relationships and scientific supply chain management methods. , but to constantly change suppliers in order to get the lowest price, forcing small and medium-sized enterprises to continuously lower prices and costs in order to improve their competitiveness, and fight a "low price war".
Taking Nanwang Technology as an example, according to its prospectus, from 2019 to 2021, the price of the company's main product environmentally friendly paper bags will drop from 61.93 yuan/100 to 47.72 yuan/100, a cumulative decrease of about 23%; the price of food packaging It has also dropped from 10.41 yuan/100 to 9.41 yuan/100.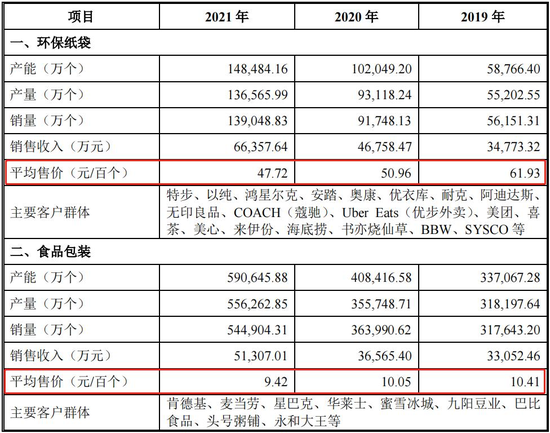 (The price of Nanwang Technology's products is decreasing year by year)
However, the price of Nanwang Technology's own raw materials, such as the purchase price of base paper, has been rising year by year, from 5873.58 yuan/ton to 6249.56 yuan/ton from 2019 to 2021.
(Nanwang Technology's base paper purchase price increased)
In this regard, Nanwang Technology responded that it is based on its own product positioning, and uses a positive price strategy to win and maintain the expected share of large customers. For Nanwang Technology, when the cost rises, the selling price is reduced, and the loss can only be borne by itself. The most intuitive impact is that the gross profit margin of its main business has dropped from 26.91% in 2019 to 2021. of 23.34%. In addition, in the first half of this year, Nanwang Technology's revenue reversed its steady growth compared with previous years, falling by 7%, and net profit attributable to the parent also fell by 5%.
However, even if the supply chain companies have become so "humble", after the "introverted" new tea companies "rolled up" the explosive products and prices, they still "rolled up" the raw materials and supply chain upstream.
When new tea drinks are "involved" into the supply chain
Since the announcement of the price adjustment at the beginning of the year, on June 9 this year, HEYTEA released the "real milk" initiative, calling on the industry to popularize real milk and reject non-dairy creamer.
Non-dairy creamer, also known as creamer, can make the milk tea taste smoother, the milk fragrance is more obvious, and the cost is lower than fresh milk. The hydrogenated vegetable oil contained in creamer is easy to produce trans fatty acids, and long-term consumption will increase the risk of chronic diseases such as diabetes and obesity.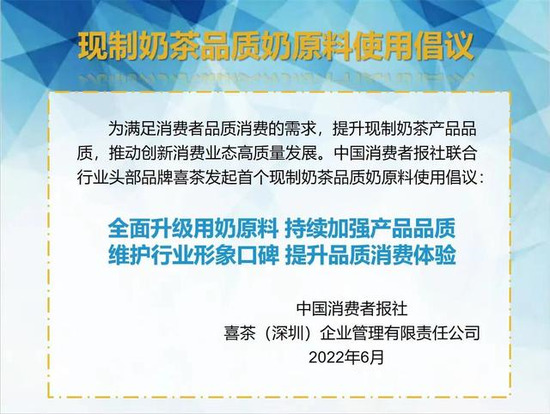 (HeyTea's "Real Milk" Initiative/Photo Source Network)
As soon as the "Real Milk" initiative came out, mid-to-low-end milk tea brands such as Mixue Bingcheng and Chabaidao were "laid down" one after another. In June last year, Jiahe Foods landed on the Shanghai Stock Exchange. Its prospectus shows that from 2017 to 2019, the company's operating income was 1.368 billion yuan, 1.595 billion yuan, and 1.836 billion yuan, respectively, and the sales of non-dairy creamer accounted for more than 85% of its operating income.
In fact, HEYTEA has fully used real milk since its birth in 2012, and took the lead in introducing refrigerated milk into the new tea industry. In addition to improving the raw material level of tea drinks, HEYTEA has also started to build a supply chain since 2016. The raw materials used in its popular product taro paste Bobo series come from the raw materials of betel nut and taro that HEYTEA jointly built a planting base.
Michelle Bingcheng invested in the supply chain earlier. It built a factory in the upstream 10 years ago, and its popular lemonade originated from the lemon planting base built in Sichuan. After Nai Xue's strawberry series of fresh fruit teas sold out, she also bought a plot of land in Yunnan to build Nai Xue's strawberry supply base, in order to reduce the cost of strawberry procurement and better control the quality of strawberries.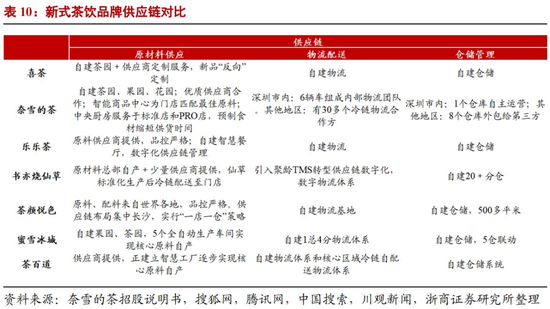 (Comparison of supply chain of new tea brands/Zheshang Securities)
For new tea companies, in order to pursue large-scale growth, it is necessary to build a standardized supply chain and product production system to optimize and improve product quality and operational efficiency, and reduce the risk of being "stuck" by core raw materials. For the upstream suppliers of new tea beverages, "it needs to be hard to strike iron". Under the challenge of reducing the dimension of downstream new tea beverage enterprises, self-built brands go to the forefront or strengthen R&D investment to create technical barriers. Supply chain enterprises can Future directions to try.
For example, beverage accessories supplier Dexin Foods has opened flagship stores on Tmall and other platforms to sell directly to the C-end. KFC seasoning supplier Baoli Foods also acquired a 75% stake in Kitchen Affin last year. The latter's brand "Kongke" pasta has been a dark horse on the track for the past two years.
However, not paying attention to R&D may be a common problem of many supply chain companies. Nanwang Technology, which plans to be listed on the Shenzhen Stock Exchange's Growth Enterprise Market, accounted for only 2.88%, 2.91%, and 2.51% of its operating income during the reporting period, and it showed a downward trend year by year. There were only 5 invention patents, and its technological attributes were "weak". I am afraid it does not meet the positioning of the GEM.
Yihong shares, which belong to the same paper product packaging industry as Nanwang Technology, had its listing application rejected just last week. The biggest controversy is its dependence on major customers and whether it conforms to the "three innovations and four new" positioning of the GEM. Undoubtedly, it adds a little suspense to whether Nanwang Technology can successfully go public.
When the new tea market is on the rise, the strategy of "small profits but quick turnover" of supply chain companies may allow companies to seize the opportunity to get more orders and maintain performance growth, but when the market dividends disappear, the new tea companies themselves end up for a little fat." Can supply chain companies still sit and "drink soup" during hand-to-hand combat? Only after the tide of capital ebbs did it become known who was swimming naked.


(Disclaimer: This article only represents the author's point of view and does not represent the position of Sina.com.)

This article is reproduced from: http://finance.sina.com.cn/tech/csj/2022-08-15/doc-imizmscv6346024.shtml
This site is for inclusion only, and the copyright belongs to the original author.