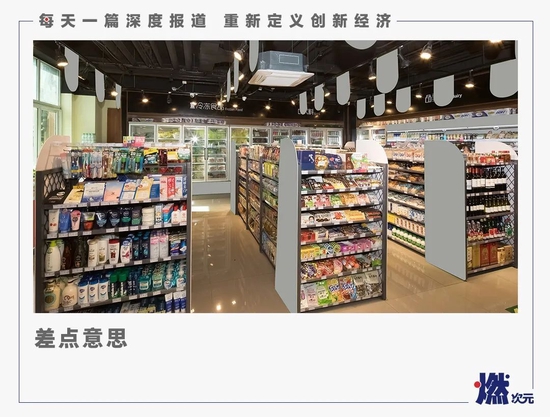 Welcome to the WeChat subscription number of "Sina Technology": techsina
Text / Xie Zhongxiu
Source/burning dimension (ID: chaintruth)
On September 16th, with the occasion of the official launch of the iPhone 14 series, the real-time retail war broke out again.
First, at 11:06 in the morning, Meituan released a news saying that "Meituan drones delivered the first iPhone 14 in 5 minutes and 56 seconds." Then in the afternoon, JD.com released a battle report, stating that "As of 14:00 on the day of the sale (September 16), JD.com's cumulative sales of new iPhone 14 series of home and hourly purchases exceeded 200 million yuan."
Since the beginning of this year, instant retail has become a popular track, and Meituan and JD.com have made a big fuss. However, Ali, which is firmly in the top spot of e-commerce, has an Ele.me platform and has instant delivery capabilities, seems to be quiet.
Taking the timing of the release of the iPhone 14 series as an example, after the official announcement of the iPhone 14 series at Apple's autumn conference on September 8, Meituan and JD.com ignited the war. It can be delivered in half an hour", and "JD Daojia, hourly purchase of iPhone 14 instant retail exclusive pre-order, the fastest on sale in minutes".
On September 11, Ranjiyuan searched for "Apple" and "iPhone" in Meituan Takeaway, JD Daojia, and Ele.me. On the Meituan Takeaway platform, you could get iPhone 13-related products provided by Apple-authorized stores as the results. On JD.com I also saw iPhone 14 products and iPhone 13 series products with the "pre-sale" logo at home, but on Ele.me, there are only iPhone-related accessories sold in convenience stores, such as chargers, charging cables, etc.
By September 16, Ranjiyuan once again searched with the keyword "iPhone" on the three platforms of Meituan Takeaway, JD Daojia, and Ele.me. Meituan Takeaway and JD Daojia all have iPhone 14s supplied by Apple-authorized stores series and the iPhone 13 series. But Ele.me still only has iPhone-related accessories sold in convenience stores.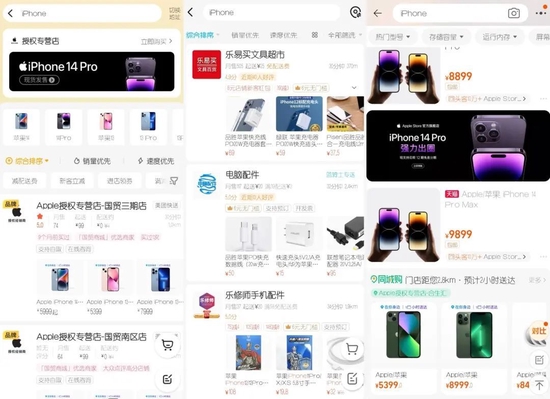 Figure/Searching for "iPhone" in Meituan, Ele.me and Taobao from left to right are Meituan Takeaway, Ele.me, Taobao Source/Screenshot of Burning Dimension
Regarding instant retailing, it is not that Ali has worked hard.
In March 2022, when Ranjiyuan searched for "color contact lenses" related products on Taobao, it found instant delivery products from Ele.me in the search results. But somehow, this path didn't continue. In addition, Ele.me already has instant retail categories such as supermarket convenience, fruits and flowers, and buying medicines, and will launch an "all-around supermarket" in March 2022, providing fresh products, daily necessities and other categories.
But everything is almost meaningless, and in the eyes of the outside world, Ele.me, which is the most suitable for attacking instant retail, does not seem to be the main position of Ali's instant retail.
Ali's Ele.me, Taoxianda, Tmall Supermarket, Hema and other business lines all involve instant retail business. On September 16, Ranjiyuan tried to search for "iPhone" on the Taobao platform, and when it slipped to the second screen, it also saw the iPhone 14 related products marked "same city purchase", which was displayed by "Apple Authorized Store". 2 hours delivery.
Looking at it, Ali's instant retail still seems to be under observation. First, although Ali has many business lines related to instant retail such as Ele.me, Taoxianda, Tmall Supermarket, Hema, etc., these business lines seem to be more limited to fresh food and daily necessities, which are far from the "delivery products" targeted by Meituan and JD.com. Everything" is still far away.
Second, from a strategic point of view, different from the high attention paid by Meituan and JD.com, which is mentioned in many financial reports, instant retail does not seem to have become the focus of Ali's attention.
After more than 20 years of development, Ali also has hidden worries. After all, in the just past second quarter, JD.com's retail business revenue increased by 3.87% year-on-year, and Pinduoduo's revenue also increased by 36% year-on-year, but Ali's Chinese commercial revenue fell by 1% year-on-year. Under the background of peaking users and weak consumption, Ali needs new space.
Just judging from Ali's current layout, the new focus seems to be in cloud business and overseas. Although the real-time retail market is hot, it is not the focus of Ali's attention.
However, judging from the general trend of changes in consumer behavior and the continuous attacks of Meituan and JD.com, Ali must also fight. After all, instant retail is essentially a retail business, and it will certainly swallow up some of the traditional e-commerce retail needs of consumers.
Ali, who has "woke up late", can he catch up? How can we catch up?
Who will carry the flag?
Since the beginning of this year, instant retail has become a hot track, and it is difficult to count the companies that have plunged into instant retail.
In addition to platforms such as JD.com and Meituan, many traditional supermarkets are also involved. For example, Wal-Mart and Carrefour have opened cloud warehouses and member stores this year, providing online orders and "one-hour speed" delivery to home. Instant retail service.
The industry generally divides instant retailing into two models, including platform model and self-operated model. Among them, Meituan, JD Daojia, and Ali (Ele.me) are classified as platform models, while Hema, Dingdong Maicai, RT-Mart, Yonghui Those that need to build their own stores or warehouses and online platforms are included in the self-operated model.
However, Zheshang Securities pointed out in a research report that the platform model is better, "We estimate that the market share of platform-based and self-operated models will change from 64% and 36% in 2021 to 80% and 20% in 2025. ."
The research report specifically stated, "The platform model is a national business and a full-category operation, with faster expansion and larger scale space. The fulfillment end can be shared with the merchants (self-operated need to bear the cost of the main line and the last mile of fulfillment), the takeaway platform Catering capacity can be reused and therefore more profitable."
However, "the self-operated model is regionally strong, and expansion requires capital expenditure and is limited to high-tier cities." The above research report pointed out that "compared to the platform type, high-quality fresh food and private label products are unique advantages."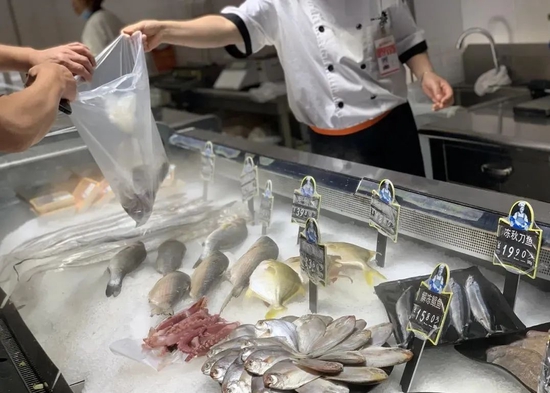 Source/Visual China
In the field of instant retail, platform models such as JD Daojia and Meituan are more discussed. Ranjiyuan also noticed that when more physical supermarkets joined the real-time retail battlefield, they settled on platforms such as Jingdong Daojia and Meituan. For example, supermarkets such as Walmart, Carrefour, China Resources, Wumart, Jingkelong, and Wushang have disclosed in their financial reports that they have entered instant retail platforms and achieved performance growth.
Ali's instant retail business is spread across many business lines such as Ele.me, Taoxianda, Tmall Supermarket, and Hema. Both the platform model and the self-operated model are involved. But what the public pays more attention to is the platform model of Ele.me.
For example, the above-mentioned research report of Zheshang Securities also mentioned, "Ele.me can also reuse takeout fulfillment and users for non-meal meals, promote the increase in order scale, and help optimize the overall UE (Unit Economics, unit economic efficiency) performance of Ele.me. "In addition, "We are also optimistic about the development of Ele.me's non-meal business. Relevant incremental orders can help reduce Ele.me's overall contract performance costs, thereby improving the overall UE and enabling Ali's local life business segment to achieve sustainable development capabilities."
The benefits of Ele.me's growth in instant retail and non-meal delivery services are also obvious. Ranjiyuan saw that in Ali's first quarter performance report for fiscal year 2023, it was mentioned in many places that "Ele.me's unit economic benefits have improved" and "Ele.me's non-meal delivery orders have grown steadily".
According to the financial report, in the first quarter of fiscal 2023, Ele.me's non-meal delivery service has grown, and Ele.me has "meeted the market's increasing demand for daily necessities such as groceries, medicines and baby care products, resulting in an increase in customer unit prices", and Under the influence of the year-on-year increase in the average order value and other factors, "Ele.me's unit economic benefit was positive in the quarter ended June 30, 2022."
Over the years, Ele.me's homework in instant retail has not fallen behind much. For example, the advantageous categories of flowers and medicines in Meituan's instant retail are also available on the Ele.me platform.
At the end of March 2022, during the epidemic, Ele.me took the lead in testing the water of the "Almighty Supermarket" in Shanghai, and then gradually launched in Beijing, Hangzhou, Guangzhou and other cities, and then changed the entrance of the "Almighty Supermarket" from the previous "Supermarket Convenience". Mention the first-level entry at the bottom bar of the home page. The move is also seen as a move to overweight instant retail.
But compared to the onslaught of JD Daojia and Meituan Flash Sale, Ele.me has also been drowned out and almost ignored.
Are you hungry?
Ele.me's instant retail is almost ignored. On the one hand, it may be that Ele.me's voice is not as loud as JD.com and Meituan, but on the other hand, it must be admitted that Ele.me's strength is comparable to that of JD.com and Meituan. There is a gap between Jingdong and Meituan standing behind the flash sale.
Ranjiyuan also mentioned in "In addition to free orders, it 's time to grab food", in 2017, after the acquisition of Baidu Waimai, Ele.me began to compete with Meituan's takeaway market. In July 2018, Ele.me's then-CEO also said with high spirits in an interview with the media that Ele.me's short- and medium-term goal is market share, "to achieve more than 50%."
But the later stories are known to the outside world. After that, Ele.me lacked stamina, and its market share continued to be overtaken, and now there is only 30% left.
Ranjiyuan also saw in Analysys Qianfan data that in August 2022, the monthly active number of Meituan food delivery APP was 74.3668 million, while the Ele.me APP was 73.4363 million. For a long time, the monthly active number of the Ele.me APP has been closely related to the Meituan food delivery APP, but it has also been lower than the Meituan food delivery APP.
In terms of order volume, according to Meituan's 2022 Q1 financial report, "(this quarter) the number of Meituan food delivery business transactions reached 3.36 billion", it can be estimated that "the average daily order volume of Meituan Food Delivery is 37.35 million". According to the market structure of Ele.me and Meituan in the food delivery industry, it is estimated that the average daily order volume of Ele.me is 10 million.
Under the disparity in strength, even if Ele.me has instant retail strength and complete corresponding functions, it is still difficult to be optimistic.
On the consumer side, the supply of Ele.me instant retail is also felt insufficient.
"I needed a measuring tape two days ago because I suddenly wanted to measure something. But I didn't want to go out, so I searched on Meituan Takeaway and Ele.me. In the end, Meituan Takeaway came up with more results, and I needed something I needed. Tape measures are available in a variety of styles, and although Ele.me has tape measure products, the styles are single, and after turning over, other products such as steel rulers and tape measures began to appear, and they finally placed an order on Meituan." Consumer Qiuqiu said.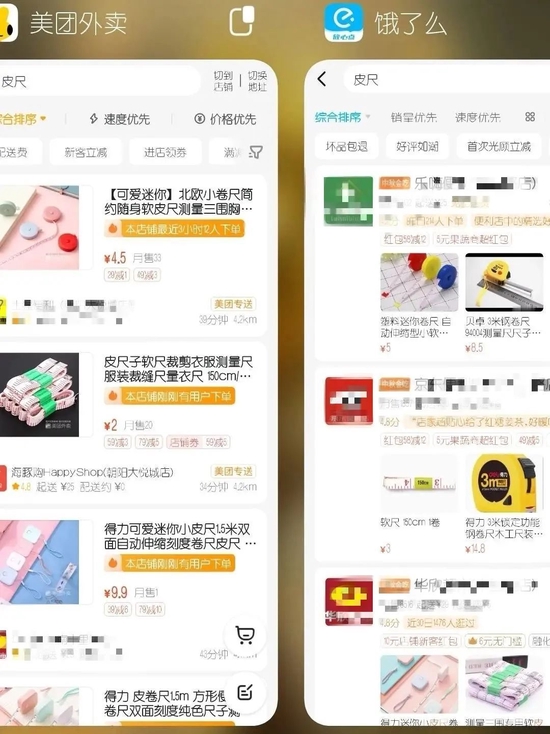 Photo/Qiuqiu searched for "tape measure" in Meituan Takeout and Ele.me respectively. The left is Meituan Takeaway, and the right is Ele.me Source/Courtesy of Qiuqiu
Zheshang Securities pointed out that contract performance, users, and merchant supply are the three major competitive elements of instant retail.
In terms of contract performance, according to the "2022 Blue Knight Development and Security Report", the number of riders who will earn stable income through Ele.me in 2021 will be 1.14 million. Meituan's fourth quarter and full-year financial reports for 2021 show that a total of 5.27 million riders will earn income on the Meituan platform in 2021.
From this point of view, there are gaps in Ele.me's users, merchant supply, and contract performance capabilities.
This is the prelude to a vicious circle. Some snowball users can clearly say, "Categories will affect users' minds or habits. For example, if you are looking for something, but you can't find it on other platforms, you can find it on Taobao. After one or two times, Taobao will become the first shopping you open. platform." And "Do you think it's that easy to supplement the product category?"
Are you hungry if the supply is insufficient, will you lose your instant retail tickets?
On September 2, at the 2022 China E-Commerce Conference, Ele.me President Fang Yongxin mentioned that the scale of local instant orders is in a stage of high compound growth. By 2030, the number of daily orders is expected to exceed 300 million. At the same time, Fang Yongxin pointed out two core points for local real-time service, one is the guarantee of transportation capacity, and the other is the judgment, analysis and insight of effective supply.
At the end of 2021, Ali Local Life CEO Yu Yongfu issued an internal letter when he took over Ali Local Life for 100 days, which mentioned that the local life business is essentially a two-wheel-driven business of "instant business flow" and "instant logistics", among which " "Instant business flow" is the Ele.me app, and "instant logistics" is Hummingbird.
It can be seen that Ele.me also has expectations and ambitions for instant retail. It's just that according to "LatePost", at the local life managers conference held on November 23, 2021, Yu Yongfu left the most time for "instant logistics". He also proposed that the barrier to competition in local life in the future lies in real-time logistics. Hummingbird needs to be an independent company and set up "Big Hummingbird". In the future, it will become a real-time distribution platform. In addition to internal, it must also be open to the outside world, so that there is more interest in hummingbirds in the market. more knowledge.
Even internally, "instant commerce flow" seems to be second.
Ali's Alternative Path
Ranjiyuan noticed that compared with Ele.me, it seems more feasible for Da Tao to become Ali's instant retail carrier platform.
In addition to searching for products on Taobao in March 2022, the search results showed Ele.me instant delivery products, and searching for "iPhone" on Taobao on September 17 appeared "same city purchase" products, during the Mid-Autumn Festival on September 8, burning On a product details page on Taobao, Dimension also saw the "Same City Delivery" sign.
The product details page said, "Because the Mid-Autumn Festival is approaching, Guangzhou and Foshan have opened errands business [same day delivery], please consult customer service for details."
It is reported that because the goods are Hanfu, and the Mid-Autumn Festival is an important time point for the demand for Hanfu, the store has opened the "same day delivery" service. However, the customer service of the store also told Randiyuan that the service was launched by the merchants on their own, not organized by the Taobao platform, and the "instant delivery" service has been offline at present.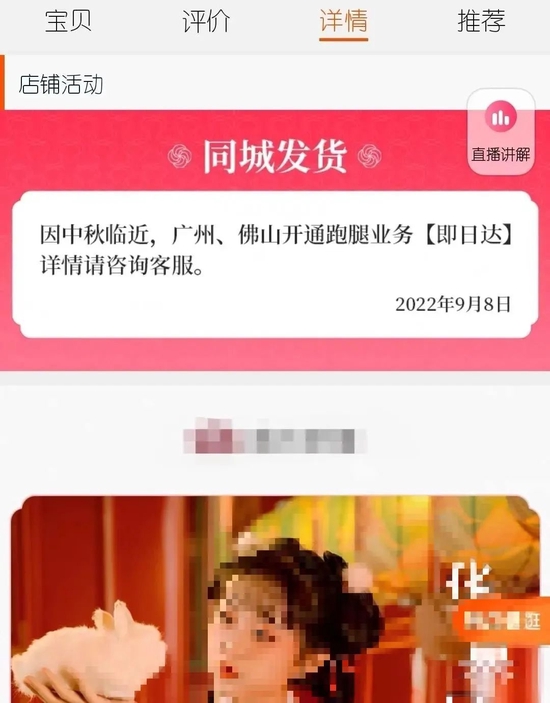 Figure / A Taobao merchant's product provides "same day delivery" service source / Randiyuan screenshot
"I feel that this logic is feasible. Because from the perspective of user habits, I usually use Meituan to take out, eat and drink from Ele.me. Later, I saw supermarket convenience, flowers, and fruits, so I expanded the scope of purchase and used it. The so-called real-time retailing has been established. Usually, when I open Taobao, it is also based on a certain demand for purchasing goods. If the goods I need can be delivered immediately, it will definitely increase the probability of my purchase." Qiuqiu said.
This also seems to be the road that Meituan's intra-city e-commerce has not taken. In April 2022, Meituan debugged its "same city e-commerce" business in the Beijing area, connecting local enterprises and consumers in Beijing, and providing "buy today, arrive tomorrow" services, but in "Same City is Meituan E-commerce" solution? "In the article, Ran Dimension also pointed out that the business effect is not good.
"It's not that you don't need it, but it's hard to think of using it." A user in Beijing at the time said bluntly.
User habits are the biggest problem for Meituan to break through traditional physical e-commerce. "The core users of Meituan are mostly people who pay attention to eating, drinking and playing in the same city, and there are still some differences from users of traditional e-commerce." Zeng Ying, an analyst in the brand retail industry of Analysys, told Randiyuan at the time.
If Ali can get through with local merchants and provide more accessible real-time retail business, it seems to have a lot to do with its massive users and good user habits.
However, there also seems to be the cost of merchants performing the contract behind this, and whether the stores on the Da Tao platform are suitable and capable of completing instant delivery or same-day delivery.
But in any case, Ali's current focus is not on instant retail. According to Ali's 2023 fiscal first quarter performance report, Ali's revenue in the quarter was 205.555 billion yuan, of which China's commercial revenue was 141.935 billion yuan, accounting for 69% of the total revenue; the international commercial revenue was 15.451 billion yuan, accounting for 69% of the total revenue. 7%; local life service revenue was 10.632 billion yuan, accounting for 5%; rookie revenue was 12.142 billion yuan, accounting for 6%; cloud business revenue was 17.685 billion yuan, accounting for 9%.
In addition, digital media and entertainment business revenue was 7.231 billion yuan, accounting for 4%; innovation business and other revenue was 479 million yuan.

Figure/Alibaba Group's revenue data source for the first quarter of fiscal year 2023/Alibaba Group's financial report for the first quarter of fiscal year 2023
Although Ali mentioned in the financial report that "the adjusted EBITA of the Chinese commercial segment decreased, which was partially offset by the improvement in unit economic benefits of Ele.me, which resulted in the narrowing of the adjusted EBITA loss of the local life service segment". But local life services are still not the focus of Ali's revenue.
In terms of growth rate, in the first quarter of fiscal year 2023, the year-on-year growth rates of Alibaba's seven major businesses, China commerce, international commerce, local life services, Cainiao, cloud, digital media and entertainment, innovative business and others, were -1% and 2% respectively. %, 5%, 5%, 10%, -10%, -30%. Growth in the cloud business is clearly stronger.
It can also be seen from the external caliber that cloud and overseas are Alibaba's current focus in addition to the Chinese business represented by the Da Tao department.
On the earnings conference call for the first quarter of fiscal year 2023, Ali also mentioned that "we first consider opportunities from the perspective of cloud computing", and "a very important point in this process is to go global, two verticals and one horizontal, and two verticals are consumption and cloud. , the level depends on whether it can go to overseas markets… Seize this opportunity from the perspective of consumption and cloud."
Consumption, cloud computing and globalization are also the three major strategies of Alibaba.
It's just with the development of JD.com and Meituan's instant retail, and the competition for retail market share, maybe one day, Ali will have to turn around and challenge instant retail.
*In the text, Mid-Autumn Festival and Bai Bai are pseudonyms.

This article is reproduced from: http://finance.sina.com.cn/tech/csj/2022-09-17/doc-imqqsmrn9426015.shtml
This site is for inclusion only, and the copyright belongs to the original author.