The positioning of my article is the research on the top 100 brands. One day's research focuses on a company in the top 100 brands. 100 companies can only be studied three times a year. I will select companies with excellent fundamentals and relatively high cost performance for research and analysis!
I have been researching Baiyunshan for many years, and the more I study, the more I like it. After this market adjustment, I found that Baiyunshan is becoming more and more undervalued. Combined with the 2022 semi-annual report of Baiyunshan, I will analyze it for you!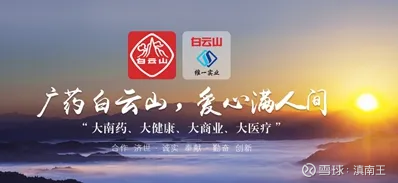 Here are the five highlights of our visit to Baiyun Mountain!
First, the pharmaceutical-scale manufacturing industry has reached a new high!
According to the 2021 annual report, in 2021, the revenue of the pharmaceutical manufacturing industry above designated size will be 2,928.85 billion yuan, a year-on-year increase of 20.1%, and the total profit will be 627.14 billion yuan, a year-on-year increase of 77.9%. The national wine, beverage and refined tea manufacturing industry above designated size achieved operating income of RMB 1,603.4 billion, a year-on-year increase of 13.1%, and realized a total profit of RMB 264.37 billion, a year-on-year increase of 24.1%.
According to the data in the semi-annual report, from January to June 2022, the pharmaceutical manufacturing industry above designated size achieved an operating income of RMB 1,400.78 billion, a year-on-year decrease of 0.6%, and a total profit of RMB 220.95 billion, a year-on-year decrease of 27.6%. And the refined tea manufacturing industry achieved operating income of RMB 856.56 billion, a year-on-year increase of 7.4%; total profit of RMB 182.25 billion, a year-on-year increase of 21%.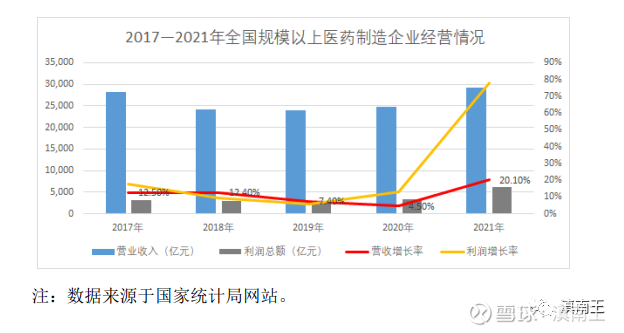 What does the above data indicate? The scale of pharmaceutical manufacturing is twice that of beverages and alcohol, and the profit scale is three times that of beverages and alcohol. There are many questions here, that is, why are there no domestic companies with a net profit of tens of billions? In fact, there will be some in the future, but companies with tens of billions of net profits must be companies with state-owned assets! This is determined by domestic conditions! The market only speculates on those biopharmaceuticals because they are short of money. Only when the funds are hyped can they be cashed out, and they will continue to have funds to support the development of enterprises!
In the past five years, the pharmaceutical and pharmaceutical industry has been in a volatile area, with a revenue of 2.5 trillion yuan, and major group models will be formed later! The most obvious is the model of Yunnan Baiyao, Baiyun Mountain and Tongrentang! Tongrentang's annual profit is only 1 billion yuan, which is not the same level as Yunnan Baiyao and Baiyun Mountain! However, Baiyunshan's net profit in the first half of the year has reached 2.5 billion, and non-net profit is 2.3 billion. Yunnan Baiyao's net profit in the first half of 2022 is 1.5 billion and non-net profit is 1.6 billion. From a financial point of view, Baiyunshan's strength has surpassed Yunnan. Baiyao, but the current market value of Baiyun Mountain is only 45 billion yuan, and the market value of Yunnan Baiyao is 90 billion yuan. This is where its cost performance is very high! Baiyunshan is also the company with the highest deducted non-net profit among several time-honored brands! At this point, even Pien Tze Huang with a market value of 180 billion will only have a net profit of 1.3 billion in the first half of 2022, which is only half of Baiyun Mountain. This is where Baiyun Mountain is underestimated!
Second, a pharmaceutical group, three major sectors!
The best part of Baiyun Mountain is not only its cost performance and strength, but also its business sector! There are three main business segments of Baiyunshan, one is Great Southern Medicine, the other is Great Health, and the third is Great Business!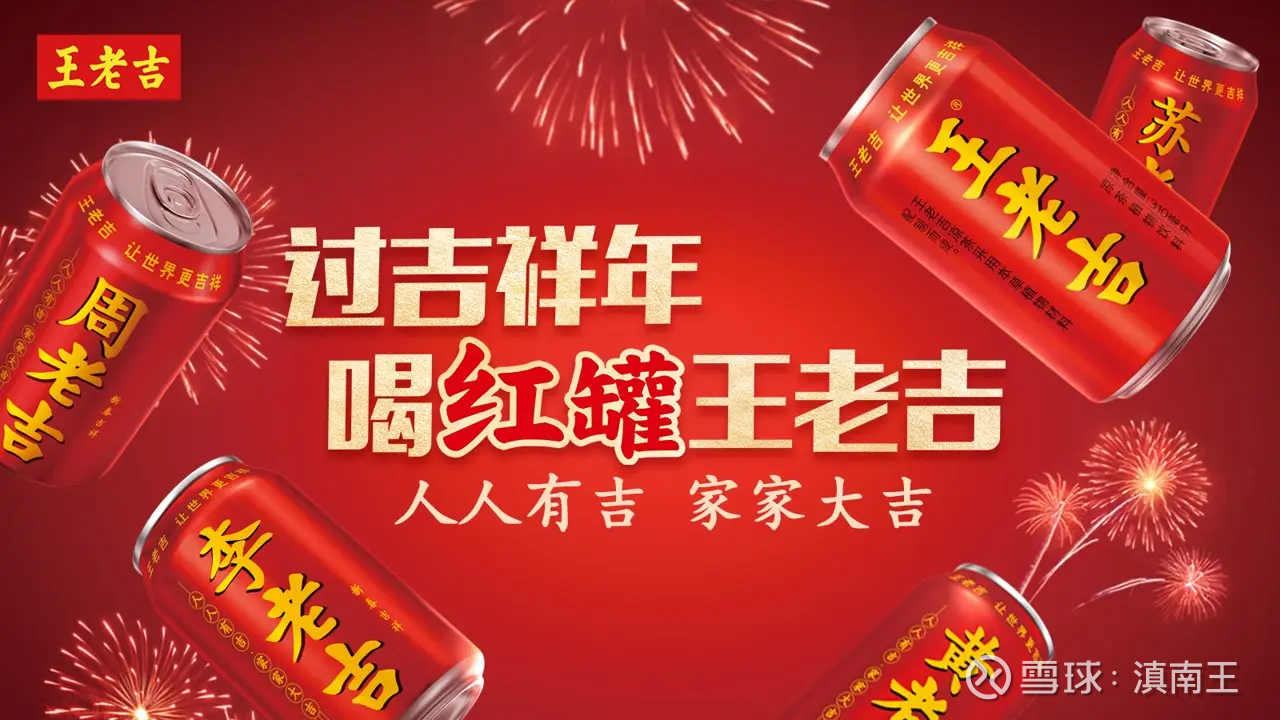 In order to let everyone know Baiyun Mountain simply, I will briefly analyze their business for you, first look at the Great Southern Medicine section!
The Great Southern Medicine section is mainly divided into traditional Chinese medicine and Western medicine! In terms of traditional Chinese medicine: there are 28 pharmaceutical manufacturing enterprises under the subsidiary, including 12 Chinese time-honored pharmaceutical enterprises such as Zhongyi Pharmaceutical, Chenliji Pharmaceutical Factory, Qixing Pharmaceutical, Jingxiutang Pharmaceutical, and Pan Gaoshou Pharmaceutical, of which 10 are century-old enterprises. . This is enough to show the strength of Great Southern Medicine! A total of 323 varieties are included in the "National Medical Insurance List", 331 varieties are included in the "Provincial Medical Insurance List", and 143 varieties are included in the "National Essential Drug List"; the main reason is that these companies have good profitability, and there is a foundation for them to become bigger and stronger!
In terms of western medicine, it has a complete industrial chain of antibiotics from raw materials to preparations, and the "Kangzhiba" brand has built its market image as the first brand of oral antibacterial and anti-inflammatory drugs in China. Other well-known products include cefixime series, sildenafil citrate (trade name "Jinge"), amoxicillin, cefathiamidine, cefuroxime sodium, acaphenol powder series, cefpiramide, cefprozil series, etc.
The second section is the big health section
Mainly for beverages, food, and health care products, the main company is Wanglaoji, and Wanglaoji's financial data will be analyzed later!
The third sector is the big business sector (pharmaceutical distribution business)
Mainly engaged in pharmaceutical circulation business, including wholesale, retail and import and export of pharmaceutical products, medical equipment, health care products, etc.! Everyone should pay attention here, the pharmaceutical distribution business basically has its own in each province, Yunnan Baiyao also has its own business sector, and the pharmaceutical company in Baiyun Mountain is the leading pharmaceutical distribution company in South China!
The fourth section is the newly opened large medical section
The large medical sector is in the stage of layout and investment expansion, focusing on the development of medical services, traditional Chinese medicine health care, modern elderly care, and the medical device industry. At present, the projects that have invested/shared include Guangzhou Baiyunshan Hospital, Runkangyue Subsidiary, Guangzhou Zhongcheng Medical Device Industry Development Co., Ltd., Baiyunshan Yihu Company and Baiyunshan Health Care Company, etc. The Runkangyue subsidiary has opened in the second half of 2021; Baiyunshan Yihu Company and Baiyunshan Health Care Company mainly produce protective equipment such as masks and protective clothing. The big medical sector is simply to open a hospital. In fact, Guangzhou's medical strength is still very good, and this road is still very forward-looking!
Third, the net profit doubled in five years!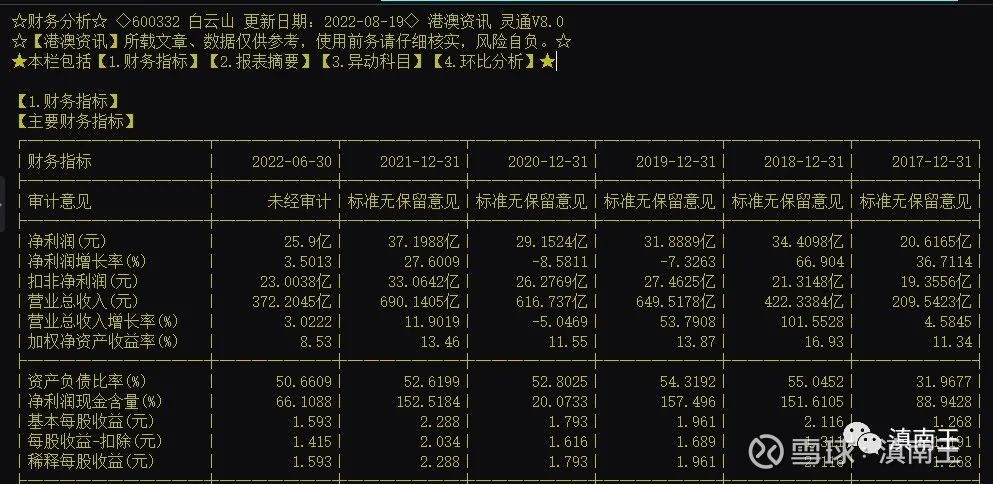 After analyzing so much, we still need to use profits to illustrate the strength of the company. The net profit in 2016 is 1.5 billion, the net profit in 2017 is 2 billion, the net profit in 2021 is 3.7 billion, the revenue in 2017 is 20 billion, and the revenue in 2021 is 69 billion. The more important thing behind this is that when the net profit doubled, the stock price and market value of the company did not rise, but the dividends lacked continuous growth. It can only be said that the atmosphere of speculation in the pharmaceutical industry is too serious!
Fourth, the strength of medical subdivision is really strong!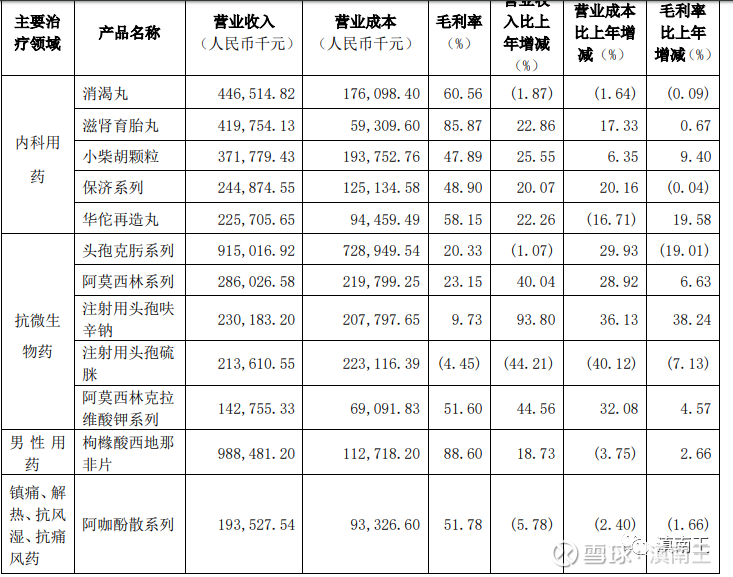 The above picture shows the pharmaceutical subdivision of the 2021 annual report. No detailed data was disclosed in the first half of 2022. In terms of single products, almost every company has a level of more than 200 million. Ceph and Jin Ge should exceed 1 billion in 2022. Looking at the gross profit rate, it is basically more than 50%. Here we should focus on Jin Ge. This company has a gross profit rate of 88%, a revenue of 980 million yuan, and a net profit of at least 500 million yuan. This means that if it goes public independently, it will have a market value of at least 10 billion yuan. enterprise!
Moreover, if Baiyunshan traditional Chinese medicine and western medicine are packaged separately into one company, they can be listed independently!
Fifth, the biggest bright spot and inadequacy!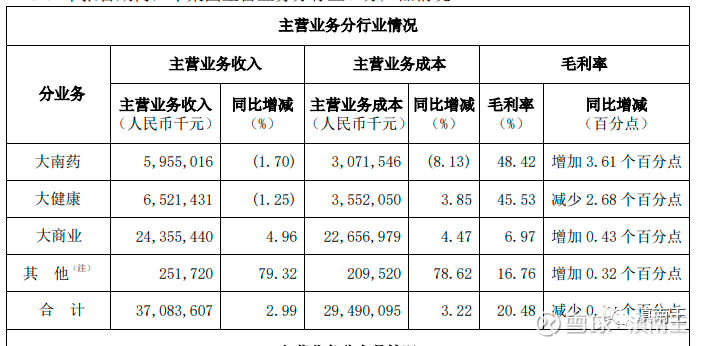 The above picture is the first half of 2022. The highlight is that the gross profit margins of two of the three major businesses are increasing. The revenue of Great Southern Medicine and Great Health exceeds 6 billion, ensuring that both are tens of billions of revenue throughout the year. The gross profit margin of the drug has increased to 48%, which is very good!
The disadvantage is that the gross profit of the big business is relatively low, and the reason for the overall low financial indicators of Baiyun Mountain is that the big business is divorced, but the business of the big business is a very good business, that is, the medicine in the Guangdong area is basically only accessible through him. Hospitals and Pharmacies!
You can see that although the revenue of pharmaceutical distribution companies is 24.4 billion, the net profit is only 290 million, that is, the net profit rate is 1.18%. This kind of business is completely serving the people, but this kind of business enterprise has no competitors, because of low profits and monopoly, Can't do anything else!
But the biggest bright spot is Wanglaoji. If you look closely, Wanglaoji has a revenue of 5.9 billion and a net profit of 1.24 billion. This shows that the scale has increased, and the net profit has also increased! If Wanglaoji is listed independently, the price-earnings ratio of 30 times is close to more than 35-40 billion. In addition, the net profit of the circulation sector is estimated to be 10 billion yuan. In fact, Baiyunshan is equivalent to giving the entire pharmaceutical sector for free. This is the value!
Speaking of Wanglaoji, let me show you the finances of Dongpeng Beverages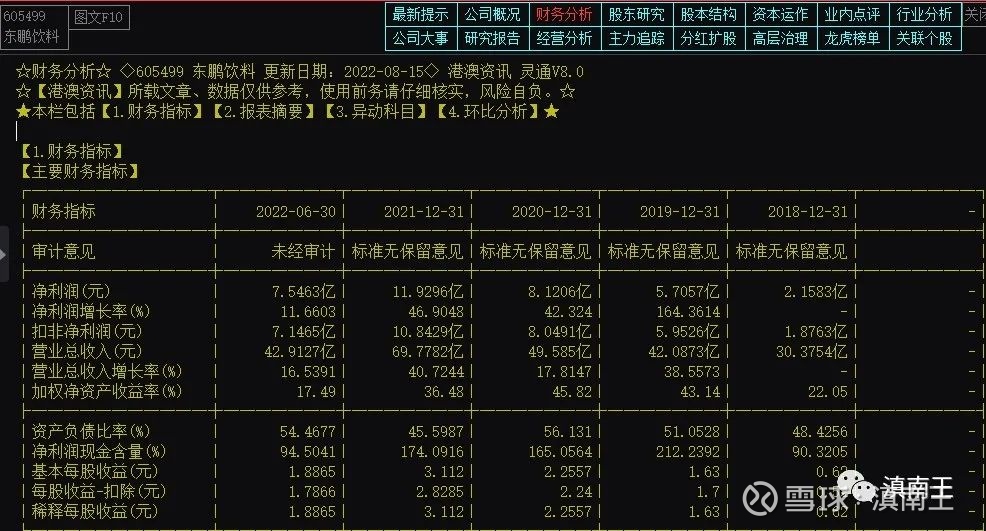 Dongpeng Beverage's revenue in 2021 is 4.2 billion, and its net profit is 750 million. Its revenue and net profit are not as good as Wanglaoji's, but its market value is currently 56 billion, which is bigger than Baiyun Mountain!
Dongpeng Beverage is also an enterprise in Guangdong, so no matter if you compare Yunnan Baiyao or Dongpeng Beverage, you will know the value of Baiyun Mountain!
Baiyun Mountain is like Tongrentang in Beijing and Yunnan Baiyao in Yunnan. They are all powerful local pharmaceutical companies. Now they have moved to the whole country, and pharmacies all over the country basically have Baiyao medicines for sale! When you are sick and take medicine, Chinese medicine is basically monopolized by those old brands!
1.4 billion people always get sick and take medicine! In the next ten years, aging will be one of the biggest investment opportunities. With the improvement of people's living standards and the arrival of aging, medicine will benefit the most! In medicine, the most beneficial thing is health care! This is why I separate a health care industry for research in the direction of medical research.
Sixth: The monthly line is fully adjusted!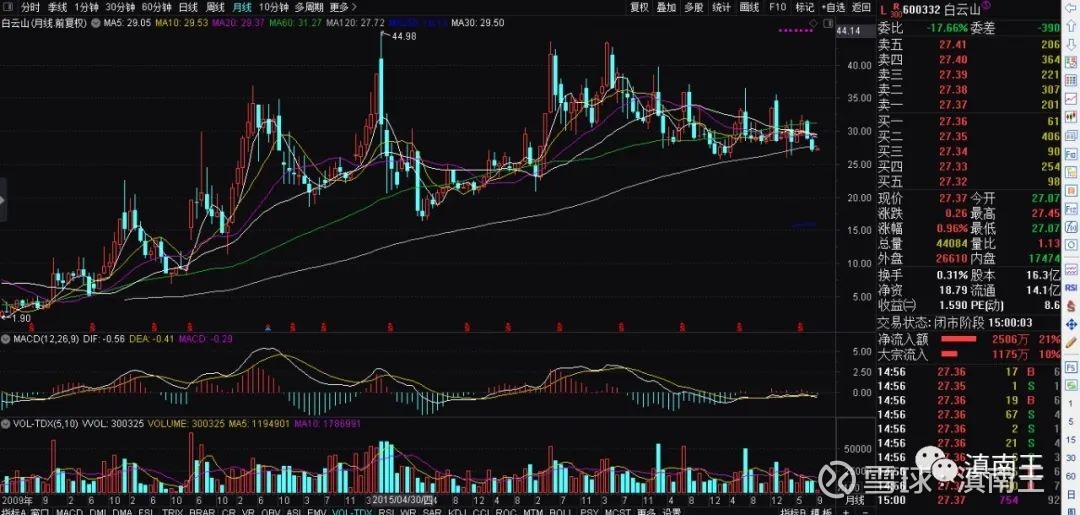 The picture above is a monthly chart.
From the morphological point of view, it has been adjusted for more than 9 years from 2013 to the present, which is why I do not chase high stocks. The companies with many bubbles are basically overdrafting their performance in the next few years. Adjustment, the price-earnings ratio is now 12 times, and the price-performance ratio is already very high. With the addition of the two core varieties of Wanglaoji and Jinge, it is normal for new highs in the future!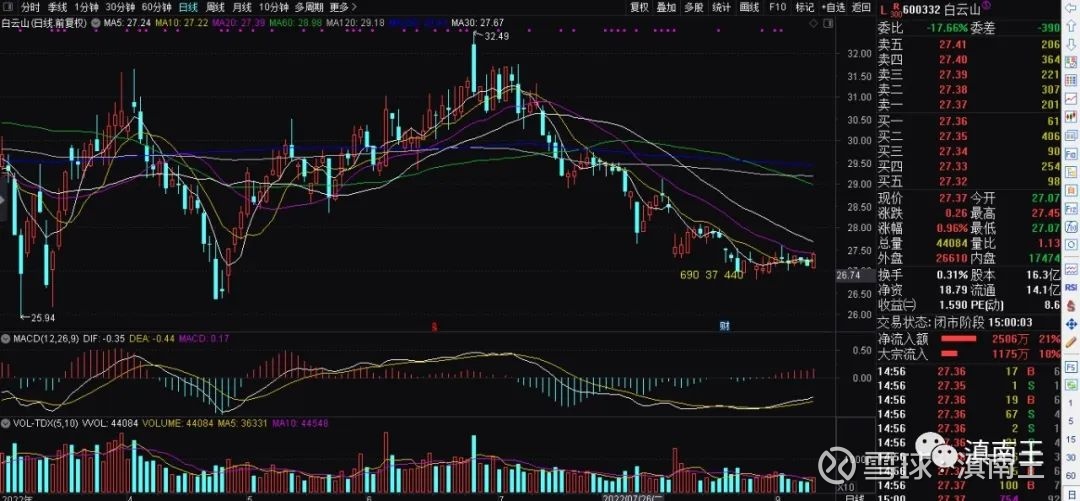 The above picture is the daily chart. Baiyun Mountain adjusted a few days ago. The front 26.5 yuan is a very strong support area. Recently, the bottom of macd has diverged, and there is an ambush opportunity near 27 yuan. The big pressure is the 250 line near 29.5 yuan. Three-level analysis and fundamental analysis of the day, week, and month, Baiyun Mountain is currently in a stage of building a big bottom, and it is coming to an end!
Good companies are all around us! Everyone, go to the pharmacy to see that there are medicines from Baiyun Mountain everywhere, and go to the small shop to see that Wanglaoji is everywhere. This is a change brought about by the development of society! Ten years ago, buying medicine was basically going to the hospital. Now, going out is a pharmacy. In the future, buying medicine will basically be online!
Seize an era and seize the opportunities brought by the era! Doing only one thing a year shows that you want to do it well; doing only one thing in ten years shows that you want to achieve excellence; doing only one thing in a lifetime shows that you want to be great! Know how to focus, long-term focus, in order to dig out a great enterprise.
In the next ten years, I will only study 100 companies in the top 100 brands!
$Baiyun Mountain(SH600332)$ $Yunnan Baiyao(SZ000538)$ $Tongrentang(SH600085)$
@Today's topic @Investment alchemy season #Investment alchemy season in mid-2022#
There are 29 discussions on this topic in Snowball, click to view.
Snowball is an investor's social network, and smart investors are here.
Click to download Snowball mobile client http://xueqiu.com/xz ]]>
This article is reproduced from: http://xueqiu.com/2496980475/230530671
This site is for inclusion only, and the copyright belongs to the original author.