On July 28, the 2022 Sandbox Immersion Art Season (SIF 2022), initiated by the Sandbox Immersion Exhibition , co-hosted by Anaya, joined by Pico as a special partner , and supported by the Cultural Innovation and Technology Service Alliance (SIF 2022), was held in Beidaihe, Qinhuangdao. The grand opening of the new district of Anaya community. SIF 2022, with the theme of "Leaving in Place ", brought 32 outstanding immersive art experiences from all over the world to the Anaya community, set up two major links, industry summit forum and art season exhibition, and discussed the latest with global immersive art pioneers. Ying's narrative techniques and the most cutting-edge industry trends also present a resort-level immersive entertainment feast for the audience and tourists in the midsummer.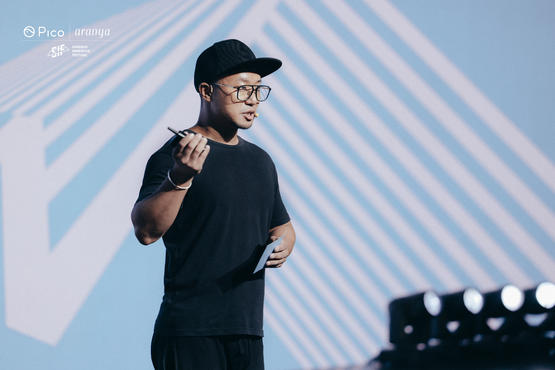 ▲ Lou Yanxin, founder of Sand Core Technology / Curator of Sand Box Immersive Art Season
In the opening speech of the industry summit forum, Lou Yanxin, founder of Sand Core Technology and curator of Sand Box Immersive Art Season, said that in the development of VR/AR technology in recent years, many technological and innovative fields have emerged. Explosive development. Artificial intelligence, 5G networks, blockchain, local and cloud computing power, biosensors, and more, all lay a solid foundation for the upcoming next-generation computing platform, and bring brand new tools to creators. The new forms of content based on these technologies will cross the boundaries of traditional drama, film and television, music, and games, and integrate with each other to produce new forms of expression and artistic paradigms.
Regardless of the evolution of XR technology or the transformation of media, SIF is faithfully recording the development and changes in this field. It has collected more than 500 works and exhibited more than 150 works, involving more than 30 countries and regions. As the world's largest event exchange platform for immersive content, Sandbox has been committed to building a broader and more active global XR developer community by inspiring, incubating, and connecting a new generation of creators. This year's SIF 2022 held in Anaya has many interesting changes in both form and content. It will offer you an adventure that breaks through the shackles of imagination. It is expected that through SIF and the upcoming immersive immersion The virtual entertainment platform, Daqian, provides support and assistance to creators in various fields, accelerates the arrival of the new creative economy, and provides an important window for the public to understand and recognize ARVR.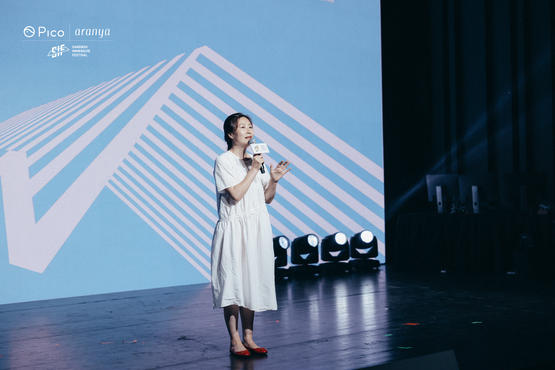 ▲Guo Shaoxin, Co-General Manager of Anaya Culture Company
Guo Shaoxin, co-general manager of Anaya Culture Company, said in her speech that she was very happy to see a wonderful immersive art performance in the Anaya community. This was also the first time that Anaya presented a technology-related theme activity on a large scale. In recent years, Anaya has been exploring how to extend the vacation space to the fields of culture and technology. SIF 2022 is the extension of the spirit of Anaya, exploring more possibilities to break the boundary, and it is also the direction that Anaya is interested in in the future. At the same time, Guo Shaoxin also expressed a warm welcome to the guests who came to the Anaya community to participate in the event.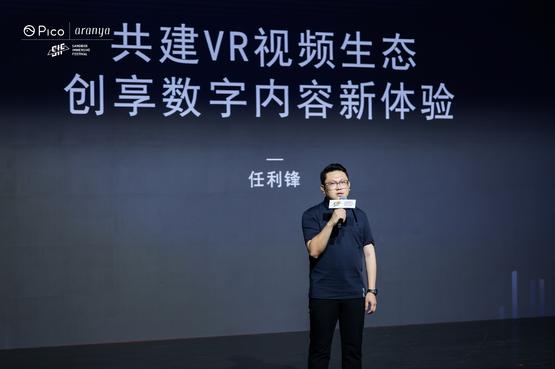 ▲Pico Vice President Ren Lifeng
Ren Lifeng, Vice President of Pico, a special partner of SIF 2022, delivered a speech on the topic of "Building a VR Video Ecosystem and Creating and Sharing New Experiences of Digital Content", focusing on the layout of Pico in the field of VR video.
Pico is continuously investing in VR video content, and launched the VR content aggregation platform – Pico Video in March this year. During the investment process, Pico explored various content forms such as VR concerts and VR live broadcasts, and also realized that the production capacity of VR videos has serious deficiencies compared with the production capacity of traditional long videos. Therefore, on the one hand, Pico is actively breaking through the bottleneck of the VR hardware side through foveated rendering, server-side image quality optimization, codec optimization, and FOV slicing.
At present, Pico has cooperated with more than 30 VR native content companies, covering VR video content in different formats such as 3DoF and 6DoF, as well as narrative, documentary and other genres. in-depth cooperation. In the future, Pico will continue to strengthen cooperation with high-quality IP and cultural institutions; upgrade the VR concert experience; launch the first domestic VR theater covering live house music performances, talk shows, cross talk and other content; combine events and activities to create VR immersion Interactive field; the most important thing is to provide targeted assistance to professional VR content production institutions, VR technology companies, and VR content creators through capital investment, equipment and technology two-way blessing, and traffic support, and comprehensively promote high-quality content incubation and creation. grower.
At the end of his speech, Ren Lifeng said that Pico will always keep an open mind, explore and cultivate high-quality VR video content together with everyone, and create a new world of VR content with more imagination and vitality.
Industry summit forum to chat about the trend of immersive art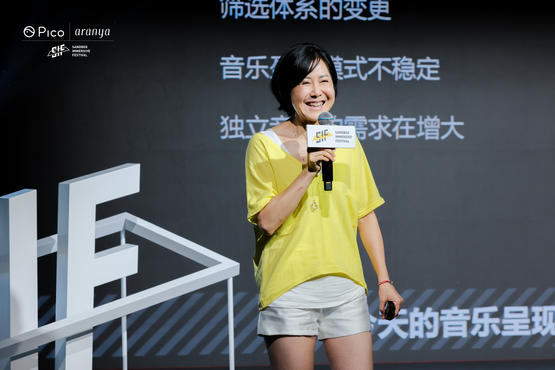 ▲Li Dai, founder of Zebra Labs
In the keynote speech session of the industry summit forum, Zebra Labs founder Li Dai first shared "the music metaverse of biubiu little zebra". Combining Da Zhangwei and the avatar "biubiu little zebra", the Metaverse music short film "Full of Cuteness and Invincible!" " case, Li Dai explained the new trends and new opportunities that Metaverse brought to the music industry, and showed that Zebra Labs launched virtual people, music videos, short videos, digital collections, music, The ability of micro-variety shows, virtual performances and other series of products.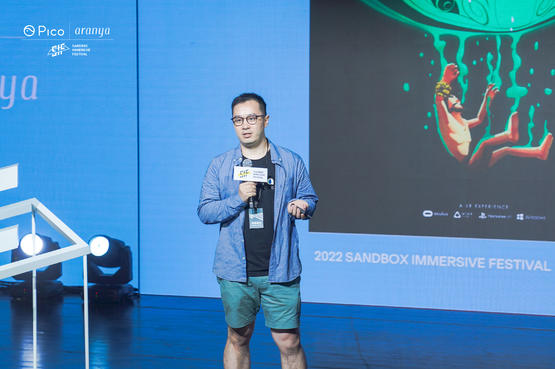 ▲Pinta Studios director/co-founder Mi Li
Pinta Studios director/co-founder Mi Li gave a wonderful sharing on "Animation, Games and Movies in the VR Vision". Through the VR video content such as "Dream Picking Old Man", "Lie Shan's", "ELLO" and other detailed cases launched by Pinta Studios in the past, as well as the VR game "Square Illusion", Mi Li introduced how Pinta Studios combines immersion, thinking and entertainment , bringing the audience a unique VR experience.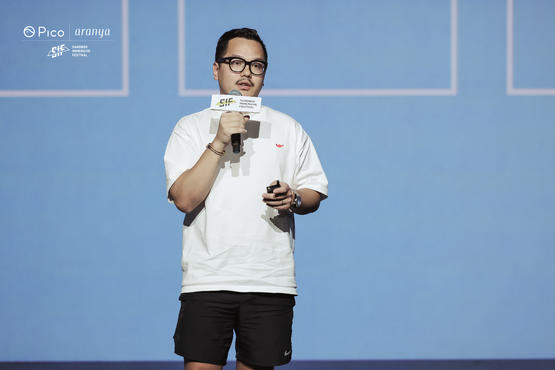 ▲Todd Jiang, founder of Shiyue Xingcheng
Shiyue Xingcheng founder Todd Jiang shared "How the Metaverse is changing the fashion industry". Todd Jiang said that due to the impact of the epidemic, more and more fashion brands have begun to use virtual digital people, virtual clothing, and virtual scenes for brand release, and these fashion digital assets can be related to one of the important components of the metaverse – games. Combined, a new segment of the fashion industry is mapped, that is, the virtual consumer market. Shiyue Xingcheng started from the community, built a complete digital collection operation system, and successfully incubated 5 virtual fashion brands and 4 trendy 3D IPs.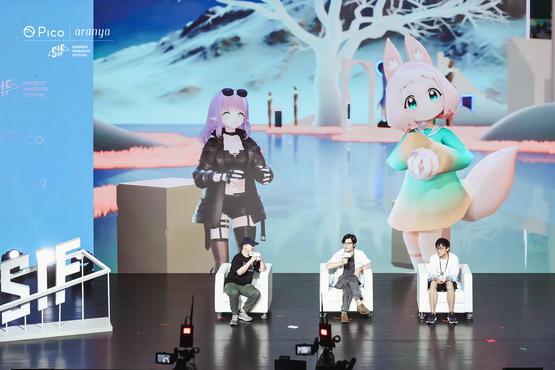 In the multi-person dialogue session at the end of the industry summit forum, Pan Bohang, the founder of VRPlay, as the host, joined Yizhong Times COO Zhong Cheng, Sandman Studios VR community observer Kongshan Yuyueye, and Bilibili VRChater orange flakes mixer, the more the less cute The topic of "The Great World of Virtual Social Networking" was launched, discussing everyone's life in the virtual world, the insufficiency of virtual social software at this stage, and the expectations for future digital life.
Zhong Cheng said that listening to strangers chatting in the virtual world is a very stress-free thing, but the current virtual social software is relatively complicated, and I hope that the virtual social software can be more open and connected to meet the social needs of users anytime, anywhere. Kongshan Yuyueye said that virtual travel with friends is her favorite thing to do, but the virtual social platforms are relatively closed. At present, it takes a lot of time to gain friends on different platforms. I hope to see more 3D social media in the future. Content that is not flat appears in VR. Orange Blender said that in VRChat, you can meet all kinds of friends, but hope that foreign virtual social platforms can iterate more from the perspective of users, not only consider commercial interests, and solve the problem of transmission bandwidth and delay. Isn't it cute? He said that he first came into contact with the VRChat platform to practice foreign languages, and because of this, he made a lot of friends. In the future, he hopes to see more interesting content appear in the virtual world.
So far, the first day of the industry summit forum has come to an end, and there will be more guests tomorrow to bring us exciting sharing, please continue to pay attention!
The virtual concert amazes the audience, and joins hands with Daqian to "leave on the spot"
The theme of SIF 2022 is "Departure in Place". Lou Yanxin, founder of Sand Core Technology and curator of the Sandbox Immersive Art Season, believes, "When we use mobile phones and computers, our spirits have left reality, and our physical senses are still surrounded by the main reality. Immersive media The new experience brought is an experience that breaks through the subjective reality. When we put ourselves into a new incarnation and embrace a new self and audio-visual expression, we will leave the scene of the subject more completely and enter the scene of spiritual extension. Li Xian is also a new entry.
The new expression of the new world can broaden the boundaries of people's self-perception and enrich everyone's life experience, thus bringing a new journey of mind and senses to industry guests and ordinary audiences. SIF 2022 will not only continue the tradition of previous years, but once again bring you rare international VR/AR masterpieces, but also hope that through the cases of VR/AR works, it will bring more inspiration to various fields such as film and television, music, literature, drama and so on. , to create more interesting intersections. "
▲Main exhibition area
The 32 works exhibited at SIF 2022 include VR/AR award-winning works from international film festivals such as Venice, Cannes, Tribeca, etc. For example, "Clap" allows the audience to interact with the characters in VR in a novel way, connecting the The virtual and real worlds; "Red Antz" leads the audience into a psychedelic and exotic world in the style of Palberta in the form of an interactive MV. These works have changed from the centralized presentation in previous years, and set up multiple activity areas along the nearly one kilometer coastline of Anaya. There is not only a main activity area of ​​800+ square meters, interspersed with installation works, but also a wonderful underwater VR experience and a special experience area set up in the Lonely Library.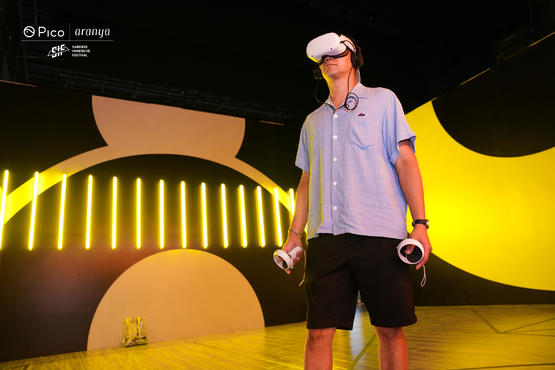 ▲Main exhibition area
In addition, compared to previous SIFs that only provided offline viewing channels, Sandman Studios, a new-generation immersive virtual entertainment platform independently developed by the UE engine, made its debut at SIF 2022 and made its debut at SIF 2022. Through a virtual performance of Electric Cherry, the new way of online entertainment brought by the VAST platform was fully demonstrated.
In this virtual performance, VAST combined with NVIDIA CloudXR and unique cloud service architecture design, can capture the action of the live electric cherry combination in real time and transmit it to the cloud server, whether the audience uses PC, mobile phone or VR all-in-one machine, no matter If you are in Paris, San Francisco or Beijing, you can enjoy the excellent picture and music effects brought by cloud rendering technology through the cloud nodes of the VAST platform all over the world, and you can also interact with other audiences who are watching the virtual concert in real time with low latency. .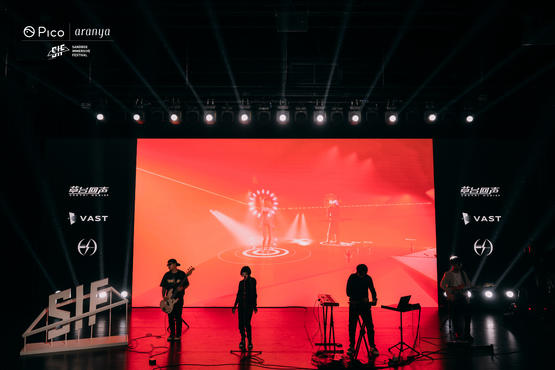 VAST, supported by cloud technology, can not only provide users with the online experience of traditional XR content, but also become one of the few excellent platforms in the world that can realize real-time viewing of new forms of XR content such as virtual concerts around the world. The VAST platform can flexibly implement local deployment, cloud deployment and hybrid deployment of various interactive virtual social activities such as virtual performances, virtual film exhibitions, and virtual tours according to venues, equipment, network environment and other conditions, bringing cross-platform wireless real-time to users. The VR experience solution demonstrates Sandman Studios' strong technical strength and profound industry accumulation.
At present, the VAST platform has been connected to multiple VR experience spaces such as South by Southwest. In the future, it will continue to aggregate the world's excellent virtual content through its own open technology, assets, and content interfaces, and work with creators to build a virtual entertainment destination.
The competition unit awards will be announced soon, and the wonderful tomorrow will continue
As an important part of previous SIFs, the competition unit has always been highly valued by content teams at home and abroad. The SIF 2022 competition unit is divided into the main competition unit and the venture capital unit. The main competition unit includes "Sand Box Jury Award", "Sand Box Best Experience Award", "Sand Box Best Narrative Award", "Sand Box Best Immersive Art Award", "Sand Box Best Experience Award" There are seven awards in total, including the Best Technological Innovation Award", "Sand Box Best Chinese Work Award" and the special award "Pico × SIF VR New Work Award" jointly established by SIF and Pico.
The SIF 2022 jury consists of Gao Gao, Deputy Director of CAFA Art Museum, Huang Jue, a well-known actor, Ge Fei, founder of Caotai Huisheng, Zhuge Sujia, Editor-in-Chief and Publisher of SuperElle, and special judges for the "Pico × SIF VR New Work Award" Composed of horsepower, the lineup of judges covers art, film and television, music, fashion and technology and other fields closely related to immersive media to ensure the authority and fairness of the selection results. Which works will win in the end? Stay tuned for the Sand Box Awards Ceremony tomorrow.
The first day of SIF 2022 has come to an end, and tomorrow's event will focus on new narrative technologies, virtual economy, and new opportunities for the content industry in the metaverse era. "Leaving Now", the excitement will continue!
SIF 2022 Art Season Exhibition Ticket Purchase Channel
How to buy tickets: >>> Click to buy tickets <<<
Or search "Sand Box Immersion Art Season" in Damai App
Exhibition dates: July 28, 2022 to August 21, 2021
Venue: Anaya Gold Coast, Beidaihe New District, Qinhuangdao City, Hebei Province
A Theatre – Main Performance Venue
The Lonely Library – Exhibition Sub-venue
Sea Salt Pool – Underwater VR Experience
Bacchus Theater – AR art installation
Seaside Rehearsal Hall – VAST Daqian Experience
About the Sandbox Immersion Exhibition

Sandbox Immersion Exhibition (SIF) is the world's largest and highest-level annual immersive entertainment event initiated by Sandcore Technology (Sandbox Immersion Exhibition Organizing Committee). The content covers: virtual reality, augmented reality, immersive drama, digital art and offline theme entertainment. SIF comprehensively presents the most cutting-edge immersive entertainment experience content through summits, exhibitions, workshops, venture capital meetings and other forms.
About Pico

Founded in March 2015, Pico is a world-renowned VR/AR brand with independent innovation and R&D capabilities. The sales of Pico's VR products have long been at the forefront of the domestic and international markets. As Pico's flagship 6DoF product, Pico Neo3 has not only won unanimous praise from consumers in consumer-level scenarios such as interactive entertainment, sports and leisure, and interactive movie viewing, but also has been widely used in commercial scenarios such as education, medical care, and training. Level users provide a variety of VR all-in-one solutions, which are widely recognized by all walks of life.
About "Daqian"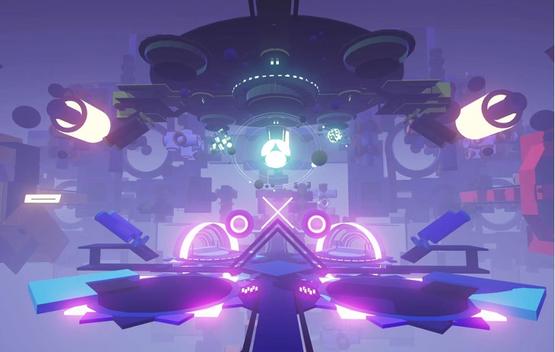 "Daqian" is a new generation of immersive virtual entertainment platform built by Sandman Studios based on UE engine, which integrates virtual movie viewing, virtual performance, virtual exhibition, and virtual world exploration. Socialized virtual content aggregation and distribution platform.
This article is reproduced from: http://www.guokr.com/article/461905/
This site is for inclusion only, and the copyright belongs to the original author.