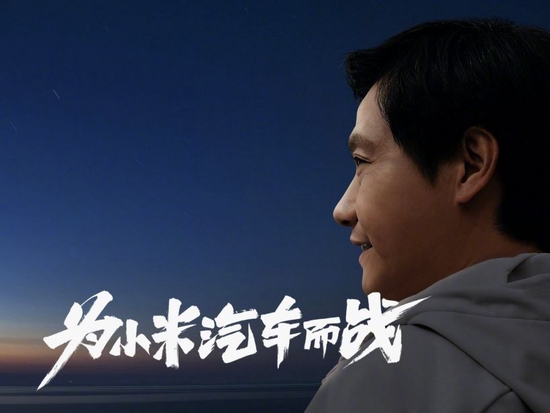 Welcome to the WeChat subscription number of "Sina Technology": techsina
Text/European Jin
Source/Value Planet Planet (ID: ValuePlanet)
The Apple Car, which has been dragging on for many years, has yet to be seen, and the one-year-old Xiaomi car has already taken the lead.
Last week, according to Sina Technology, Xiaomi's car manufacturing is about to usher in a major milestone – at a public event in August, Lei Jun will bring Xiaomi's engineering prototype to debut, and then start a series of tests.
Since Lei Jun announced that he would personally lead the team and carry out the last major entrepreneurial project in his life, the progress bar of Xiaomi Auto has been refreshed almost continuously.
A person close to Xiaomi Auto revealed that with the goal of mass production in 2024, all work is now accelerating. Xiaomi employees and Xiaomi's partners also revealed that this is mainly because Lei Jun has devoted a lot of effort to Xiaomi Auto. "As long as he works in Xiaomi Technology Park, he will spend almost two-thirds of his time in Xiaomi Auto." At Xiaomi In the Science and Technology Park, Xiaomi Auto is alone in an office building.
The so-called "one hero and three gangs", Xiaomi built a car with the help of many "friends" in addition to its own efforts.
Xiaomi's "Circle of Friends"
Xiaomi's auto partners have always been the focus of the market, and many companies have previously reported "cooperation scandals" with Xiaomi.
In September last year, Xiaomi founder Lei Jun went to Changchun to discuss in-depth cooperation with China FAW Group. Some market participants have analyzed this, and the first car company partner of Xiaomi Group may be China FAW Group.
Also in September, Foton Motor repaid Baowo Automobile's 400 million yuan loan, and there were market rumors that Foton Automobile was preparing for Xiaomi's acquisition of Baowo Automobile, transferring the production capacity of Baowo Automobile's 180,000 vehicles to the Xiaomi Automobile Project.
It is a pity that the above two rumors have not been implemented in the end. However, Xiaomi has also really contacted many A-share listed companies, and even more companies have bluntly entered the Xiaomi auto supplier system.
Aolian Electronics, a listed company, stated on the investor interaction platform that the company is in contact with Tesla, Xiaomi Auto, Li Auto, and Weilai Auto, and the relevant cooperation intentions are being discussed. The company even mentioned in the 2021 annual report that it has entered the new energy vehicle supplier system such as Xiaomi Auto.
Bojun Technology stated on the investor interaction platform that the company has been in contact with Xiaomi Auto, and the main contact with Xiaomi Auto is in auto parts.
Meili Technology stated on the investor interaction platform that the company is currently in early development contact with Xiaomi Auto and will advance according to Xiaomi's progress.
Ordinary Road said that Xiaomi is an important customer of the company, and the company pays attention to the progress of Xiaomi cars. Mitutoyo said that the company will continue to track the progress of the R&D and production of Xiaomi Auto Plant, and the company will use its advantages in talent, technology, project management and other advantages to win more orders for the company.
Sanhua Zhikong said that the company is actively promoting the cooperation with Xiaomi. Ruihu Mould stated that the company is actively negotiating with Xiaomi Auto. Lingyun Co., Ltd. said that the company is closely following the development of Xiaomi Automobile Company.
Zhiyun said that it will actively expand opportunities to enter Xiaomi's new energy vehicle supply chain. Eston said in the institutional survey that Xiaomi Auto is the company's target customer and has established communication with Xiaomi.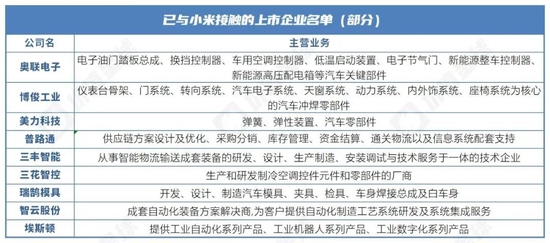 At present, the above-mentioned companies are leaders in their respective fields. They can improve Xiaomi's supplier system to a certain extent, and then help Xiaomi quickly achieve the goals of "car building" and "mass production".
Xiaomi's "own person"
In addition to external partners, Xiaomi also attracts "own people" in the form of investment.
According to incomplete statistics, Lei Jun's capital (including Xiaomi Group, Xiaomi Changjiang Industrial Fund and Shunwei Capital) has deployed more than ten autonomous driving related companies. In the perception layer of autonomous driving, Xiaomi invested in Hesai Technology, Zongmu Technology, etc., and laid out multi-sensor fusion solutions; in the decision-making layer, it added autonomous driving solutions and wholly owned Shendong Technology.
"Three power" is the core part of new energy vehicles that distinguish them from traditional fuel vehicles. Smart electric vehicles are also the focus of Xiaomi's continuous attention, and it has invested in more than 10 companies. Companies including AVIC Lithium Power, Honeycomb Energy, Ganfeng Lithium Power and other companies all have Xiaomi behind them. Among them, AVIC Lithium Battery and Honeycomb Energy are the top ten power battery installations in the first half of 2021, and the two together account for 8.5% of domestic power battery installations. Earlier, Xiaomi also took a stake in Zhuhai Guanyu, a consumer battery supplier.

In addition to capital layout, Xiaomi is also accumulating related patents in the field of smart cars.
According to Wisdom Bud data, as of the end of 2020, Xiaomi had applied for 841 automotive-related patents, mainly in wireless communication networks, electrical digital data processing, digital information transmission, image communication, traffic control systems, distance measurement, navigation, etc., of which 13.67 % of the patents are international patents, which have not yet involved the patented technology related to the whole vehicle or parts.
In terms of appearance design, according to Sina Technology Information, Xiaomi Auto has dug a team from Hevester, and this team is also the design and engineering team of the WM Motor concept model Maven.
Financial Associated Press reported on July 21 that Zhou Jin, the former deputy general manager of SAIC-GM-Wuling Sales Company, will officially join Xiaomi in August as the head of marketing, reporting directly to Lei Jun. And this news has been confirmed by Zhou Xuan himself, but he did not disclose more information.
Some analysts said that the sales post belongs to the back-end business post. The recruitment of sales executives by Xiaomi Auto means that the production progress of the Xiaomi Auto project is progressing smoothly, and Xiaomi Auto may meet you soon.
From "inside" to "outside", Xiaomi's road seems to have been paved.
What are the odds?
We all know that building a car is a very expensive business.
Li Bin of Weilai said that the threshold for building a car has been mentioned 40 billion, and Xiaomi specifically mentioned that there is a capital preparation of 100 billion when entering the car building.
Time cost is more critical than pure monetary cost. BYD's Wang Chuanfu said when talking about Xiaomi's car manufacturing, losing 5 billion is a small matter, but the time cost is a big deal. It is very likely that a mistake in a route will be lost for three years in vain, which cannot be replaced by any amount of money.
In the car-making schedule planned by Xiaomi Auto, an important time node is to achieve mass production of the first model in 2024. Judging from the existing process, there is still great uncertainty in achieving this goal.
The first is R&D. Looking back at the development of new domestic car manufacturers, it took 37 months for NIO ES8 to be developed and launched, and it took four years for Xiaopeng G3 to be launched. Ideal was established in July 2015, and Ideal ONE was not delivered until the end of 2019.
While not sacrificing product quality, the new car-making forces have compressed the time for mass production to the extreme. But on average, it can be seen that it takes about 4 years for a start-up company to design and develop a new car to mass production and delivery. Even if Xiaomi's ability to integrate resources and capital reserves are better than those of the above-mentioned companies, there is still a lot of effort to be made in the face of the mass production plan in 2024.
Next is the factory problem. At the Xiaomi Investor Day, Lei Jun revealed that the first factory will be located in Yizhuang, Beijing, but did not disclose any issues related to vehicle production.
The outside world speculates that Xiaomi cars are still facing production qualification problems, after all, vehicle safety is no small matter. Referring to the previous cases of Weilai obtaining production qualifications through Jianghuai OEM, Xiaopeng purchasing Foday's production qualifications through Haima OEM earlier, ideal purchasing Lifan's production qualifications and other cases, it is not ruled out that Xiaomi will also obtain production qualifications through cooperation and purchase in the future. Production qualification.
Finally, even with qualified and stable foundries, how to complete the delivery of a large number of orders is also a problem.
When the first models of Weilai, Xiaopeng, Ideal and other brands were first delivered, they all experienced a difficult ramp-up in production capacity. Even Tesla fell into a delivery vacuum period before the Shanghai factory started.
"The teacher who never forgets the past", although Xiaomi Auto is backed by the capital of Lei Jun, it is really not easy to build a car within three years.
Moreover, Lei Jun has previously stated that the price range of the first model may be between 100,000 and 300,000 yuan, which may be an SUV or a sedan. According to the data of the China Passenger Car Association, models in the price range of 80,000-250,000 yuan will account for more than 70% of the sales volume of my country's new energy vehicle market in 2021. From this, it can be expected that Xiaomi Auto will face fierce market competition.
At present, the annual sales volume of the new car-making power camp headed by "Wei Xiaoli" has approached 100,000 vehicles, but the first mass-produced model of Xiaomi Auto has not yet come out. Judging from the delivery data in the first half of 2022, Xiaopeng Motors has the highest delivery volume among the new car-making forces, followed by Nezha Automobile, Lili Automobile, and Leapmotor. Weilai has fallen out of the top three.
JPMorgan Chase predicts that in the next one to two years, there will be more players in China's new energy vehicle market. The competition in the smart electric vehicle market will be similar to the competition in the Chinese battery market. In the future, CR5 may occupy more than 80% of the market. share.
He Xiaopeng, chairman of Xiaopeng Motors, also predicted that in the next 5-10 years, the number of global automakers will be reduced to 10 major auto companies.
For Xiaomi Auto, its rivals "Wei Xiaoli", Nezha, and Leapmotor are becoming more and more successful, but it will take two years for Xiaomi to enter the market, which is full of uncertainty.
References:
[1] "The Enlightenment of Xiaomi's Car Manufacturing", Guojin Securities
[2] "Why do mobile phone manufacturers build cars? The logic behind consumer electronics to smart cars, Founder Securities
[3] "Xiaomi's self-driving car is here! Lei Jun personally led the team! These companies revealed contact with Xiaomi," Securities Times
*This article is based on public information and is only for information exchange and does not constitute any investment advice


(Disclaimer: This article only represents the author's point of view and does not represent the position of Sina.com.)

This article is reproduced from: http://finance.sina.com.cn/tech/csj/2022-07-22/doc-imizmscv3046346.shtml
This site is for inclusion only, and the copyright belongs to the original author.