At the beginning of the new year of 2023, the unexpected recovery of the Chinese economy has attracted global attention, and the capital market with the keenest sense of smell has collectively flocked to Chinese assets.
The latest Bank of America survey of fund managers this week showed that 12% of respondents considered being long Chinese stocks one of the most popular trades in the world.

According to the survey, the fund managers interviewed are "unabashedly bullish" on China. Among them, 91% of fund managers expect China's economic trend to be stronger, the highest proportion in 17 years.
And another survey of Asian fund managers showed that 42% of respondents said they had increased their holdings of Chinese stocks, which was much higher than the 14% in October last year. 90% of the respondents said that even if the U.S. stock market goes down, the Chinese stock market will still achieve positive returns this year.
In the past two months, China's optimization and adjustment of epidemic prevention and control measures has injected a strong impetus into the domestic market, and China Concepts and Hong Kong stocks have been riding the dust. Among them, the Hang Seng Technology Index of Hong Kong stocks has soared by more than 60% since October 25 last year, leading the global stock index, which confirms that foreign banks have been singing more about Chinese assets since the end of last year.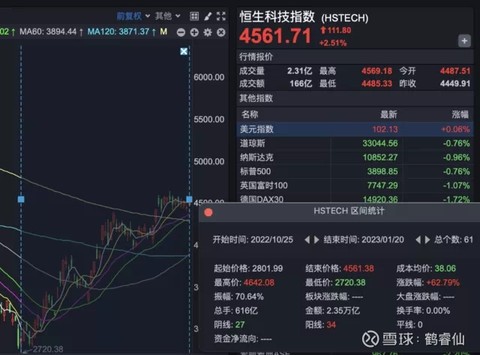 Morgan Stanley, which has always been cautious, raised its target price on China's stock market in November last year, predicting that the MSCI China index will rise by 14% by the end of next year. Jonathan Garner, the bank's chief Asia and emerging market equity strategist, said that with the positive news, the Chinese market will perform better, and the bull market may continue for several quarters. As early as October last year, when China's stock market corrected, Morgan Stanley said that it was a good time to buy Chinese stocks.
Also in November last year, Citigroup's Robert Buckland and other strategists upgraded the rating of Hong Kong stocks to overweight, believing that a series of current domestic policies in China will help support investor sentiment. Even as other major economies are slowing sharply, China could rely on internal drivers for an attractive recovery.
On the last day of November last year, Goldman Sachs stated at the 2023 China Macroeconomic Outlook and Capital Market Dynamics Video Conference that it will give the A-share market a "high allocation" recommendation in 2023. It is expected that the valuation will rebound significantly, and the northbound funds will have a net inflow. About $30 billion.
Then in January this year, Goldman Sachs strategist Kinger Lau stated in a report that in view of the faster-than-expected adjustment of China's epidemic prevention and control policy, the macro economy is expected to continue to recover, and there is still room for further growth in Internet sector profits, and the capital market is expected to continue to rise. He raised the 12-month target price of the MSCI China Index from 70 to 80 (15% upside space), while predicting that the yuan will rise to 6.5 yuan per US dollar by the end of the year.
In addition, strategists at JPMorgan wrote in their 2023 Global Equity Outlook that the MSCI China Index could rise 17% between then and the end of 2023, driven by earnings per share growth of 14% and a target price-to-earnings ratio of 10.5 times.
HSBC believes that the policy of reopening and supporting the real estate market will promote the profit growth of A-share listed companies by about 19%, so that the Shanghai Composite Index is expected to stand at 3,600 points by the end of 2023, and the CSI 300 Index is expected to rise to 4,600 points. #2022基金四季报评# #红火火火! The A-share Year of the Tiger is coming to an end, how is your income? # # The net purchase of northbound funds exceeded 100 billion this month! # @今日话话@雪球创作者中心@雪球Interview @大费用热雪球@大金融球雪球@Interview Little Secretary $Tesla (TSLA)$ $Faraday Future (FFIE)$ $Tencent Holdings (00700)$
This topic has 0 discussions in Xueqiu, click to view.
Snowball is an investor social network where smart investors are all here.
Click to download Xueqiu mobile client http://xueqiu.com/xz ]]>
This article is transferred from: http://xueqiu.com/5275804785/240599257
This site is only for collection, and the copyright belongs to the original author.