At the tail end of the era of education and training, 59-year-old Yu Minhong was once asked whether New Oriental's training has increased the already unfair education system in a sense? He said, "It's really a bit of a fight between left and right." Children who can come to New Oriental for extracurricular training will get more resources and get higher scores.
At that time, he persuaded himself and his employees that the logic of New Oriental's service to urban children was to make money, and part of it could be used to help rural children so that they could obtain better educational resources—the form of teaching support and public welfare assistance to agriculture has continued. down. Until the double reduction came, the K12 business stepped on the brakes, and the online education industry suffered heavy losses. In addition to being frustrated, Yu Minhong said to the team: Maybe this is another chance for us to create a bigger business and achieve more brilliant .
This time it is no longer "curve to save the country". In November 2021, Yu Minhong announced that New Oriental Online will transform into agriculture – by changing Chinese agriculture, to help rural children. This seemingly "willful" decision has no support from the board of directors. For this reason, Yu Minhong is ready to lose 500 million yuan in five years.
During the SARS epidemic 19 years ago, a large number of offline get out of class refunds once put New Oriental under cash pressure. Yu Minhong borrowed 20 million yuan from a friend to tide over the crisis. From then on, a rule was established: the money in New Oriental's account must be able to refund all the tuition fees of the students' parents and pay the wages of the employees. Coinciding with the expansion of online education, many shareholders have persuaded him to put money into the Internet so that "more assets can be operated." But Yu Minhong insisted that this is the life-saving money of New Oriental and cannot be moved——
Therefore, before the end of the education and training era, the book capital of New Oriental exceeded 20 billion. This makes it a decent exit under the double-declining wave.
It has been a year since the release of the "Double Reduction" policy. Geek Park hopes to report and record the transformation of this education company – to a certain extent, it has not strayed from its original intention due to force majeure. Under the tide of the times, there are always people who are still there. Pursuing value, sticking to value, and creating value are like the struggle between the old man and the sea. Not giving up is the victory of willpower.
way out
Before establishing the new direction of agricultural products, New Oriental Online has also done other things directly related to education. For example, adult education such as vocational education and blue-collar education have also tried to sell hardware education products, and even sell classes with the idea of ​​live broadcast. In September 2021, chairman Yu Minhong said at the executive meeting: "Weiya can sell more than 10 billion yuan a year. Can I make 10 billion yuan a year with dozens of teachers for live broadcasts?"
In October, Yu Minhong formally proposed the idea of ​​agriculture at a meeting of seven people in the president's office. "Take advantage of the transformation opportunity to do some business that I have been thinking about but have no time or opportunity to do." It was opposed by everyone. "No one in the board of directors and the president's office thinks (this) is reliable."
In the end, Sun Dongxu took over the task. Sun Dongxu, 36 years old this year, is lean and capable, with a Sichuan character pattern between his eyebrows, and his internal name is Jack. He graduated from Nankai University with a major in computer science and is an engineering student. On the first day of his freshman year, he and a few classmates rode old bicycles and went to the Bayi Auditorium to listen to Yu Minhong's lecture. This was the beginning of his relationship with New Oriental. After graduation, he joined Tianjin New Oriental Foreign Examination Department as a teacher. After that, during his 15 years at New Oriental, he rose all the way to President of Northwest China and CEO of New Oriental Online.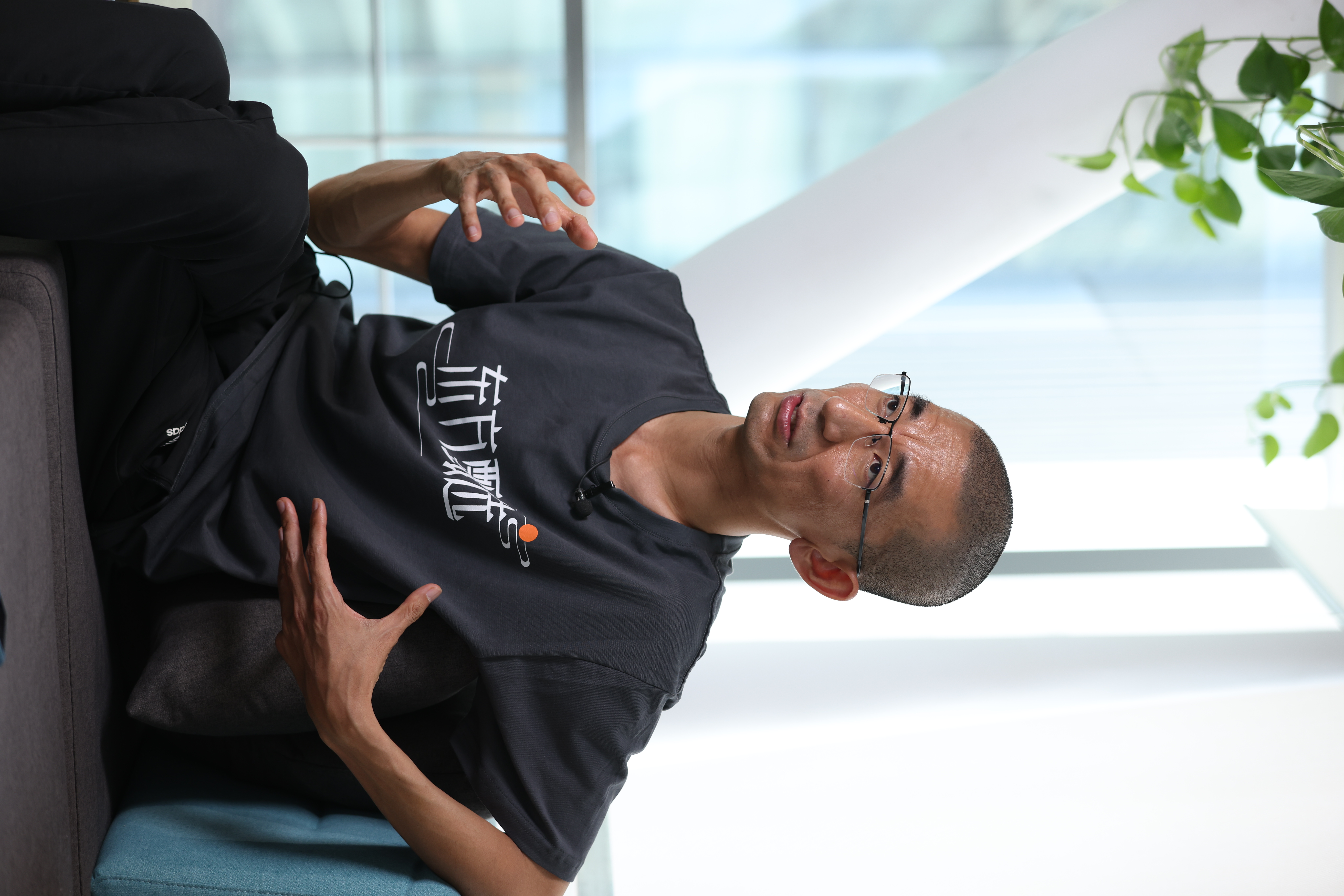 Sun Dongxu, CEO of New Oriental Online
"New Oriental Online" was established in 2005 and went public in 2019. Previously, the main business was online courses for various education businesses of New Oriental. However, since the traditional advantage of New Oriental is offline classes, for a long time, online business has not been valued. It was not until 2017 that it began to fully attack the K12 market, and the volume of online business increased accordingly.
Until the advent of the double reduction policy, the K12 business stepped on the brakes. "New Oriental Online" is facing a comprehensive transformation.
The company's staff size has been reduced from nearly ten thousand people to several hundred people, of which more than 100 people have formed the Oriental selection team to start live broadcast of agricultural products. This is regarded as a partial start-up within the New Oriental Group. The initial budget is to lose five in five years. It is also the first step taken by New Oriental in the field of agriculture.
We ran into Sun Dongxu in the office at the Zhongguancun e-World Building in Beijing. It was just over a month after the explosion of Dongfang Selection on the Internet. Except for research and meetings, he spent most of his time in the office, meeting one after another. . I was asked if I had the confidence to transform into an e-commerce business. He said calmly and decisively, "Of course there is."
"I trust Lao Yu's judgment and vision, and many amazing companies have been born in the field of agriculture. It takes care of agriculture, the countryside, farmers, and every consumer, because everyone has to eat. So why not? "
From the perspective of the employees, the initial launch started with an internal recruitment letter, "opening to all employees to apply for positions such as anchors and operations." A person close to New Oriental Online told Geek Park that the requirement for the primary election was to shoot a small video , "Introduce yourself about your abilities, talents, what social accounts you have, and how many fans you have." A large number of New Oriental teachers signed up for the application. From the thousands of applicants, they were screened to 500 people through re-examination and final examination, and finally stayed. Teams of less than 20 people. The screening criteria are mainly eloquence, image, skills, affinity and personal character traits.
Last July (after the double cut), this group of teachers lost their lecterns and classrooms. Zhu Yu, the former vice president of New Oriental Online and CEO of Dongfang Youbo, said in a circle of friends that he would "go to the mountains to teach in the mountains and make some contributions to the goal of common prosperity." On the last day of 2021, Yoyo finished her last online class, dressed up as Princess Elsa from Frozen, wearing a long blue dress, choked out "my cute kids, I'm gonna see you later" , temporarily bid farewell to the identity of "teacher", and transformed into an anchor.
Dong Yuhui is also a member of the transformation anchor. He was one of the first teachers to sign up, Sun Dongxu's former department, and was the head of the English subject in the third year of high school. Born in 1993, he is the same age as New Oriental. In the summer of 2021, he was forced to say goodbye to his colleagues who had worked together for many years. On a sleepless night, on the side of the North Fourth Ring Road, this 28-year-old young man walked around the outer wall of the Peking University campus and turned around. Round and round.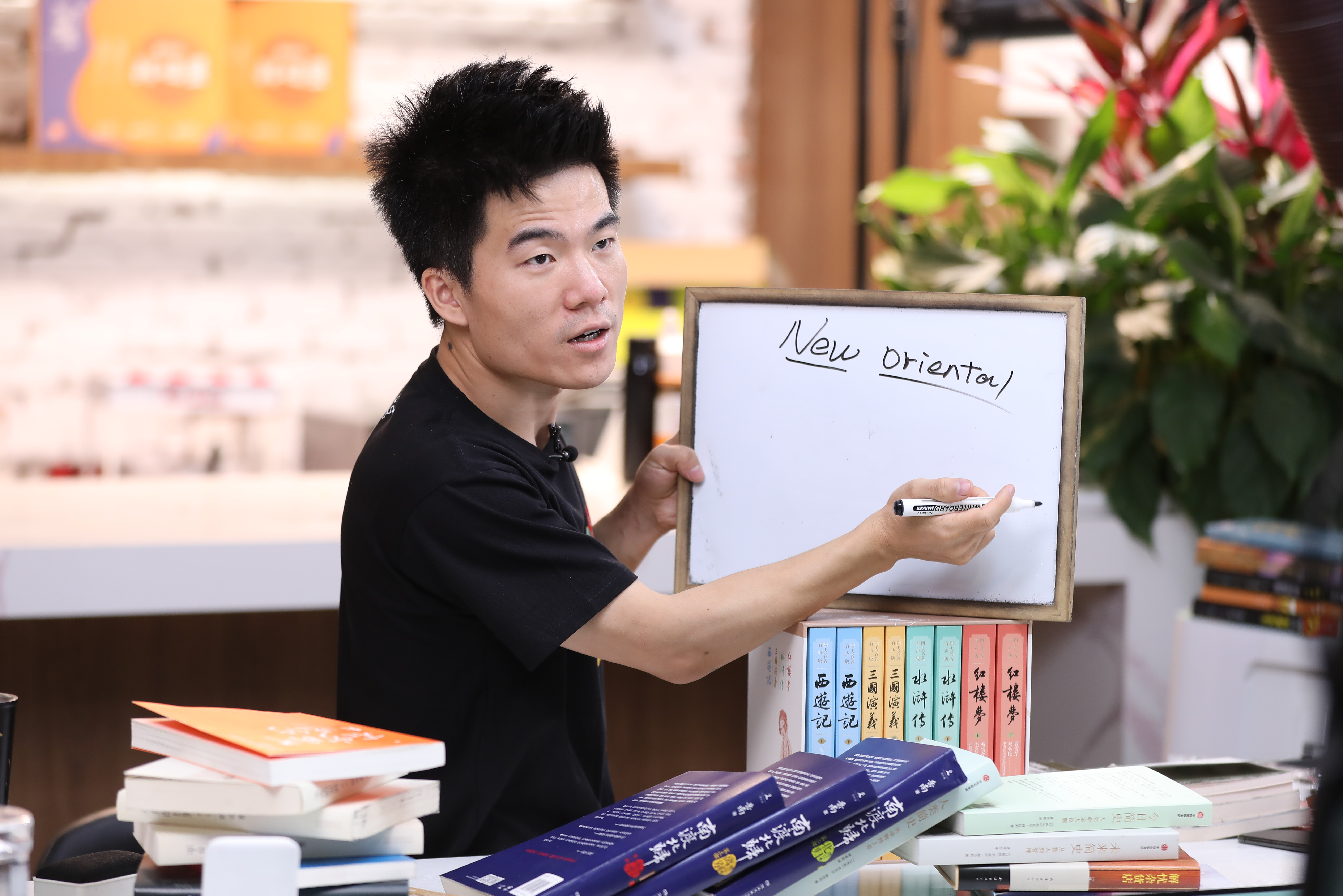 Dong Yuhui, the anchor of Oriental Selection
On one side is the guilt of his colleagues, on the other side, in the deserted live broadcast room, some feedback impressed him: Why is this anchor so ugly? Why does he speak English so strangely? When facing the camera for the first time, the former senior high school English teacher showed obvious embarrassment, "speaking in a mess", colleagues commented on his initial performance, and he frantically ate samples when he was nervous.
A former employee of New Oriental Online told Geek Park that during the initial internal planning, he thought of using the "Make a Friend" live broadcast room as the benchmark, referring to the form of Luo Yonghao + multiple anchors, "with Yu Minhong as the main IP, design with other anchor". However, when the Douyin live broadcast room was officially launched, Yu Minhong did not appear many times.
Although Yu Minhong used his personal social account to promote "Oriental Selection", Dong Yuhui described that when the traffic did not pick up, "there are only 30 or 40 people in the live broadcast room each time, and when Teacher Yu appears, there are 10,000 people in the live broadcast room. "
The team has no confidence. "Before this, 80 to 90 percent of the team had not even watched Douyin." Faced with the positioning of "knowledge anchor" selected by Dongfang Screening, everyone was full of uncertainty. Even YoYo, the most popular anchor at the time, was very apprehensive. "There are so many open courses offered by university professors on the Internet, which are also free. I am an English teacher in an elementary school, and my teaching is very basic. Whether it is worth liking or not, I need to doubt myself."
Only Sun Dongxu had no doubts about his beliefs. On the second day of the live broadcast, he went to the live broadcast in person, and when he was not on the broadcast, he observed and researched. One day, Dong Yuhui found him and expressed his desire to give up. This kind boy once doubted his worth since the live broadcast, worried that "is the company embarrassed to let him go?" After talking with HR about leaving, Choose to say goodbye to his "Bole of life" Sun Dongxu.
The end result is "being scolded back". Sun Dongxu told him, "When you don't know how useful you are, all you have to do is trust each other, rely on each other, keep each other warm, and we will always find a way out."
2 "Douyin gave Liu Genghong's traffic to them"
Former employee An Qi remembers the day when the turning point came, June 8, 2022. On this day, the number of fans selected by Dongfang reached 1 million after a slow climb for half a year. It is far from the taste of success. Everyone is just "very" happy. "I think it may break through 10 million this year." Unexpectedly, the next day, someone forwarded the short video of Dong Yuhui's live broadcast to friends. Circle, and soon, "Douyin also came to contact us and asked about our situation." After that, "it only took three days", the number of fans soared to 10 million.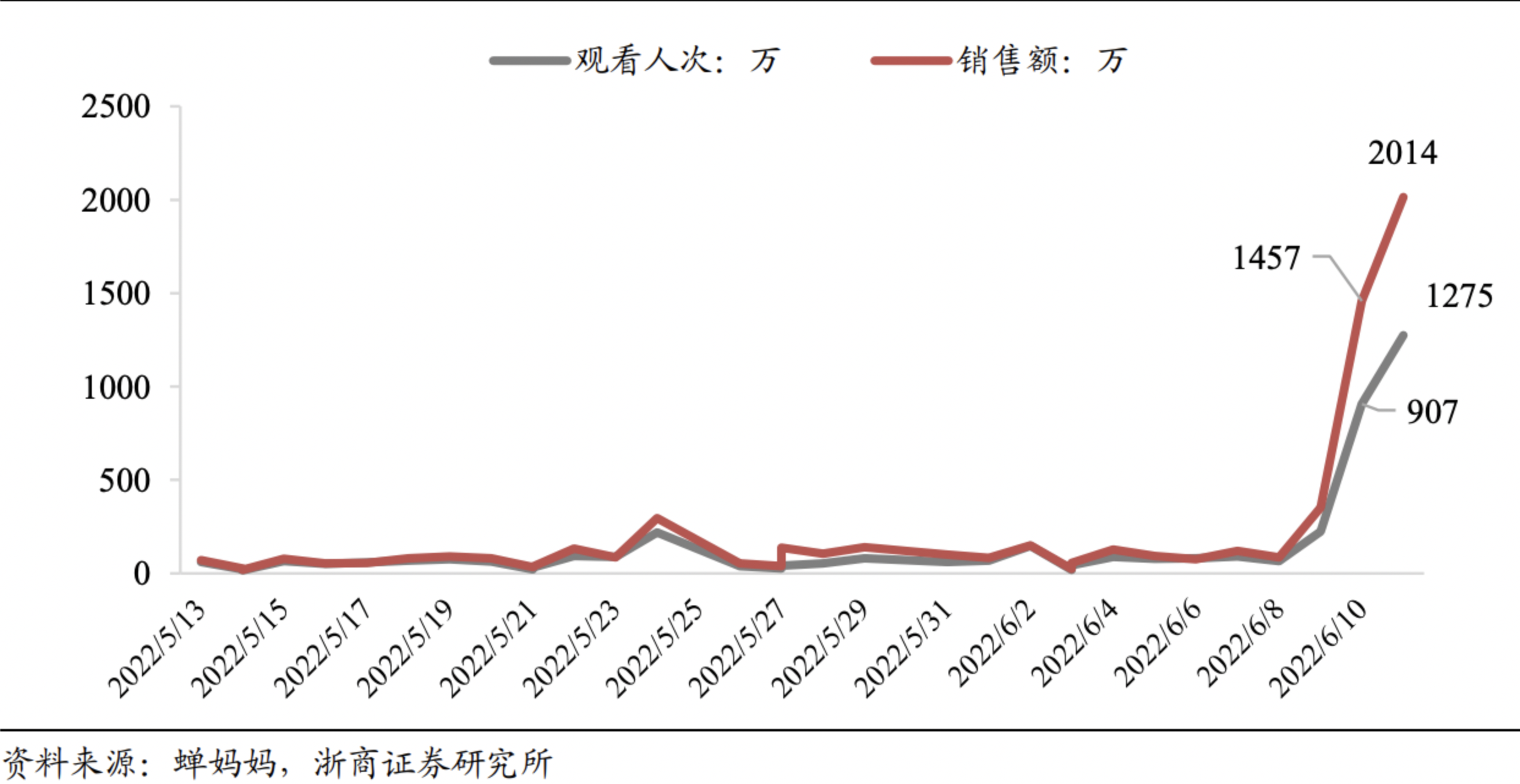 The number of viewers and sales of Oriental Selection live broadcast
During this period, on June 10, a short live video of Dong Yuhui of nearly two minutes quickly rose to the top 1 of the Douyin hot list. At the same time, a large number of foreign media pushed or reported Dong Yuhui and Dongfang Selection at the same time, which further superimposed the heat.
"Douyin has a budget and traffic of billions of millions." A person close to Douyin told Geek Park, "Byte's investment outside the terminal is huge," Xiaohongshu, Weibo, Zhihu, etc. , including today's headlines, "Bytes has specialized external suppliers for procurement." A company that has been on Weibo's hot search driven by Douyin told us that Douyin's marketing department has "very strong" planning capabilities. Strong planning + sufficient investment budget can bring national hotspots.
Creating phenomenon-level internet celebrities through algorithms and traffic is a common practice for Douyin to support new content. This is also seen as a powerful means to drive user growth. In the field of live broadcasting, this method was first verified when Luo Yonghao joined Douyin two years ago.
"At that time, Douyin needed the traffic of the fitness category, and the operating company Liu Genghong signed had a lot of binding and cooperation with Douyin. This is the result of the platform's star-making." The above-mentioned person said.
When the traffic in the live broadcast room is already very large and has become a phenomenon, the traffic tilt and support will stop. "According to our observation, Douyin gave Liu Genghong's traffic to Dongfang Selection." At that time, Liu Genghong's fans had reached 70 million, and the hot spot shaping had been completed, and no additional traffic and support was needed. And just as Luo Yonghao is about to announce his fading out of live broadcast, "Douyin needs to create new hot spots."
Yu Minhong later said in an interview, "We have never cast a large amount of traffic on Douyin, and there is no traffic of more than 100,000 at all." On the first day of the broadcast, the live broadcast room started from 0, and after the live broadcast ended, there were 20,000 fans. Since then, he has set a principle: not to invest in traffic, " use our strength to gradually increase fans gradually."
He appreciates "doing things in a hurry" – the more important things are, the more they need to be put in place after thinking about it slowly. " Many companies are using OODA management methods. O is observation, orientation, D is decision, and A is action. The first two steps take about 80% of the time. The third and fourth steps are an instant, that is, once you enter the state of decision and action, the mistakes you make are irreversible, so the time for the first two steps must be sufficient." He said that until today, The selection of the East is still in the first two stages.
After half a year of transformation, the team finally achieved some results. According to Douyin data, in June, the sales volume of Dongfang Selection's live broadcast room was 681 million, making it the only live broadcast room on the platform with sales exceeding 600 million in June.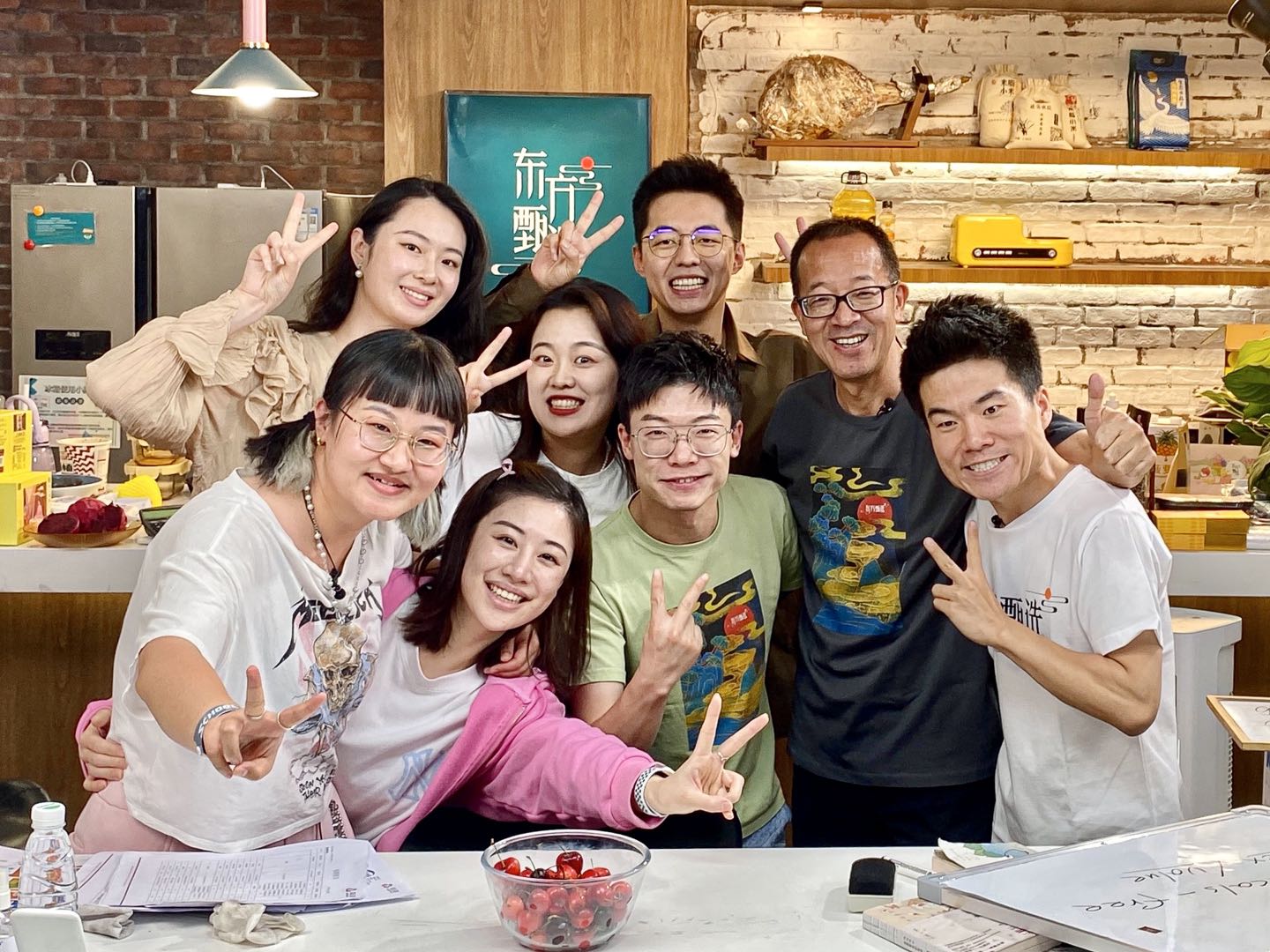 Group photo of some team members
Yu Minhong, 60, talks about the achievement calmly. In history, New Oriental has "exploded" many times. The first time was when the enrollment number exceeded 1,000, and the book balance changed from 0 to 200*1,000 yuan. Yu Minhong recalled that he had not slept for two nights. And this "explosion" did not bring him much excitement.
Although the KPI previously set by the team – 20 million GMV a year, has now been completed ahead of schedule. As of last week, Yu Minhong's personal Douyin fans exceeded 10 million, and Douyin sent him a cake for this purpose. But at the moment, the selection team of Dongfang is "like a clock that is fully wound, turning on its axis" – Sun Dongxu took the anchors to visit the farm entity, screening products more strictly, sorting out the live broadcast content, and rehearsing, "I can't wait to divide a minute into two halves."
"The current state is unstoppable, a little unbearable, because the fire is unexpected." Sun Dongxu stopped all kinds of interviews internally, trying to artificially "cool down" the team. After all, the sudden surge in traffic brings a more complicated situation. The skyrocketing demand is testing the supply chain. Once these demands cannot be met, it will easily damage the reputation. For example, there is a customer reaction, and a quarter of the peaches purchased by Dongfang Selection are moldy.
It is well known in the industry that the quality control of non-standard agricultural products is difficult. Agricultural products have also become a category that many live broadcasters dare not touch. Liu Tao, the head of the agricultural product company who had been in contact with Wei Ya's live broadcast room, told Geek Park, "They have clearly stated that this kind of (agricultural products) cannot be used (the live broadcast room) unless they pay a high commission, because they are worried about customer complaints and bad reviews. "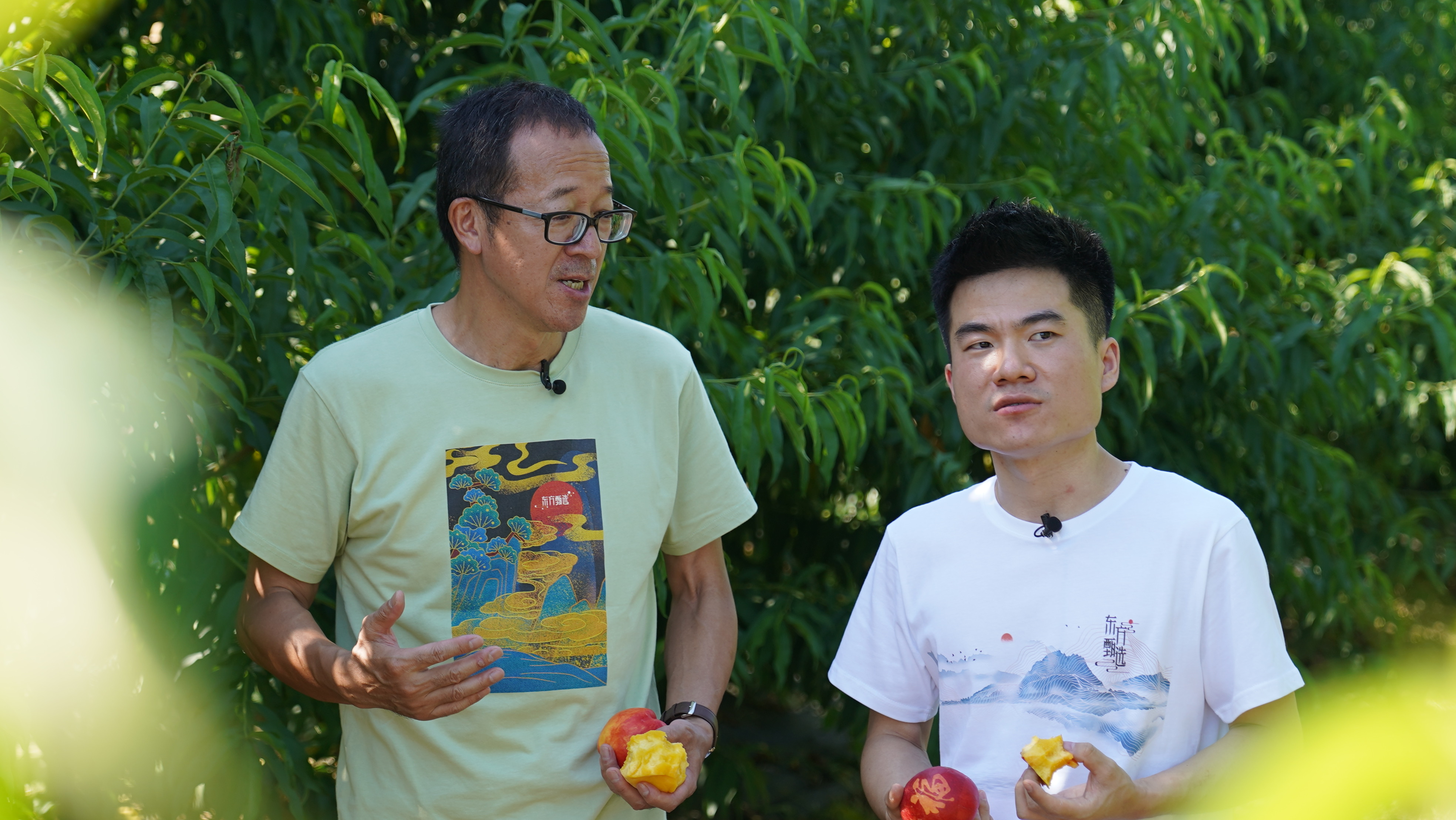 Yu Minhong and Dong Yuhui in Pinggu Taoyuan
"There is another problem with agricultural products. If this person is not at home today, the goods will be left at the door of the house for two days, and they will be rotten in two days (consumers will be dissatisfied)." Liu Tao believes that this possibility is not small, "because People are a little impulsive in their consumption on live broadcasts, and they may not be so careful after buying them, and they will forget them."
For merchants, the sales volume of "hot sales" in the live broadcast room is also difficult to form a scale effect for agricultural products. Liu Tao once communicated with the agricultural e-commerce company "Miyun Renjia", which became the first agricultural product "Golden Crown" seller on Taobao. "Once a large scale is formed, it is a burden. Many people need to be supported to pack, sort, and provide customer service. The larger the scale, the higher the cost, the lower the gross profit, and the greater the loss."
These challenges did not deter the "outsider" company. Now, New Oriental Online more frequently emphasizes that it wants to be an "agri-tech company" than before. According to people close to Dongfang Selection, after the explosion, Dongfang Selection stated that it will continue to not charge pit fees, nor will it charge any fees before investment promotion. Previously, the "pit fee" for live broadcast was a common charging item. When the merchant asks the anchor to bring the goods, it occupies a period of the live broadcast and pays a fee ranging from tens of thousands to hundreds of thousands, which is generally not directly related to the sales.
Dongfang Selection believes that if the pit fee is charged, it will affect the team's judgment on the product, and then affect the quality control. "And now there are a lot of swiping behaviors. After the pit fee is charged, after the return is over, no sales are actually generated." Not charging the pit fee is more secure for the supplier.
Yu Minhong has repeatedly emphasized, "Dongfang Selection focuses on selling agricultural products. It is definitely not for being famous, nor for being lively, but to build an excellent agricultural and living industry chain."
Liu Tao believes that there are a lot of good products in Chinese agriculture, but no one helps farmers to take care of them, pack them and sell them. The concept of New Oriental coincides with it. In Yu Minhong's personal account, he wrote:
With the reputation of New Oriental, the teachers of New Oriental can speak well. As long as the agricultural products are in place, can we sell these excellent agricultural products to the whole of China? At the same time, can New Oriental hire agricultural experts to educate Chinese farmers, so that Chinese farmers can change from traditional farmers to modern farmers? Why can't it be done? The world is very big. And revitalizing agriculture is one thing that will be supported in any era. Think clearly, failure is no longer failure, failure has become an opportunity.
After leaving the circle, within Dongfang Selection, the employees were keen to pass on a sentence from Sun Dongxu: "Anyway, if you change careers, then you can do something big."
3 "Foot sole anchor"
After Yu Minhong announced that New Oriental Online would transform into agriculture, many people found Sun Dongxu, claiming that they understood agriculture and supply chain. "Some people are quite strong and say, 'I will help you with supply chain management, this field is too deep, and you guys who are engaged in education can't handle it.'" Sun Dongxu basically refused.
In his view, the few links of live broadcast are the core, and outsourcing is risky. Once something goes wrong, it will consume the brand of New Oriental.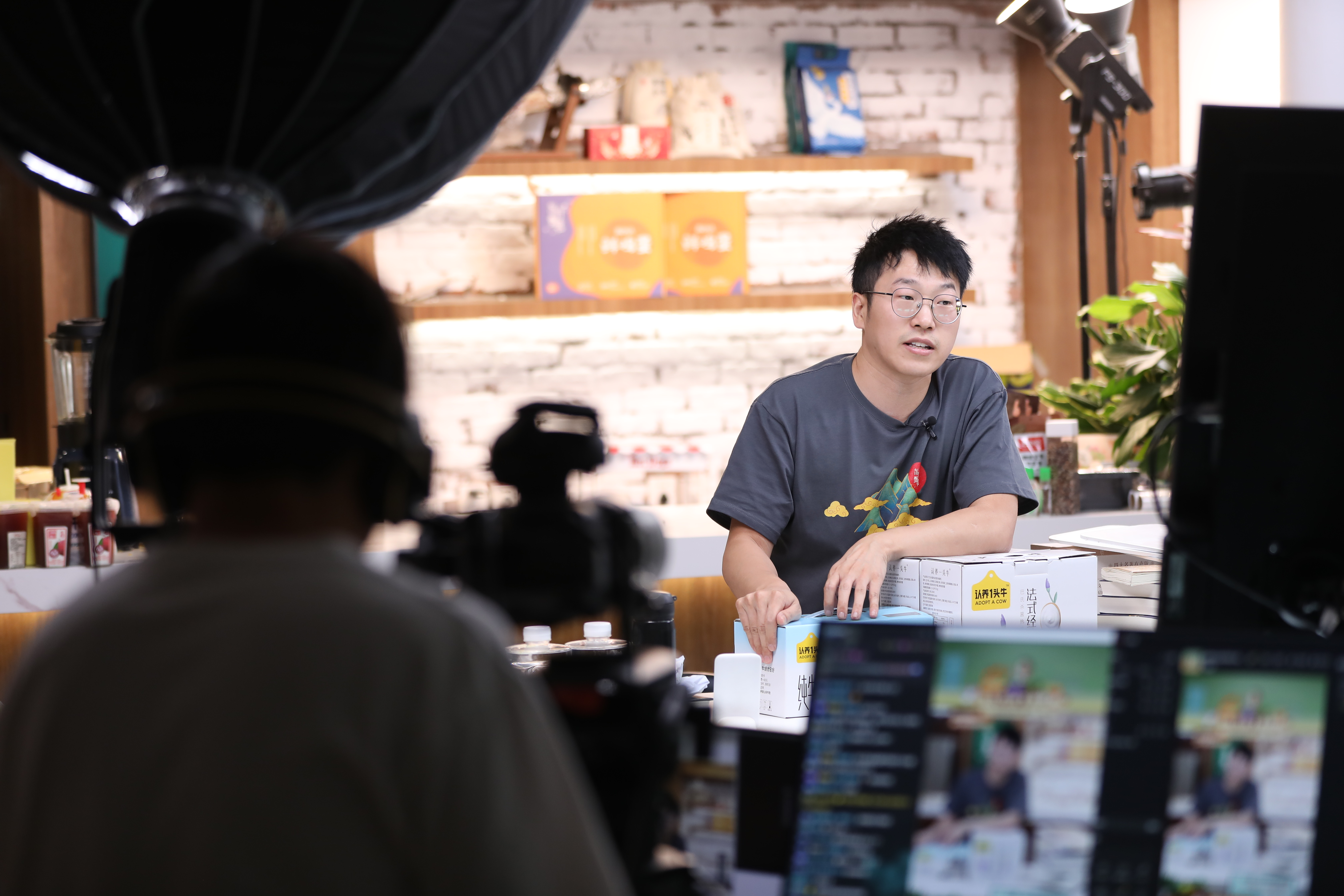 The anchor is clearly in the live room
Starting from scratch means a great challenge. Before May, the GMV selected by the East was basically hovering around 100,000, with hundreds of people watching every day, at most two or three thousand people, and dozens of sales. The data is not high, but the questions and opinions of users are overwhelming. They will go directly to the fan group @东小Sun (Sun Dongxu), and their opinions range from the selection of products, the brightness of the live broadcast room, and even to a piece of cloth in the background props that affects the look and feel due to wrinkling.
The Dingding group has since become Sun Dongxu's "battlefield". From the selection of new products to the speaking skills, he does not care about the designated person in charge, so he @ everyone in the company's entire group.
There can be dozens of such @ every day, from 7:00 in the morning to the next broadcast in the early morning. In order not to be missed, a special person will file these instructions every day. The team, which has been bombarded by group messages for a long time, dubbed the online document updated in real time as the "Jack Quotation" by employees, and quickly adjusted every pointed out problem while joking.
But hard work doesn't mean it will pay off in numbers. For a long time, the daily turnover has been hovering in the hundreds of thousands of yuan . In Douyin, the single-day GMV reaches one million, and it can be regarded as a waist expert – the team therefore jokingly calls itself a "bottom anchor". Internal employees recalled, "The entire team experienced frustration and low moments."
The old grandson never gave up. As the CEO, he did not show any signs of urgency and lack of determination, and he was still detail-oriented, as small as ordering a meal for everyone after the anchor stopped the broadcast, and even pointing out the fire hazards in the corridor. In order to encourage the team, every time the number of fans grows to an integer, Sun Dongxu arranges to send a good news to all members.
In the past, he has made the performance of a secondary city school in New Oriental into the top ten in the country; Xi'an was originally the bottom in the country, but after he became the principal of Xi'an, he spent a year to make Xi'an the top three in the country. In 2018, he served as the CEO of New Oriental Online, and in March the following year, he led the company to go public. In the eyes of employees, "he can complete any task given to him."
At the beginning of its birth, Dongfang Selection was accompanied by a three-year plan—the target of 200 million in the first year, 1 billion in the second year, and 3 billion in the third year. But Sun Dongxu said frankly afterwards, "After thinking about it, I can tell you frankly that this year's 200 million is possible, and it is possible to reach 1 billion after more and more fans in the live broadcast room, but to be honest, I don't. I know how to achieve 3 billion. I say it repeatedly, but in fact, everyone thinks that it is difficult to achieve 200 million."
During the worst months of data, the Douyin team brought a little comfort: the average online time of "Dongfang Selection" live broadcast of agricultural products was more than five minutes, while the industry average was only a little over a minute. "Everyone actually doesn't know if it can be done, but they just want to grit their teeth and persevere."
The hardest time is the end of May. Affected by the epidemic, the entire Zhongguancun has been upgraded and controlled, and the office building where the live broadcast room is located is facing closure. Just the day before, the GMV of the live broadcast room just exceeded one million. "The whole team is still very happy, and they put a drink of "100" to celebrate." Before the happy mood lasted for 24 hours, all the staff received an urgent notice of "temporary relocation".
The live broadcast data has just picked up. In order to keep the live broadcast from stagnant and morale to continue, Sun Dongxu immediately decided to transfer the entire live broadcast room and team to a qualified hotel in Tongzhou. At 9 o'clock that night, the anchors stopped the broadcast in advance, rushed home and packed a few changes of clothes and set off. The operators directly disassembled the live broadcast room, and transferred all the equipment and 6 freezers (with samples) to the hotel by the Tongzhou Canal. "The whole team stayed up all night and built the live broadcast room overnight." , at 6:45 the next morning, the live broadcast of the Oriental Selection will start on time.
For the next two consecutive weeks, the team ate and lived together. This was regarded as a "highlight moment" by Sun Dongxu and the team as a morale turning point – "What kind of hurdle is such a team unable to overcome?" Sun Dongxu wrote in a circle of friends. Later, in an interview, he said, "I have also held important positions in New Oriental in the past, and there have been some so-called high-light moments. But the six months of doing Oriental selection are the most cherished and happiest time for me, (because) I and I Let's do this from a theoretical point of view."
4 Farmer's Children
As a child of farmers, Yu Minhong has always wanted to support more rural children to go to college. This is the part closest to his "educational ideal".
After three years of "Fan Jinzhongju" in the entrance examination, Yu Minhong walked out of the mountains in the 1980s, stirred up his thoughts at Peking University, and then became a hub for studying abroad until he became famous in the commercial battlefield. At the same time, he saw the hollowed out countryside, folding the two ends of the world like A sword generally passed through him. Empathy for the bottom and a sense of responsibility to change the fate of the class have become his background, and it has also made him a rare entrepreneur in this era who has both home and country feelings and social responsibility.
He knows that when rural children cross the narrow gate and see the bigger world, "what awaits them is a arduous life journey", "but it is still worth the challenge" – they will think about their own life and Destiny, and then changed, just like the road he traveled by himself.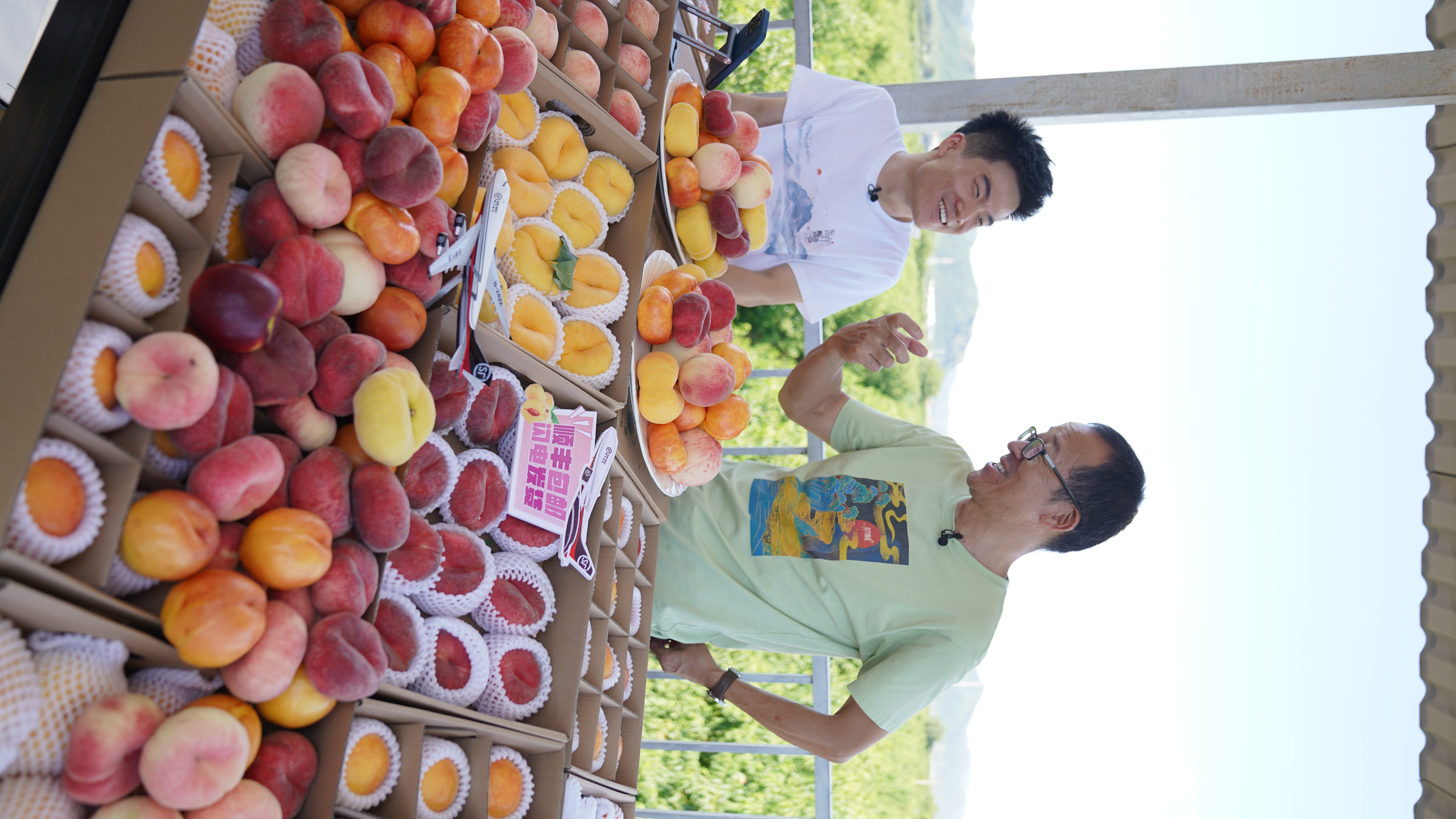 Yu Minhong and Dong Yuhui live in Pinggu
New Oriental has gathered a group of teachers because of such feelings. Sun Dongxu called them "people who are not driven purely by profit." Among the criteria for selecting anchors from the beginning to today, the most important one is to have a sense of identity and yearning for agriculture. In the future, the anchors selected by Dongfang will go to the mountains and do live-action shooting, representing users to go to the depths of agriculture.
Dong Yuhui felt the meaning of live broadcast for the first time after an exchange with a supplier. "A box of apple farmers can earn 5 yuan. One night, 5,000 boxes are sold in the live broadcast room, which is 20,000 yuan." In rural areas, this money may allow a family of children to study or the elderly to see a doctor. On the other hand, farmers themselves may not be able to sell so much.
Not long ago, when visiting an ecological fish pond in Tianjin, in order to verify whether the farm was really pollution-free and ecologically farmed, Dong Yuhui drank the water from which the fish was raised, ate fish food, and explored the whole process of how the fish excrement circulates. He said, "Most of the agricultural products are non-standard products. I want to make sure that what I tell consumers in front of the camera is true. I have to visit and understand it myself, otherwise I will not be confident when I broadcast live."
A similar sense of responsibility is often reflected in the live broadcast room. When the anchor Dunton was selling Boston lobster, he said to the audience, "Compared with ordinary food, it is more expensive, and everyone consumes it rationally." When selling his own brand of pork sausages, he said, "One thing to say, the sausages are not all pork, we can't afford it, and there is also chicken in it." The anchors repeatedly mentioned rational shopping, "I don't want to stimulate a lot of unnecessary consumption."
Most of the beloved anchors in the live broadcast room are farmers from their parents. Dunton remembered that his parents used to learn crayfish farming and went to the pond at 1 a.m. to see how the lobsters looked. "Transformation is harder than myself." Qiqi's hometown in Inner Mongolia, when selling sea buckthorn juice, she gestured with her body to the sea buckthorn tree behind her grandmother's house.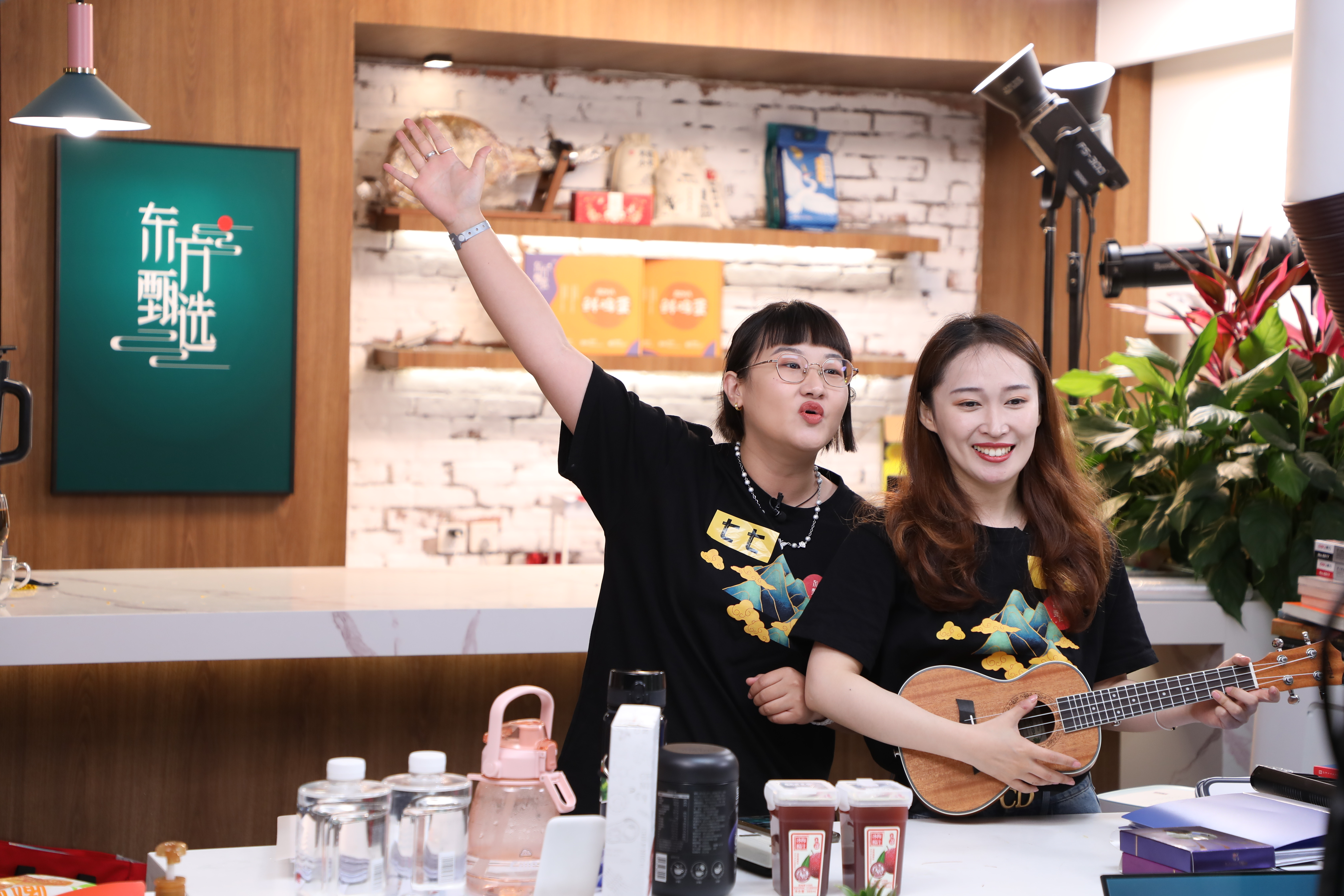 Anchor Qiqi and YoYo
The above-mentioned practitioners believe that before and after the explosion, the styles of the teachers and anchors of the selection of teachers in the East are not much different. "They are all reading poems, telling knowledge points, allusions, talent shows, and talking about life." Different in the industry, Dongfang Selection does not use GMV to evaluate the anchors, but will evaluate the performance of the anchors based on the online time, the number of viewers, and the feedback of the bullet screen – an in-depth practitioner commented, "This fully proves that they do not understand live broadcast at all. ".
But New Oriental Online does not think so. The above-mentioned respondents told us that even after the explosion, when the live broadcast room has more than 100,000 people online all year round, the average viewing time of "Oriental Selection" is still more than five minutes. "This is the result of 'unprecedented'."
We need to do cultural communication, and the anchors don't have to push the product with hoarse voice. We also do not want to dominate the lowest price on the entire network, because everyone knows that this will force many brands to launch some low-cost products, and will also make consumers fall into irrational purchases. Therefore, we still hope that the aesthetics, cultural connotation, and tonality of the entire live broadcast room will go up, so that the anchors have more room to play and improve, and it is a pleasure for consumers to come in, and buying things is a matter of the way. (Excerpted from Yu Minhong's personal account)
After the sudden arrival of good luck, the business volume of "Oriental Selection" increased by 50 times, and the peak value increased by 100 times. In the dozens of days that followed, the team faced extreme challenges. Sun Dongxu led the team to visit five or six places a day, and seized every opportunity to communicate with industry insiders in farmland, research institutes, warehouses, and agricultural product companies.
At the same time, the standard of selection has not been relaxed due to the soaring demand.
Not long ago, a supplier contacted the operation of Dongfang Selection, claiming that it had received special instructions from Yu Minhong, and the products could be directly used in the live broadcast room of Dongfang Selection. After Sun Dongxu found out, he immediately issued a strict order: No product is allowed to go beyond the specified selection process.
"You don't need to come to me. According to our process, we will clarify the competitiveness and certification qualifications of products, and we will quickly screen them. Product managers, supply chain teams, representatives of anchors and operating partners will participate in the selection meeting. All parties have reached an agreement. A consensus has been reached, go directly to the link." It is said that the current selection rate of Dongfang Selection is quite high, "95% or even 98%."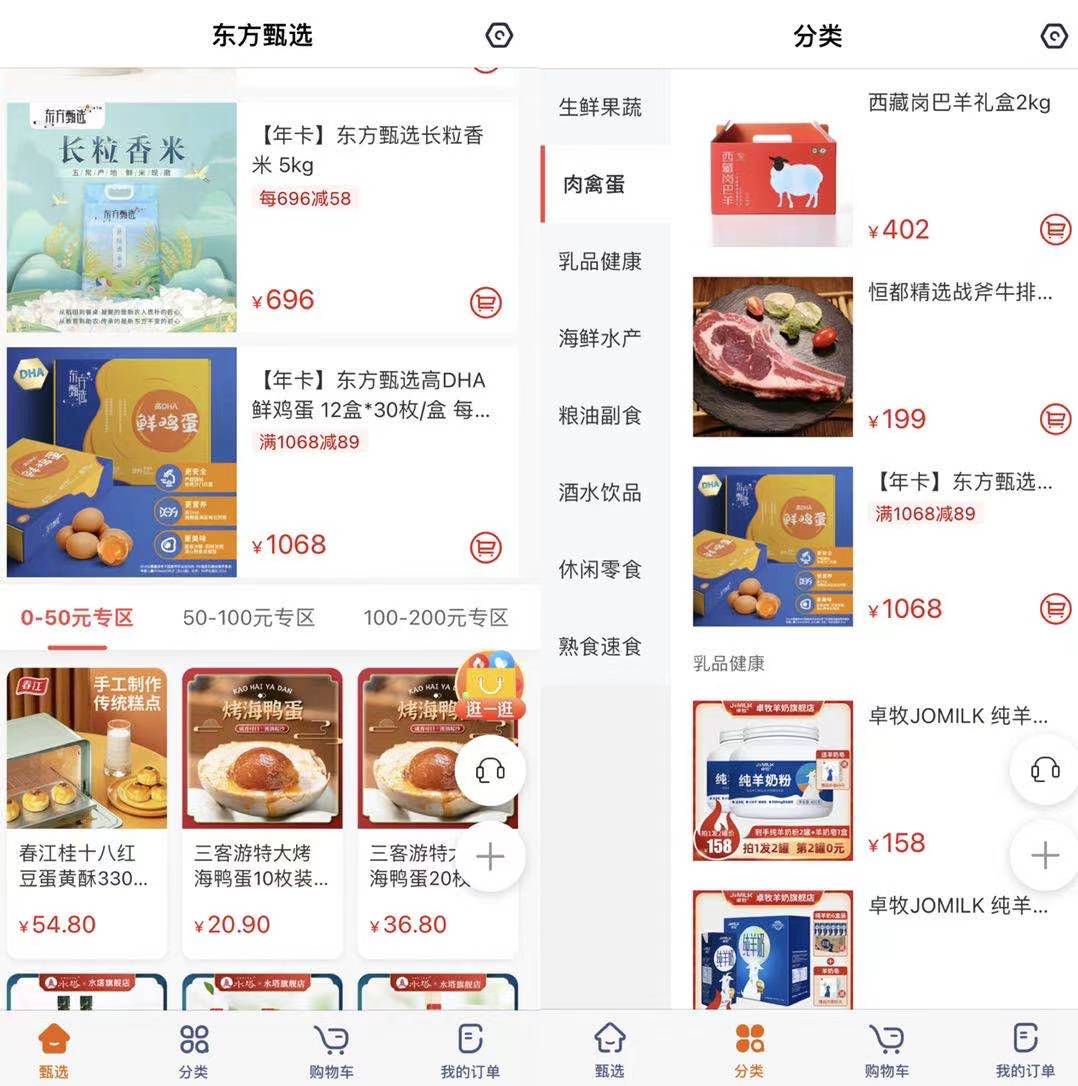 Products listed in the live broadcast room of the Oriental Selection App
After the explosion, Dong Yuhui's last vacation was October 1 last year. Until June 11, he broadcasts once a day for three to five hours at a time. After he became a national broadcaster, he broadcasted twice a day, worked six hours, and only slept three to four hours a day. Before the broadcast every day, he would do dozens of push-ups like when he was teaching, or jump on the spot a few times, and drink a can of Red Bull to make himself feel better.
After I became a teacher, I was very sad for a time. I am a rural child. Although my background and appearance are average, but by being a teacher, I can change young people. When they grow up, they enter all walks of life. I help them grow up. I think this is meaningful. (Excerpted from Dong Yuhui's interview record)
Including Dong Yuhui, the dream of many anchors is to return to the lecture hall. In public interviews with the media, they mostly tacitly expressed the same voice: They never considered themselves to be sales. Perhaps in the past, this group of people hoped to change China through education, but now, they are eager to realize their original dream by changing agriculture.
Don't complain, just do it. Complaining doesn't solve the problem, living in sadness, and sometimes it's tiring, but it's better than no work at all. (Excerpted from Sun Dongxu's internal speech)
Ren Zeping once asked Yu Minhong why New Oriental had to transform? Yu Minhong replied:
What others have done, as long as you do it and do it better than others, maybe you can also succeed. The prerequisite is that you must do better than others and be more patient than others. So I don't think a company must do things that others haven't done.

The emotion we try to release is that you can still bring about change through hard work, and people always need hope.
This article is reproduced from: https://www.geekpark.net/news/305572
This site is for inclusion only, and the copyright belongs to the original author.