Original link: https://meledee.com/2022/06/4028.html
Domain name prices, like commodity prices, are rising every year but not falling. Recently, some people found that when registering a domain name in Google Domains, after switching to Turkey, the paid price is only half or even lower than that of overseas mainstream domain name service providers such as Namecheap, Namesilo, Godaddy, etc. due to the exchange rate difference.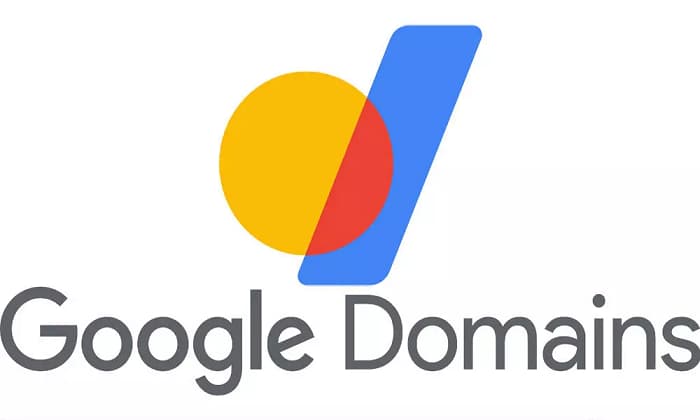 Regarding Turkey, there is another recent news: Turkey has asked the international community to change its official name from Turkey to Türkiye. The country's name is the same as the English "turkey", which has been a pain for many Turks for decades. In the Cambridge dictionary, Turkey means "something that fails badly" or "stupid person" in slang. Since the establishment of the Republic of Turkey in 1923, there have been voices from all walks of life calling for the replacement of the country's name.
Of course, no matter how the name is changed, the decline of the Turkish lira exchange rate cannot be changed. Compared with a year ago, it took about 60 yuan to exchange 75 Turkish lira, but now it only costs 29.40 yuan . Therefore, the current price of Google Domains in Turkey may be the lowest price for new registration/renewal/transfer in the world.
---
Transfer domain name to Google Domains and switch Turkish region low-cost payment tutorial:
1. Visit the official website of Google Domains and log in to your Google account;
2. The Google Domains page may remind " Google Domains doesn't seem to be available in your country yet, but you can still manage most settings for domains you purchased through other Google products here ", don't worry, on the left side tools column to change " Billing address/Legal address country " to " Turkey (TRY) ";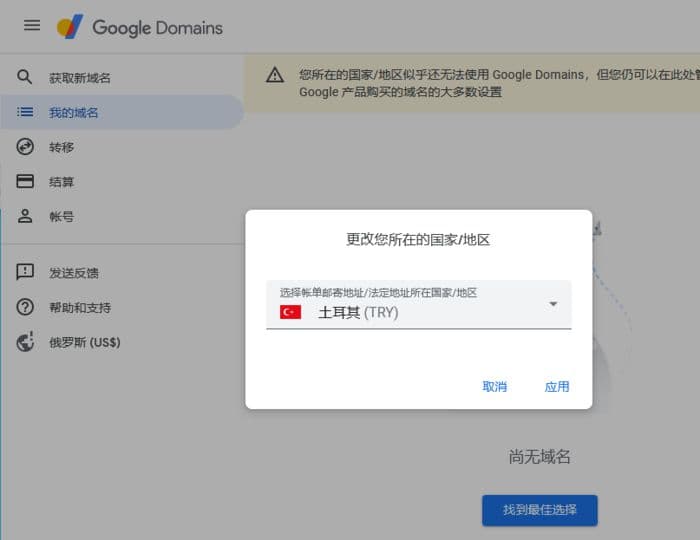 3. Click the " transfer domain name " (transfer) link, enter the domain name you want to transfer, such as Meledee.com, and press Enter to confirm. Of course, you can also register a new domain here (Get a new domain);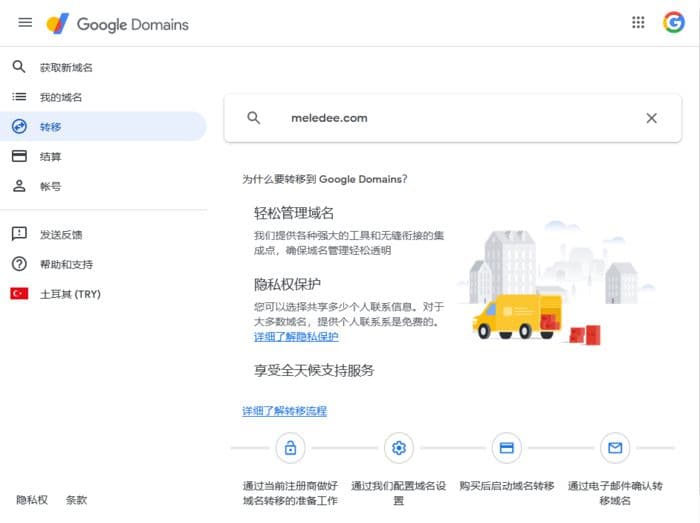 4. Enter the domain name transfer authorization code in the second step of "① Domain Name Transfer Preparation";
In "② Import Web Settings", since my DNS is managed at Cloudflare, I select " Keep my current nameservers and don't import any other settings ";
In "③ Configure registration settings", "Privacy protection is enabled" and "Auto-renewal is enabled" are selected by default. The former function is recommended to be enabled for free, and the latter can be enabled according to the situation; Year (75 Turkish Lira, currently about 30 RMB). At the same time, the renewal fee is the same as the transfer fee, which is also 75 TL per year.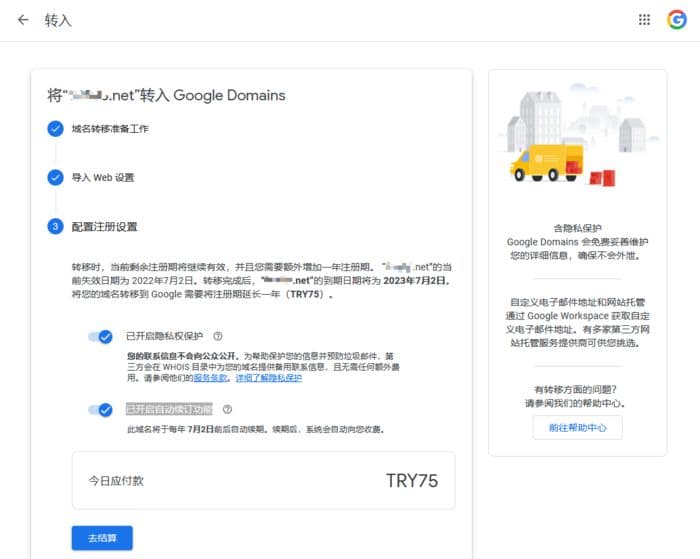 5. On the settlement page, you are required to enter contact information and payment method. The address must be entered in Turkey. It is recommended to go to any hotel booking website to check the address of the real Turkish hotel, or use a virtual Turkish address generator to "make" an address It is also a feasible method; enter the card-related information in " Add a credit or debit card ", currently only VISA, Mastercard and American Express are supported for payment;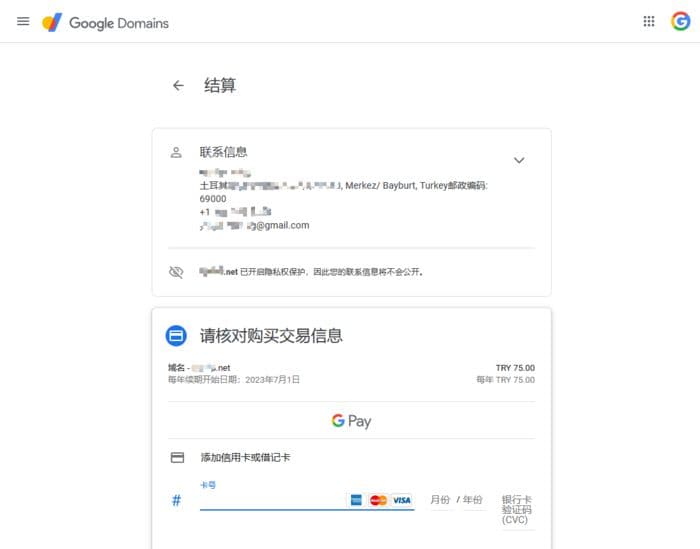 6. After the payment, my mobile phone immediately received a voice reminder call for overseas consumption of 75 Turkish Lira, and the SMS also recorded a pre-authorized payment and cancellation record of 2 Turkish Lira; the page jumped to the "Pending Domain Names" page, reminding " Requested The registrar releases the domain name, it may take 7 days to process it " reminder.
7. You can go to the original domain name registrar to speed up the transfer process. For example, if my domain name was originally parked in Namecheap, and I received a " Domain Meledee.com transfer confirmation request " in my mailbox, click " If you want to SPEED UP the transfer, please go to our website. " to expedite the transfer. About half an hour later, I received a successful prompt " Domain has been transferred to Google Domains " in my mailbox, and asked to verify the email address.
This article is reprinted from: https://meledee.com/2022/06/4028.html
This site is for inclusion only, and the copyright belongs to the original author.