Author|Wu Sijin
Editor|Wang Yutong
*
36氪 was informed that the process mining manufacturer "Wangfanxin" completed the A+ round of financing of over 100 million yuan. This round of financing was jointly led by Boston Investment and Kunlun Capital, Hillhouse Ventures, an Internet company, and Kaitai Capital. Capital acted as the exclusive financial advisor for this round. This is its fourth financing one year after its first financing in July last year, and it is also the largest financing in my country's process mining track.
36氪 has introduced process mining (Process Mining) many times, as an emerging discipline spanning data mining, machine learning, business process management and other multi-disciplinary fields – through targeted collection and cleaning of information stored in various IT systems of enterprises The log visually restores the actual business flow of the enterprise. At the moment of digital transformation, it helps enterprises to use God's perspective to find problems such as loopholes, defects and bottlenecks from process variants that deviate from the standard process, and conduct continuous monitoring to guide them. The company finds the direction for improvement.
Wangfanxin was established in 2021. Its core product is a process engine and process designer called "Digital Footprint", which restores the original appearance of enterprise processes based on data, helps enterprises find problems through business information, and improves the transparency of enterprise operations. Then find an optimization solution.
If the digital footprint is compared to an X-ray machine, then in the process of "seeing a doctor" for an enterprise, it is divided into three stages: understanding – confirming the "symptom", discovering – finding the "cause", optimizing – prescribing the "prescription".
Understanding – confirming the "sickness" : By capturing the event log data in the enterprise ERP, CRM, EMS, OA, SRM and other business systems, the process model diagram of the enterprise in the actual operation process is generated, so as to realize the actual situation of the enterprise from the perspective of God Operation "full picture".
Source: Digital Footprint
Discovery—find the "cause" : By analyzing the variant process and its specific implementation path, the "cause" such as loopholes, defects, and bottlenecks can be visualized .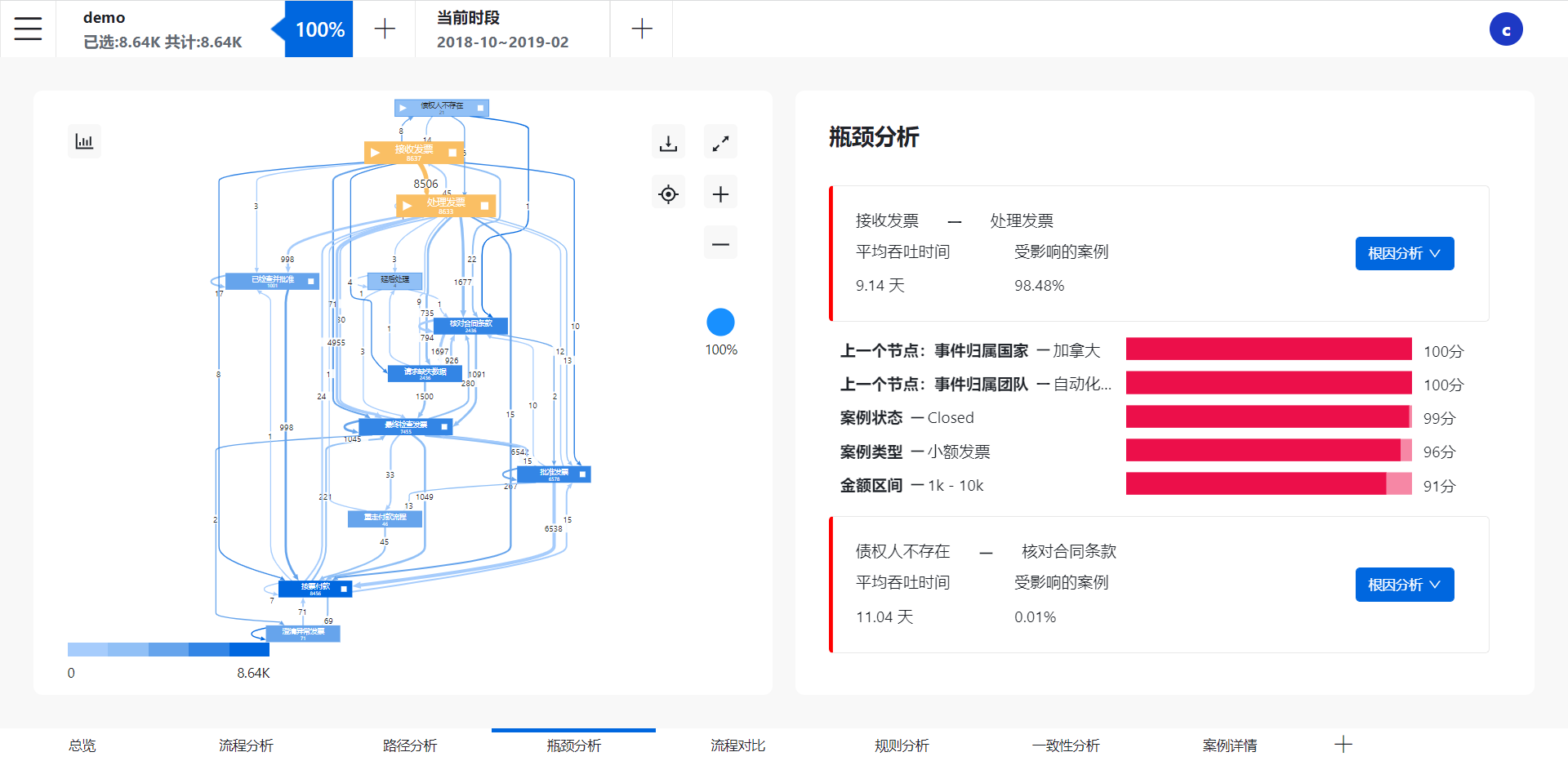 Source: Digital Footprint
Optimization—prescribe a "prescription" : By repairing or modifying the process model and expanding performance data, we can further explore the root cause of the problem, and then call the API to link the RPA or low-code platform for primary optimization execution.
From the point of view of 36氪, at present, process mining manufacturers such as Fande Process , Xuanxing Technology , and Entropy Ping Technology have roughly the same realization path for end-to-end problem solving, but in terms of product progress, they still mainly focus on understanding the "pathology". In the two stages of "cause discovery" and "prescription" stage, each company is immature in terms of product function in the "prescription" stage. Wangfanxin CEO Suo Qiang introduced: "Process mining has a high technical threshold. At Wangfanxin, there are currently nearly 70 R&D teams focusing on product development, and the annual development cost exceeds 30 million yuan. In terms of product progress, digital The functions of the footprint in the first stage have matured, and the functions of the second stage are being focused on polishing the functions of the second stage, and the third stage is still in the product design stage; but it is worth looking forward to, in December this year, the digital footprint will fully upgrade the interface and functions."
In terms of product development ideas, Suo Qiang once publicly introduced that he believes that process mining is divided into 3 versions:
Version 1.0 is a traditional process mining platform , and its main function is similar to that of an X-ray machine, providing enterprises with the "physical examination" function of business processes.
Version 2.0 is a process mining platform that can perform both "physical examination" and "treatment". In addition to real-time process mining and diagnosis, a series of automated tools can also help companies optimize and execute processes; for companies, just click to select which execution plan to use, in other words, during the "physical examination" On the basis, the function of "cure" has been added. In addition, version 2.0 can also integrate automatic execution solutions corresponding to various business scenarios, realizing the transformation from "physical examination center" to "general practice hospital".
Suo Qiang emphasized that under the background of differentiated competition, domestic enterprises have strong business process flexibility and complex business systems, and need to create more suitable solutions based on localized needs. Wang Fanxin's "problem-solving idea" is to provide enterprises with a set of process engines and process designers, which is called version 3.0 – aiming at the current data logs of enterprises, first restore the actual business flow of enterprises, provide industry benchmarks, and use algorithms To locate the problem, the enterprise optimizes the process based on the exposed problems, and tries and continuously monitors the data in the new process, and repeats the cycle until the business process and system of the enterprise reach a relatively balanced and stable state, and then proceed after that. Automated execution.
When talking about the differences and competition barriers with other manufacturers, Suo Qiang introduced: Digital Footprint is a standardized SaaS product centered on self-developed PQL (Process Query Language) , which is different from other manufacturers that still need In line with the situation where enterprises conduct a large number of customized development, the digital footprint does not involve customized development, and the delivery speed is very fast. In addition, based on the self-developed data engine based on PQL requirements, the digital footprint can support real-time data update, access, query and operation analysis of 2 billion rows of process data. The query for the process is currently on the market. OLAP databases or time series databases are not good at and cannot do arrived. In the future, Wangfanxin will work with partners and consulting companies to create scenario solutions for various industries and form a product form that integrates "SaaS+PaaS+Industry scenario solutions".
At present, Wangfanxin has nearly 20 cooperative customers, mainly in the fields of retail, high-tech, manufacturing, construction, etc., such as Deutsche Bank, China Resources Group, Yuexiu Real Estate, Porsche China, many Internet giants, etc.; more than 40 POC customers. In terms of cooperation effect, Suo Qiang said that taking a customer complaint scene of a Chinese-prefixed enterprise served by Wangfanxin as an example, after using the process mining product for one year, the average processing time of the same process was shortened from 44.65 days to 4.88 days; the process path From 93 to 30, the proportion of standard process paths in the actual total process paths has increased from 53% to 84%. In short, unplanned processes have been greatly reduced.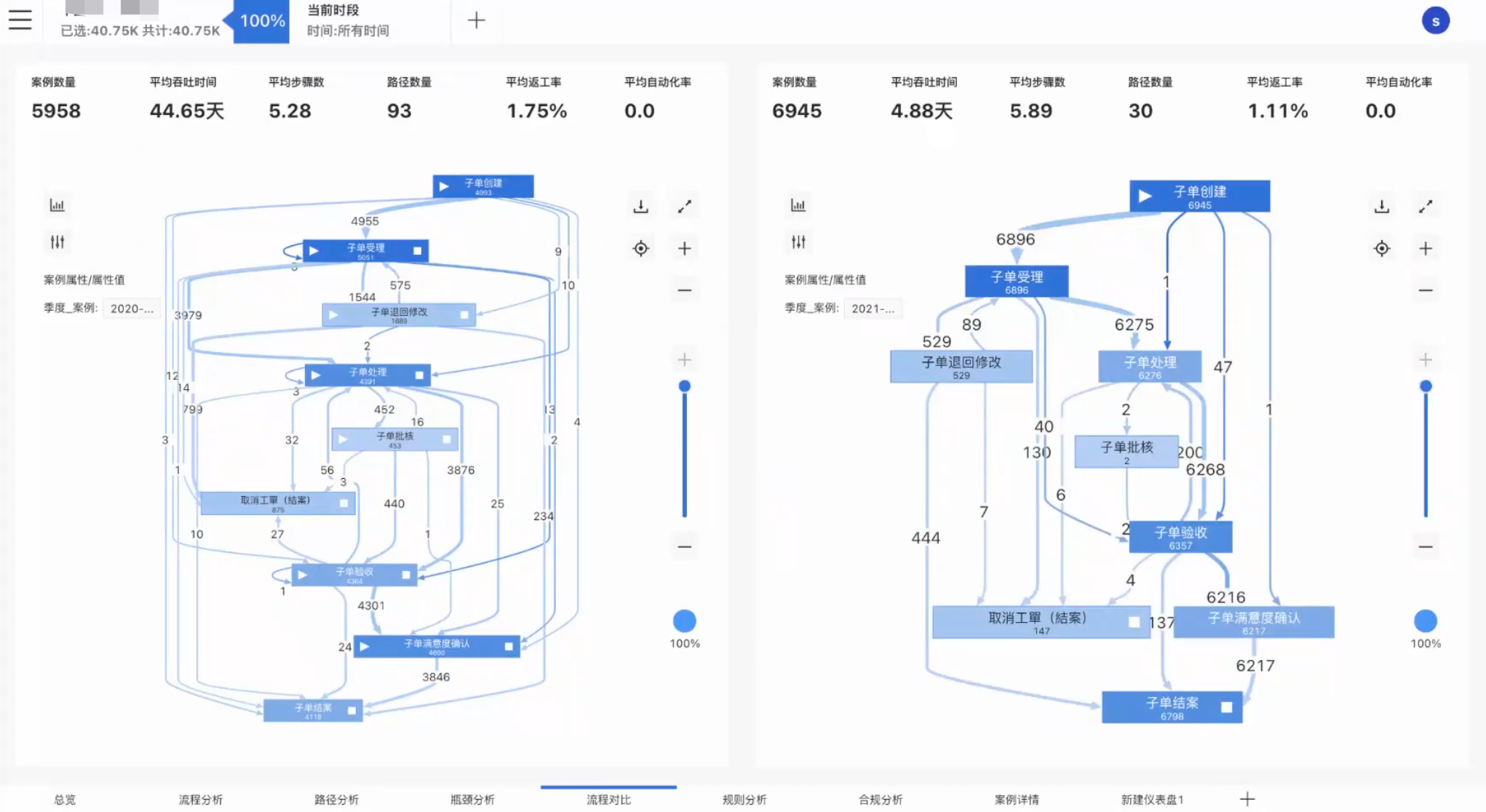 Source: Digital Footprint
According to reports, since the sale began in September last year, Wangfanxin has earned tens of millions of yuan. For enterprises, Wangfanxin implements the method of charging according to the amount of data. According to the different amount of data of the enterprise, one customer is one price. Currently, the price per customer ranges from 300,000 to 3.5 million.
On the team, CEO Suo Qiang graduated with a master's degree from the University of Hannover in Germany. He is the former head of UiPath's Asia-Pacific process mining and an early member of ProcessGold. He has led the development and delivery of multiple process mining projects in more than a dozen countries on four continents; CTO Li Jinfeng graduated with a Ph.D. from the Technical University of Troyes, France, and is the former head of IBM Research Big Data and IBM's enterprise-level big data landing head; COO Yu Tianyu graduated with a master's degree from Brown University and an MBA from John Wales University in the United States. SAP and Cisco are senior sales managers. At present, Wangfanxin has a team of 102 people, with R&D personnel accounting for nearly 70%.
According to reports, this round of funds is mainly used for product research and development and market expansion, aiming to allow more enterprises to enjoy this technology by lowering the threshold for the use of process mining products. In the second half of the year, Wangfanxin plans to in-depth cooperation with ecological partners such as process management design experts, consulting companies, and industry experts to jointly create more industry scenario solutions.
Investor's View
Kunlun Capital : Process mining is one of the core tools that can help companies achieve digital transformation. Process mining software scans the workflow of each line of the enterprise like an X-ray machine, quickly, safely and intuitively helping managers understand and solve various operational and process problems. Best Practices for Efficiency. Process mining software development is difficult, and very few companies can actually make good products. Wangfanxin Technology was founded by the most professional process mining team in China, and has accumulated rich development and implementation experience at home and abroad. As an industry pioneer and leader, it has supported many leading enterprise customers in various industries to achieve efficiency and management improvement. Under the tide of digitalization, we are very much looking forward to the team of Fanxin Technology to continue to create more value for customers.
media coverage
36Kr Investment China Network Venture Capital
This article is reprinted from: https://readhub.cn/topic/8hXpaD6ZO1E
This site is for inclusion only, and the copyright belongs to the original author.