Original link: https://www.latepost.com/news/dj_detail?id=1173
In Barcelona in February 2019, at the annual MWC (World Communications Conference), the folding screen became the protagonist of the conference. Both Samsung and Huawei put their folding screen phones in a glass cover, like protecting a piece of art.
The only foldable phone that can be used by people (only for invited media) is from a Chinese startup company, Royole. Royole's booth is just opposite Samsung, and its area is no smaller than Samsung. The year before, Rouyu held the world's first folding screen mobile phone conference before Samsung.
Also this year, a "big tree" with a height of 5 meters and more than 500 flexible screens was erected on the only way to the exit of Shenzhen Bao'an Airport. This installation is called Roushu. Anyone who arrives in Shenzhen can see it, and it is like a business card for Shenzhen, a city of innovation.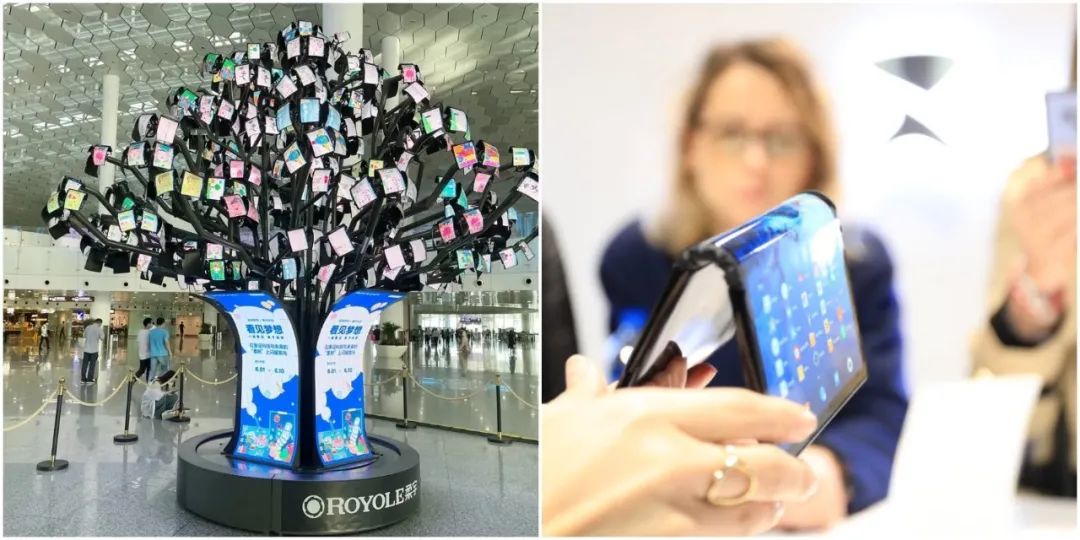 Picture: The picture on the left is Rouyu's soft tree, and the picture on the right is Rouyu's display of the Rouyu folding screen mobile phone at MWC
Royole Technology is a flexible display manufacturer established in 2012. It was co-founded by Tsinghua University and Stanford alumni Liu Zihong, Yu Xiaojun and Wei Peng. It has raised nearly 10 billion yuan in equity plus debt, and its valuation once reached 50 billion yuan.
The flexible screen can be bent and rolled, and the folding screen mobile phone is one of its main application scenarios. In addition, Royole also wants to put the flexible screen on the bag of LV, the back screen of the seat of Airbus aircraft, and the old screen of Luzhou. on the wine bottle in the cellar. At the same time as a mobile terminal and supplier, "Royole wants to build a flexible planet." Liu Zihong said.
Another concept of Royole is independent innovation. Unlike BOE and other manufacturers that follow Samsung's LTPS (low temperature polysilicon, a semiconductor material) flexible screen route, Royole has independently developed ultra-low temperature non-silicon process integration technology (ULT-NSSP).
The founder Liu Zihong has also become a representative of young entrepreneurs, frequently appearing in various forums and activities. In May 2018, Liu Zihong delivered a speech as a representative of science and technology enterprises at the "Symposium to Commemorate the 40th Anniversary of Reform and Opening up and the 60th Anniversary of the China Association for Science and Technology" in the Great Hall of the People. This is Rouyu's highlight.
But doubts also surround Rouyu. The sales volume of Royole's folding screen mobile phones is a mystery, and no downstream mobile phone manufacturers have equipped Royole's screen solutions; whether it is Airbus or LV, these Royole's officially announced customers have never seen anything other than display samples. mass-produced products.
Too advanced technology, products that have not yet been implemented on a large scale, and high financing amount, the industry's doubts about Royole are getting louder and louder.
By 2021, doubts are no longer just doubts, and Rouyu's predicament is exposed: financing, listing unfavorable, delayed wages and supplier payments. In April 2022, Liu Shuwei, an independent director of Royole and a researcher at the China Enterprise Research Center of the Central University of Finance and Economics, posted on Weibo and the official account, calling for "saving Royole".
In the salary group, a Rouyu employee who passed by Bao'an Airport took a photo of Roushu, with the caption "Rouyu is still tall and straight", but Rouyu is no longer the same scenery as when Rouyu "planted" in 2019 unicorn.
10 years of financing over 10 billion
But I don't even have the money to test the yield.
Despite being questioned, Rouyu maintains basic decency. The salary arrears that broke out in the middle of last year exposed Rouyu's real predicament for the first time.
Rouyu's shortage of capital chain is far more than that.
At the end of 2021, the Shenzhen Municipal Government hired a number of professional institutions to conduct an on-site assessment of Royole's fully flexible screen production line to evaluate Royole's technical capabilities and commercial value.
However, according to "LatePost", the Rouyu production line has been suspended before the "November" in 2021. Restarting the production line involves costs such as material procurement and factory operation, and requires millions of yuan of funds. Rouyu even ran this run. There is no money for testing. Liu Zihong and other management came forward to find a sum of money, and then successfully completed the test.
The screen production line needs to run continuously, and it will not be completely shut down unless it is absolutely necessary.
A person close to Royole told "Latepost" that in early April 2021, the General Manager's Office of Royole revealed that Royole had less than 100 million RMB in cash at the time. Before that, Royole had owed some suppliers for half a year to a year. In October 2021, Liu Zihong was restricted from high consumption by the Shenzhen Intermediate People's Court of Guangdong Province due to Rouyu's arrears of the 95 million yuan project payment that had been judged to be paid to Shanghai Baoye Group, and was once listed as a dishonest person to be executed.
The reason why the capital chain is on the verge of breaking is that Royole has poor financing and it is difficult for itself to make blood.
In the primary market, Royole has not announced new financing since its last $300 million Series F financing in May 2020.
Since 2020, Royole has attempted to go public many times without success. At the beginning of 2020, Royole tried to go public in the United States, but then voluntarily canceled the plan; in December 2020, Royole submitted a prospectus to the Science and Technology Innovation Board, but withdrew its listing application three months later.
On November 30, 2021, Liu Zihong once said at the company's all-hands meeting that the company is financing, and it is expected that funds will enter in December, but the promised money has not yet arrived.
According to "LatePost", at the end of last year, Rouyu shareholders did find 300 million yuan of funds for the company, but the other party requested to invest in at a valuation of 10 billion yuan, accounting for 3% of the shares. The target valuation of Royole when it submitted its prospectus to the Science and Technology Innovation Board was 50 billion yuan. The deal ultimately fell through.
After Rouyu's independent director Liu Shuwei issued a document in April this year calling on the outside world to help Rouyu, a foreign investor contacted Liu Shuwei, but she refused. Liu Shuwei told "LatePost" that she believes that Rouyu's technology cannot flow abroad. She said that she wrote articles and posted Weibo without informing Liu Zihong and other Rouyu management in advance, and she did not need to communicate with Rouyu management if she refused overseas investment. The investors she welcomes are "strategic investors with Chinese background and certain industry experience and resources".
At the same time, Rouyu is far from the stage where she can make money by herself.
According to Liu Shuwei's article, since its establishment in 2012, Rouyu's ten years of company operations have brought in 1.717 billion yuan in cash inflows; The revenue was 517 million yuan, mainly from enterprise solutions and consumer solutions, but the cumulative loss was as high as 3.195 billion yuan.
The lack of funds is related to the asset-heavy and long-term characteristics of the panel (screen) industry where Royole is located. Since its establishment, Royole has carried out 9 rounds of financing and obtained equity investment of 6.197 billion yuan; debt financing of 3.653 billion yuan; plus Operating capital flow, the total cash inflow was 11.628 billion yuan.
It seems a lot, but it is not necessarily enough in the screen industry. China's largest screen manufacturer, BOE, since its listing in 2001, has accumulated more than 300 billion yuan in funds through public fundraising, government subsidies, and loans. The total investment of the sixth-generation flexible screen production line in Chengdu, which BOE started to build in 2015, was 22 billion yuan, and the investment in the sixth-generation flexible screen production line in Chongqing, which began in 2018, was 46.5 billion yuan.
Rouyu is not extreme enough when using the already limited funds. In July 2016, Royole's "International Flexible Display Base Project" laid the foundation stone in Pingdi, Shenzhen, with an investment of 11 billion yuan in two phases, exceeding the total financing amount of Royole. Among them, the first phase of the project, which was completed in 2018, cost 6 billion yuan. A screen traveler said that the "6-generation line" is actually a 5.5-generation line. The other two screen manufacturers, Shentianma and Visionox, have invested about 4.5 billion yuan in their 5.5-generation flexible screen production lines, 1/4 less than the first phase of Royole.
In mid-May this year, after a tight capital chain and a year of delayed salary, Royole finally started laying off staff and retire some of the office space. Downsizing was an inevitable choice for Rouyu, but it came too late.
blockbuster
Liu Zihong is a typical elite entrepreneur: in 2000, he won two first prizes in the National Olympic Mathematics, Physics and Chemistry Competition and was recommended to Tsinghua University, but he still chose to take the college entrance examination and was admitted to Tsinghua University Electronic Engineering with the first grade of science in Fuzhou City, Jiangxi Province Department; in 2006, he went to Stanford, USA, under the tutelage of Bao Zhenan, an authoritative expert in the field of flexible electronics, and obtained his doctorate in three years. The theme of his graduation thesis is flexible semiconductor materials.
In May 2012, after working at IBM for 3 years, Liu Zihong invited Yu Xiaojun and Wei Peng, alumni of Tsinghua University and Stanford, to establish Royole Technology in Shenzhen – which means "flexible universe".
Back then, flexible screens were a new technology. The most popular phone of that year, the iPhone 5s, still had an LCD screen. In 2017, Apple used the next-generation screen after LCD, the OLED screen, on the iPhone X for the first time.
The liquid crystal does not emit light by itself, it needs light to illuminate it from behind, the "backlight". Even when displaying black, the LCD backlight is lit, which is like shining a bright light on a translucent black object, the black will appear gray and the color will be distorted. OLEDs use organic light-emitting materials to draw individual pixels, allowing the pixels to "self-illuminate", eliminating the need for a backlight.
The self-luminous feature makes OLED color display better, which is the value of non-flexible OLEDs. At the same time, the OLED screen is no longer limited by the rigidity of the backlight panel, and has the potential to be foldable and bendable. The current flexible screen technology is based on OLED.
At the end of 2013, Royole showed a bendable monochrome flexible panel; in August of the following year, Royole released a color flexible display module through a video, claiming a thickness of only 0.01 mm. In the video, as the hand fanned gently, the screen also swayed, this screen is called "Cicada Wing Screen".
Liu Zihong once said in an interview that on the day of the release, foreign companies bid 300 million US dollars to acquire Royole: "If I sign it, this is an offer that allows me to go to the Maldives to bask in the sun every day."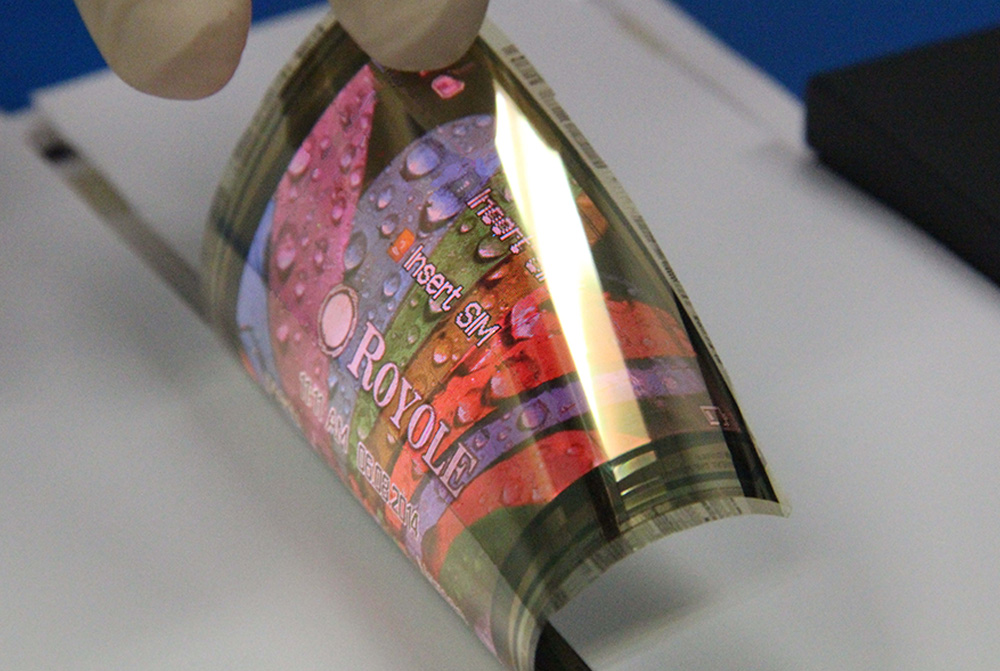 Figure: Rouyu's Cicada Wing Screen
This is the first appearance of Royole flexible screen, and it is also the first time that Royole has received attention from the industry.
However, an employee told "LatePost" that Dr. Esther Lee, who is in charge of the production line of Royole, once emphasized when training employees, "Don't say 0.01 anymore, I never agree to publicize 0.01."
Because 0.01 only refers to the thickness of the unpackaged module, but in the actual product, the screen cannot be used without packaging and other components; the thickness of the display module is not equal to the thickness of the complete screen, which is a vague propaganda.
In Royole's story, the self-developed ultra-low temperature non-silicon process integration technology (ULT-NSSP) is the core. Another technical route for flexible screens is the LTPS route led by Samsung and followed by companies such as BOE. Both routes are based on OLED materials. The difference is that the backplane (the attachment of the OLED) material for the three-line line is low-temperature polysilicon, and the Royole route is amorphous silicon.
In official propaganda and various public speeches by Liu Zihong, Royole has constantly emphasized that its technical route is ahead of Samsung's route in terms of cost, yield, display performance, and reliability, but often refuses to disclose technical details on the grounds of commercial confidentiality .
Caixin has reported that Royole's non-silicon route is actually a variant of IGZO (Indium Gallium Zinc Oxide, an amorphous silicon material). It is used as a material for flexible screens.
It can be said that Royole's technology is original, and its judgment on the direction of flexible screens is also forward-looking. But Rouyu cannot prove that its technology is competitive in commercial products – this requires finding suitable application scenarios and mass production.
Royole has thus entered the second stage of the company's development, seeking mass production on the basis of the developed Demo.
Royole once wanted to be an asset-light company. In an interview with NetEase in 2017, Liu Zihong said that Royole did not want to build its own factory at first, but wanted to package the solution to traditional panel manufacturers with resources and production experience after verifying the core technology and industrialization route.
Panel manufacturers hope that Royole will provide technology and product roadmaps first, and then sign contracts after running through the production line. Rouyu was worried about revealing technical secrets and did not agree. Liu Zihong finally decided to build his own production line, he said: "Some choices are forced out."
A panel industry person commented that whether to build a production line by itself is not a problem worth tangled. The mainstream approach is to design and produce it by yourself. Basically, there is no OEM feasibility. The competitiveness of the panel industry lies in the process and yield of mass production. Product design is also closely related to production.
At the end of 2015, Royole started to build the "world's first 6th generation fully flexible display production line" in Pingdi, Longgang District, Shenzhen. According to the plan, the first phase of the production line can produce 2.8 million 7.8-inch screens per year; after the second phase is put into production, the annual production capacity will increase to about 8.8 million.
From the establishment of the project in November 2015, the start of construction in July 2016, and the start of production in June 2018, it took Rouyu two and a half years to build the first-phase production line. Among them, it took a year from the equipment moving in to the production line lighting up; Visionox's process took only 4 months.
For an inexperienced entrepreneurial team, it is understandable that the speed of production line construction lags behind that of mature companies; but startups can only survive if they run faster.
In October 2017, BOE Chengdu's Gen 6 flexible OLED production line announced mass production, more than half a year earlier than Royole's Gen 5.5 line. In September of the same year, Royole obtained a debt financing of US$570 million, which was the highest round of financing for Royole, but it was a debt and needed to be repaid. As competitors begin mass production, it has become difficult for Royole to make money in the capital market.
A Royole employee commented that it took most of the money raised to build the production line, but it really worked.
However, the production line with huge investment has never been fully loaded. According to the prospectus, the designed production capacity of the Rouyu production line in 2018, 2019 and the first half of 2020 were 117, 467, and 23300 sheets, respectively, but the actual production capacity was only 0.176, 1456, and 12300 sheets, and the capacity utilization rate was 15.1%, 31.2% and 5.3% are seriously idle.
In the evaluation organized by the Shenzhen Municipal Government last year, Royole's evaluation yield rate reached 81.6%. But it's hard to say this is a well-proven yield due to so little volume.
A key proposition that Liu Zihong and Rouyu have never been able to answer is: Where should flexible screens be used? Who is the customer?
deadly swing
For a startup company, swaying the strategic direction will bring risks, but if you choose the wrong direction and persist, it will cause great harm to the company.
Rouyu's commercial exploration has been swaying on two paths. One way is to B, to be a flexible screen supplier, which is the common choice of most panel manufacturers. Downstream customers include consumer electronics, automobiles, and commercial display (such as large-screen advertisements, stage conference screens) solution providers. Among them, the most commercially valuable customers are mobile phone manufacturers who can purchase standardized products on a large scale.
One way is to C, directly making electronic products that use flexible screens, such as making folding screen mobile phones by yourself. There is only Rouyu on this road.
Royole began to try to C electronic products in the early days of its establishment, but the first two products had little to do with the main business of flexible screens.
In 2015, Royole launched a VR headset, which Liu Zihong once said came from "a whim when preparing speech materials at Stanford University". This product is no longer updated after a generation.
The Rouyu to C product is the most sold in 2017, the Rouji notebook. By installing a pressure sensor under the paper, it can synchronize the handwriting on the paper to the mobile app. But this technology has nothing to do with flexible screens.
Around 2017, flexible screens finally waited for an opportunity that seemed to be able to land on a large scale-folding screen mobile phones.
At that time, the growth rate of global smartphone sales was already negative, and various mobile phone manufacturers tried new forms to stimulate demand, and folding screens were one of the directions. So far, all mainstream mobile phone brands except Apple have launched folding screen mobile phones, and the price has also dropped from 20,000 yuan to less than 8,000.
The update frequency of consumer electronics is stable and the demand is large. If it can win major customers, the shipment volume will be guaranteed.
Royole has tried to provide screens to mobile phone companies, but the technical characteristics of Rouyu screens make it difficult to meet the requirements of some mobile phone manufacturers.
A former employee of Royole's related departments told LatePost that a shortcoming of Royole's non-silicon technology route is the low electron mobility (the speed of electrons moving inside the semiconductor), and in order to ensure the efficiency of current passing, transistors are To do it thicker.
This leads to two problems: one is that the black edge of the screen is wider, which is 2-3mm wider than other mobile phone manufacturers; the other is that the PPI (Pixels Per Inch per inch diagonal) is lower, which will make the screen grainy Strong sense.
Until early 2021, Royole is still in contact with mobile phone manufacturers. A person from a domestic mobile phone manufacturer once held a technical communication meeting with Royole. He felt that Royole did not pursue the improvement of craftsmanship, but emphasized that its flexible screen can be placed on many devices. The mobile phone company has since failed to reach a partnership with Royole.
Compared with improving product defects to focus on serving mobile phone customers, Royole chose another path-in 2017, Royole began to develop its own brand of folding screen mobile phones, directly to C.
Whether this is a helpless move by a mobile phone manufacturer after hitting a wall, or an option that Rouyu has long considered, making a mobile phone by yourself is hardly a rational decision.
After about a year of research and development, the first-generation Royole folding screen mobile phone "Roupai" was released in September 2018. At that time, the chances of new brand mobile phones were slim – the head camp composed of Samsung, Apple, Huawei, Xiaomi, OPPO and vivo accounted for nearly 80% of the mobile phone market, and the share of others continued to drop or even disappear.
Royole's ability is to develop and manufacture flexible screens, and the competition in the smartphone market requires comprehensive capabilities such as products, brands, marketing, and channels. Royole has to make up lessons from scratch.
Looking back at the history of the industry, it seems that only Samsung is the only company that is a screen supplier and a mobile terminal. There is a huge gap between Samsung and Royole in terms of capital and technology.
Samsung Electronics, which makes mobile phones, and Samsung Display, which makes screens, are more like two independent companies than two divisions of a group. Samsung Electronics will purchase screens from other companies, and it has also developed its own foldable glass to reduce costs to bypass Samsung Display. To be more precise, as of now, no company has been able to do both at the same time.
An employee asked management why they made cellphones during orientation. An executive replied, firstly, investors hope that Royole can make visible products faster, because flexible screens are new and need to do product proofing; secondly, the team thinks that it is not difficult to make mobile phones, and it takes some time and resources to do so.
Rouyu's mobile phone department is the Mobile Terminal Business Group (MDBG), and the general manager is Du Jianping, who was previously responsible for mobile phone product planning at ZTE. Royole MDBG had just over 300 employees at its largest scale. Compared with any second-tier mobile phone manufacturer, the number of employees exceeded 1,000.
At a fan meeting in 2021, some users reported some problems in the use of Flexo mobile phones, such as screen smear when sliding. Rouyu executives who attended the meeting replied, "Don't Huawei have this problem too?", but an employee said that Huawei's smear is actually not as obvious as Rouyu's. At that time, Royole replied to users that many problems could be solved, but they could not be solved due to various reasons such as "feeling unnecessary" or "not having enough funds". He believed that this was not the thinking of mobile phone research and development. "Other companies are pursuing the ultimate. , if you have so many difficulties, do you have no such strength at all?"
At that time, there were two types of folding screens: inner folding and outer folding. Royole chose the outer folding, which sacrificed durability. A person close to Royole said that this is because the inner folding requires a non-flexible outer screen, and Liu Zihong felt that purchasing screens from other companies was "losing face". The folding screen mobile phones launched by other brands almost all choose the more practical inner folding.
In terms of release rhythm, in order to become the "world's first flexible screen mobile phone", Royole held a product launch conference in October 2018, and leaked ahead of time the new processor that Qualcomm planned to release at the end of the year, resulting in Royole's failure to obtain the first batch of supply . Released earlier Flexi mobile phones, and the actual delivery time was later than that of Huawei and Samsung released at the beginning of the second year.
In order to sell mobile phones, Rouyu has opened offline stores since 2016. In November of that year, Royole opened its first flagship experience store in Beijing Sanlitun Tongying Center. By the beginning of 2021, Royole has laid 326 offline retail stores/channels across the country, most of which are concentrated in first- and second-tier cities, only Shanghai. There are 24 in Shenzhen and 19 in Shenzhen. Softpai also cooperates with channel dealers such as Shundian to sell as an agent. However, when "Qingliu Lab" visited Shundian, the clerk said that because Royole's first-generation mobile phones were "not easy to sell", Shundian had withdrawn all of them from the factory.
At present, Royole's official website shows that 19 offline stores are still in operation, of which 8 are in Hebei and 2 are in Lhasa. The offline stores in Beijing and Rouyu's base in Shenzhen have all been closed, including Rouyu's only directly-operated store in Shenzhen Bao'an Airport.
The advantage of not many Flexi phones is that they are cheaper. The FlexPai 1 released in 2018 is priced at 8,999 yuan, which is more than half cheaper than its competitors. The FlexPai 2 released in 2020 is priced at 9,998 yuan, which is several thousand yuan cheaper than its competitors. "If you want to try out the folding screen, you can try Royole," he said. However, consumers who are willing to try folding screens are often insensitive to price, and consumers who pursue cost-effectiveness tend to choose stable models.
After Rouyu's 9 rounds of financing, except for the first two consecutive rounds by Shenzhen Venture Capital and Songhe Capital, no investor has invested in more than two rounds. Royole always needs bigger and newer stories to attract new investors. Making a terminal by yourself is also one of the stories that attracts investors, but Rouyu underestimated the difficulty of making and selling a mobile phone well.
Building the terminal by itself also makes Royole stand on the opposite side of the mobile phone manufacturer, the original potential customer of Royole. In January 2019, Xiaomi President Lin Bin announced on Weibo that Xiaomi had made "the world's first folding screen mobile phone". Fan Jun, the then vice president of Royole, immediately posted a long article in the circle of friends, pointing out that the first folding screen came from Royole , accusing Xiaomi of lying and having problems with his values. Liu Zihong also shouted, "People don't offend me, I don't offend others. If anyone offends me, they will be punished even if they are far away."
Companies such as Xiaomi and Huawei that were supposed to be customers of Royole have all become competitors in the prospectus.
How many Rouyu mobile phones have been sold? An employee of the Royole mobile terminal business group told LatePost that even within the department, the specific sales figures are confidential information. When potential customers want to know sales to assess whether to cooperate, the relevant staff can not provide accurate figures.
According to the prospectus, in the first half of 2020, the average unit price of Flexi mobile phones was 5,985 yuan. In the same period, its consumer product revenue was 88 million yuan. In 2018, when no mobile phone was released, Rouyu's consumer products also had 48 million revenue, mainly from Rou Ji. Excluding this part of the rough calculation, the cumulative sales volume of its mobile phones does not exceed 15,000 units. This is close to the vague data that "LatePost" got from Royole employees – 10,000 to 20,000 units. Hammer Technology also sold a total of 2 million mobile phones.
In an interview with Nikkei News during MWC in 2019, Liu Zihong said that the soft pie will be sold to Japan, and the sales volume will reach 1 million within the year. However, in 2019, all brands of folding screen mobile phones, including Samsung, only sold 500,000 units.
"Qingliu Lab" has reported that Rouyu Technology will begin to deal with unsold mobile phone inventory in the second half of 2020. A batch of Roupai 1 mobile phones flowing into Huaqiangbei will be priced from 8,999 yuan to more than 3,000 yuan.
The Royole terminal team also lost its leader. At the end of 2021, Royole announced that Du Jianping was fired for violating company regulations.
Among the layoffs launched in May 2022, the proportion of layoffs in the mobile terminal business group that makes mobile phones will reach 50%. An employee of the department told "LatePost" that when Rouyu announced its "holiday" in April last year, they were also the department that received the first notice and had the largest number of people on vacation.
At this time, Rouyu has lost the advantage in the swing between to B and to C.
In 2019, BOE became Huawei's folding screen mobile phone supplier, and then successively supplied brands such as Honor, OPPO, and vivo; in 2021, Huaxing Optoelectronics, a subsidiary of TCL Group, began to exclusively supply Xiaomi MIX Fold. Last year, Visionox's folding screen also found a customer – Huawei's vertical folding mobile phone P50 Pocket.
This detour in making mobile phones is a microcosm of Rouyu's development. In order to tell the story, they can only put resources in the direction destined to lose money, which makes them drift away from the healthy development of stable financing and self-hematopoiesis.
Slow Transformation and Late Self-Saving
Failing to become a supplier of folding screen mobile phones, the sales of mobile phones produced by itself are dismal, Rouyu needs to save itself.
In May 2021, Zhao Hong, former vice president of Lenovo Group, joined Royole as COO, responsible for strategy, core business integration and operations management. According to "LatePost", Zhao Hong is trying to push Royole to cut off the to C business and transform into a pure screen supplier. In the panel industry surrounded by giants, this road is difficult, but it is better than swinging between two roads.
Rouyu's transformation was not decisive. A Royole person told "LatePost" that after mid-2021, the management has discussed the transformation to B in a small range, and Royole has also expanded some to B customers. However, the company did not announce strategic changes internally, nor did it make corresponding organizational and personnel adjustments soon. This reflects management's hesitation.
A Royole employee told "LatePost" that the to B projects that Royole advertised to the outside world were basically memorandums of strategic cooperation, not formal contracts. The cooperation between Airbus and Royole does have an order contract, but the flexible screen purchased by Airbus is installed on the new model, not the existing model, and the progress is slow.
In the commercial display market such as conferences and events, flexible screens are 8-10 times more expensive than traditional LCD and LED screens. The flexible conference table cards that Royole often promotes can also be made with liquid crystals. A staff member of a company that makes large-scale event LED screens once told Royole employees that if Royole's screens are used, cost and logistics will be problems. "It can be solved perfectly with LED splicing screen, why use your solution?"
After Zhao Hong joined Rouyu, he promoted several to B businesses. He resumed his partnership with luxury phone brand Vertu. In the first quarter of 2021, Rouyu reached an OEM (ie foundry) cooperation with Vertu, and put the Vertu trademark on the Roupai 2 for sale. No further progress was made, and Jingdong's sales were displayed as 0.
Another business promoted by Zhao Hong is a large order of 600 million yuan announced by Royole at the end of last year. This cooperation is to supply repair screen modules to Huaqiangbei, not to mobile phone manufacturers. Because the Rouyu production line was unable to operate normally, the cooperation did not progress smoothly.
Royole's latest big order came from Shenzhen Zhongzhiwei An. In January this year, Royole said that Zhongzhi Guard will purchase solutions such as flexible displays from Royole in bulk for use in the company's entire line of commercial robot products, with a cumulative purchase amount of about 3 billion yuan for three consecutive years starting from 2022.
According to "LatePost", the two parties signed only a framework agreement, which is not binding. Assuming that the purchase amount of Zhongzhi Wei'an is less than 3 billion, or Royole does not have sufficient supply, these actions do not constitute a breach of contract.
A year after the capital chain crisis broke out, Rouyu began to adjust the organizational structure and lay off staff.
At the end of March 2022, Royole established the Group Executive Management Committee and six subsidiaries. At that time, the terminal department, Royole Mobile Terminal Technology Co., Ltd., was still one of the six subsidiaries. A Royole person told "LatePost" that all subsidiaries correspond to the previous departments of Royole, but the names were changed, and there was no substantial change.
In May 2022, Royole, which had been in arrears for more than a year, officially started layoffs, involving marketing, sales, solution and product development platforms, and smart mobile terminal divisions.
Royole has also given raises to employees in the Advanced Technology R&D and Production Platform (ATP) department. ATP is mainly responsible for the R&D and production of flexible screens, corresponding to its business of supplying flexible screens to other customers.
Rouyu management has not yet announced a clear transformation direction, but while layoffs and salary increases show that Rouyu is turning to a B screen supplier. It's just that this action came too late.
Rouyu's swaying line and hesitation in transformation may be related to the founder's ambition.
Liu Zihong once said that he hopes to "bend the world" and let flexible screens land in all walks of life. In 2020, when Liu Zihong organized a factory visit, he said that Royole is not a pure screen manufacturer, but a comprehensive solution provider that goes hand in hand.
Rouyu always needs a bigger story. Screen manufacturers will not have a high market value. BOE's current price-to-book ratio is only 1.12 times. If this logic is followed, Rouyu's valuation will be greatly discounted. A Royole employee commented that Zhao Hong's idea is that we have a production line that can produce, no matter who we sell to, even if it is repairing the screen, as long as we can make money: "But before Zhao Hong, no one in the company thought about this direction, and they all felt that we It is a very good company that wants to change the world and replace all walks of life."
Rouyu does not have a No. 2 figure, and founder Liu Zihong firmly holds the control of the company. The prospectus shows that Liu Zihong holds 38.6% of the shares and has 71.56% of the voting rights. The two co-founders Yu Xiaojun and Wei Peng have far less voting rights than Liu Zihong. These two also tend to follow Liu Zihong when making decisions.
"Ask Liu Bo" and "listen to what Liu Bo has to say" are common expressions that employees hear.
Liu Shuwei told "LatePost" that Royole's biggest problem is "from 1 to N". It has technology, but it is not good at developing the market. Royole needs to recruit experienced executives to promote commercialization. The ideal candidate should understand technology, have rich experience in company management and operation, and should not be too old. "Have a common language with the Rouyu team."
At the end of 2021, COO Zhao Hong left in a hurry, only half a year before he joined Royole.
Difficult to succeed in the beginning
In the past ten years, several screen companies rising in China have their own successful paths.
One is BOE, which has sufficient financial guarantees. It has devoted itself to the mature market of LCD screens. Through high investment, it has built factories and increased its share step by step. At present, it has become the largest manufacturer of LCD screens in the world.
One is Huaxing's upstream and downstream cooperation route. Huaxing is a subsidiary of TCL Group. TCL TV purchased its screens in the early days of Huaxing, and did not worry about demand.
The third is Visionox's pragmatic entrepreneurial route. Visionox is also a typical scientist entrepreneurship. Its predecessor was the OLED project team of Tsinghua University in 1996. When it was established in 2000, OLED made by Visionox was also an advanced technology, but it had a definite market. Visionox started with mid-to-low-end products, namely monochrome PMOLEDs, and supplied them to manufacturers of electronic watches and calculators. It later transitioned to color AMOLED and has now become one of Huawei's flexible screen suppliers.
Royole's situation is closest to Visionox, but there are important differences: Royole is not only new in technology, but also in demand – where can flexible screens be used on a large scale? The industry as a whole has yet to answer. At present, the main usage scenarios of flexible screens are still only folding screen mobile phones, but their proportion in the entire mobile phone market is still very low.
In the whole year of 2021, the shipment of folding screens will reach 9 million units, of which Samsung accounts for nearly 90%, but it uses its own screen. The remaining more than 1 million units were eaten by many players such as BOE, Huaxing, Shentianma, Visionox and so on.
An industry analyst commented that five years ago, when BOE's sixth-generation flexible production line was put into production in 2017, he believed that Rouyu was doomed to fail.
In five years, Rouyu has gone from being high-profile to struggling. According to "LatePost", Royole has recently contacted a local government and originally planned to hold a signing ceremony at the end of May, but the follow-up progress was not smooth.
After shrinking the scale, Rouyu seems to be back on a more focused path. But lost time and missed opportunities are irreparable. An industry insider once commented that if Rouyu concentrated its resources to do things seriously, it should not be like this now.
But there is no if in the business world.
This article is reprinted from: https://www.latepost.com/news/dj_detail?id=1173
This site is for inclusion only, and the copyright belongs to the original author.