Shell goes public, employees are laid off
According to the news obtained by "Waidian Finance", Shell has started layoffs in all business lines, production and research, operations, and middle and back offices.
People familiar with the incident were reluctant to disclose the number of layoffs, but said that the proportion of layoffs far exceeded the 10% layoffs in the round of layoffs in March this year, regardless of the company as a whole or at each business level. Disengaged employees will receive N+1 compensation. The layoffs are expected to be completed by the end of May or early June.
The layoffs are top-down and not just for rank-and-file workers, the person said. Before the "May Day", relevant functional departments have been notified to take stock of the salary options of employees above certain levels and calculate their layoff compensation costs.
Since the establishment of Shell, there have been two major recruitments, namely the transformation from Lianjia to Shell in 2018-2019, and the recruitment in the first half of 2021. However, the exact size of the two recruitments is unknown. Shell optimized more than 64,000 brokers and 2,000 headquarter employees in the second half of 2021. According to the company's annual report data, at the end of 2020, Shell had a total of 119,658 employees. A year later it was reduced to 110,082.
A number of first-line brokers said that the epidemic had a great impact on Shell's business. Shell Shanghai has more than 30,000 brokers, and the number of transactions in March was less than 100 sets. The national business is currently supported by Beijing Lianjia, and other areas are not optimistic. .
Catching up with the listing on the Hong Kong Stock Exchange on May 11, Shell, which was in a silent period, did not publicly respond to the layoff incident.
According to Shell's prediction two months ago, the transaction volume of second-hand and new houses has reached the bottom of this round of industry adjustment, and market confidence will recover quickly after the bottom is reached.
Events did not go according to the script. In the first three months, the national sales of commercial housing was about 2.96 trillion yuan, a year-on-year decrease of 22.7%, and the sales area was about 310 million square meters, a year-on-year decrease of 13.8%, and the decline further expanded.
During the period, many places issued policies to relax restrictions on real estate. While adhering to the positioning of "housing, not speculating," the state supported local governments to improve real estate policies and meet rigid and improved housing needs based on local conditions. signal of.
The subsequent outbreak disrupted the rhythm of the industry. For example, in Beijing and Shanghai, which account for a large proportion of Shell's income, there is always one of the prospective customers, intermediaries or bank credit managers in many regions who cannot meet in person because of their cooperation with epidemic prevention and control. Against this background, Shell started the second round of layoffs this year.
During the year, the share price of Shell has fallen by nearly 40%, and has fallen by more than 80% since January last year. Last year, although Shell's annual revenue expanded to US$12.6 billion at a growth rate of 14.5%, it had a net loss of US$248 million after deducting one-time gains and losses, turning profits into losses.
iPod ROI, 8800%
Apple announced last night that it would no longer make the iPod, ending a 21-year saga.
The iPod changed the way people listened to music. It's just that people listening to and consuming music today have become the logic of the Internet – like Spotify and QQ Music.
But the iPod's influence has continued to this day — its biggest contribution to the world was to fund Apple and incubate the iPhone.
The iPod was released in October 2001, and soon after the bursting of the Internet bubble, Apple hit a record loss. Several Apple interaction engineers could not wait for the distribution of new Macs, so they assembled a PC to work, and began to secretly develop the technology required for the iPhone in 2003, and released the iPhone in January 2007.
What gave Apple enough cash to build the iPhone was the iPod.
By the end of 2006, Apple had sold 81.68 million iPods and earned $17.4 billion in revenue. And the result: Apple has sold more than $1,548.7 billion in iPhone sales since 2007.
If Jobs were an investor, his investment in the iPod would be equivalent to an 8,800 percent return on investment.
Occasionally, there are venture capital institutions that get such high returns on one or two projects, but there are hardly any projects with such long-term and stable returns under the scale of investment of tens of billions of dollars. Buffett, who is recognized as the best investor, had a personal net worth of $17 billion at the age of 66 and is now more than $100 billion.
The much-discussed cryptocurrency market, Bitcoin has a huge return, but has a market cap of only about $1.5 trillion so far. Musk is now the investor who looks the most promising for a super-high return on his own investment.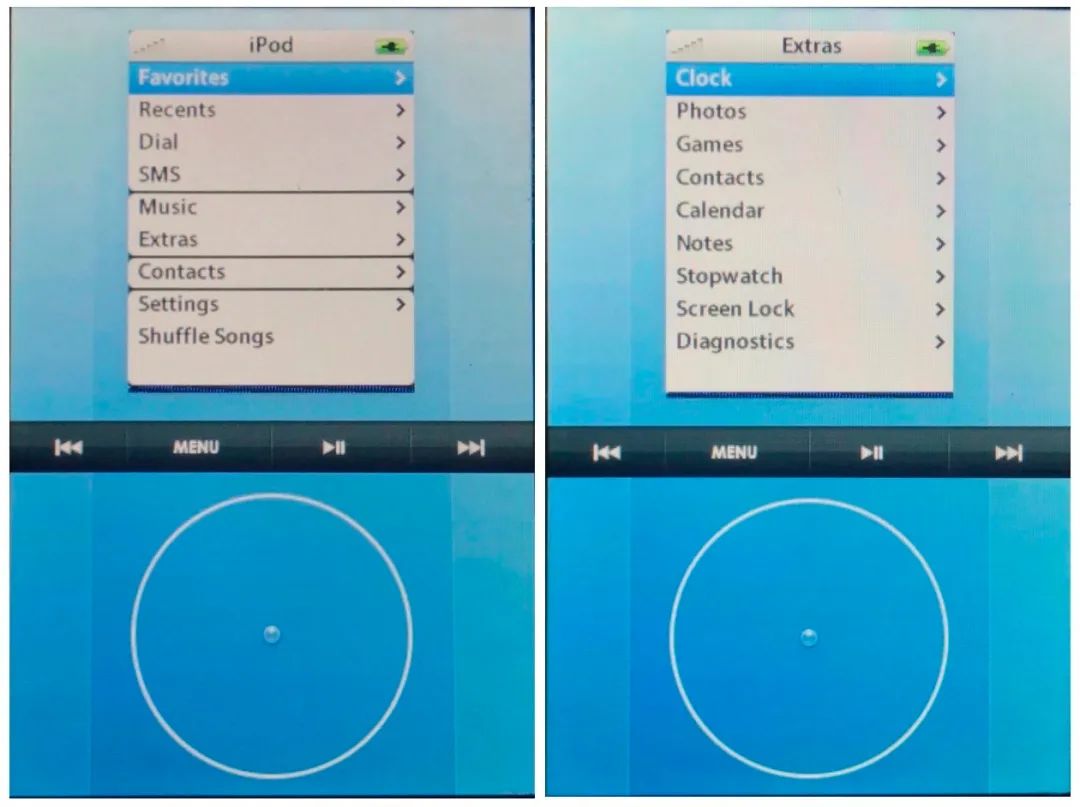 Legend: The leaked iPhone P1 prototype system simulation interface. Image from: the Verge
Fresh vegetable prices up 24% year-on-year in April
According to the National Bureau of Statistics, the price of fresh vegetables rose 24% year-on-year in April. It may be the impact of the epidemic superimposed on the production cycle, but the month-on-month decrease of 3.5% may be due to the improvement in the efficiency of production and sales connection and logistics compared with the previous month. Supply increases, demand remains unchanged, and prices fall.
The prices of fresh fruits and eggs have risen by more than 10% year-on-year and more than 5% month-on-month. Analysts believe that it may be due to the centralized stockpiling of goods to release demand and push up prices.
Affected by international energy prices, transportation fuel prices continued to increase at a high rate, up 28.4% year-on-year in April and 2.7% month-on-month; hydropower fuel prices were more strictly controlled, with prices remaining the same month-on-month and 4.3% year-on-year.
On the whole, the CPI in April increased by 2.1% year-on-year, which was in the stage of an upward trend, but did not significantly deviate from the range of the recent period. Analysts believe that the price of pigs with a high CPI statistical weight still fell by 33.3% year-on-year, and the inflation rate of transportation and service industries remained at a low level, which flattened the increase in most upstream fuel prices.
During the same period, the producer price index (PPI) of industrial producers in April rose by 8% year-on-year and 0.6% month-on-month. The market predicts that due to the impact of energy prices and supply chain disruptions, PPI will remain at a high level in the short term.
Among them, the ex-factory price of production materials increased by 10.3% year-on-year and 0.8% month-on-month, and the living materials (food, clothing, daily necessities, etc.) increased by 1% year-on-year and 0.2% month-on-month. Pass on cost pressures.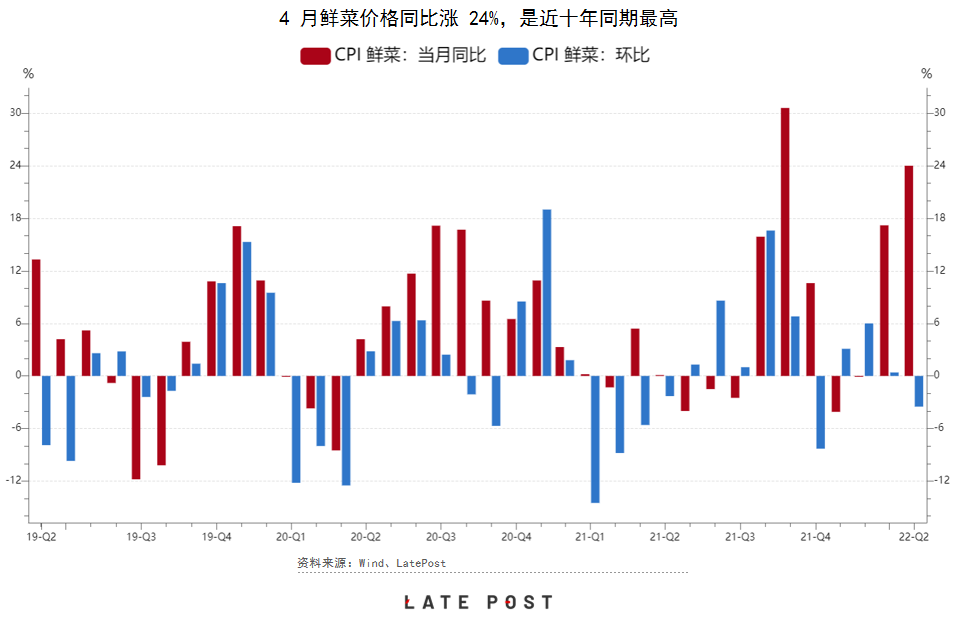 click to view bigger image
The number of online car-hailing orders in April was 40% lower than that of the same period last year
According to data from the Ministry of Transport, in April this year, the national online car-hailing supervision platform received about 476 million orders, a decrease of 11.6% month-on-month and nearly 40% (760 million orders) less than the same period last year.
Among the top 10 online car-hailing platforms in terms of order volume, 8 of them experienced a month-on-month decrease in order volume, and Didi, T3, Meituan Dache, and Ruqi Travel all fell by more than 10%; Piggy +1.4%.
The biggest drop was in Xiangdao, a subsidiary of SAIC Motor, whose orders in April fell by 40.5% month-on-month. Xiangdao travel business is mainly in the Yangtze River Delta region, including Kunshan, Hangzhou, Ningbo, Suzhou, Hefei, Shanghai, etc.
The vehicle compliance rates of 10 major online car-hailing platforms all increased from the previous month. Cao Cao, a subsidiary of Geely, had the largest increase, with a compliance rate of 83.1%, an increase of 5.5 percentage points from the previous month.
Toyota's quarterly profit slips due to yen depreciation and production cuts
Toyota, the world's largest car salesman, saw its revenue from January to March this year increase by 5.5% year-on-year to 8.1 trillion yen (about 420 billion yuan); operating profit was 463.86 billion yen (about 24 billion yuan), down 33% year-on-year. Gross profit margin fell to 5.7%.
Management said that the profit was mainly due to rising raw material costs; in addition, the depreciation of the yen, although stimulating exports, further raised overseas procurement and production costs.
The supply chain is also an issue. Toyota's global production in the first quarter was 2,238,700 units, a year-on-year decrease of 0.6%, and its sales volume was 2,356,500 units, a year-on-year decrease of 4.2%. Sales exceeded production by nearly 120,000 units.
Since the second half of last year, Toyota has lowered its monthly production target several times. In addition to the general shortage of chips, it is also due to the epidemic in Southeast Asian factories and the hacking of local suppliers.
It was announced again this week that due to the impact of the Shanghai epidemic, 14 production lines at 8 Japanese factories will be suspended for 6 days next week, and global production in May will drop from 750,000 to 700,000.
Management expects vehicle sales to increase by 3.8% in the new fiscal year (April 22-March 23), but raw material costs may double YoY, reducing operating profit by another 20% YoY.
Musk: Chinese workers are better than American workers and can work until 3 am
Musk praised Chinese workers at the "The Futeure of the Car" online conference, saying "they stay up late, work until 3 am, and don't even leave the factory," while American workers were the exact opposite, "they don't want to work at all. ".
According to media reports, after the three-week shutdown of Tesla's Shanghai plant, single-shift closed-loop production began in late April. Workers have been staying in the factory, working 6 days a week and 12 hours a day.
Tesla plans to implement two shifts (12 hours a day, one day off a week) at its Shanghai plant starting in mid-May, producing 2,600 electric vehicles a day. Before the epidemic, the Shanghai factory implemented a 24-hour shift system, 7 days a week.
Tesla's Shanghai Gigafactory began production in 2019 and began exporting overseas in October 2020. It has always been Tesla's most productive factory.
In 2021, the Shanghai plant will deliver a total of 484,000 vehicles, accounting for 51% of Tesla's total annual global deliveries, which is close to Tesla's 2020 global deliveries.
CHART OF THE DAY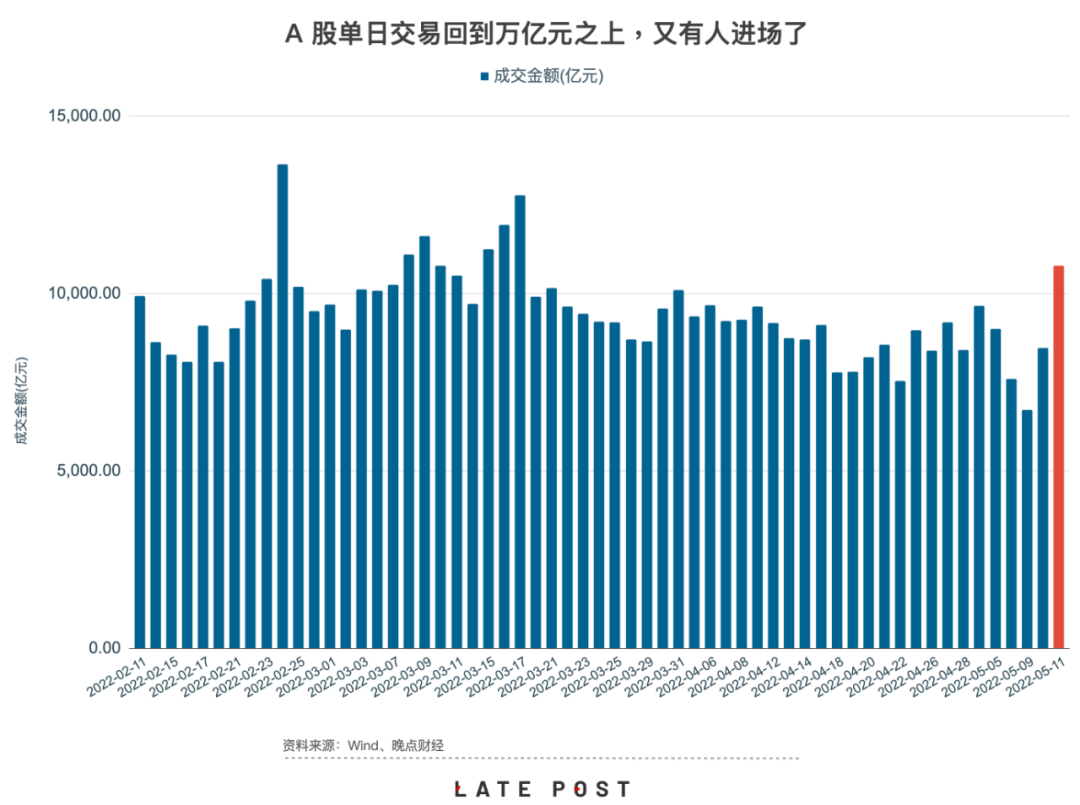 click to view bigger image
OTHER NEWS
The price of Volkswagen's new energy models will increase by 3,000-5,000 yuan.
Volkswagen's official website shows that the price of all models will be increased from now on, among which new energy models (including ID pure electric series, PHEV plug-in hybrid series) will be increased by 3,000-5,000 yuan, and fuel vehicles will be increased by 1,000-3,000 yuan. Car companies began to give price increases at the end of last year. This year, Tesla, BYD, Volkswagen, GAC, Weilai, Xiaopeng, and Ideal have all raised their prices. But as we reported yesterday , even with price increases, the proportion of Chinese consumers choosing new energy vehicles is still high.
Runda Medical launched a self-examination on the "false positive" incident of nucleic acid testing.
Runda Medical responded to the many "false positives" in nucleic acid tests in its laboratories, saying that it has launched an internal self-examination in the laboratory and will cooperate with relevant departments to carry out investigations. The Shanghai Stock Exchange has also issued a regulatory work letter today. Previously, some residents in Shanghai reported that many people in the community were tested positive for the new crown virus by the Zhongke Runda Laboratory under Runda Medical, but all were negative after review by the cabin or hospital. The outside world has thus questioned the accuracy of the agency's testing.
Last year, the national express delivery business volume exceeded 100 billion pieces.
According to a report by the State Post Bureau, the total national express delivery business increased by 29.9% year-on-year to 108.3 billion pieces last year, 200 million pieces less than expected at the beginning of the year. The report predicts that, considering multiple factors such as epidemic prevention and control, demand contraction, and weakening expectations, the growth rate of the express delivery industry this year will remain within a certain reasonable range.
Suntech takes photos of home employees every 5 minutes, and the employees say they are afraid to go to the toilet.
An employee of Suntech, a listed adult education company, said on Maimai that the company requires employees working from home in Beijing to install computer monitoring software and take screenshots every 5 minutes. Another employee said that the surveillance captured faces every 5 minutes, and they dared not go to the toilet. The company responded that this was to ensure employee productivity. The company also said that employees installed the software with informed consent, but if employees reported that they did not take pictures several times, they and their leaders would be deducted. The company said it was soliciting suggestions from employees to try to balance efficiency and employee experience.
Shiseido's first Chinese investment fund has completed the registration, and in addition to investing money, it also provides R&D and production capacity.
According to Tianyancha, yesterday Shiseido's first Chinese investment fund "Ziyue Fund" entity, Xiamen Ziyue Equity Investment Partnership (Limited Partnership), was registered and established with a registered capital of 501 million yuan. Shiseido and Boyu Fund jointly serve as managers of the fund. The fund focuses on emerging brands in frontier markets such as beauty and health and their upstream and downstream industries. The CEO of Shiseido China once said that Shiseido will use the R&D centers and production bases invested in China to support the invested companies of the Fund. Earlier this week, L'Oreal also announced the establishment of China's first investment company, "US Power".
HUGO BOSS will become the most serious dog clothing brand among high-end fashion brands.
HUGO BOSS has announced the launch of dog clothing, accessories, home products and toys, becoming the first high-end fashion brand to offer a full line of dog clothing accessories. HUGO BOSS exclusively licenses the business to Kanine Pets, a company specializing in the production and distribution of pet products. HUGO BOSS said that the dog series will be released twice a year from August this year, and the style echoes the fashion clothing series. HUGO BOSS has proposed a new strategy since last year to rejuvenate the brand and target to double its sales by 2025.
Both Sony and Nintendo expect sales of game consoles to continue to decline, dragging down company profits.
Similar to new energy vehicles, Sony and Nintendo's game consoles are facing strong market demand, but they cannot deliver. Affected by the supply chain, Sony expects to sell 18 million PS5 units a year from April, compared with the original plan of 22.6 million units last year. Sony said the plan may change as the outbreak in Shanghai changes. Rival Nintendo sold 20% fewer Switch consoles in the year ended March compared to the same period last year, and sales are expected to fall by another 9% next year. Affected by this, Nintendo expects net profit to fall by 29% this fiscal year, while Sony, which has a more diversified business, is expected to decline by 6%.
The game "Eldon's Circle" sold 13.4 million copies in more than a month, and the sales explosive force far exceeded that of "The Legend of Zelda".
According to the financial report of Japanese game company Bandai Namco, its open-world game "Elden's Circle" has sold 13.4 million copies as of March 31. The game was only released on February 25th, which means that it created a sales volume of tens of millions in just 35 days. In contrast, Nintendo's "The Legend of Zelda: Breath of the Wild" took a year and a half to reach 10 million sales. It was released in March 2017 and sold 10.28 million copies by September 2018.
Revenue at the second-largest iPhone foundry fell 20 percent in April.
Pegatron's April revenue was NT$75.061 billion (about RMB 17 billion), a year-on-year decrease of 19.3% and a month-on-month decrease of 35%, hitting a new monthly low since March last year. The decline in revenue in April was mainly related to the shutdown of factories in Shanghai and Jiangsu, which affected shipments. Pegatron said that it will accelerate work after the resumption of work in May to meet customer needs.
Panasonic is considering building a new U.S. battery plant for the Tesla Cybertruck.
According to media reports, Panasonic Holdings is considering building a new battery plant in the United States to produce new high-capacity batteries, with plans to start operations in 2024. The goal of the plant is to supply vehicles such as the Tesla Cybertruck to support Panasonic's expansion of high-end models in Europe and the United States. According to data from SNE Research, Panasonic ranks third with a 12% share in the global EV battery market, behind CATL's 33% and LG New Energy's 20%.
Roblox's metaverse "collapsed".
Roblox's first-quarter revenue rose 39% year-on-year to $537 million, missing analysts' expectations of $645 million. Meanwhile, the company's average daily active users (DAU) in the first quarter rose 28% year-on-year to 54.1 million, compared with the 55 million forecast by market research firm StreetAccount. Roblox went public in March last year, and its share price topped $134 in November. The company's closing price fell to $23.19 per share on the 10th as first-quarter revenue fell short of expectations.
The US CPI in April showed that the decline in inflation was less than expected, and the expectation of interest rate hikes strengthened.
Data from the U.S. Bureau of Labor Statistics (BLS) showed that the U.S. CPI in April increased by 8.3% year-on-year, the increase was lower than the previous month (8.5%), but higher than expected (8.1%); the month-on-month increase was 0.3%, and the expected 0.2%; Food, new cars, and air tickets contributed the most, while energy prices fell. As inflation fell less than expected, the market believes that the Fed will not slow down the pace of interest rate hikes.
Shares of Coinbase, the largest U.S. cryptocurrency exchange, have fallen more than 70 percent since March.
Shares of Coinbase fell nearly 15 percent after hours on Tuesday, and have fallen more than 70 percent since late March. Behind it is its first-quarter revenue fell 27% year-on-year to $1.165 billion, which was lower than expected. As global market turmoil dampened investor interest in riskier assets, including cryptocurrencies, the company's monthly trading users fell to 9.2 million in the first quarter from 11.4 million in the fourth quarter of last year, and its total trading volume also fell 43.5% quarter-on-quarter. The company posted a net loss of $430 million, compared with a net profit of $771 million a year earlier.
The most expensive NFT series "Boring Apes" plunged 29% in a week.
According to the statistics of the NFT monitoring platform, the average price of the NFT "Boring Ape" (BAYC), which had the lowest price of RMB 2 million, dropped by 29% within a week, the transaction volume dropped by 21%, and the number of users dropped by 27%. The performance of BAYC in April and before was much better than that of encrypted assets such as Bitcoin, but some analysts believe that once the overall market sentiment deteriorates, such expensive NFTs will fall more than cryptocurrencies. Several crypto asset investors have told us that the investment risk of NFT is much higher than that of cryptocurrencies.
Text | Gong Fangyi Lin Guangying Intern Wang Yuqing Intern Yi Silin
Editor | Gong Fangyi
Shen Fangwei also contributed to this article
This article is reproduced from: https://www.latepost.com/news/dj_detail?id=1134
This site is for inclusion only, and the copyright belongs to the original author.