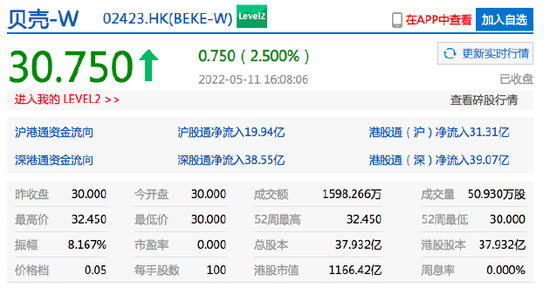 Sina Technology News May 11 afternoon news, shell Zoufang (Hong Kong stock code: 02423) was officially listed in Hong Kong today, becoming the first Chinese concept stock to be dually listed in Hong Kong by "introduction".
Shell Hong Kong stocks closed up more than 2% on the first day of listing, at HK$30.75 per share, with a turnover of about HK$15.983 million and a market value of about HK$116.642 billion.
The company opened at HK$30.954 per share this morning, with a market value of nearly HK$117.6 billion in Hong Kong.
On May 5, Shell announced on the Hong Kong Stock Exchange that it would be listed in Hong Kong by way of introduction. Goldman Sachs , CICC is the joint sponsor. The announcement shows that Zuo Hui holds 23.3% of the shares through Propitious Global controlled by his family trust, Tencent Affiliated entities hold 10.8%, Peng Yongdong holds 4.8%, and a single Gang holds 2.7%.
On the occasion of landing on the Hong Kong Stock Exchange, Shell once again spread the news of "starting a new round of layoffs". According to a report by The Paper yesterday, insiders from Shell House said that this new round of layoffs involves production and research, operations, middle and back offices, etc., and personnel in many departments have been adjusted.
media coverage
i Dark Horse NetEase News TechWeb TechWeb Dynamic Technology Sina Technology CNBeta
event tracking
This article is reprinted from: https://readhub.cn/topic/8fW11746sOj
This site is for inclusion only, and the copyright belongs to the original author.