This article is from WeChat public account: Pinwan Global (ID: pinglobal) , author: zhifang, original title: "Buy with Prime is not allowed, Shopify and Amazon exchange fire for the first time in the DTC battlefield", the header image comes from: Visual China
Shopify doesn't want merchants to use Amazon's Buy with Prime to process orders.
The Marketplace Pulse website recently posted a message from Shopify to merchants: "Your storefront has a code snippet that violates Shopify's Terms of Service. This script makes it impossible for Shopify to protect your store from order fraud, customer data theft, and potentially Resulting in customers being charged the wrong fee."
The HTML code of Buy with Prime can be added to the product template, and Shopify will give a similar warning message when the merchant saves the edited template. The merchant can continue, but it must be clear that Shopify is not responsible for the consequences.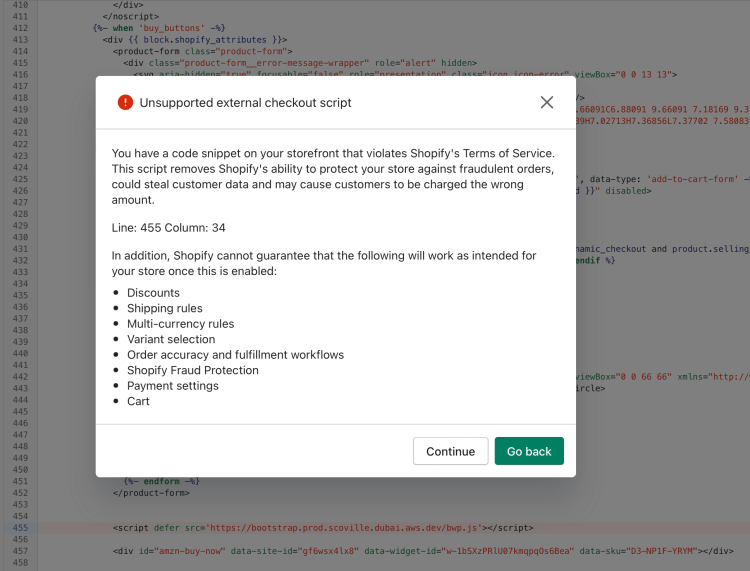 Source: Marketplace Pulse
Buy with Prime was launched by Amazon in April this year. Using this service, Prime members can shop on other e-commerce sites and use their Amazon account to check out, and Amazon will take over the order fulfillment part at the same time.
According to Shopify's terms of service, order processing and checkout should take place on Shopify, which are terms that may be violated by using Buy with Prime. Shopify isn't sitting idly by as Amazon intends to open up the online store market with Buy with Prime.
Buy with Prime, Amazon's DTC ambitions
With Buy with Prime, Amazon aims to serve online stores. For brands that adopt the independent station model, they are separated from the back-end support of the e-commerce platform and need to connect with service providers in many aspects. Contract fulfillment and marketing have always been the strengths of Amazon's e-commerce. Buy with Prime is Amazon's attempt to cut into the ecosystem of independent stations. This service focuses on order payment and contract fulfillment, while taking into account marketing and user growth.
Converting existing Prime members into stand-alone shoppers is a big advantage of Buy with Prime, making it easier and faster for Amazon Prime members to place orders from the online store.
Clicking "Buy with Prime", the user logs in to the Amazon account to check out, and the page will be pre-populated with payment and logistics information. After placing an order, the user will receive an order confirmation email and a shipping confirmation email with a link to track the logistics of the order.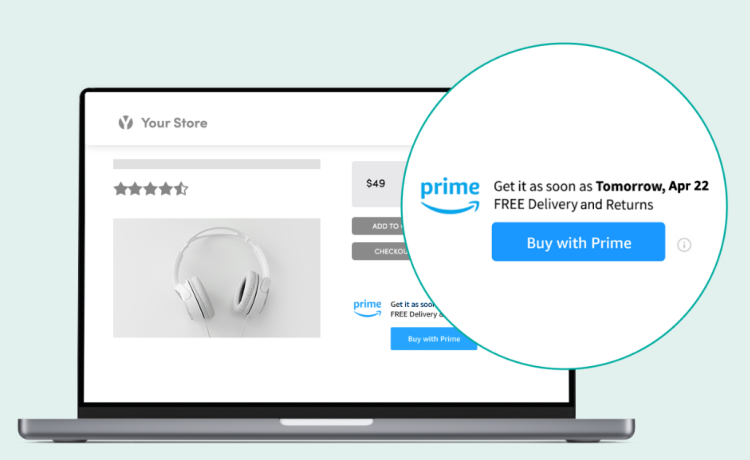 Buy with Prime, source: Amazon
In addition, Buy with Prime has launched a marketing solution that allows merchants to partner with authorized agencies to place display ads on other channels and remarket to Amazon audiences across the web to increase traffic flow. Amazon is also trying to make the Buy with Prime logo and delivery promises a marketing element for online stores. Merchants can prominently display the Buy with Prime logo in marketing materials such as social media accounts and advertising materials in exchange for users' trust and goodwill.
At present, Buy with Prime is still in the invitation system, and interested merchants can contact Amazon. According to Marketplace Pulse, Shopify merchants began testing the Buy with Prime service in June this year. They don't have to ask Shopify for permission, and the HTML code allows Buy with Prime to be added to any online store.
Because Amazon must handle order fulfillment, Buy with Prime is considered more suitable for Amazon FBA sellers expanding into new channels. Needless to say, Amazon's ambitions go beyond serving FBA sellers. There are more online stores using the Buy with Prime service, and consumers' recognition of Buy with Prime will increase accordingly. When the scale of this service is large enough, Buy with Prime can be reused in more e-commerce scenarios.
Shopify wants to keep fulfillment and payments in its hands
Since its development, Shopify has maintained a strong relationship with the DTC brand. Shopify has more than 40,000 partners and more than 8,000 applications in the app store. Shopify has built a complete online store ecosystem. Fulfillment is Amazon's strength, and Shopify has also accelerated in recent years to make up for its shortcomings in terms of fulfillment, so as to stay ahead of the competition with Amazon.
Starting in 2019, Shopify set out to build a network of third-party fulfillment centers, but the focus of that plan has since shifted to building a fulfillment network featuring larger, strategic hub warehouses. Shopify plans to build warehousing centers in key U.S. hubs in 2023 and 2024.
In May of this year, Shopify acquired Deliverr to gain greater and more flexible warehousing capabilities. The latter has dozens of warehouses, five sorting centers and 12 carriers in the U.S., offering one-day and two-day shipping across the U.S. Platforms such as Walmart, eBay, Shopify, Wish can directly access Deliverr. For Amazon sellers, Deliverr also provides FBA Forwarding services. In terms of international logistics, Deliverr supports delivery to more than 220 countries.
Fulfillment by Shopify or a Shopify partner is one reason the Canadian e-commerce company doesn't want merchants to use Buy with Prime, and payments are another.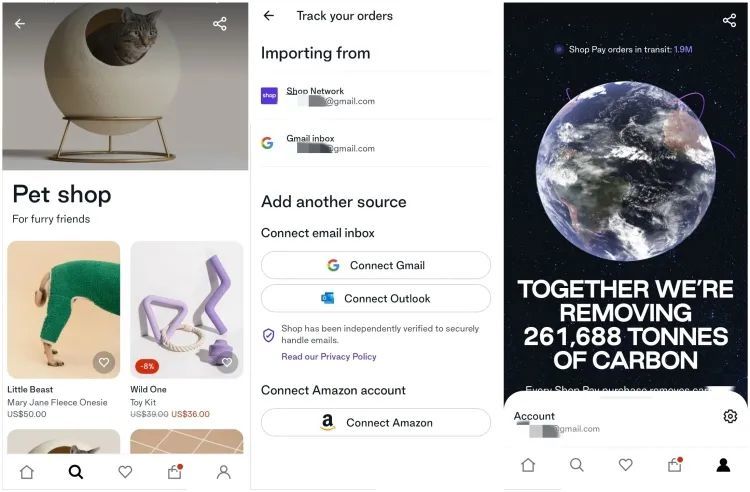 Shop screenshot, source: zhifang
Compared with comprehensive e-commerce platforms, online stores and the DTC brands behind them are more difficult to be discovered and recognized by consumers. The mobile application Shop launched by Shopify attempts to solve this problem. After downloading Shop, users can discover and browse the Shopify store and place an order without leaving the app.
Users who use Shop to shop need to set up Shop Pay for payment. The order tracking page not only displays orders from Shop, but also binds and automatically imports orders from Gmail and Outlook mailboxes, as well as orders from Amazon accounts. From this point of view, Shop's order tracking is somewhat like the service that Cainiao provides for C-end consumers.
Also from North America, the competition between Shopify and Amazon is no longer a struggle between the DTC model and the e-commerce platform model. Both Amazon's Buy with Prime and Shopify's Shop show that when the e-commerce business develops to a certain scale, serving more types of merchants is the only way to continue growth.
In the second quarter of this year, Shopify had a total revenue of $1.3 billion, an operating loss of $190 million, and a net loss of $1.2 billion. Merchant solutions are the largest source of Shopify's operating income. The reduced impact of the epidemic and the return of consumption to offline are one of the reasons for Shopify's loss after expansion. The financial report is not good enough and Shopify, which relies on merchants, will naturally not allow Amazon to easily take a share of the ecosystem it has built. When it comes to Buy with Prime, other e-commerce companies that rely on website building services may also take a similar attitude.
This article comes from WeChat public account: Pinwan Global (ID: pinglobal) , author: zhifang
media coverage
Tiger Sniff Plays the Investment World
event tracking
This article is reprinted from: https://readhub.cn/topic/8j7ov9kqhq9
This site is for inclusion only, and the copyright belongs to the original author.