Original link: https://taiwan.chtsai.org/2023/09/23/taitie_biandang/
How much does it cost to sit down and eat a meal in an environment that is sheltered from the wind and rain, and perhaps air-conditioned, that is filling, nutritious and safe? Even in Taipei City, Taiwan Railway bento can be purchased for less than 100 yuan, with a minimum of 60 yuan. Bridging the urban-rural and class gap is truly the foundation of a harmonious society.
I'm from Kaohsiung, but I travel frequently to various places in Taiwan. If you don't have packed lunches for lectures, meetings, or various itineraries, it would be a huge hassle to find a place to eat by yourself. Especially Taipei. Even if the restaurant is expensive, tastes bad, and you can't get enough to eat, sometimes you can't even get enough to eat. The breeze is like this on the second floor of CNR, and you have to queue for a long time if you want to eat during peak hours.
So I try to eat in the car or at the station. I often eat the bento boxes on the High Speed ​​Rail and Taiwan Railway. I often have two meals a day, including railway bento boxes. All in all, this saves me a lot of trouble and expense in foraging.
If you often buy Taiwan Railway bento boxes, you will know that the 60-yuan bento box must be the first to be sold out every day. It may not be as delicious as the most popular 80 Yuan Spare Ribs Bento, but it may be the best way to have a comfortable meal for only 60 Yuan. Especially in Taipei.
Kaohsiung Station is actually the same. The new station will gradually become a small town like Taipei Main Station. In other words, it becomes a place where people live and where they can come even if they don't take a ride.
The 80-yuan pork rib bento is an excellent balance in all aspects, and as the saying goes, it has the highest CP value. It is also what I eat most often on my way from north to south. Even if you don't take the bus, you will go to the station to buy something to eat.
The difference in price of one hundred yuan or more is usually just in flavor, not much in nutritional value. For example, the rice in the 100-yuan nostalgic spareribs bento is not white rice, but shrimp and rice. I also really like this. The texture is a little richer and less like an ordinary bento, but it only costs 100 yuan.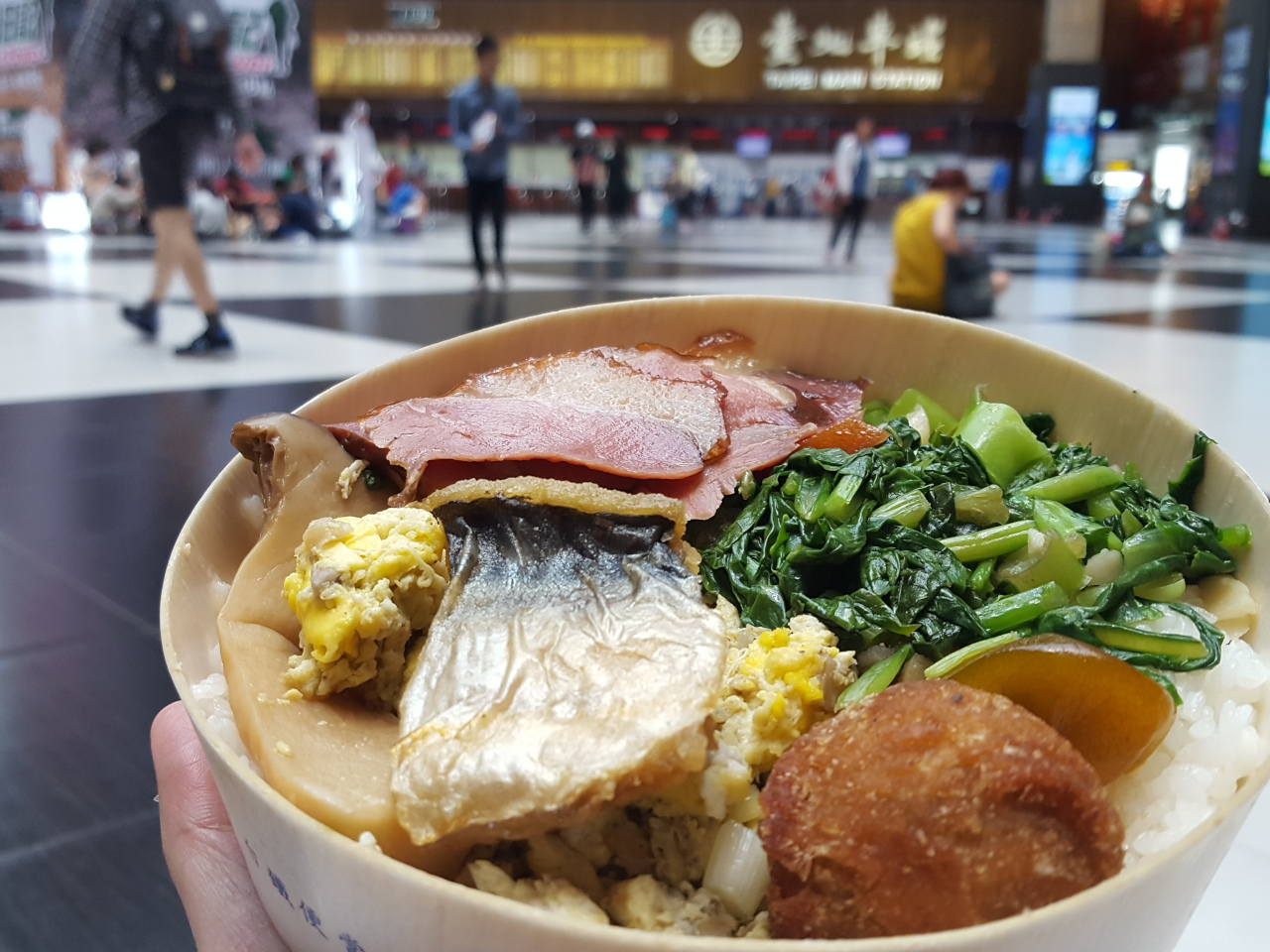 My favorite is the Yilan-style bento made by Taiwan Railway Qidu Restaurant. If you are at Taipei Main Station, it is sold at TRA DreamWorks (not TRA Lunch Shop). But it's super hard to buy. You can probably only buy it once if you patrol a hundred times. Now the price has increased to one hundred and twenty yuan. But it would still be my first choice if I could buy it.
I also often sit on the ground in the CNR lobby and eat lunch. That was a great enjoyment.
I have emphasized before when discussing the issue of the CNR lobby that only Taipei Station in Taiwan allows people to see so many people who are different from themselves. Only the CNR lobby can allow so many different people to sit together without warning. CNR Hall is Taipei's Central Park.
Taiwan Railway's lunch boxes, as well as a place where anyone can eat lunch freely, and of course the most fundamental transportation industry, are all manifestations of Taiwan Railway's core values: secularity, diversity and tolerance. I also hope that after the Taiwan Railway is corporatized, it will not only continue to persevere, but also practice better.
Further reading
This article is reproduced from: https://taiwan.chtsai.org/2023/09/23/taitie_biandang/
This site is for inclusion only, and the copyright belongs to the original author.