36氪 was informed that "Hangzhou Targeted Food Technology Co., Ltd.", which focuses on precision healthy food, recently announced the completion of tens of millions of yuan in pre-A round financing, exclusively invested by industrial capital Tianshuo Network. This round of financing will be mainly used for product research and development and Marketing.
Hangzhou Targeted Food Technology was established in 2021. It is a functional food company focusing on precise health management. In the initial stage, the brand "Dianjun" was incubated with the health correction of high uric acid (gout) as a fulcrum, and it is committed to creating precise management of people with high uric acid. leading brand in the field. At present, the products that Yidianjun has put on the market include compound probiotics and thirteen flavor herbal health tea.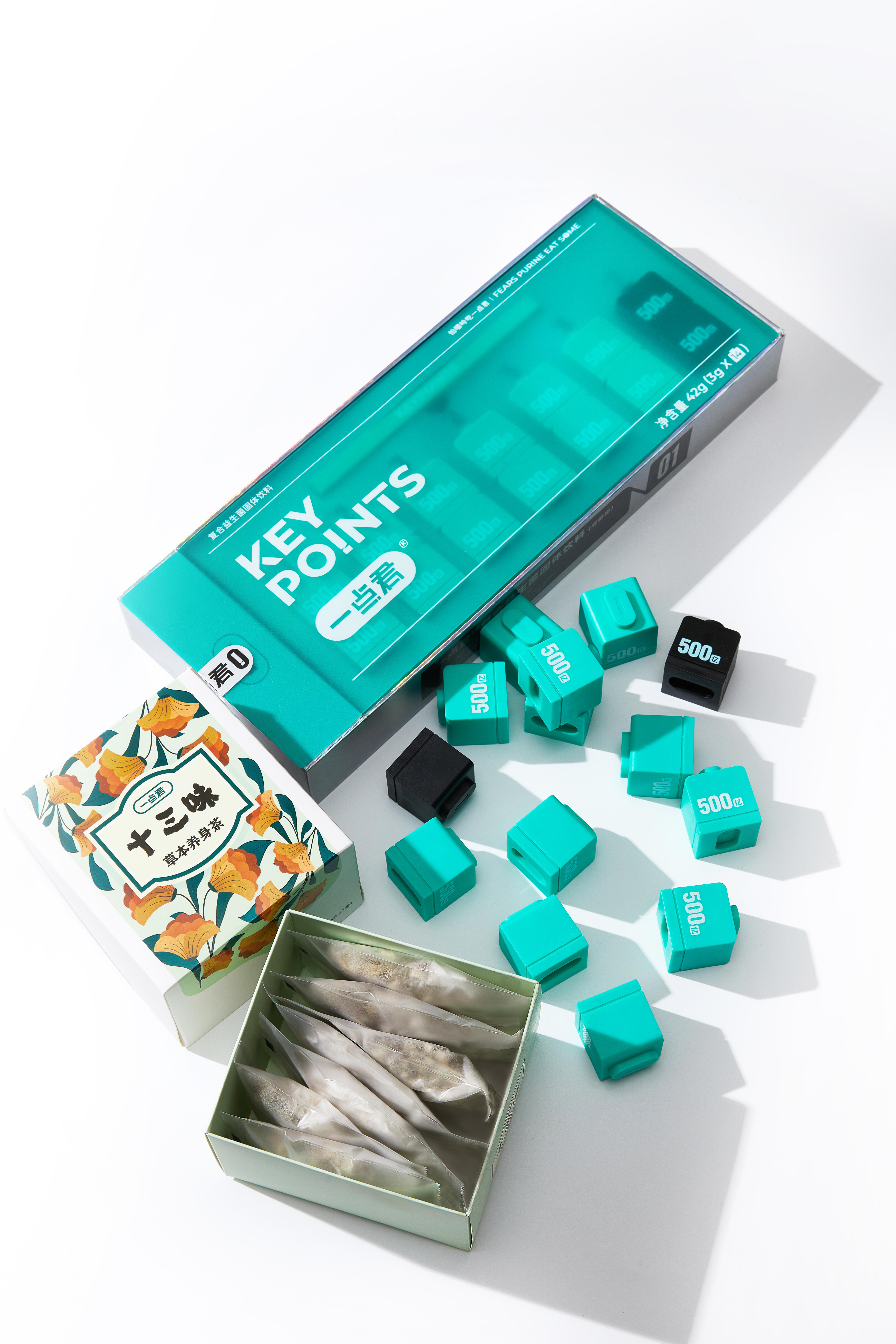 Targeted food brand "Yianjun" products (photo source respondents)
With the increasing attention of young people to health, the functional food track with a scale of 100 billion has also entered the stage of venture capital. In the past two years, around punk health, weight management, sleep improvement and other scenarios, there have emerged in the market There are a variety of probiotics, hyaluronic acid, meal replacement snacks and other products and brands.
The difference is that Yidianjun has pioneered the vertical track of precision health, which is more hard-core, more rigid, and more clearly targeted. The team's first product, "Yianjun Compound Probiotics", is aimed at the "high uric acid". very painful" crowd. The "2021 White Paper on Hyperuricemia and Gout Trends in my country" shows that there are about 177 million hyperuricemia patients in China, and the annual increase is about 10 million, of which 18 million people have gout, and hyperuric acid has become the "fourth highest" after the three highs. However, there are no large-scale brands of uric acid-lowering health products or functional foods.
Wang Hu told 36Kr, "Functional food has been talked about a lot, and everyone has talked about it in a broad sense. Few people have talked about a single point, but now the public's attention to health is unprecedented. We think that the more focused and real the solution is to segmentation Pain points, the easier it is to blow up this market ." In the past, people with high uric acid mostly used drugs to solve the problem, but at the same time they were worried that long-term use would cause pressure on the liver and kidney.
It is worth noting that the trend of younger age of people with high uric acid in my country is very obvious, and the proportion of young patients has been more than half, and it is increasing year by year. At the same time, under the influence of multiple factors such as the awakening of health awareness and consumption upgrades, young people who are more receptive to new things are becoming a new driving force for market growth. During the survey, Yidianjun's team found that many middle-aged people with high uric acid are more busy in family and career, and they neglect to manage gout when they do not have gout. Pay attention and adjust soon. At present, Yidianjun's user portraits are basically consistent with real consumers, most of whom are under the age of 45.
Yidianjun compound probiotic products (photo source respondents)
As with any functional food or health food, the authenticity of efficacy is an eternal topic. Previously, 36 Krypton mentioned in a report that "consumption investment has receded, and the value and demand of some tracks have been re-examined", and functional foods that are frequently questioned as "IQ tax" are such a competition road.
In Wang Hu's view, the return of common sense of the public has just given him a chance to stand out. "Why do people question it, in fact, it is because the evidence-based basis of the product is incomplete." On the product side, Yidianjun will cooperate with professional R&D teams in the corresponding fields around different health management needs. Taking Yidianjun compound probiotics as an example, the R&D team has continuously verified the intervention effect of the product on high uric acid through special animal experiments. At present, it has successfully certified several patents in terms of formulation, design, process and raw materials.
In addition, the team used the perspective of traditional Chinese medicine as a supplement and found that people with high uric acid symptoms are more likely to have a greasy diet and a wet body. Based on this, Yidianjun has also developed and launched a combination product of compound probiotics-Thirteen Flavor Herbal Nourishing Body tea, through the dampness effect to achieve better acid-lowering effect.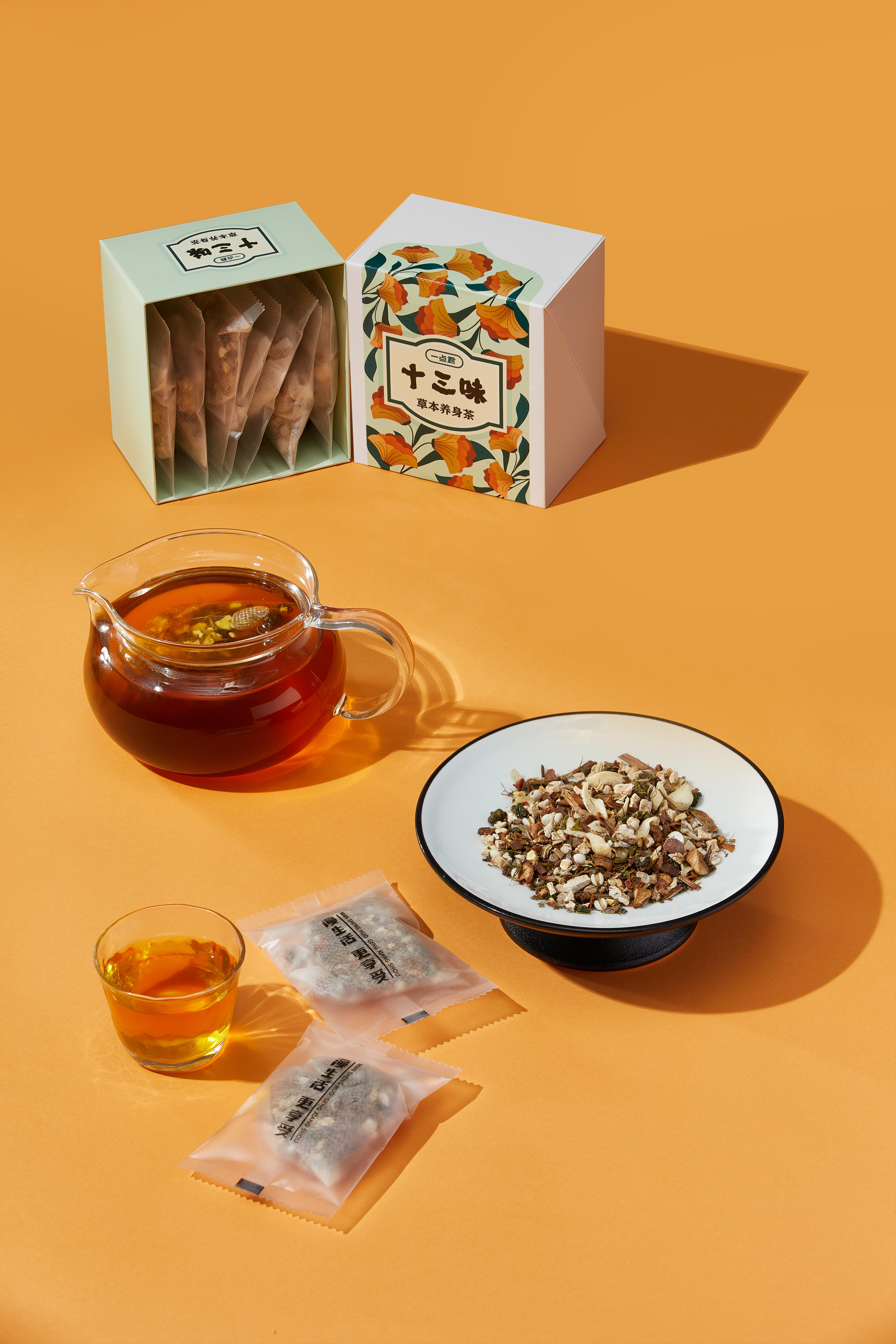 Yidianjun thirteen flavor herbal health tea products (photo source interviewee)
In terms of channels, Yidianjun has both online and offline layouts. Among them, the official and Daren live broadcast rooms are mainly online. At the same time, considering the operational nature of functional food, Yidianjun has also made more ductility in service and experience. , including opening offline experience stores, and providing users with services such as a communication platform and expert Q&A.
In terms of team, the founder Wang Hu is a serial entrepreneur who founded the "Yue Coffee" brand, and is proficient in the transformation of R&D achievements and supply chain integration in the food field. Other core members have extensive experience in precision medicine, brand marketing, media and other fields.
Wang Hu said that in the future, targeted food will continue to develop research and development for various chronic metabolic diseases such as hypertension, hyperlipidemia, and fatty liver.
media coverage
36Kr mustard heap investment community
This article is reprinted from: https://readhub.cn/topic/8iN2ZTA286x
This site is for inclusion only, and the copyright belongs to the original author.