Reporter Wu Yuli
Tesla's full self-driving system FSD raises prices again.
On August 21, local time, Tesla CEO Elon Musk tweeted that the price of Tesla FSD in North America will be increased by 25%. This is the second price increase for the software this year.
Musk wrote that the price of FSD in North America will rise to $15,000 on September 5 after the release of the FSD Beta 10.69.2 system, a beta version of the fully autonomous driving system. For orders placed before September 5, the current price of $12,000 will be executed, but the delivery of the order will be slightly later.
Musk did not mention whether he plans to increase the price of his FSD subscription, which currently costs $199 a month.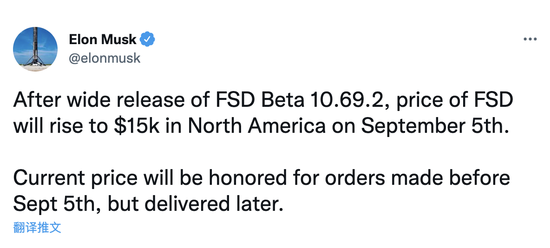 The price hike comes as Tesla has started rolling out FSDbeta 10.69 to users, which Musk calls "a huge step forward."
At present, all Tesla vehicles are equipped with Autopilot as standard, which has functions such as adaptive cruise and lane keeping. On top of this, car owners can choose FSD, which can realize automatic auxiliary lane change, vehicle summoning function, etc. FSD is not installed on the vehicle to achieve fully autonomous driving, but can only be achieved through continuous wireless software updates thereafter, so FSD has been iterating.
During Tesla's second-quarter earnings conference call on July 20, local time, Musk said that Tesla's self-driving test version, FSD Beta, has driven 35 million miles, which is more than any other company combined. .
The price of Tesla's FSD has been rising. In 2018, it sold for $5,000. In 2020, the price rose to $10,000. Earlier this year, Tesla raised the price to $12,000.
Tesla China's official website shows that it currently costs 64,000 yuan to select "full self-driving capability" in the Chinese market. Tesla also said that at present, the function requires active monitoring by the driver, and the vehicle has not yet achieved full autonomous driving.
It is worth noting that Tesla's self-driving assistance system, Autopilot, is being investigated by the National Highway Traffic Safety Administration (NHTSA) and the California Department of Motor Vehicles. Since 2016, NHTSA has opened an investigation into 38 crashes involving Tesla Autopilot that resulted in 19 deaths. Separately, California Motor Vehicle Administration recently accused Tesla of deceptive marketing practices regarding the features of its cars and is conducting a technical review of Tesla's FSD Beta system.
media coverage
IT Home CNBeta Fast Technology NetEase News TechWeb Sina Technology
event tracking
This article is reprinted from: https://readhub.cn/topic/8iFxNeVVA7X
This site is for inclusion only, and the copyright belongs to the original author.