Tesla brews "people", sends a 30-second video, and robot concept stocks gain daily limit
Tesla China's Douyin account released a video about 30 seconds long on June 27, titled "Tesla's "Top Secret" Human Creation Plan."
On June 27th, the concept of A-share robots heated up rapidly, and Meher shares, Green Harmonics, Eston, etc. all hit the daily limit.
Tesla founder Musk said in the video: "Tesla has a talented team, we work closely together, and are expected to launch the Tesla Bot prototype at AI Day at the end of September. And there are many surprises prepared on the day."
On August 19, 2021, at Tesla's 2021 AI Day event, Musk first proposed the concept of Tesla's humanoid robot. Recently, Musk also said that the "Optimus" prototype will be launched at Tesla AI Day on September 30, 2022, and production is expected to start in 2023.
Judging from the currently announced parameters, Optimus is 1.72m tall, weighs 57kg, has a load of 20kg (additional 5kg to the arm), and has a maximum walking speed of 8km/h. Technically, the Optimus body is covered in lightweight materials, with human-level hands, limbs controlled by 40 electromechanical actuators, and feet that sense feedback for balance and agility. Optimus' brain chip may use Tesla's supercomputer chip DOJOD1 with extremely powerful computing power.
According to the analysis of Guosheng Securities Research Report, from the analysis of relevant industry chains, humanoid robots involve the integration of multiple technologies such as automatic driving, visual navigation, and sensor technology, and the mechanical industry chain mainly involves the core components of robots (servo motors, reducers, control systems, drives, etc.), machine vision, etc. (Source: Shanghai Securities News)

U.S. Supreme Court rejects Apple's appeal: after reconciliation with Qualcomm, it has no standing to sue
On June 28, according to foreign media reports, the U.S. Supreme Court rejected a patent appeal by Apple Inc. against Qualcomm, which asked a judge to rule that two of Qualcomm's smartphone patents are invalid, although the potential disputes between the two companies have been resolved.
The Supreme Court judge said that the two sides have reached a settlement, and Apple is not eligible to sue. Apple has argued that Qualcomm can sue again after the settlement.
In 2017, Qualcomm sued Apple in federal court in San Diego, alleging that its iPhone, iPad and Apple Watch infringed on various Qualcomm mobile technology patents. Apple challenged the validity of two of the patents with the U.S. Patent and Trademark Office (PTO) Trademark Trial and Appeal Board (PTAB).
In 2019, the two companies settled, signing a multibillion-dollar agreement that also included licensing of tens of thousands of Qualcomm patents. But the PTAB case continued, and a subsequent ruling in Qualcomm's favor, but Apple appealed to the U.S. Court of Appeals for the Federal Circuit. Apple's appeal was rejected by the Federal Circuit Court of Appeals last year. As a result, Apple appealed the case to the U.S. Supreme Court. (Source: TechWeb)
Microsoft faces tax scrutiny globally, investors demand more transparency
Beijing time on the evening of June 28, according to reports, as it faces increasing tax scrutiny around the world, Microsoft investors have asked Microsoft to release more transparent tax and financial information.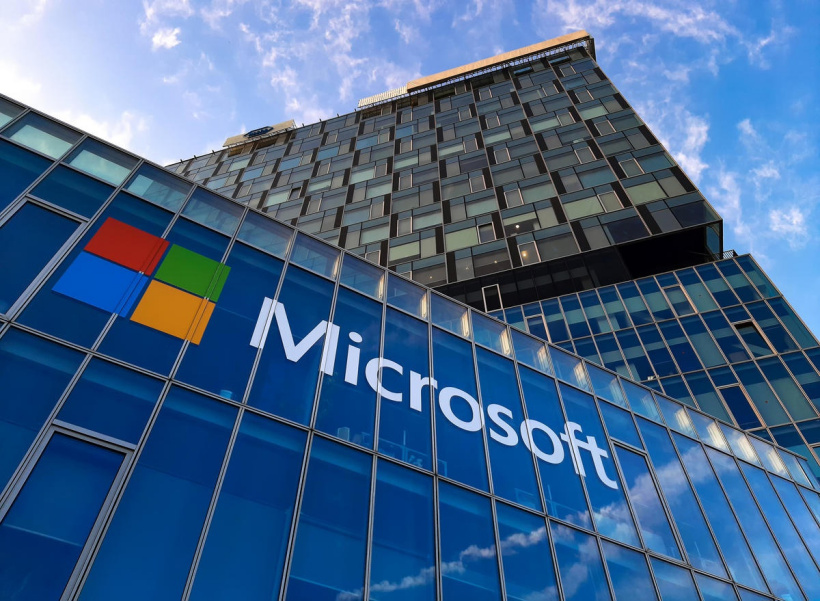 The organizer of the action, the UK-based proxy adviser Pensions and Investment Research Consultants (PIRC), said it had submitted a shareholder resolution on tax transparency to Microsoft ahead of its annual investor meeting.
PIRC said investors including Nordea, Akadhemker Payment and the Greater Manchester Pension Fund (GMPF) supported the resolution.
The resolution calls for Microsoft to disclose financial and tax information on a market-by-market (country basis) basis outside the U.S. so investors can assess whether Microsoft is paying taxes fairly and determine any risks posed by tax reform. (Source: Sina Technology)
Musk's plan to return to the office encounters a real embarrassment: insufficient parking spaces, lack of desks
On June 28, according to foreign media reports, after Tesla CEO Elon Musk (CEO) Elon Musk asked employees who work remotely to return to work, Tesla has not returned to work collectively for employees. The office is prepared for problems including insufficient parking spaces, shortage of desks and weak Wi-Fi signals.
According to foreign media, Musk threatened to fire employees who basically did not come to the office, but Tesla's offices were so crowded with people trying not to be fired that the company ran out of desks.
Foreign media pointed out that since 2019, the number of Tesla employees has doubled to 99,210. Last year, Tesla employed 28,533 people globally, a 40.3% increase compared to 2020, with a large portion of these jobs in Europe and China.
On June 2 this year, Musk said in an email to company executives titled "Global Hiring Pause" that the company needed to "cut about 10% of its workforce" and suspend all Tesla hiring globally. He pointed to excessive hiring and a "super bad feeling" about the economy as the reasons for Tesla's suspension of hiring and layoffs. (Source: TechWeb)

Airbnb announces permanent global ban: ban "party"
Beijing time on the evening of June 28th, according to reports, travel home rental platform Airbnb (Airbnb) today announced a permanent global "party" ban. Two years ago, Airbnb put temporary restrictions on "party".
Airbnb said today that it will permanently ban "disruptive parties and events," including openly invited parties. At the same time, "party houses" (one large event for one night) will also be banned.
Airbnb said today that since the policy was implemented in August 2020, the reported rate of "party" has dropped by 44% year-on-year. Airbnb said in a blog post: "This temporary injunction has proven to be effective, and today it is officially our policy."
Airbnb said guests who try to violate its rules face consequences ranging from account suspensions to complete removal from the platform. More than 6,600 guests have been suspended from Airbnb in 2021 for violating the "party" ban. (Source: Sina Technology)
Li Auto Announces Up to $2 Billion ADS Offering on Nasdaq
On June 28, Li Auto (Nasdaq: LI; HKEX: 2015) announced today that it has filed a prospectus supplement to the Nasdaq Global Select Market (NGSM) through an on-market share offering (ATM offering) , offering up to US$2,000,000,000 of American Depositary Shares (ADS, each equivalent to 2 Class A ordinary shares).
The ADSs will be offered through Goldman Sachs (Asia) Limited, UBS Securities LLC, Barclays Capital Corporation and China International Capital Corporation Hong Kong Securities Limited as sales agents. It is expected that some of these sales agents will sell to investors in the United States and accredited investors outside the United States through their respective sales agents.
Li Auto said it plans to use the net proceeds from this ATM offering to 1) research and develop next-generation electric vehicle technologies, including BEVs, smart cabins, and autonomous driving technologies; 2) develop and manufacture future platforms and models; 3) Working capital needs and general corporate purposes. (Source: Pingwest)
Ma Xiaoyi, Senior Vice President of Tencent: The company has established an XR extended reality business line
"Tencent has also recently established an XR business line that integrates software and hardware, and hopes to seize the opportunities in the next 4-5 years to actively try in software, content, system, tool SDK, hardware and other links to create industry-standard VR products and experiences. "
At the "SPARK2022" Tencent game conference held recently, Ma Xiaoyi, senior vice president of Tencent, said that the company has established an XR extended reality business line. Although there have been multiple reports earlier, this is the first official confirmation.
In addition to confirming the previous rumors, Ma Xiaoyi further stated: Tencent judges that VR will likely remain in the form of a dedicated device in recent years, and most manufacturers will choose to create a software-hardware integrated, vertical, and relatively closed device like Apple. ecology. Therefore, Tencent has also recently established an XR business line that integrates software and hardware, hoping to seize the opportunities in the next 4-5 years to actively try in software, content, system, tool SDK, hardware and other links to create industry benchmark VR products and experience. (Source: Sina Technology)

It is revealed that Apple will launch the iPhone 14 Plus phone, not the iPhone 14 Max
On June 28, according to wccftech reports, it was previously reported that Apple's larger-screen, more affordable iPhone 14 model was called "iPhone 14 Max". But now new news says that Apple may revive the iPhone "Plus" brand and call the upcoming flagship "iPhone 14 Plus".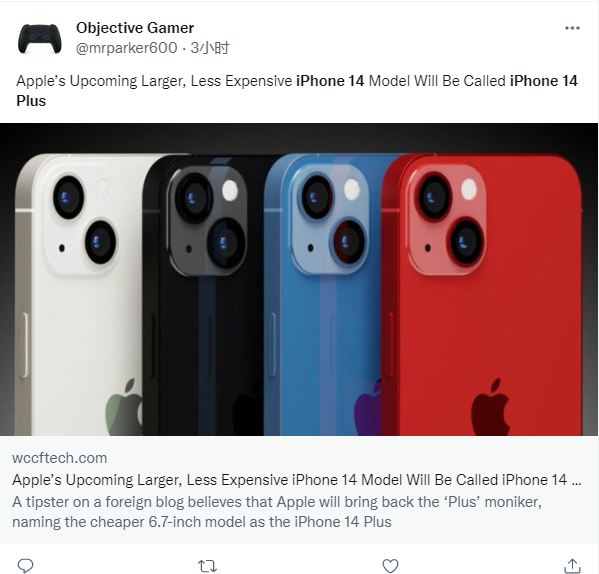 Source: wccftech
On the South Korean website Naver, whistleblower Laznuk claimed that Apple will keep the iPhone 14 Pro naming scheme, while the iPhone 14 Plus will be a cheaper model with a 6.7-inch LTPS OLED screen. The regular 6.1-inch version with dual rear cameras will be named iPhone 14.
Using "iPhone 14 Plus" instead of "iPhone 14 Max" may be a better choice, which will reduce the confusion of Apple consumers. In terms of appearance, the iPhone 14 Pro Max is equipped with three rear cameras, while the iPhone 14 Plus is only equipped with two cameras on the back, so the distinction is quite obvious.
The leaks show that the iPhone 14 Plus will be equipped with the largest battery of all four models in the iPhone 14 series, with a built-in A15 Bionic chip instead of the more advanced A16 Bionic – which is said to be exclusive to the iPhone 14 Pro and iPhone 14 Pro Max chip. (Source: Pingwest)
Apple M2 Pro chip will use 3nm process technology, has booked capacity with TSMC
On June 28, according to foreign media reports, according to the naming method of the previous generation of M-series chips, after the launch of the M2 chip, which was built with the second-generation 5-nanometer process technology and integrated more than 20 billion transistors, on June 9, Apple Inc. Other chips of the M2 series such as M2 Pro and M2 Max will be launched in the future.
The latest reports from foreign media show that the M2 Pro chip that Apple will launch in the future will be built with a more advanced 3nm process technology. It is reported that Apple has booked the production capacity of the 3nm process technology from TSMC for future M2 Pro chips.
As planned, TSMC's 3nm process technology, which began risk trial production in the second half of last year, will be mass-produced in the second half of this year.
As usual, when launching the M2 Pro chip, Apple will also launch new hardware products equipped with this chip. Analysts have previously predicted that the 14-inch and 16-inch MacBook Pros, a high-end Mac mini, will be powered by the M2 Pro chip. (Source: TechWeb)

Johns Hopkins University successfully tests brain-computer interface: manipulating robotic arm to use knife and fork and feed paralyzed people
On June 28, researchers led by Johns Hopkins University developed a new technique that allows a partially paralyzed person to feed himself through a robotic arm connected by a brain-computer interface. The paper is published in Frontiers.
According to reports, the tester only needs to make small movements with his fists under certain prompts (such as "choose the cutting position"), and he can have a robotic arm equipped with a fork and a knife to cut food and deliver it to his mouth. According to the researchers, he can eat dessert in 90 seconds.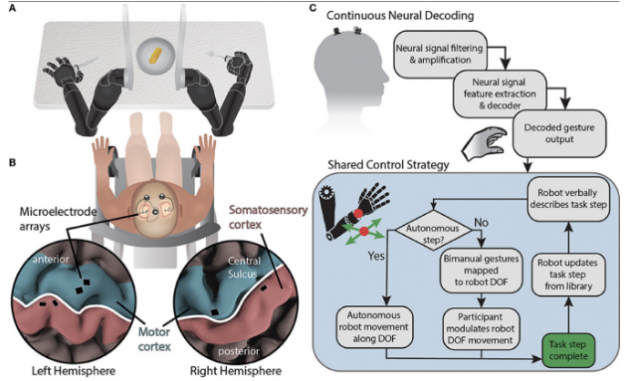 The technology centers on a shared control system that minimizes the amount of mental input required to complete a task. Testers can control the robotic arm by mapping four degrees of freedom (two per hand) to up to 12 degrees of freedom. In addition, the intelligent cue-based response of the limbs also reduces the workload.
The technology is still in its infancy, and researchers hope to add touch-like sensory feedback rather than relying solely on visuals. They also want to improve accuracy and efficiency while reducing the need for visual confirmation. In the long run, we can expect robotic arms to perform complex movements and provide disabled people with more independent living abilities. (Source: IT House)

Youzu Network: The "Three-Body Problem" IP game is expected to come out within 3-5 years, created by Unreal Engine 4
It was reported on June 28 that the adaptation of "Three-Body Problem" has always been the focus of attention of the majority of sci-fi fans. Tencent and Netflix's "Three-Body Problem" online drama has ushered in new progress. At the same time, Youzu Network is also in game adaptation. New news announced.
According to the record of the performance briefing meeting announced by Youzu Network on June 28, the ongoing development of the "Three-Body Problem" series of IP games is expected to be introduced to the market in the next 3-5 years.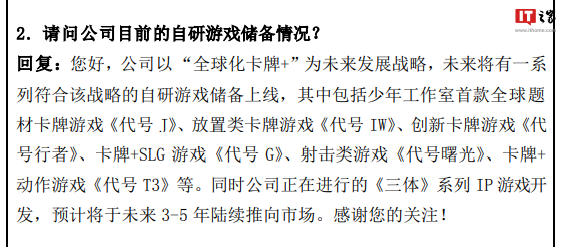 Youzu Network stated on the interactive platform in March 2021 that the "Three-Body Problem" game project has been officially launched, but it is still in the early stage of project establishment, and the company plans to use Unreal Engine 4 to build the product. (Source: IT House)
This article is reproduced from: https://www.geekpark.net/news/304488
This site is for inclusion only, and the copyright belongs to the original author.