Welcome to the WeChat subscription number of "Sina Technology": techsina
Text / Yang Chang
Source/Smart Things (ID:zhidxcom)
In the domestic cloud computing industry, the SaaS (software as a service) track has gradually become the focus of competition. Cloud giant players are gradually adding to this track, such as Alibaba Cloud's "Cloud Nail Integration" strategy and Tencent Cloud's "Thousand Sails Plan". At the same time, domestic SaaS startups have also received financing frequently. According to statistics from Zhixi, nearly 100 SaaS companies have received financing of more than 10 million yuan in the first four months of this year alone.
Compared with the domestic SaaS track, there have been many giant players in the foreign SaaS track, such as the American SaaS pioneer Salesforce. Founded in 1999, Salesforce initially focused on CRM (customer relationship management), and then gradually covered multiple SaaS segments such as finance, taxation, and human resources. The market value of Salesforce has reached a maximum of 308.8 billion US dollars, and it is the target of many domestic SaaS companies.
From going public in 2004 to 2021, Salesforce's annual revenue has grown more than 200 times. However, starting from the end of 2021, Salesforce's share price has fluctuated downwards, and its current market value is $181.558 billion, which has shrunk by more than one-third compared to its market value at the peak. According to its latest financial report data released at the end of May, Salesforce's net profit in the first fiscal quarter of fiscal 2023 (corresponding to February-April 2022 of the calendar year) was $28 million, a year-on-year decrease of 94%.
As a leading player in the foreign SaaS track, Salesforce's development path can provide a certain reference for domestic SaaS companies. So, how has Salesforce developed in recent years? How did you achieve a 200-fold increase in revenue step by step? What challenges does Salesforce face today?
Salesforce's revenue has grown 200 times year over year
According to Salesforce's financial report data over the years, Salesforce's revenue has maintained a growth trend. In fiscal 2004 (February 1, 2003 to January 31, 2004), Salesforce's revenue was $96 million. By fiscal year 2022 (February 1, 2021 to January 31, 2022), the company's revenue has reached $26.492 billion, a more than 200-fold increase.
Salesforce's profitability is less stable than its steadily growing top line. According to the latest earnings data, Salesforce's net profit in its fiscal first quarter of fiscal 2023 was $28 million, a 200% increase from the previous quarter and a 94% decrease from the same period last year. Salesforce returned to profitability after a brief loss in the fiscal fourth quarter of 2022. Before the fourth quarter of fiscal 2022, Salesforce has maintained a positive net profit for seven consecutive quarters. Fluctuations in Salesforce's net profit are related to its more frequent big-ticket acquisitions, such as the signing of its consulting partner and app development company Traction on Demand in late February 2022.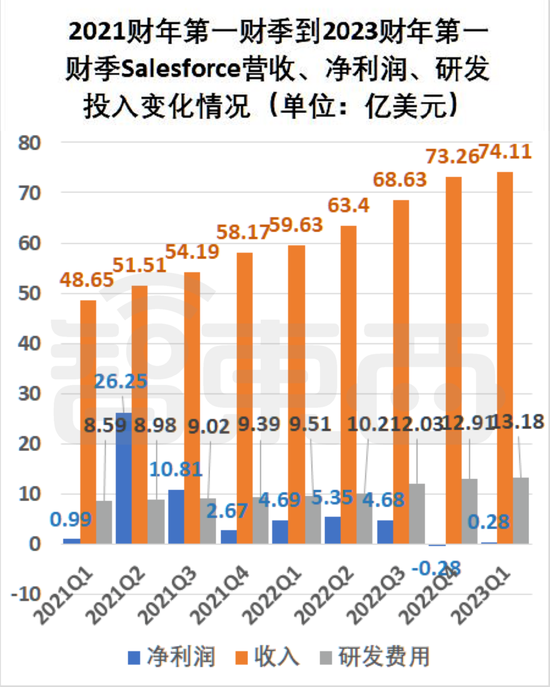 ▲ Changes in Salesforce's revenue, net profit, and net profit not adjusted according to GAAP from the first quarter of fiscal year 2021 to the first quarter of fiscal year 2023
Salesforce's data for the first quarter of fiscal 2023 can represent a subset of Salesforce's latest developments. We also mainly analyze the financial report data of the fiscal quarter. Salesforce's revenue is mainly divided into subscription and support services business segment, professional services and other segments.
In the first quarter of fiscal 2023, Salesforce's subscription and support services business revenue was $6.856 billion, accounting for 92.5% of total revenue; professional services and other business revenue was $555 million.
The cost of revenue for Salesforce's subscription and support services business was $1.44 billion in the quarter, less than the segment's revenue for the quarter, while the professional services and other segment's cost of revenue was $605 million, more than the segment's revenue for the quarter.
Salesforce's subscription and support service revenue can be divided into sales cloud revenue (Sales), service cloud revenue (Service), cloud platform and other revenue (Platform and other), marketing and commerce cloud revenue (Marketing and Commerce), data service revenue (Data) Five types of business income.
In the first quarter of fiscal year 2023, the revenue of these five business categories of Salesforce was $1.632 billion, $1.761 billion, $1.419 billion, $1.089 billion, and $955 million; the year-on-year growth was 20%, 19%, and 58%, respectively. %, 24%, 15%. The cloud platform and other business segment recorded the largest year-over-year revenue growth. Among these five types of business, service cloud accounts for the highest proportion of revenue.
Among them, the revenue of Salesforce cloud platform and other businesses includes Slack subscription and support revenue, while the revenue of data services business is composed of analysis (Analytics) service revenue including Tableau and integrated (Integrated) service revenue including Mulesoft.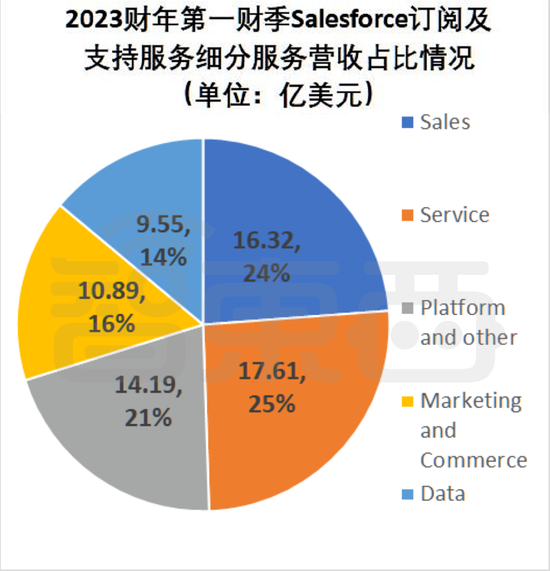 ▲Details of Salesforce subscription and support services revenue in the first quarter of fiscal 2023
Salesforce's revenue mainly comes from the Americas, Europe, and Asia-Pacific regions, with the Americas as the main source. Salesforce's revenue in the Americas in the first quarter of fiscal 2023 was $4.971 billion, accounting for 66.67% of total revenue; revenue in Europe was $1.738 billion, accounting for 23.45%, and revenue in Asia Pacific was $702 million, accounting for was 9.47%.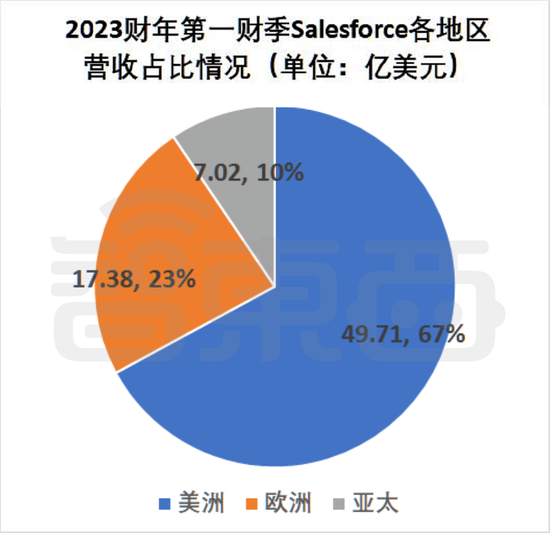 ▲ Revenue and proportion of Salesforce in each region in the first quarter of fiscal year 2023
In terms of year-on-year growth rates, in the first quarter of fiscal 2023, Salesforce's European region's revenue grew by 39% year-on-year, Asia Pacific's revenue growth was 32% year-on-year, and the Americas region's revenue was the lowest year-on-year growth rate of 21%. %. In the first quarter of fiscal 2022, the year-on-year revenue growth rates of Salesforce's Europe, Asia-Pacific, and Americas regions were 40%, 28%, and 23%, respectively, which was also the fastest growing in Europe, followed by Asia-Pacific.
According to the financial reports of the past three years, Salesforce's revenue in the first fiscal quarter was the lowest among the four fiscal quarters of the year, the revenue in the second fiscal quarter was higher than that in the first fiscal quarter, and the revenue in the third fiscal quarter was higher than that in the second fiscal quarter. Revenue in the fiscal fourth quarter was higher than in the fiscal third quarter. According to Salesforce's forecast, the company's revenue in the second fiscal quarter of 2023 is expected to be between $7.69 billion and $7.70 billion.

▲ Salesforce stock price changes (Chinese name: Salesforce)
Affected by factors such as the U.S. stock market environment, Salesforce's stock price has continued to fall since December last year, and its current market value is $181.558 billion, close to the market value before the surge in 2020; however, since Salesforce went public 18 years ago, its market value has increased from 2004 The $1.1 billion when it was listed in the year has increased nearly 200 times. Behind it, this company has been constantly breaking through the ceiling of its existing business.
From SaaS to PaaS and then to AI to enhance its service capabilities
So how did Salesforce grow from a small company with a valuation of $1.1 billion and revenue of less than $100 million to a tech giant with a market value of over $180 billion and annual revenue of nearly $26.5 billion?
In 1999, Salesforce was established in San Francisco, USA. Salesforce chairman and CEO Marc Benioff (Marc Benioff) is one of the four founders, he was a senior vice president of Oracle, is the industry's more recognized SaaS model of the earliest practitioners.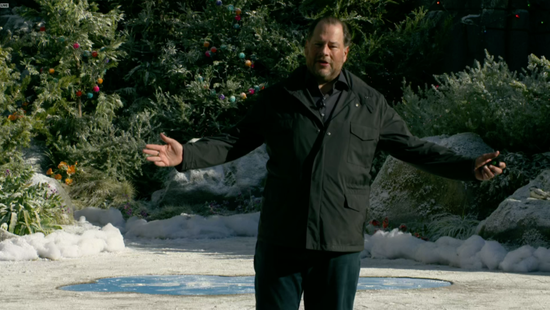 ▲ Marc Benioff
Salesforce's original product, or arguably its core product, was a customer relationship management (CRM) system. All software and key customer data are hosted online and offered to users as a subscription service. In simple terms, CRM is a technology that manages all customer and potential customer relationships and interactions in a company. Salesforce can help business users organize customer resources through its CRM software.
In March 1999, the four founders Mark Benioff, Parker Harris, Frank Dominguez and Dave Moellenhoff started developing Salesforce The first version of CRM. In the early days of its establishment, Salesforce has begun to provide Sales Cloud services to the outside world.
Before 2005, Salesforce mainly enhanced the application functions of CRM and expanded the layout of SaaS, including launching the first SaaS application CRM, the first public enterprise cloud computing API program Sforce, and so on. Several important events include the theme event of "The End of Software" held in 2000 to promote its concept; the industry's first on-demand application service sForce 2.0 launched in 2003; the New York Stock Exchange in June 2004 listed etc. At the end of the fiscal year on January 31, 2005, Salesforce's revenue exceeded 100 million.
Subsequently, Salesforce gradually moved into the PaaS field. Salesforce has several key products in the process of laying out the SaaS+PaaS ecosystem: the AppExchange service launched by Salesforce in 2005, the Force.com technology platform released by Salesforce in 2008, and the Service Cloud launched by Salesforce in 2009. In 2010, Salesforce also acquired Ruby platform services site Heroku, a PaaS platform that supports multiple programming languages.
In 2017, Salesforce began to turn to AI to further enhance the company's service capabilities. It can be said that Salesforce has entered another new stage. In 2017, Salesforce launched its artificial intelligence product, Service Cloud Einstein. Currently, Salesforce has built the AI ​​technology users need into its CRM application.
Salesforce often uses the acquisition of other businesses to lay out or expand its business. For example, in 2011, Salesforce acquired social media monitoring company Radian6, expanding its corporate social capabilities to include marketing. In 2016, Salesforce acquired e-commerce platform Demandware, expanding its customer success platform into the retail industry and introducing Commerce Cloud. In 2019, Salesforce completed a blockbuster acquisition: Tableau, a world-renowned analytics platform, with an acquisition value of $15.7 billion. Buying chat software company Slack for $27.7 billion in 2021.
Chinese and American SaaS head players enter from different subdivisions
On the way to becoming a giant, Salesforce has not been limited to CRM, but has gradually developed into a platform, taking into account various SaaS services such as sales, service, and marketing, and has also deployed a PaaS platform earlier. Based on the PaaS platform, Salesforce's SaaS capabilities have been further released.
Salesforce has now formed a complete product suite: Customer 360, which mainly connects users' sales, service, marketing, commerce, and IT teams with a single or shared view of customer information to create connections.
Salesforce also integrates AI into its products, focusing on building an ecosystem of SaaS+CRM+AI.
There is no world giant SaaS company with a market value of more than 180 billion US dollars (about 1197.612 billion yuan) like Salesforce. However, there have also been some leading players in the domestic SaaS track, such as UFIDA and Kingdee.
According to Gartner, UFIDA is the only Chinese vendor in the 2021 Asia-Pacific TOP5 for high productivity APaaS, ranking second only to Salesforce and ServiceNow. According to IDC data, Kingdee Software won the first place in China's SaaS cloud service market in the first half of 2021.
From a strategic point of view, UFIDA's target direction is BIP, that is, a business innovation platform. EBC (Enterprise Business Capability) is the direction of Kingdee's development. Kingdee's EBC includes five capability platforms: linking customers, linking ecology, linking everything, linking employees and data-driven.
In fact, in terms of the time of establishment, Kingdee was established in Shanghai in 1993 and went public in 2005. UFIDA was established in Beijing in 1988 and went public in 2001, even earlier than Salesforce. But Kingdee and UF and Salesforce initially chose different paths.
Kingdee and UFIDA started with ERP (Enterprise Resource Planning), while Salesforce started with CRM. ERP tends to supply chain management, including sales, customer service, financial management, manufacturing management, etc.; CRM is more about customer resource management, with certain differences.
From the perspective of cutting into the cloud computing track and deploying SaaS, Kingdee and UFIDA are a little later than Salesforce. In 2011, Kingdee proposed the "cloud management" strategy, relying on mobile Internet, cloud computing and other technologies, this is its third transformation. The first two were financial software transformation for Windows and ERP transformation. UF is from around 2011 to increase the layout in the field of cloud computing. Salesforce has been cultivating deeply in the SaaS field since its establishment.
All three companies have also deployed in the PaaS field. In 2018, Kingdee released a large enterprise cloud service platform: Kingdee Cloud Sky. This PaaS platform is mainly used to help large enterprises achieve digital transformation. In 2012, UFIDA released the enterprise cloud platform, which is a PaaS platform. Yonyou released Yonyou business innovation platform YonBIP in 2020. Salesforce is slightly older than these two.
In addition to the development factors of the enterprises themselves, there are differences in the market environment faced by UFIDA, Kingdee and Salesforce. For example, the process of Salesforce's business expansion in China is not very smooth, and its largest market is in Europe and the United States. There are differences in the needs of domestic and foreign enterprise users.
The three companies have launched products that are suitable for different types of corporate users in places where they are relatively similar. UFIDA's cloud ERP products include NC Cloud for large enterprises, U9 Cloud for medium-sized manufacturing enterprises, U8 Cloud for growing enterprises, and cloud products for small and micro enterprises. Kingdee divides the corresponding users of products into large enterprises, high-growth enterprises and small and micro enterprises, including Kingdee Cloud·Xinghan EBC, Kingdee Cloud·Star EBC, and Kingdee Cloud·Xingchen EBC. But Salesforce only singles out a product specifically designed for small and medium businesses: the Small Business Management System.
UFIDA, Kingdee and Salesforce products can serve a variety of industry users. Salesforce's users cover banking, consumer, communications, medical, media, non-profit organizations, and more. Kingdee's solutions cover manufacturing, service, transportation, automobile, property, government affairs and other fields. UFIDA's cloud service products include government affairs, manufacturing, construction, education, catering, energy, etc. The fields covered by the three companies have overlaps and differences, and they all involve manufacturing.
In general, UFIDA, Kingdee and Salesforce have differences in the initial entry into the track, typical products, and SaaS time, etc., but there are still differences in the layout of the PaaS track, the growth of products covering subdivisions, and the types of companies covered by products. some similarities.
Conclusion: Salesforce lays out more subdivision tracks
As the first company to practice the SaaS concept, Salesforce has successfully secured its position as the top player in the global SaaS track, with an annual revenue of nearly $26.5 billion and a market value of over $180 billion. At present, Salesforce's products are no longer limited to the CRM field initially laid out. The company also involves several more subdivided SaaS tracks such as intelligent quotation, labor management, and digital marketing.
Expanding its business scope through acquisitions is one of the regular practices of many giant companies, and Salesforce has also expanded its business scope through dozens of acquisitions. But it also creates certain risks for Salesforce, such as a net profit decline or a loss.
At present, more mature SaaS companies such as Salesforce, UFIDA, Kingdee, etc. cover multiple subdivision directions, and the subdivision direction selected at the beginning, such as CRM or ERP, is easier to integrate with other subdivision directions. At the same time, a complete SaaS+PaaS ecosystem is also a common choice in the development of SaaS companies.

This article is reproduced from: http://finance.sina.com.cn/tech/csj/2022-07-25/doc-imizirav5377824.shtml
This site is for inclusion only, and the copyright belongs to the original author.