Original link: https://tumutanzi.com/archives/16916
A reader friend commented:
The jar has not been updated (new) recently?
When I checked, it was true that there was no update log for a long time. Basically, as soon as the summer vacation started, I stopped updating. The netizen asked this question, which made me feel embarrassed. However, I have no obligation to keep it updated. Forget the cancellation of public accounts and the like…
During the whole summer vacation, at the beginning, I went to Hangzhou for a week, and then I brought my children back to my hometown and stayed with my parents for a week, and then scattered and scattered.
During this period, it was not that there was nothing I saw and heard to share, but that I was too lazy to share. The timing is wrong, the more you say the more wrong, the more you do the more wrong. I just want a quiet summer vacation. Furthermore, the purpose of not speaking is to reserve the right to speak. Regarding this, those who understand will naturally understand, and those who do not understand do not need to explain.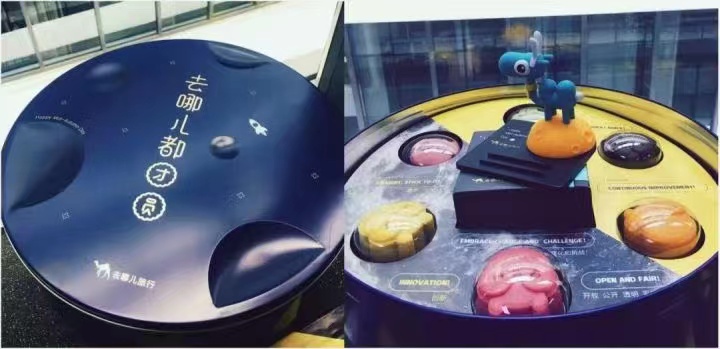 In 2018, a company's moon cake gift box: Talented people wherever you go (reunion).
From time to time during the holidays, I made some friends and asked them to learn about the real society. There are several entrepreneurs in the industry, and it gives me the feeling that these years are not easy. They agreed with my philosophy of "one is not in politics, and the other is not in business". A boss said that this year's foreign trade industry in the Pearl River Delta is "sorrowful". More commonly, even bosses who have little pressure have adopted a lay-flat attitude. It's all a wait-and-see attitude, hoping that the economy will recover soon, which is naturally more difficult.
Recently, a Shenzhen company sent an internal letter to the founder of the company, "The entire company's business policy should shift from the pursuit of scale to the pursuit of profit and cash flow." Such a well-known manufacturer has transmitted a FUD signal. The last company that shouted "survive" was the real estate company Vanke in 2018.
Curiously, shouting such a slogan in this situation doesn't feel too "muffled and rich". In the current environment, people are already anxious enough that such a slogan is not consistent with the mainstream voice of "hope", and I don't know if it is still politically correct. Their meetings could have been more private.
Of course, seeing the company's sharp turn today and its previous rhetoric, I still admire that the founder does not have the path-dependence problems of those bosses. It seems that he, like Soros, wakes up like a blank sheet of paper every day. It's just that this also reminds the workers once again that 10,000 years is too long, and it's just a matter of time.
Crisis awareness corresponds to risk awareness. The 2020 pandemic and the car accident I suffered that year increased my perception of risk by orders of magnitude. So I left the real estate industry (with my years of experience in the industry, I am not even optimistic about the vast majority of real estate investments now), and I have always been my more beloved education career. At that time, many friends were puzzled, but now they start to think that I am more professional in running.
I recognize a certain blogger who "has the money to do things that have nothing to do with money", but I firmly believe that "a gentleman does not stand under a dangerous wall", and each of us and every enterprise must have a sense of risk. Our generation may have experienced many small cycles of economic fluctuations, but our generation is too lucky to have a good time between them, so it has not experienced large cycles of economic fluctuations.
In the current environment where the East and the West are divided and opposed at home and abroad, our response to the epidemic based on national conditions, the climate disaster of global warming, the status quo of population structure and economic development, we do not have sufficient information to look forward to the future.
But I believe, as a common mistake people make in the investment world, too pessimistic when pessimistic and too optimistic when optimistic. We may be too pessimistic right now. Human society as a whole has been developing in a spiral, and there is no reason why the current predicament cannot be overcome. Of course there is a sense of risk. In addition, keep low expectations and do what you need to do. The so-called bad times will always pass.
This article is reproduced from: https://tumutanzi.com/archives/16916
This site is for inclusion only, and the copyright belongs to the original author.