Original link: https://sehseh.substack.com/p/721
Good night,
Tonight in 2019, there was a violent incident of people in white attacking citizens at the Yuen Long subway station in Hong Kong. Three years after "7.21", the environment for speech in Hong Kong has become more and more tight. Many audio and video records at that time have been removed from the shelves, the media organizations that reported the incident no longer exist, and the reporters who discovered the truth have been punished. Choreographer and director Cai Yuling and other independent journalists worked together to produce the news feature "721 Unfinished Cases" (due to the age limit of the film, please watch it on Youtube ), tracked and interviewed many parties, and left a historical record for the unforgettable night in Hong Kong and the world.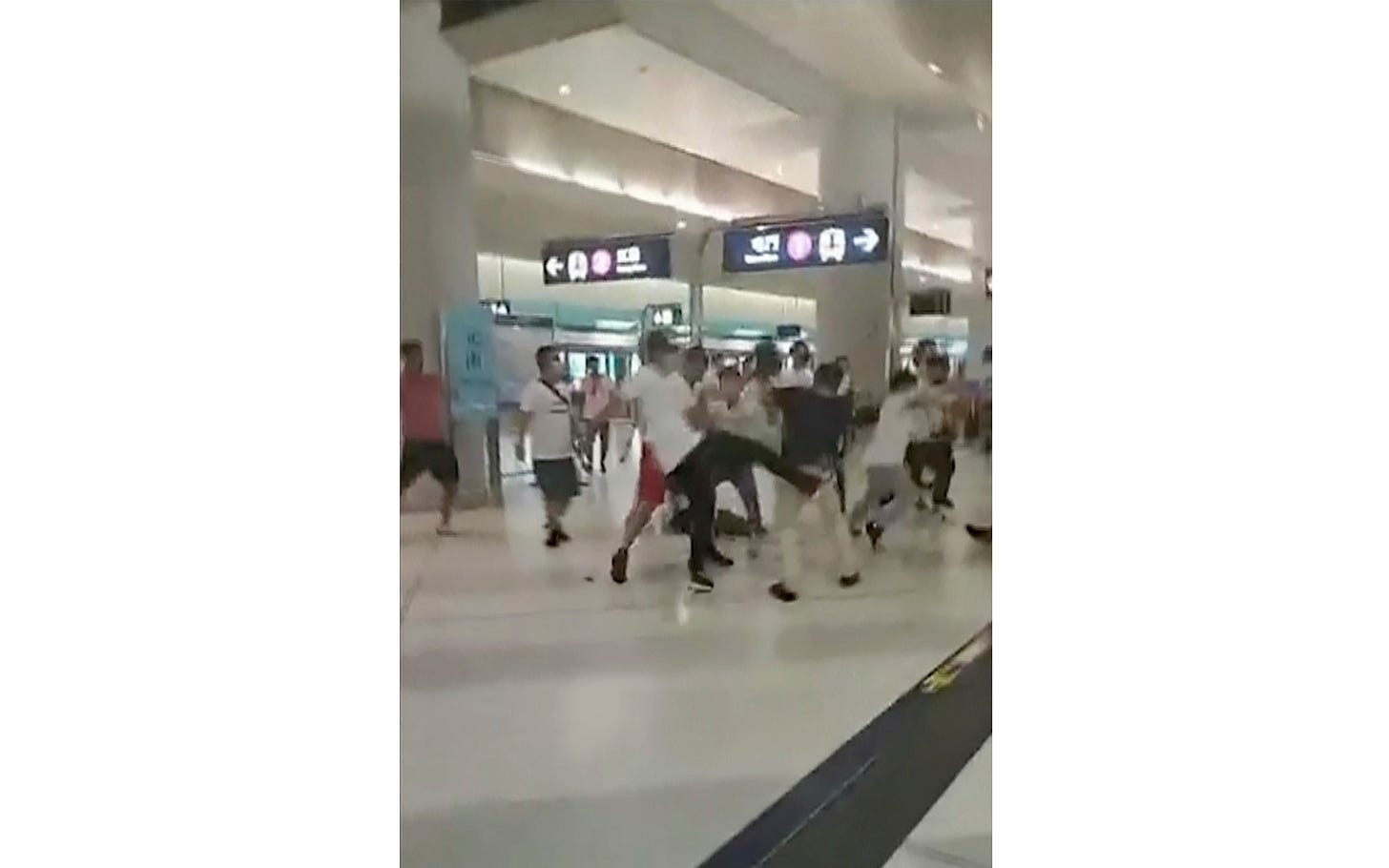 On July 21, 2019, anti-extradition activists in Hong Kong were violently attacked by "men in white" in Yuen Long (file photo, AP)
---
The World Walk has important stories you haven't read yet. We focus on global issues from a gender perspective, complementing stories of dilemma, breakthrough, connection, and change that traditional power perspectives ignore.
Please pay a subscription to become our partner and walk with women around the world.
---
Global Hotspot
Nearly five months after the start of the Russian-Ukrainian war, Russian Foreign Minister Sergei Lavrov said in an interview that the target of Russia's "special military operation" is no longer limited to the Donbas region of Udon, where the two armies are currently fighting fiercely. The meaning of expanding the occupied area is self-evident.
At the same time, since European countries are highly reliant on Russian natural gas, in order to avoid Russia's threat to "cut gas", the EU calls on member states to reduce natural gas consumption by 15% between now and March next year, so as to prepare for the "winter season without sufficient natural gas heating", Even implement a natural gas rationing system to prepare for it.
out of gender
Many readers should know that nouns in languages ​​such as French and Spanish have masculine and feminine nouns, and the grammatical rules such as the suffix of "gender" are different. The use of the word in its Gender-Neutral form is increasingly common, but it has also sparked a bipolar debate.
Proponents argue that this approach combats gender stereotypes and allows people who identify with non-binary genders to be included in the language; opponents argue that it not only violates the existing grammar of the language, but may also affect students' reading comprehension skills.
Education authorities in Argentina's capital Buenos Aires have formally banned teachers from using gender-neutral words in classrooms and when communicating with parents, as the controversy swept into the policy arena. This is considered to be the first policy in the world to explicitly ban the use of gender-neutral languages, and in France, Brazil, Mexico and other countries, the battle for gender-neutral languages ​​has also become a part of the culture war.
I can't just see
The aerial game "Quidditch" created by British writer JK Rowling in the "Harry Potter" series of novels is fascinating, and it also inspires the real world to follow suit. There are 40 countries and 600 teams around the world. In live-action Quidditch, the difference is that "Muggles" without magic can only run around the field with brooms.
But starting this summer, Quidditch in the Muggle world will be renamed "quadball". The primary reason is that Rowling has made many remarks against trans women in recent years. The governing body hopes that the movement will draw a line from the author's own position – The "quadball" rules emphasize gender equality, and each team can only have up to 4 players of the same gender on the field; another practical reason: the trademark ownership of "Quidditch" is in the hands of Warner Bros. (Warner Bros.), renamed related disputes can be avoided.
Quote of the Day
Miserable green youth, your short hair is dense and soft, who will cut it for you, who will cut it for you💇‍♂️
In Taiwan, school bans are almost a thing of the past, and a middle school student in Hong Kong, Lin Zejun, posted a short video on Instagram a few days ago, accusing himself of being forced to cut his long hair by being deprived of participation in school activities or even threatened with suspension. The ban of male students violated Hong Kong's Sex Discrimination Ordinance and has lodged a complaint with the mediation agency "Equal Opportunities Commission".
Lin Zejun confessed in the video that he has gender anxiety and was depressed after being forced to cut his hair. He hopes to promote the abolition of school regulations in Hong Kong. The video has only been released for 3 days, and has accumulated more than 660,000 views. Nearly 3,000 comments are mostly supportive opinions. , singer Huang Yaoming also posted on the social platform to support Lin Zejun with the lyrics of the song "Dear Margaret" (see quotation).
---
Subscribe to the Walk Around Newsletter and we'll deliver:
[Members only] Go original: a good story that others have not written yet

An Evening News Every Day: A selection of daily news summaries for you

Weekly Newsletter: Good articles from around the world that you may have missed

A Weekly Note: A Weekly Guide to Online Activities
【Exclusive benefits for other members】» See here
This article is reprinted from: https://sehseh.substack.com/p/721
This site is for inclusion only, and the copyright belongs to the original author.