#水Drop goes public in the United States # #China Ping An # #Snowball Research Group#
On September 9, $waterdrop (WDH)$ released its 2022 Q2 earnings report. The company's operating profit was 156 million and net profit was 207 million, nearly doubling from the previous quarter (107 million).
At this stage, 90% of Shuidi Company's revenue and all profits come from insurance-related businesses, so the performance of Shuidi Insurance is directly related to the quality of Shuidi Company.
Judging from the data of Q2, the first-year premium of Shuidibao (1.646 billion) was lower than that of Q1 (1.866 billion). This may be because the stock price did not skyrocket immediately after Shuidi handed over a Q2 transcript that doubled its profits. One of the reasons is that most investors are still cautious about Internet insurance.
So, how much variable will the integration of the Internet and insurance bring to the industry, what is the overall growth of the Internet insurance track, how much room for development and how deep is the moat for Shuidi in it? After analyzing these problems clearly, we can understand the water droplets. Let's start with the insurance industry itself.
1. The adjustment of the insurance industry is due to regulatory policies, and the scale of the industry continues to move forward amid "tortures"
As soon as the stock price falls, doubts from public opinion will come immediately. Insurance is a typical industry. In recent years, whether traditional insurance companies such as China Ping An, Internet insurance companies such as ZhongAn Online (06060) $ , or insurance brokerage companies such as Shuidi Insurance, the stock price performance has not been satisfactory. Many people think that the population bottleneck restricts the sales of insurance. I don't think so. The main factors affecting the profitability of insurance companies are policies and the epidemic!
In 2018, the regulatory authorities successively issued the "Notice on Implementing the Main Responsibilities of Insurance Companies and Strengthening the Management of Insurance Sales Personnel" and "Notice on Effectively Strengthening the Practitioners of Insurance Professional Intermediaries". Traditional insurance companies responded to high-level calls and started life insurance reform. "Large individual insurance" contributes very high to the new business value of insurance companies. After the life insurance reform and active clearance, the incremental value of new business has not reached the amortization of marginal residual value, which is the main reason for investors to look down on traditional insurance companies . However, without the introduction of more bad policies, the darkest moment for the insurance industry has passed, and there is no need for us to panic too much.
On the premium side, due to the loss of manpower, the premium income of $ China Ping An (SH601318) $ in the 14-month period from the fourth quarter of 2020 to November 2021 was in a declining range year-on-year. Since then, in the nine months from December 2021 to August this year, there have been eight months of positive year-on-year premium growth.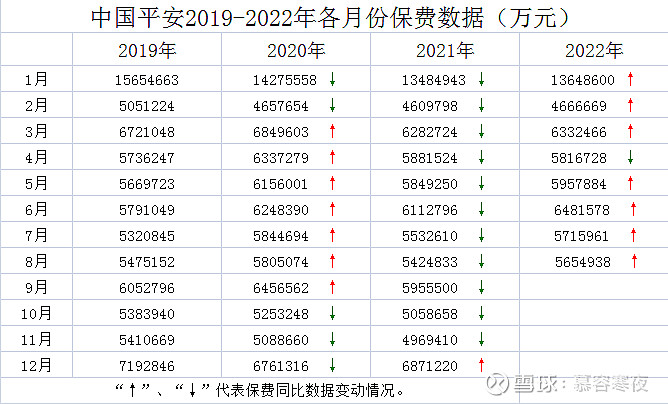 On the Internet channel side, the "2021 Annual Life Insurance Company Internet Insurance Business Operation Analysis Report" issued by the China Insurance Industry Association shows that in 2021, 60 life insurance companies will carry out Internet insurance business, and the accumulated Internet life insurance premium income will be 291.67 billion yuan, which is more than Year-on-year growth of 38.2% in 2020.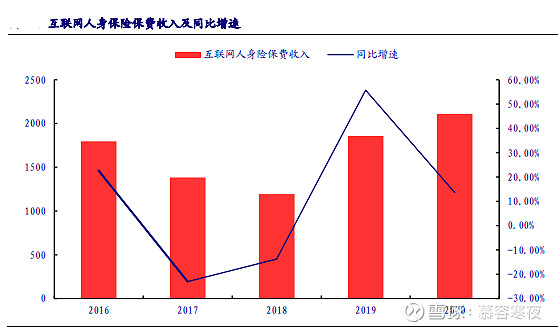 Since 2018, despite stricter regulatory policies, premium income from internet channels has maintained a high growth rate of over 20%! Taking Shuidi Bao, a subsidiary of Shuidi Company as an example, the first-year premiums (FYP) generated in 2018, 2019 and 2020 were RMB 972 million, RMB 6.668 billion and RMB 14.426 billion respectively, an increase of nearly 16 times in two years, significantly outperforming The average growth rate of Internet insurance premiums .

In 2019, my country's insurance penetration was 4.3%, and the insurance density was US$431 per person, far lower than that of developed countries in Europe and the United States. Compared with Asian countries such as Japan, South Korea, and Singapore, which have similar cultures and customs, my country also has more room to catch up.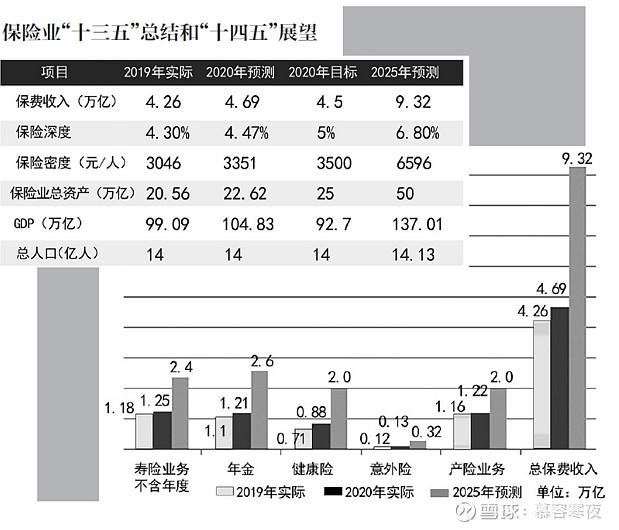 Due to the sudden new crown epidemic in 2020, the task of 5% insurance depth during the "13th Five-Year Plan" period has not been completed, but this does not affect the long-term increase in my country's insurance depth and density.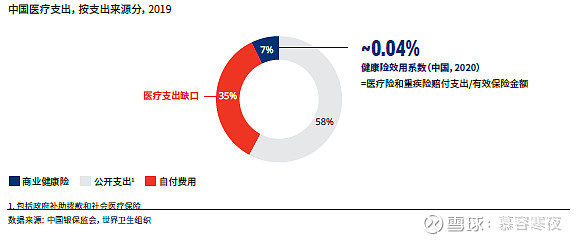 In 2019, 58% of my country's medical and health expenditures were covered by government grants and medical insurance, while only 7% were covered by health insurance. There is still a potential gap of 35% that needs to be covered urgently. In the context of medical insurance cost control, the most likely coverage for this part of the gap is commercial insurance.
Looking back on the past, after 2008, my country's insurance industry also cleaned up the "bancassurance channel". At that time, the sales of investment-linked insurance and universal insurance also declined significantly. However, the insurance industry has not always been suppressed by the policy. In the past 10 years, the pricing of critical illness insurance has been liberalized, the insurance agency examination has been cancelled, the scope of insurance capital investment has been relaxed, and even securities can be directly lent, which are all positive for the industry.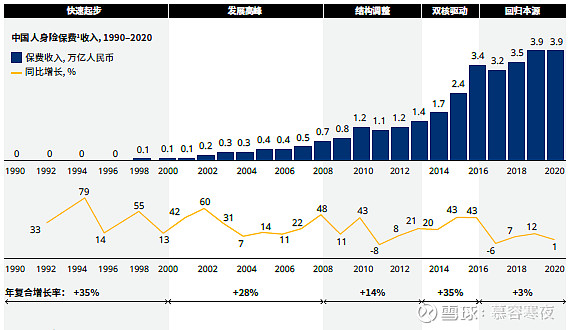 Therefore , in the past 20 years, although the first-year premium income of life insurance has encountered several "silent periods", it still has a long-term upward trend , and it is untenable to say that the insurance industry has no growth potential!
2. Young people are the main force of life insurance consumption, and the penetration rate of Internet insurance has great room for improvement
Most domestic critical illness insurance products have an insurance age limit. For example, most short-term health insurance products require the insurance age to be before the age of 60. Like other consumption, life insurance is a consumer product for middle-aged and young people.
Young and middle-aged people acquire knowledge from a wider range of sources, and they trust their own judgments rather than listening to Baodai's recommendations. Judging from the daily life of Douyin and Kuaishou for more than 2 hours, the online and young people's consumption scenarios are more overlapping, and the traditional guarantee generation efficiency is low.
In recent years, traditional insurance companies have also paid more and more attention to online channels. For example, Ping An of China has sold life insurance on the Internet medical platform – Ping An Good Doctor last year (excluding the more complicated critical illness insurance that requires double registration); PICC, the leading property insurance company, has also made active attempts in the field of life insurance. Launched the exclusive version of iWorry Million Medical Internet.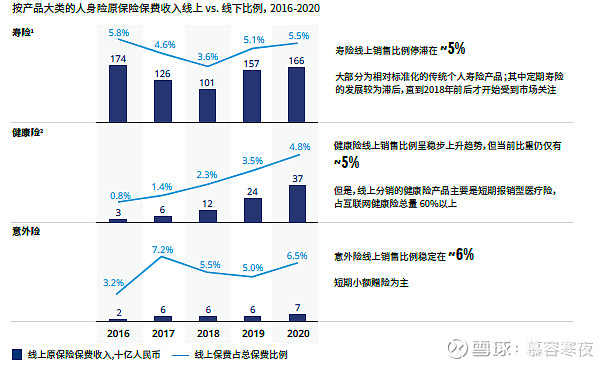 In 2020, online insurance premiums for life insurance, health insurance, and accident insurance will account for 5.5%, 4.8%, and 6.5% of total premiums, respectively. The penetration rate of Internet insurance channels has great room for growth .
Whether it's last year's "Double Eleven" or this year's "618", fewer young people are overwhelmed by full discount coupons, and multi-platform price comparisons pay more attention to cost-effectiveness.
According to the "2022 China Millennium Youth Consumer Behavior Research and Analysis Report" released by iiMedia Research, more than 80% of the "millennial generation" monthly expenditure is less than 5,000 yuan.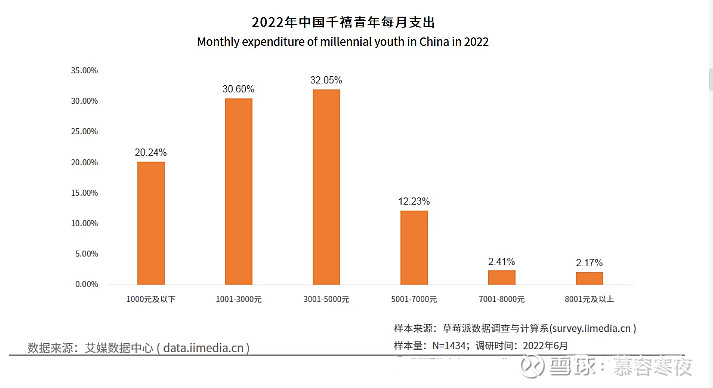 72.49% of millennials hold rational consumption concepts. The millennial generation born with the Internet era can use various APPs, and most of them have the consumption habit of shopping around. The most outstanding thing about internet insurance is the cost-effectiveness!
3. Core keywords of Shuidibao: cost performance, incremental market, traffic operation
As an Internet insurance platform, Shuidibao is not as well-known as Shuidichou, another business of Shuidi Company, but in the insurance industry, Shuidibao has gradually formed its own characteristics, and it has not yet reached the level of "moat", but it will continue in this direction. , it is possible for Shuidibao to establish its own core barriers.
The first is the high cost performance of insurance products. Compared with the traditional insurance sales model, the Internet insurance platform does not have a large team of brokers, so there is no high offline labor cost. The development cost of the online platform is very high, but the operation and maintenance The cost of the product has a diminishing marginal effect, so the new rhythm of Shuidibao's products is very fast.
In Q2, there are 48 new products launched by Shuidi Bao. With the rapid launch of a large number of new products, Shuidibao can quickly iterate according to sales conditions and customer feedback, so that the price/performance ratio of new products is always in a leading state. Compared with traditional channels, a product is sold for several years before being replaced. This advantage is actually It is easy to be ignored.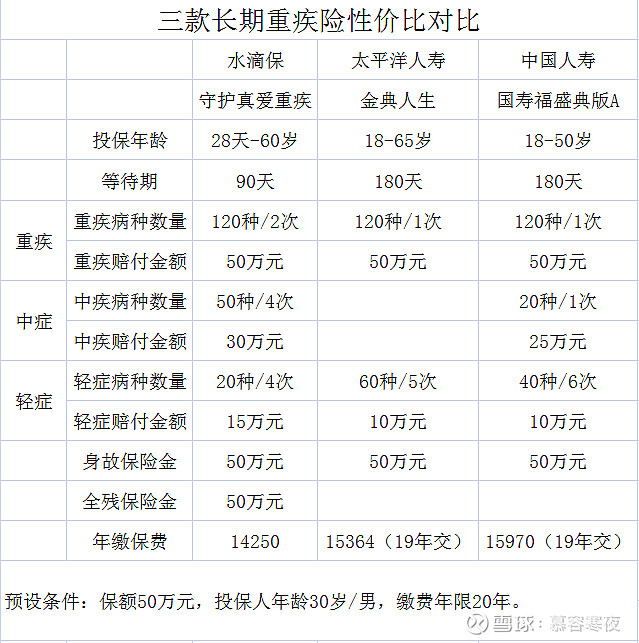 Taking the critical illness insurance product as an example, Shuidi Bao and Junlong Life Insurance jointly developed a "Water Drop Guardian True Love Critical Illness Insurance", which has a shorter waiting period, more claims for critical illness and moderate illness, and no grouping of diseases. There are multiple advantages such as lower annual premiums and higher compensation ratios for moderate and mild illnesses. It is more in line with the current situation in which "malignant tumors" account for more than 60% of critical illnesses in my country, and the full insured amount can also be paid for the total disability.
Secondly, the target market of Shuidibao is different from the traditional insurance industry, focusing on expanding customers in sinking markets and non-standard customers. These are incremental customers not covered by traditional insurance, and they avoid direct competition with large insurance companies. Instead, it can become a partner of large insurance companies.
How to develop non-standard customers is a long-term problem that has plagued the insurance industry. This user group is very large, but if the actuarial and risk control are not done well, it is likely to become a loss-making business. Last year, Shui Di and Qianhai Reinsurance jointly developed critical illness insurance that can be insured by sick people.
Recently, Shuidibao has customized the series of "Waterdrop Blue Ocean" series of critical illness insurance. It can be seen that Shuidibao has accumulated replicable experience in developing products that can be insured by non-standard customers with joint insurance companies.

As an Internet insurance platform, Shuidi Company has relatively strong ability to develop and operate traffic. Shuidibao does not have the natural advantage of Antbao's backing of Alipay, but in the past few years, whether it is "producing" traffic through Shuidichou and Shuidi Mutual Aid in the early stage, or obtaining traffic from third-party platforms through online delivery in the mid-term, Shuidibao has shown a good performance. efficiency and input-output ratio.
According to the company's prospectus, the proportion of internal traffic from "natural traffic and repeat purchases" has risen from 13% in 2018 to 38.5% in 2020. Many people do not understand the meaning of "natural traffic and repeated purchases". In layman's terms, natural traffic is when customers come to the door, and repeated purchases are repeated purchases by old customers. These traffics do not cost money or only require very little cost. This is the secret of Waterdrop's first-year premium drop but doubled profit!
According to my observation, Shui Dibao has accumulated a considerable number of users on the video account, Douyin, Kuaishou, Xiaohongshu and other platforms, and has invested a lot in live broadcast in the past two years, the frequency of live broadcast, the number of viewers, user education, and traffic operation. In terms of other aspects, although it is far inferior to some fast-selling products, in the horizontal comparison in the insurance industry, compared with other insurance companies and insurance brokers that are still exploring and trying, Shuidibao has already taken one or two positions ahead, and it may become a leader in the future. Its new channel for large-scale mass acquisition of customers has driven the first-year premium of Shuidibao to return to the growth track.
4. Waterdrop Company reduced operating costs and expenses and made profits for three consecutive quarters
Since last year, many Internet companies have reported news such as "structural adjustment" and layoffs. Regulatory and economic downward pressure have made Internet companies that originally focused on traffic play begin to emphasize cost control. Going against the trend, in August, Tencent unexpectedly invested 280 million yuan to become the second shareholder of Samsung Property & Casualty Insurance. Tencent has also invested in Shuidi in 6 rounds before, which fully shows Tencent's long-term optimism for the insurance industry.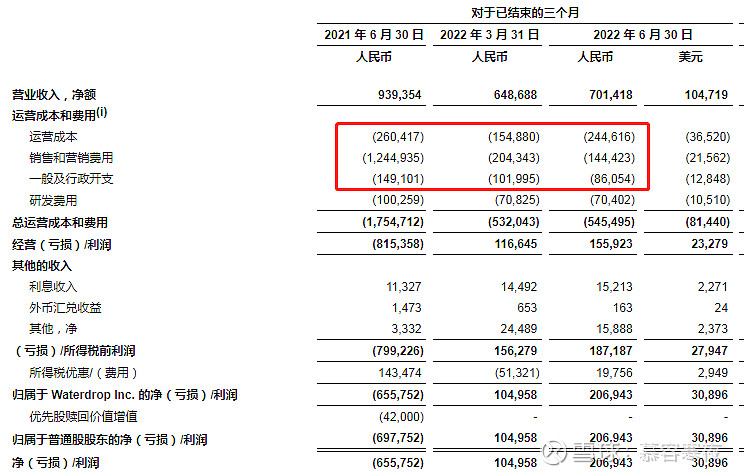 In Q2 2022, the operating costs and expenses of Waterdrop dropped by 68.9% year-on-year to 546 million yuan. Among them, operating costs decreased by 6.1% year-on-year to RMB 245 million; sales and marketing expenses decreased significantly by 88.4% year-on-year to RMB 144 million; general management expenses decreased by 42.3% to RMB 86.1 million.
After implementing the cost reduction strategy, Waterdrop has achieved profitability for three consecutive quarters, and the company's net profit in Q2 reached 207 million, the best data since Waterdrop was listed.
In the case of the first year's premium reduction, Shuidi's revenue did not decline, and the cash flow continued to flow in, which shows that Shuidi's "business model" has been fully verified .
After its listing last year, Shuidi's stock price continued to fall, which discouraged many investors. In fact, the company's fundamentals have been reversed as Waterdrop significantly reduced sales and marketing expenses and strictly controlled costs in the third quarter of last year. In 2022, the stock price of Shuidi will remain in the range of US$0.9-1.6, down less than 10% year-to-date, which is an upper-middle performance among Chinese stocks.
If it is said that some investors and institutions are still cautious about whether Water Drop can continue to make profits before, the Q2 financial report proves that Water Drop has sustainable profitability. Taking into account the current price-to-book ratio of less than 0.8 times, the latest research reports of Morgan Stanley and Goldman Sachs have raised the rating and target price of Shuidi stock. Affected by the correction of the US stock market last Friday, Chinese stocks generally fell, and Shuidi bucked the trend. It rose 8.47%, and it is worth paying attention to in the later period.
@Today's topic @水Dropcompany@水Dropshenpeng @ huizeholding @smile treats every day lsj @old sali @shenchuang 100ETF-159716 @all the way forwardlm @little umbrella insurance broker @valueline @shepherd2016 @小维特@水Drop Shen Peng @ haiyinholding@ noahwealth @snowball research group @ chinasafe@changanweigong
There are 27 discussions on this topic in Snowball, click to view.
Snowball is an investor's social network, and smart investors are here.
Click to download Snowball mobile client http://xueqiu.com/xz ]]>
This article is reproduced from: http://xueqiu.com/4438253071/231051193
This site is for inclusion only, and the copyright belongs to the original author.