Sina Technology News on the afternoon of August 24th, the Qichacha App showed that recently, the industrial and commercial change of Hechuang Automobile Technology Co., Ltd., and Shanghai Weilai Automobile Co., Ltd. withdrew from the company's shareholder ranks. Before the withdrawal, the shareholding ratio was about 4.46%. Zeng Yaoyu Investment Holdings Co., Ltd. is a shareholder.
According to the company's information, Hechuang Automobile Technology Co., Ltd. was established in April 2018 with a registered capital of about 2.523 billion yuan. It is jointly held by GAC Group and GAC New Energy. Automobile-related technical services, etc., the company's previous names include GAC NIO New Energy Vehicle Technology Co., Ltd. and Hechuang Wisdom Technology Co., Ltd.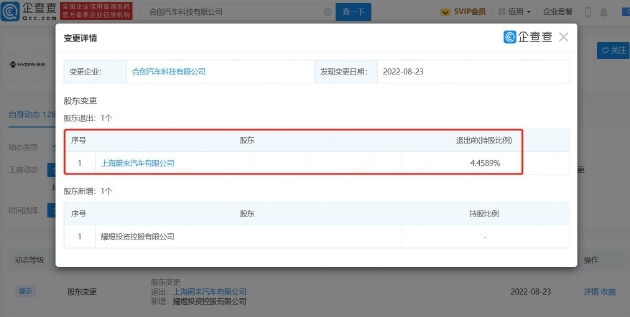 media coverage
Sina Technology
Related events
This article is reproduced from: https://readhub.cn/topic/8iJYfhMTTaY
This site is for inclusion only, and the copyright belongs to the original author.