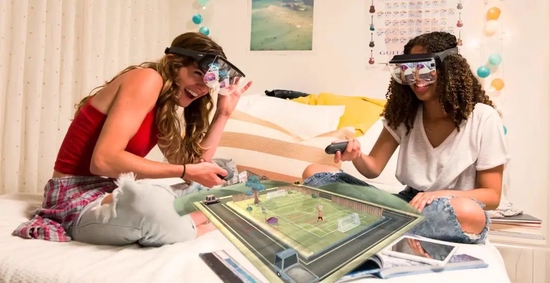 Apple AR products "bounce" again
Welcome to the WeChat subscription number of "Sina Technology": techsina
Text | Laoyuer Editor | Yang Xuran
Source: Juchao WAVE
Following Apple has meat to eat, this is the consensus of many companies in the smartphone industry chain. There are successful cases such as Foxconn's "sugar daddy" earning a lot of money, and recent successful cases such as Luxshare Precision "holding thick legs" quickly accumulating a market value of 200 billion, all of which confirm Apple's "value radiation".
However, in the past two years, Apple's "value radiation" ability has been repeatedly questioned and tested.
Apple's Worldwide Developers Conference (WWDC) 2022 was held in San Francisco in early June. The main purpose of the conference is to showcase the latest software and technologies to Apple developers, as well as a small number of hardware products.
Stimulated by this news, the stock prices of many fruit chain companies rose sharply on June 6. For example, BYD Electronics shares rose 9.62%, Luxshare Precision rose 6.87%, and Sunny Optical Technology rose 4.46%.
Who would have expected such a handsome man for only three seconds.
Although the hardware and software of this Apple Developer Conference are released together, it seems to be full of highlights. The related content of Apple's conference also occupied six seats in Weibo's hot search list in one fell swoop. But the most anticipated VR/AR head-mounted display product has not been unveiled. Regarding the reason why Apple has not released it, the relevant media explained that due to performance and heat dissipation related issues, the release time of Apple's headset may be extended to 2023.
The fruit chain stocks quickly turned around and fell.
In the past, the cooperation with Apple allowed fruit chain companies to enjoy the full dividends, but now the marginal effect of dividends seems to be getting smaller and smaller, the market is extremely sensitive to related negatives, and the stock price fluctuates sensitively with all kinds of true and false news. It is more and more difficult for fruit chain companies to earn excess returns, but they have to take more and more risks.
repeated labor pains
Apple, with its strong bargaining power, tends to squeeze the profit margins of suppliers and contract manufacturers.
This is not the first time the fruit chains have suffered.
Since 2020, the endless and repeated epidemics have begun to repeatedly torture the fruit chains.
For example, in April this year, affected by the epidemic, Kunshan City, Jiangsu Province implemented a global silence. The news caused a violent reaction in the Apple industry chain. Because in this unremarkable county-level city, there are processing factories of Apple's main supply chain partners including Foxconn, Pegatron, Wistron and Luxshare Precision.
Industry chain data shows that these companies have almost completed Apple's iPhone assembly business. In terms of models, the iPhone 13 is divided by Foxconn and Pegatron, accounting for 68% and 32% respectively; the iPhone 13 Pro is divided by Foxconn and Luxshare Precision. , accounting for 60% and 40% respectively; while the iPhone 13 Pro Max with the highest value is exclusively provided by Foxconn.
In addition to the force majeure interference such as the epidemic, the most painful thing for fruit chains is probably the increasing "uncertainty" from Apple.
In order to achieve its own considerable growth every year, Apple, with its strong bargaining power, tends to keep profits in its own backyard, and tends to squeeze the profit margins of suppliers and foundries. Especially in the past two years, the price of raw materials such as chips, wires, and hardware has risen due to the epidemic. These cost pressures are often borne by fruit chain enterprises.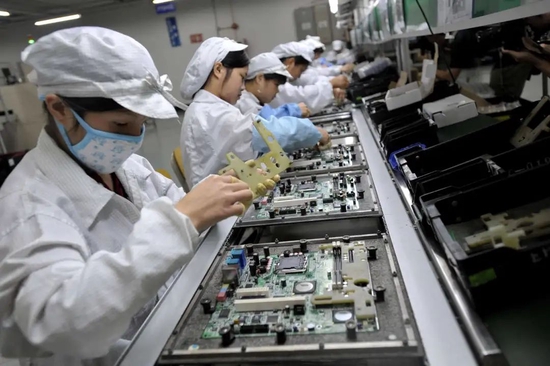 The foundry cost of fruit chains is increasing
Lin Zhi, chief analyst of WitDisplay, once pointed out in an interview with the media, "In the context of rising raw material prices and supply chain crisis, in order to reduce costs, Apple has further compressed the profit margins of suppliers, bringing greater cost pressure to it.
A typical example is Lens Technology. The 2021 annual report shows that Apple, as its largest customer, will increase its sales from 20.3 billion yuan in 2020 to 30.1 billion yuan in 2021, an increase of 48.28%. But the increase in revenue has not fully translated into profit growth. In 2021, Lens Technology achieved an operating income of 45.268 billion yuan, a year-on-year increase of 22.55%, but its net profit was 2.070 billion yuan, a year-on-year decrease of 57.72%; the non-net profit dropped by 72.45%.
The same situation occurs with Luxshare Precision. The company's largest customer sales surged 78.65% from 63.843 billion yuan in 2020 to 114.056 billion yuan in 2021, which drove its operating income in 2021 to 153.946 billion yuan, a year-on-year increase of 66.43%; but the net profit was 7.071 billion yuan , down 2.14% year-on-year.
Previously, because of the market performance of increasing revenue but not increasing profits, Foxconn publicly responded that Apple had lowered the price of OEMs, saying that "hard-earned money is getting harder and harder to earn."
According to a report from China Central Broadcasting Corporation, in 2021, among the 30 domestic "fruit chain" listed companies, only 10 companies will achieve positive year-on-year growth in net profit.
In addition, the overall decline in the mobile phone market brought about by the shrinking market demand has also made Apple continue to "cut orders".
According to a report released by IDC, global smartphone shipments will drop by 3.5% to 1.31 billion units in 2022, which means that the mobile phone market will shrink this year and may not change until 2023. According to data from the China Academy of Information and Communications Technology, China's mobile phone sales fell by 30.3% year-on-year from January to April 2022.
In such a large environment, Apple can not be alone. According to Bloomberg, Apple lowered its 2022 iPhone shipment target of 240 million to 220 million. That means there will be "zero growth" in iPhone sales this year compared to 2021.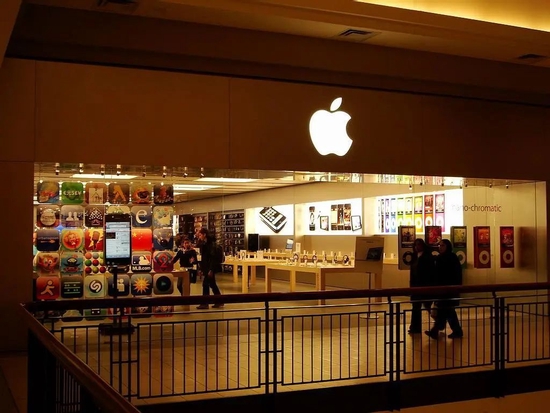 iPhone sales are also hit by the environment
After the first quarter earnings report was released, Apple CEO Tim Cook said that Apple decided to cut iPhone production by 15% this year. Apple's "slimming" effect on downstream fruit chain enterprises will be more magnified.
deep bundling
The fruit chains wanted to stand on the shoulders of giants, but accidentally became the giant's "blood transfusion bag".
But there is no way, because the fruit chains are too dependent on Apple.
For example, in the past five years, Lens Technology has accounted for 49.37%, 46.97%, 43.07%, 57.97%, and 66.49% of the company's main sales customers.
Who is the number one customer? In the past few years, Lens Technology has not named it by name. In the 2021 annual report, Lens Technology simply confessed that the first place is Apple.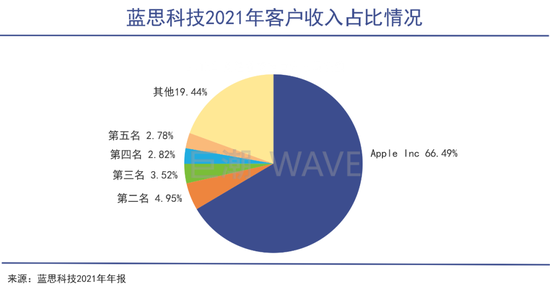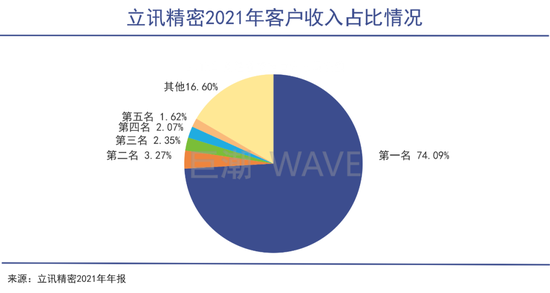 The same is true for Luxshare Precision. In the past five years, the sales of the largest customer accounted for 36.58%, 44.85%, 55.43%, 69.02%, and 74.09%, an increase of almost 10% every year.
The benefits and risks of walking with one thigh coexist. For example, within 5 years, Luxshare Precision's sales from its largest customer soared from 8.349 billion yuan to 114.056 billion yuan, an increase of 1266.1%. However, correspondingly, the accounts receivable of the largest debtor also increased from 2.21 billion yuan to 17.872 billion yuan, and the proportion of the largest debtor to the total ending balance of accounts receivable increased from 30.01% to 56.35%.
According to public information, the largest customer and the largest debtor are likely to be the same company.
The deep business binding makes the fruit chains have little room for negotiation in front of Apple, because once the cooperation ends, the performance of the fruit chains may collapse rapidly.
The most obvious example is Oufeiguang, which is mainly engaged in the manufacture of mobile phone lens modules. In March 2021, OFILM terminated its partnership with Apple. In the following second quarter, Oufeiguang's performance quickly turned from profit to loss, and has since slumped. Its performance will decline sharply in 2021, and the decline will even increase in the first quarter of this year.
Apple's supply chain policy has always been to look for "spare tires" to prevent a certain supplier from becoming dominant. In the past, it supported Dongshan Precision to reduce the share of Pengding's holdings, and cooperated with Luxshare Precision to reduce its dependence on Foxconn, including kicking Oufeiguang. Such measures are all the same.
Therefore, in Apple's "siege", the fruit chain companies outside wanted to come in, while the fruit chain companies inside tried every means to keep themselves out of the game. This allows Apple to take full advantage of the initiative when negotiating prices.
We can also see that domestic companies, including manufacturers from the leading camp, are rushing to bid for bids and orders, and they are not willing to sacrifice prices.
This has given Apple huge profit margins, maintaining steady growth in revenue and profit even in the difficult period of rising costs and declining sales in 2022.
On April 29, Apple released its 2022 Q1 financial report. Data shows that in 2022, Q1 revenue will increase by 8.59% year-on-year to US$92.778 billion; net profit will be US$25.01 billion, a year-on-year increase of 6%.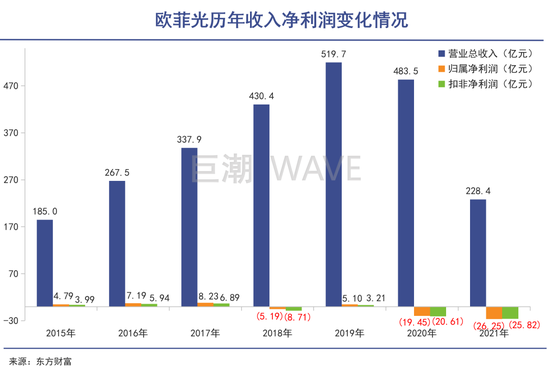 Correspondingly, the fruit chains are bleak:
Lens Technology's revenue in the first quarter of 2022 was about 9.334 billion yuan, a year-on-year decrease of 22.15%; net profit loss was 411 million yuan, a year-on-year profit turnaround;

Goertek's operating income in the first quarter was 20.112 billion yuan, a year-on-year increase of 43.37%, but its net profit fell by 6.71% year-on-year;

Luxshare Precision's gross profit margin fell to 11.81% in the first quarter, down 5.02% year-on-year.
The fruit chains who wanted to stand on the shoulders of giants accidentally became the giant's "blood transfusion bag".
According to the supply chain statistics released in 2021, Apple has more than 200 supply chain companies, of which 98 are domestic companies.
These 98 companies can be said to be leaders in the same field, but if they leave Apple, they will face a cliff of performance, which is a not far away and no small hidden danger for domestic companies.
forced to change
At present, most fruit chain enterprises are still in a transition period, and it is difficult for new businesses to achieve immediate results in a short period of time.
In this context, some fruit chain companies have realized the seriousness of their over-reliance on Apple, and have begun to deploy new businesses to create a second growth curve.
There are two main ways to create a second growth curve:
The first category is the expansion of new businesses. More and more fruit chains are extending to new energy vehicles, photovoltaics and other industries.
New energy vehicles are the transformation direction that many fruit chain companies are interested in
As the AirPods foundry, Goertek has set its sights on emerging smart hardware businesses such as AR/VR. In 2021, Goertek's smart hardware revenue will increase by 85.87%, accounting for 41.94% of total revenue. In the first quarter of 2022, this number rose again, and the revenue of the smart hardware business increased by 125.05% year-on-year, accounting for 50.46% of the total revenue.
Lens Technology's "de-Appleization" work has also been carried out:
In 2017, the company established a joint venture with NISSHA Co., Ltd. to establish Riswriting Lens Technology (Changsha) Co., Ltd., specializing in the production and sales of touch sensor products;

In 2021, Lens Technology will invest another 1 billion yuan to set up a photovoltaic subsidiary to carry out technical research and development of photovoltaic glass and other products;

In addition, Lens has also established long-term strategic partnerships with Tesla, Bentley, Porsche, Mercedes-Benz, BMW, NIO, etc., to supply products such as in-vehicle central control panels in batches.
Luxshare Precision also began to bet heavily on the new energy vehicle business, and directly signed a strategic cooperation agreement with Chery, spending RMB 10.054 billion to invest in three Chery Group companies to build vehicles.
On May 18, 2022, the car delivery ceremony between EXEED Xingtu and Luxshare Precision was officially held, marking the official exit of Luxshare Precision in new energy vehicle manufacturing.
In addition, the fruit chain companies involved in the new energy vehicle industry chain include Foxconn, Sunny Optical Technology, Lingyi Zhizao and so on.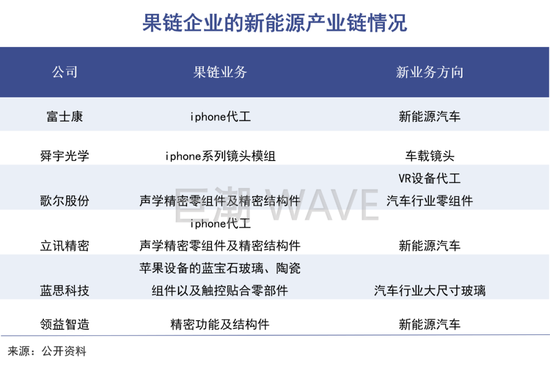 The second option is to broaden the customer base and enter the industrial chain of other smartphone manufacturers.
At present, Apple is still the second largest mobile phone manufacturer in the world, especially with the decline of Huawei's market share, the high-end brand field has been swallowed up by Apple. In this environment, the strategy of "putting eggs in different baskets" is extremely difficult for fruit chains to succeed, and other brands have limited space for them.
Today, most fruit chain enterprises are still in the transition period, and it is difficult for new businesses to achieve immediate results in a short period of time. The transformation results will take a long time to verify. This is for enterprises, shareholders and even hard-working employees. Not good news.
write at the end
At present, most of Apple's products are still produced in mainland China, and China's complete electronics industry supply chain and infrastructure have always been the key factors to attract Apple to stay in China. However, due to rising domestic labor prices and other complex reasons, Apple is becoming more and more More orders are moved overseas.
After sorting out the top 200 global suppliers announced by Apple in 2021, Yicai found that among the 610 factories in the world, there are 259 factories in mainland China, accounting for 42.46%, and 37 factories in Taiwan, China, accounting for 6.07%. , while the number of suppliers with factories in Vietnam has gradually increased in the past four years, and by 2021, it has reached 23, which is the largest country in Southeast Asia. In addition, the type of manufacturing plants in Vietnam has also expanded from simple assembly manufacturing to upstream components, covering display panels, passive components, chips, glass, etc.
With the continuous industrial transfer of Apple in Vietnam, India and other regions, what fruit chains are now facing is no longer domestic involution competition, but how to constantly make adjustments in the changing international environment: whether to respond Does Apple need to invest overseas to set up factories? Will it face the risk of being replaced by new fruit chain companies in Southeast Asia and South Asia?
There are too many questions for fruit chain companies to answer.


(Disclaimer: This article only represents the author's point of view and does not represent the position of Sina.com.)

This article is reproduced from: http://finance.sina.com.cn/tech/csj/2022-06-14/doc-imizmscu6733024.shtml
This site is for inclusion only, and the copyright belongs to the original author.