On July 28th, the leading automotive chip company Coretronics released the latest flagship product G9H of the gateway chip "Network Core" G9 series, targeting the next generation of high-performance central gateways, in-vehicle computing units, cross-domain controllers and other application scenarios. While retaining high security and reliability, the G9H significantly improves in-vehicle data exchange and processing capabilities, helping to upgrade the automotive electronic and electrical architecture to domain control and central computing.
Future-proof high-performance gateway processors
The G9H is designed based on the high-performance and high-reliability automotive-grade processor platform of Xinchi, and adopts TSMC's 16-nanometer automotive-grade technology. The application processor part is equipped with 6 ARM Cortex-A55 CPUs with a frequency of 1.8GHz, which are used to run complex operations such as Linux/QNX system, and can support the deployment of Adaptive AutoSAR on this basis. At the same time, the G9H security processor is equipped with 3 sets of dual-core lockstep ARM Cortex-R5F CPUs with a main frequency of 800MHz, which can be used for the deployment of Classic AutoSAR.
In addition, G9H supports 32-bit LPDDR4/4x, eMMC, QSPI and other memory interfaces, integrates high-performance body network interfaces such as Gigabit Ethernet, PCIe3.0, CANFD that support TSN protocol, as well as I2C, SPI, USB3.0 , ADC and other general peripheral interfaces to meet the functional requirements of future central gateways and cross-domain controllers.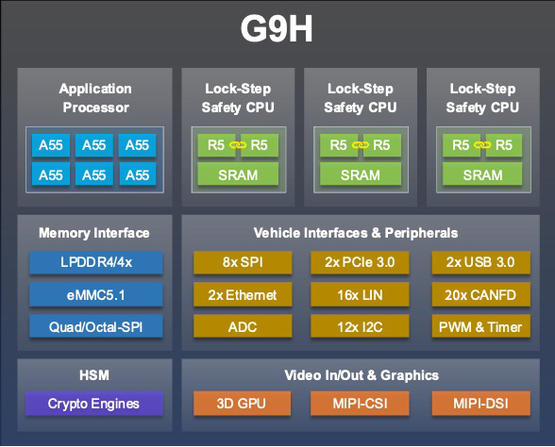 G9H product block diagram
Overall performance improvement
Xinchi will release G9X, the first product of G9 series for central gateways in 2020, and will launch upgraded versions G9Q/G9V in 2021. The high-performance G9H launched this time is the new product released by G9 series for the third consecutive year.
On the premise of meeting the quality of the vehicle regulations and the unique rules of the automobile industry, Xinchi Technology maintains the industry-leading speed and conducts product iterations every year to create "platform-based" chip products.
Compared with single-core G9X and quad-core G9Q/G9V, G9H adopts 6-core Cortex-A55, which not only increases the number of cores, but also increases the main frequency from 1.4GHz to 1.8GHz, and doubles the overall A-core performance, which can be used for growing The in-vehicle data processing provides sufficient computing power support, which helps car manufacturers to upgrade to the new generation of automotive electronic and electrical architecture. At the same time, higher computing power can reserve space for new functions that will be continuously added through OTA upgrades in the future, significantly improving user experience.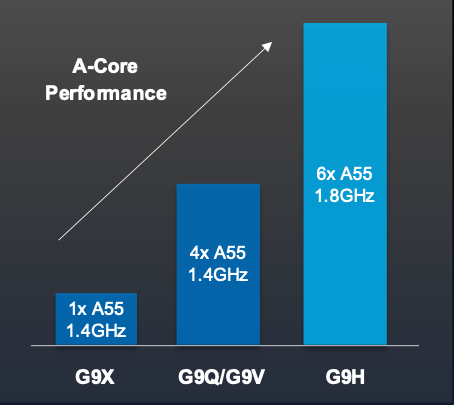 While improving the performance of A core, G9H is also equipped with more R cores, from 1 pair of dual-core lockstep Cortex-R5F CPUs of G9X, G9Q/G9V to 3 pairs of dual-core lockstep Cortex-R5F, which can run 3 at the same time AutoSAR system.
In the process of upgrading the electronic and electrical architecture to regional controllers and central computing, multiple groups of high-security lock-step CPUs can deploy multiple functions such as gateway, VCU, BCM, etc. on one G9H processor, which significantly improves system integration. Further reducing the system BOM cost also contributes to the platform design of the vehicle architecture.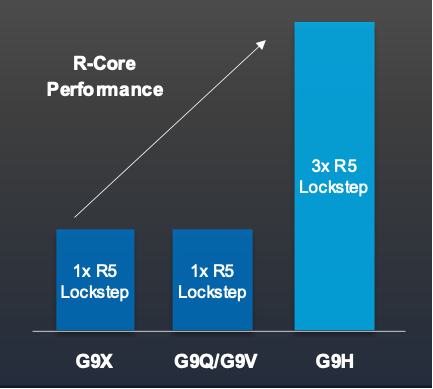 The entire G9 series maintains software compatibility. For customers who have used G9 processors before, they can use the higher-performance G9H to achieve seamless product upgrades, and iterate to higher-end central gateway products with shorter development cycles and better cost management.
Safe and efficient interconnection
G9H supports a wealth of body network interfaces, including two 1G Ethernet TSN, 20 CAN-FD interfaces and 16 LIN interfaces, and can expand the vehicle Ethernet switch through the PCIe3.0 interface to achieve more than 10 Ethernet interface expansion. It can meet various interface function requirements of future central gateways.
Like other chips in the G9 series, the G9H can support the SDPE packet processing engine independently developed by Xinchi, which can facilitate the forwarding of messages, packets and signals between CAN FD, LIN and Ethernet.
In addition, G9H has built-in high-performance HSM that meets the national secret standard, which can support various security functions such as digital signature, authentication, and data encryption. Real-time encryption and decryption.
Through the close combination of SDPE packet engine and built-in HSM, G9H hardly occupies the processing power of A core or R core when processing data packet encryption, decryption and routing between CAN FD, LIN and Ethernet, so that it can support more services Logic to ensure safe and real-time data interaction.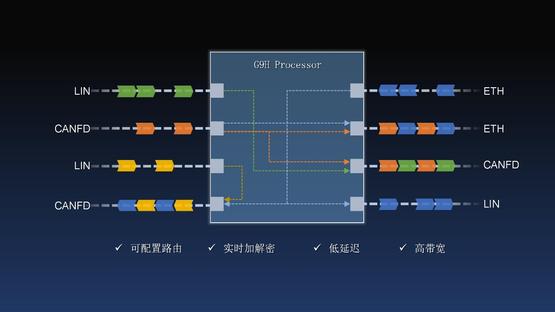 Not only that, G9, as the intelligent information exchange hub of the whole vehicle, can seamlessly connect the X9 series of Xinchi intelligent cockpit chips, the V9 series of automatic driving chips, and the car-regulated MCU E3 "Core of Control". The series enables the originally independent functional modules to achieve safe, high-speed, and lossless interconnection in the car, sharing sensor data and vehicle status data, and forming a smart neural network for future cars.
In addition, G9H can also connect to external networks, support OTA online upgrades, automatic driving online opening and other functions, comprehensively consider the use scenarios of information interaction, and deeply empower smart travel.
cross-domain fusion
In addition to the rich network interfaces on the body, G9H also supports video input and output interfaces, including one MIPI DSI and two MIPI CSI, and with the high-performance PowerVR 3D GPU, 3D instrumentation, DMS and other functions can be integrated into the central gateway, further Achieve system BOM reduction.
In the HMI design of the instrument, the G9H can support the development tools commonly used in the industry such as QT/Kanzi/Unity, and the customer's existing instrument solutions can be easily transplanted to the G9H.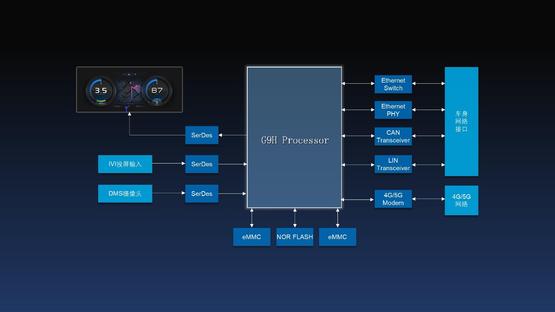 High-reliable vehicle quality
As the core components of smart cars, the central gateway and on-board computing unit need to have high safety and reliability. The G9H is designed, produced and tested according to vehicle regulations throughout the whole process. The reliability reaches AEC-Q100 Grade 2, and the functional safety level reaches ISO 26262 ASIL. B, to ensure that the car works stably.
Unlike consumer electronics, automobiles carry the most precious life and cannot have the slightest risk. Xinchi completed the ISO26262 ASIL D highest functional safety level process certification at the first time of its establishment, and then quickly obtained AEC-Q100 reliability certification, ISO26262 functional safety product certification and national secret certification, becoming the first "four-certificate certification" in China. "One" automotive chip company.
G9H products are now in full mass production, and a number of automakers and Tier 1 have started planning electronic and electrical architecture and designing controllers based on G9H.
This article is reproduced from: http://www.guokr.com/article/461907/
This site is for inclusion only, and the copyright belongs to the original author.