Original link: https://sehseh.substack.com/p/5-647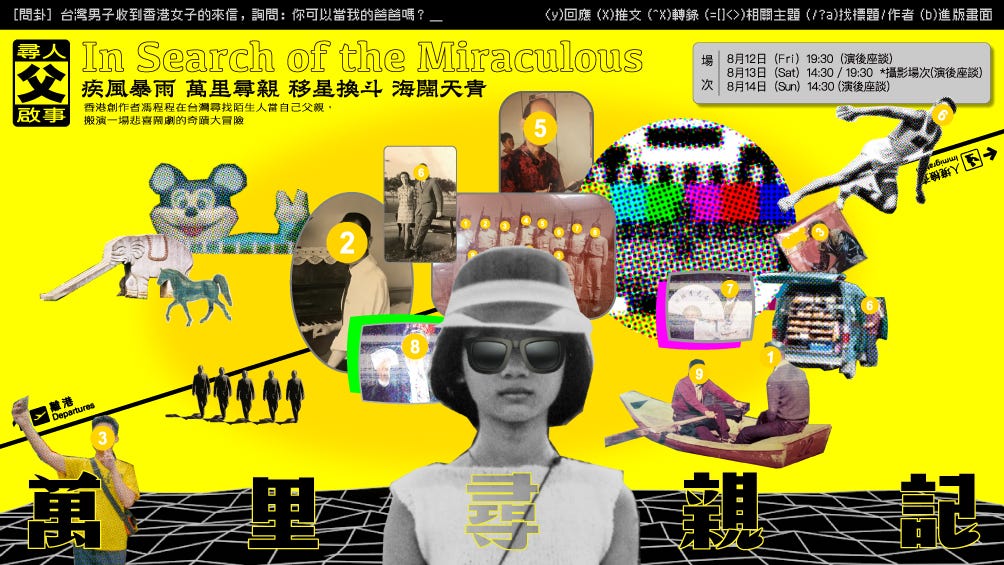 The main visual of Feng Chengcheng's latest work "Ten Thousand Miles to Find Relatives". (refused to offer from the troupe)
---
---
Text / Su Meizhi
From August 12th to August 14th, 2022, the Taipei Arts Festival will stage "Ten Thousand Miles to Find Relatives" co-created by Hong Kong creator Feng Chengcheng and Taiwan's "Zairen Opera Troupe" .
This is not a stage play with a pre-designed plot and dialogue, but an "action research": Director Feng Chengcheng recruited five Taiwanese amateurs who did not know each other to be his "dads", and let the fathers appeal on the stage to say their own life experiences . There are "Dads" who are witnesses of the White Terror, and "Dads" who were immigrants from Hong Kong… The personal histories of several "Dads" make up a Tale of Two Cities that spans Taiwan and Hong Kong.
Feng Chengcheng from Hong Kong is not a "good" theater creator. Her work is never easy to define—she can write profound lines that speak to the soul, and is also good at jumping out of the text box to create an artistic experience that cross-domain sensory construction; Exploring the boundaries, knocking out what's hidden in your head; she will lead the group from noon to sunset, and the exhaustion, frustration and even the play are all experiments…
With that said, her crazy idea of ​​going to Taiwan to find a stranger to be a "father" seems easier to understand. We had a chat in Taipei about the starting point of "searching for relatives", the connection brought by this "ongoing" open performance, the current creation in Hong Kong, and the more difficult and wider artistic imagination. "If an artistic experience is enough to remind us that we are human, I will do it whenever I get the chance," she said.
After the meeting, she passed on a sentence, adding what Wanli Xunqian was looking for – "Actually, I don't want to spoil it, it's too simple. But now I want to write to you: It's about finding, facing the future and creating the future. strength."
(The following is an interview between Su Meizhi and Feng Chengcheng, the author of the walk, ask = Su Meizhi, Feng = Feng Chengcheng)
Q: What was the starting point for the creation of "Ten Thousand Miles"? What is the process like?
Feng: In August 2020, there was a 12 Hong Kong people incident (12 Hong Kong people who wanted to abandon their bail and fled to Taiwan, but were arrested by the Guangdong Coast Guard and sent to Shenzhen Yantian Detention Center for detention). On the one hand, I saw (the missing persons) 's) family members openly asked for help with their faces covered, and my heart ached; on the other hand, I couldn't accept it in an instant, and the world seemed to be turned upside down.
I still look after myself. At that time, I was applying for an employment gold card to come to Taiwan. If I succeed, it will be easier to come and go. But the epidemic has made the level bigger, and going to a place is not as easy as it used to be, and even if you can, some people can't…
I couldn't sleep all night, and suddenly I remembered my father who passed away when I was ten years old. He also wanted to come to Taiwan and finally came to Hong Kong.
50 years ago, my dad couldn't go to Taiwan, and I didn't go that night, and 12 people from Hong Kong couldn't go either. Can these three types of subjectivity overlap in the work? I think about my position in the creation, can I use another form to "bring" people who can't come? I had ups and downs in my thoughts, and then I wrote a plan. I soon got a reply from the Taipei Arts Festival: "Don't wait, do it now."
This is not a drama with a well-designed plot and actors to arrange. It is "action research" (action research), a research-based performance, and the backbone is that I came to Taiwan to find different people to be "dads". It has a kind of authenticity in itself, wonderful and "hit luck" at the same time. I want to imagine who is willing to accept such a "ghost horse" request and play with me on stage. I was looking for someone to chat like a needle in a haystack, including my friends' fathers and friends and relatives.
For these new friends, I have no expectations, only anxiety.
Every time, I would take out my dad's photo to tell about my past, and try my best to charm (infect) them: I'm from a good person, this thing will be fun (laughs)… The most important thing is to let them understand my situation, and Behind the scene is Hong Kong. Of the five "dads" that followed, only one was invited by the troupe. He is a witness to the White Terror, and we want to have a conversation with the history behind him.
Question: What is the relationship between the "father" you found and the image of your father? What kind of connections have you made?
Feng: In this matter, my father is a scorpion, and the person he finds has nothing to do with his image. I even talked to women (laughs).
Growing up, I was always afraid of talking (chatting) with older men. I was inexperienced, didn't know how to react, and didn't know how they viewed me. But this time, I found that I used to enjoy listening to "dads" talking about youth, which are very local and living history. I felt like I was pulling a string and putting together a puzzle. During the process, I felt connected. I stumbled into Taiwan's history by mistake. I also looked at it from different perspectives of "dads" — this "dad" has experienced the White Horror, this "father" "Dad" came from the civil service system, and that "Dad" was an early Hong Kong immigrant. They had their own experiences in the 70s and 80s, but they were connected because of me.
Just yesterday, "Dad" A wrote a song about white terror and asked me to pass it on to "Dad" B, a witness to the white terror. I am amazed: I am someone who lives outside that period of history, how can these lines be pulled by me? But the next second I put that thought aside and realized where I was. To the elders, I am the next generation, and this is the inheritance. Perhaps it is suffering and the attitude towards suffering that binds us?
My initial passion was: I must tell the current situation in Hong Kong and ask you to take care of it. But when such crazy ideas are put into practice, things are not so one-way, nor should they be so one-way. Every time I listen like new, take in and out, then turn into a vortex, trying to become something that can be given to the audience.
In the past, many of my creations required verses to convert the collected materials into scripts, but this time I involved very few conversions, and they were all spread out for the audience to see, and everything was still stirring and appearing. For example, the five "dads" have not met up to this point. After getting to know each other, I wonder if they can get along or even develop their own bond? I don't romanticize or presume after.
For me, the biggest difference in this creation is that it is progressive. Even if the script says "end of the play", even if the last scene is over, we won't be finished. Maybe next year I'll come back and say New Year's greetings to them? Great to think about.
Question: "Looking for relatives in thousands of miles", what kind of relatives did you find?
Feng: If we really want to put it simply, it is a connection that spans many differences, whether it is geography, time, or gender. To emphasize, I'm not saying that all differences can be reconciled or dealt with; differences exist, such as "dads" who don't necessarily support homosexuality. But even so, we can connect in a situation. Theater is just that kind of fun to cast something in the minds of those who go through it together.
In addition to the imminent era, what drives my creation most at this moment is the plurality that I hold deep in my heart. The values ​​it accompanies are always at the core of me, and it accompanies me to grow on the road of creation, which also makes me more willing to make new attempts in my works. I would call myself a feminist, not the gender mainstreaming kind, but embracing diversity.
Like this time, I opened up a little personal family history and drew you into my life in a "feminine" rather than a "male" way. Because the history I want to talk about is histories, not just my own story, not the only history, nor a conclusion. It is modal.
Q: From choreography to performance, how would you describe your position in the work this time?
Feng: This time, there are no brilliant lines or very literary lines, because the lines are the testimony of the "fathers". My intervention is not a screenwriter, I don't have anything to "act", and I don't need to direct "dads" to act. So what am I? I am still the director, and let the "dads" tell stories overlappingly under the framework of music, video, and spatial layout, use sensory experience to pave the way for this emotional journey, and guide the audience on what to listen to, when to listen, and when to put in their own feelings. , when to jump out to see us present.
But rather than being a writer and director, my bigger role is actually that of a researcher, coming to share my interim report. The "dads" are part of the study, and so are the audience, and then I also study myself in the play, and let everyone study me. The creator walked very forward this time and was completely seen, including what did she care about? How to give and take… with these people?
And I like it more and more. The so-called "action research" is dynamic, able to stay active all the time, and I really need this active feeling. Living in Hong Kong is too passive. We must find a way to be a braver person in order to face the present.
Q: Sorry to be a little cruel to ask – it's ok here, but not home, would that comparison be more sad?
Feng: Not now, but in the end it is possible.
Where does the confidence come from? I see living testimony here. When the "Fathers" suffered so much, they never imagined that they would be able to live well today and use their own stories to seek justice. History tells us that it will happen, and if we don't believe it, what do I believe in? Isn't that nothing but nothingness? Must believe!
The performance is in Taiwan, although I can't give back to the Hong Kong audience, but what I get here will become something else to bring back. If it weren't for this creation, I can't imagine myself going back and having the strength to do other things. It may be roundabout to say this, but the work is just a process. The progress is for me, for those on stage, and for those who watch. This time the fader (fader controller) will be pushed very slowly, but the stage will always light up.
During the 20 or 30 years I was growing up, Hong Kong theatre has always been defined by the words "professional development" to define the ladder of art career. I even imagined that when I was 40 years old, I must do the Hong Kong Arts Festival. At that time, we can focus on embracing art, studying the aesthetics of works, discussing how to reform from the inside of art, and writing down a piece of the history of art…
However, the world is different, and many expectations must adapt to the changes and find their place in the difficult times. For example, can I use other methods to create creations in the future, under different conditions? I don't have an answer, but the point must be to broaden the artistic imagination.
In the big era, not only artists, but everyone's creativity is exploding, which is a very human reaction. In this way, should people who make art as their career become more humble and understand how to connect with others and how to renew these connections? If power insists on blurring us, then the life I live now, the way I create, the emphasis on how "human" I feel when I talk to people, and those sincere exchanges are all resistance.
Let me be a little rude: writing is ultimately the work of the soul, even if it's just one-on-one, even if it's just a good script read. If an art experience is enough to remind us that we are one, I will do it whenever I get the chance.
Q: You have always kept a low profile, but this time you put yourself in the theater and extended it into a story. How does it feel?
Feng: I have a group of trusted theater partners in Taipei, and they gave me a bit of a push. But, even so, I felt naked during rehearsal. Looking back at the beginning of the discussion in early June, my friends felt that I should be more straightforward, otherwise the audience might not understand the cause and effect. OK, then I'll talk directly. But after writing, there is a voice inside: Are you sure? Will there be consequences if you go back? These questions are all real. I didn't go to "冧" (give in), but I hated this sense of self-censorship.
Interestingly, I'm also researching myself in the play – should I tell the audience that there's a voice in my heart telling me not to talk about it? Can I honestly share my decision-making process? "That's all I can say because…" That's what's so fascinating about live performances, that openness, even I don't know what the final product will look like.
How an artist can regain his sense of living as a person—this is the quest that strikes me the most. But even this mildness can be criticized in the age of hermeneutics. Our generation is internalized (obedient), I am cowardly in life, but not at all artistically… The problem is that the risks I take in the theater now may have consequences in my daily life in the future. How to be wise and not cowardly? (Finish)
---
walk around small encyclopedia

Feng Chengcheng |Creator of Hong Kong theatre. Notable works include: Who Killed the Elephant (2012-13), Business as Usual in the City (2014), Stone and Gold (2015), Cassandra: The End of Appearance (2017) , "Intimate Claustrophobia" (2017); the work has been nominated for the Hong Kong Small Theatre Awards, and won the Best Director for "Business as usual in the city".
---
About the Author| Su Meizhi (a reporter living between Taiwan and Hong Kong)
---
The World Walk has important stories you haven't read yet. We focus on global issues from a gender perspective, complementing stories of dilemma, breakthrough, connection, and change that traditional power perspectives ignore.
Please pay a subscription to become our partner and walk with women around the world.
---
Subscribe to the Walk Around Newsletter and we'll deliver:
[Members only] Go original: a good story that others have not written yet

An Evening News Every Day: A selection of daily news summaries for you

Weekly Newsletter: Good articles from around the world you may have missed

A Weekly Note: A Weekly Guide to Online Activities
【Exclusive benefits for other members】» See here
This article is reprinted from: https://sehseh.substack.com/p/5-647
This site is for inclusion only, and the copyright belongs to the original author.