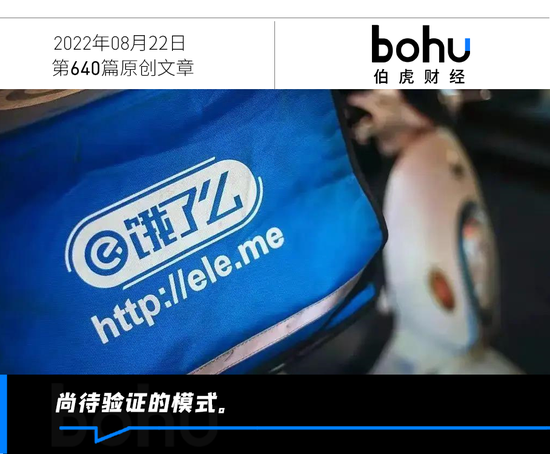 Welcome to the WeChat subscription number of "Sina Technology": techsina
Text / Lingling
Source/Bohu Finance (ID:bohuFN)
After Kuaishou and Meituan joined hands, Douyin and Ele.me also announced their cooperation.
The two parties will work together to explore new scenarios and upgrades of local life services through high-quality content, abundant commodities and efficient logistics and distribution.
According to Ele.me, "the two parties will be based on the Douyin open platform, using mini programs as a carrier, and together with Douyin, through rich product scenarios and technical capabilities, to help millions of merchants provide content from Douyin's 600 million daily active users. Local living services from planting grass, online ordering to instant delivery."
In layman's terms, you can order takeout when you swipe Douyin in the future, and then you can swipe Douyin after ordering, and the takeaway will arrive. What an ideal collaboration.
But Meituan and Kuaishou have not yet run through this model, is Douyin hungry?
Douyin, conquering "local life"
Douyin refers to local life, not a whim. As early as 2018, Douyin focused on the local life cake and made efforts to group purchases and other fields. In 2021, Douyin had an internal test of the "Heart Delivery" business, selected Chengdu as a pilot city, and cooperated with catering brands such as HEYTEA and KFC. However, according to people familiar with the matter, the project was eventually taken off the shelf due to the difficulty of building a logistics distribution system.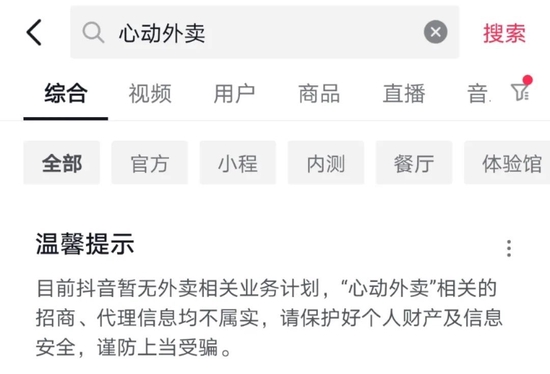 (Screenshot of Douyin)
In July of this year, Douyin launched the "group purchase and delivery" function to fight the takeaway market. "Considering the actual needs of merchants and users, and in order to better protect the user experience, we will try to open the delivery service of group-purchasing goods for some merchants with urgent needs. At present, the project is still in the exploratory stage," said the person in charge of Douyin Life Services. Say.
It can be seen that the local life layout of Douyin is not smooth, and the weakness lies in the distribution link. Currently, there are three main delivery methods chosen by merchants who do takeaways on Douyin.
The first is that the in-store staff deliver the goods by themselves, which has high requirements on the delivery distance and in-store manpower. Once encountering a "popular order", the demand cannot be met at all.
The second is to deliver to your home through flash delivery, errands, etc., which is also a method commonly used by merchants. However, for merchants with insufficient orders, the delivery cost is very high.
The third way is to use Meituan's capacity, that is, customers place an order from the Douyin live broadcast room, enter the coupon code from Meituan to write off, and then order another meal from Meituan to reach the starting price, and then be delivered by Meituan riders. This operation is relatively cumbersome and is rarely used by businesses.
For Douyin, after attracting merchants, the delivery link from store to home is a heavy project and professional work. The cooperation between Douyin and Ele.me is enough to supplement the local transaction and fulfillment delivery capabilities in a short time, and strive for a time window to improve and enhance the local life business.
Over the past year, Ele.me has started organizational innovation, and there have been many changes. Ali's financial report shows that Ele.me has maintained high growth in orders and transaction volume for three consecutive quarters, unit economic benefits are constantly improving, and losses continue to narrow simultaneously.
"This stems from the fact that Ele.me is gradually getting rid of the traditional inefficient and involutionary subsidy-dependent development of the local living industry, and is turning to a strong complement of more non-meal orders through better supply of goods and services." An industry insider said so.
What is certain is that Ele.me's merchant resources, user base, local real-time e-commerce transaction service capabilities, and logistics and delivery performance capabilities have been verified. With the blessing of Ele.me, Douyin undoubtedly has more chips in the local life battlefield. Best of all, delivery is no longer an issue.
As for Douyin, the reason why Douyin is focusing on local life services is that there are "mines" underneath.
The overall market size of Internet marketing has ushered in a decline. For short video platforms such as Douyin, whose main income is advertising, it is a signal that "it is urgent to find a new growth curve".
The local life with a considerable growth rate seems to be a good choice. According to data from the Prospective Industry Research Institute, in 2021, the market size of China's Internet local life service industry alone will reach 260 million yuan, with a year-on-year growth rate of 15.1%; by 2025, its market size is expected to reach 4 trillion yuan.
This is also the main reason why Douyin keeps working hard.
Are you hungry, increase the chips in the competition with Meituan
Are you hungry and have something you want.
Food delivery seems to have flooded our lives, but it is not. According to the "China Food Delivery Industry Development Report in 2019 and the First Half of 2020" jointly released by the China Hotel Association and the Meituan Research Institute, it is estimated that by 2020, online catering will account for just over 20% of the entire catering industry. The penetration rate of China's e-commerce industry is 37%.
Another set of data shows that the total number of domestic enterprises is 150 million, of which about 90 million are individual industrial and commercial households. Currently, Meituan has 9 million active merchants per quarter. This means that what is in front of Ele.me is the opportunity of 9-90 million offline stores.
The uncultivated takeaway market is an attractive piece of fat for Ele.me. Ele.me needs more than Meituan, but it may not have enough chips to compete with it.
In 2021, Ele.me's annual revenue is about 30 billion yuan, and Meituan is about 180 billion yuan. There is a big gap between the two. According to the Matthew effect, the strong will be stronger and the weak will be weaker. If Ele.me and Meituan continue to compete for the future market alone, the odds of Ele.me are not optimistic.
From the perspective of the industry, compared with Meituan, what Ele.me lacks the most is traffic. On the one hand, in the Alibaba department where Ele.me is located, traffic anxiety has gone hand in hand. The boss can't get enough to eat, and the younger brother is naturally fed up. On the other hand, Ele.me is already at a disadvantage in the competition with Meituan, and the user scale itself does not have an advantage.
Today, Douyin has 600 million active users and is joining hands with Ele.me. Ele.me is expected to cut into the user's entertainment scene to obtain increments and further expand the service scene and audience.
This scene can't help but remind people of what Fairy Zixia said in "Journey to the West", "My favorite is a hero of the world. I know that one day he will appear in a highly anticipated situation, wearing a golden armor and holy clothes. Colorful auspicious clouds come to marry me."
It is worth noting that we can only guess the beginning of the cooperation between Douyin and Ele.me, but we cannot predict the result.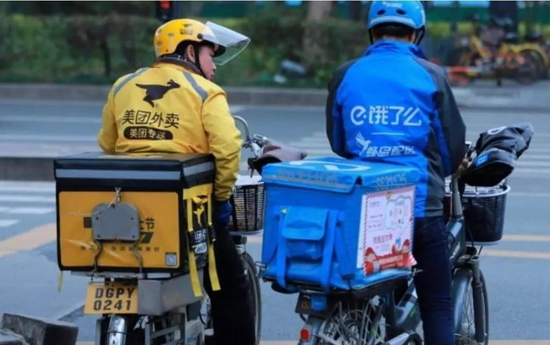 (Image source network)
Short video takeaway, a proposition to be verified
In the past, there were not a few third-party platforms that cooperated with Douyin.
In June 2019, media reports said that Douyin and Taobao signed an annual framework agreement of 7 billion yuan, 6 billion yuan in advertising, and 1 billion yuan in commissions, but Douyin said the data was untrue.
The cooperation between Douyin, Taobao and JD.com was ultimately over, and did not bring shocking synergies. As an industry insider mentioned, "Has Douyin's cooperation with Taobao and JD.com affected Pinduoduo before?"
Before Douyin and Ele.me cooperated, the combination of Meituan and Kuaishou had already been established. However, since the cooperation was announced in December last year, Meituan and Kuaishou have not announced the effect of the cooperation to the outside world. Bohu Finance found that the Meituan applet on the Kuaishou platform currently only provides services such as group purchases, and cannot order takeaways. On Douyin, the Ele.me applet has not yet been launched.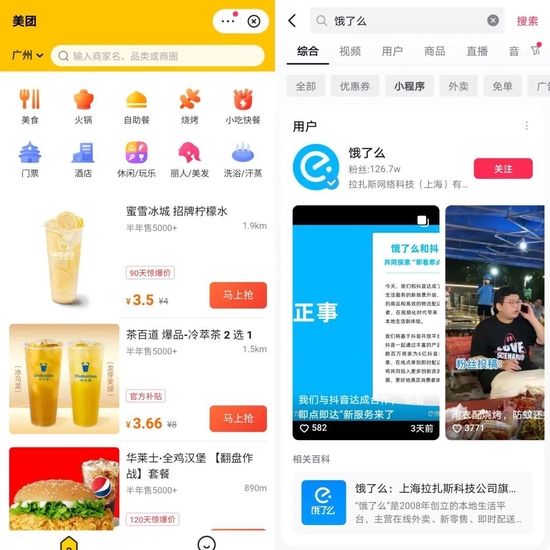 (Screenshots of Kuaishou and Douyin pages)
The story of cooperation has been told for more than half a year, but in the end, I still failed to order takeout on Kuaishou. why is that? Judging from the progress of the cooperation between Meituan and Kuaishou, at least it can be said that the "local life" battle between the food delivery platform and the short video platform is not so easy to fight. Behind the cooperation, there are actually many risks and problems.
On the Internet track, the answer always seems to be dynamic, whether players are enemies or friends.
Regarding the "competition" between Meituan and Byte that was mentioned by the outside world, Wang Xing once responded: "The word competition is often said together, and it becomes a mindset. We compete against each other, so I think we are competitive. There is more competition than competition."
But the reality is that expanding business boundaries and consolidating ecological moats have become the general development logic of Internet companies. This has led to the fact that companies that have no business intersection may also go to the opposite side. It's not that we won't fight, it's just that the time has not come.
Douyin and Ele.me are the same. How to handle the weight of cooperation has become a big question. Li Chengdong, the founder of Dolphin Club, once mentioned, "The cooperation between JD.com and Douyin Kuaishou is very small. Because Douyin Kuaishou wants to do e-commerce business, it is in conflict with JD.com, so it is very difficult to cooperate deeply." Hungry Will it become the next "Jingdong"? Hard to say.
In addition, the cooperation model of Douyin and Ele.me is still uncertain. After all, Kuaishou Meituan, the only one who could give a reference answer, chose to remain silent.
The outside world has also raised some concerns. For example, in order to grab Meituan's local life cake, it is necessary to have sufficient ammunition, such as low prices and other advantages. In this case, losses will inevitably occur. How should the two sides balance?
Furthermore, ordering take-out is extremely time-sensitive, and consumers' instinctive response will still choose to open the take-out software. As an industry insider mentioned, "Even if Douyin opens a special page for takeaways in the later period, consumers will abandon the more ecologically sound Meituan and choose Douyin, which has just started. What are the plans? If it is directly implanted on the Ele.me website , so why don't you just download Hungry?"
How much room can short video takeaways have? Maybe next, Douyin and Ele.me will give further answers.

This article is reproduced from: http://finance.sina.com.cn/tech/csj/2022-08-22/doc-imizirav9252291.shtml
This site is for inclusion only, and the copyright belongs to the original author.