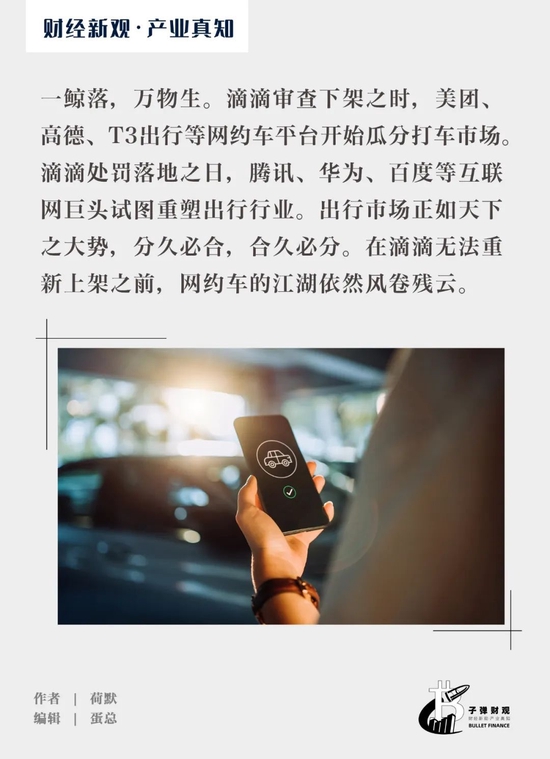 Welcome to the WeChat subscription number of "Sina Technology": techsina
Text / Homer
Source/Bullet Finance View (ID: zidancaiguan)
Since the beginning of the "double innovation" trend in 2015, people have witnessed a lot of Internet racing tracks or fading bubbles or falling from the tuyere, and there are also industries or patterns that have emerged or are advancing steadily. In the past 7 years, the situation has continued, and it has been very lively.
Recalling that Didi Chuxing, the giant on this track, took five years to achieve from the competition to the domination of the rivers and lakes, and it took only half a month from the review to the delisting; from landing on the New York Stock Exchange to being forced to delist, and then to review It's only been about a year before and after the landing… Up to now, Didi App has not been able to return to the app store, and it is impossible to attract new users. It can be said that "seeing him raise a tall building, seeing him banqueting guests, and seeing his building collapse".
In the summer of 2022, the online car-hailing market seems to be undergoing an open and secret battle of "nine sons for succession". When Didi's punishment was implemented in July 2022, Internet giants such as Baidu, Huawei, and Tencent began to disrupt the travel industry. Just like the day Didi was reviewed and removed from the shelves in July 2021, online car-hailing platforms such as AutoNavi, Meituan, and T3 Travel began to divide up the car-hailing market.
There is nothing new under the sun, and the scuffle around the car-hailing market is repeating itself.
Alien "spoilers"
Recently, some netizens said that unmanned car-hailing cars were found in Wuhan Economic Development Zone. The difference is that the main driver of these car-hailing cars can be "unmanned".
On August 5, it was reported: "Recently, Baidu Apollo's self-driving travel service platform, Carrot Run, has been approved as a demonstration application for remote driving of intelligent connected vehicles in Wuhan, and has started remote commercialization pilot operations in Wuhan Economic and Technological Development Zone. Provide self-driving travel services to the public."
According to the official website of Radish Run, in addition to Wuhan, Beijing, Shanghai, Guangzhou, Shenzhen, Chongqing, Changsha, Yangquan and Wuzhen are also among the first batch of pilot cities. As of July 2022, the cumulative order volume of Carrot Run has exceeded 1 million. And it plans to open the self-driving travel service to 30 cities by the end of 2023, deploy at least 3,000 self-driving cars, and provide travel services for 30 million users.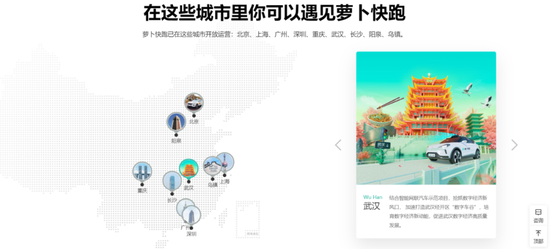 Figure / Radish Run official website
"Bullet Finance View" learned from Hubei Daily that Radish Kuaipao has invested 20 autonomous vehicles in Wuhan Economic and Technological Development Zone, 5 of which are fully driverless vehicles, and a total of 63 recommended pick-up points have been set up, starting from 9 a.m. Commercial operation will be carried out on the roads within 30 square kilometers of Zhuankou in the Economic Development Zone from noon to 8 p.m.
"Bullet Money View" also made an appointment through the applet and experienced an unmanned car. Although it is unmanned, there is still a safety officer watching the road conditions at all times – Baidu currently has a total of 20 vehicles in Wuhan, 5 of which are unmanned in the main driver position, the safety officer is in the co-pilot, and the remaining 15 vehicles are in the main driver. , but hands off the steering wheel.
Judging from our entire travel experience, compared to other online car-hailing vehicles, Carrot Run is a bit different.
First of all, the starting point and destination of the trip are fixed, passengers can only choose the nearest according to their own itinerary, and the area covered by the trip can only be within the scope of the trial operation. Secondly, the itinerary pricing is significantly higher than that of general online car-hailing. The starting price of 16 yuan is much higher than 60% of the starting price of taxis in Wuhan. Fortunately, it is currently a free experience. Finally, you need to provide your name and ID number before you can place an order. Passengers must be between 18 and 60 years old, and real-name authentication is required.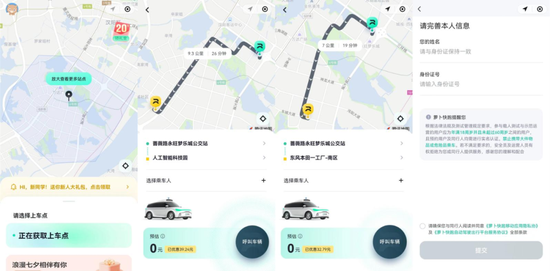 Figure / Radish Run applet
Although Carrot Run is a market-oriented commercial travel service, it is still in the trial operation stage, so it is not possible to go and stop immediately. As for whether fixed-point pick-up and drop-off will continue after full implementation, based on traffic management and travel safety considerations, fixed-point pick-up and drop-off areas will most likely be set up, but fixed points will be more dense. After all, the current shared bicycles have designated parking spots, and many cities are also implementing designated spots for taxis to park.
At the Baidu World Conference 2022 on July 21, Baidu released the Apollo RT6, an unmanned vehicle without a steering wheel, based on breakthroughs in autonomous driving technology. More importantly, the cost of this unmanned vehicle is only 250,000 yuan, which greatly reduces the cost of mass production to 1/10 of the industry. Baidu plans to use the RT6 on the Carrot Run platform next year, and tens of thousands of vehicles can be deployed across the country in the future.
At the same time, Li Yanhong also said: "With the reduction of the cost of unmanned vehicles, the price of driving unmanned vehicles in the future will also be half cheaper than it is now."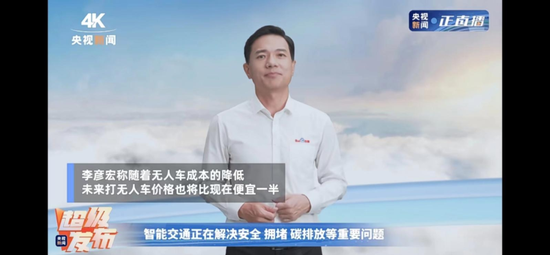 Figure / CCTV News App
For the travel market, after Didi "created" the sharing economy, Baidu is trying to reshape the business rules of online car-hailing starting from driverless driving. In addition, the online car-hailing market has welcomed several new players in the summer of 2022.
On July 27, at the Hongmeng 3.0 conference, Huawei announced that HarmonyOS 3 officially launched the atomization service – Petal Travel. This is the first Hongmeng travel service that supports multi-device circulation, and can be used collaboratively between mobile phones, watches, tablets, PCs and other devices without downloading an app.
At present, Petal Travel has aggregated service providers such as Shouqi Car-hailing, Shenzhou Special Car and T3 Travel, and has conducted test operations in Beijing, Shenzhen and Nanjing.
In the same July, many netizens found that in addition to the original Didi Chuxing applet entry, there was an additional entry of Tencent's "Tencent Travel Service" applet in the "Transportation Travel" in the Jiugongge of the WeChat App.
At first glance, compared to Huawei's multi-device circulation and Baidu's unmanned operation, Tencent's travel service does not seem to have any characteristics. But after careful consideration, Tencent's move seems to be an innovative innovation in Internet products.
First of all, Tencent Travel is based on the billion-level active users of WeChat, which can realize taxi services without downloading and registration; secondly, Tencent Travel is an aggregation platform model similar to AutoNavi and Meituan, which only needs to introduce third-party online booking. The car operating company can realize the taxi-hailing function; finally, in the current initial stage of operation, Tencent also launched a travel discount subsidy of "up to 40% off".
Based on the huge user group and high-frequency use dependence of WeChat ecology, plus the convenience of WeChat payment. The seemingly inconspicuous and unremarkable Tencent travel service is an important part of the WeChat ecosystem, and it is easy to achieve "low cost, high conversion" brand promotion.
In addition, Tencent's travel service integrates various travel ticketing services, as well as a full range of online service experiences related to car use, car maintenance, and traffic management, such as gas stations, charging stations, chauffeurs, and car rentals.
Compared with the technological innovations of Huawei and Baidu, Tencent's integrated operational capabilities have been proven time and time again on the Internet. Even if there is not much innovation in technological applications, it may be possible to take a share of the existing market only by relying on the integration of business models.
From an objective point of view, Huawei's Petal travel based on the multi-terminal and cross-device convenience experience, although it also relies on Huawei's hundreds of millions of HarmonyOS ecosystems, is only limited to HarmonyOS 3.0 users, and it is not as convenient as Tencent in payment and maps. As for whether the user experience can be improved qualitatively, it will be further observed after Petal Travel is officially put into operation.
It can be seen that in this summer when the giant Didi is lost, the battle in the online car-hailing market has become more and more fierce. After the rookies appear one by one, what will the old kings who were stuck in the market have to deal with?
"Forerunners"
In addition to Baidu, Tencent, Huawei and other new Internet players trying to "disrupt" the online car-hailing market through the advantages of technology and traffic. The original platforms such as AutoNavi, Meituan, T3, and Cao Cao have also begun to divide up the stock market left by Didi in terms of price.
Even if there is no advantage of Internet companies in technology integration, if the price subsidy is sufficient, it can still be exchanged for a considerable market share.
In July 2021, since the day Didi Chuxing was reviewed according to law, online car-hailing platforms such as AutoNavi, Meituan, and T3 Travel began to attack cities and towns.
"Bullet Finance View" learned from China National Financial Securities that before July 2021, the number of new installations of Didi App per month was about 9.5 million. The monthly installs of the Didi app have dropped to around 1 million.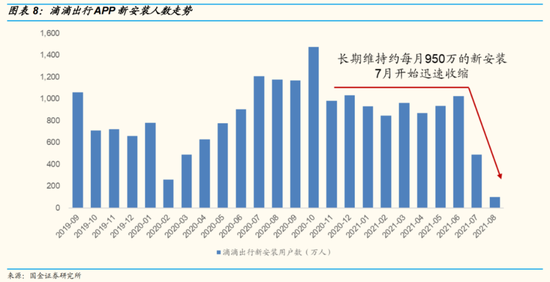 Figure / Sinolink Securities "Meituan Taxi Analysis Framework: Opportunities, Strategies and Endgame"
Meituan Taxi, which was once included in the "blacklist" of traffic control due to illegal operations, changed to a new logo after being silent for two years and set off again. At the same time, in order to divide up the spare market left by Didi, Meituan began to increase subsidies for drivers, and then took over the market share of new users who could not register because Didi.
Another set of data from Sinolink Securities shows that before the Didi App was removed from the shelves on July 4, 2021, the downloads of the Didi platform's driver end remained stable between 15,000 and 20,000 times for ten consecutive weeks, and the downloads of other platforms were stable. The amount is not more than 1000 times. After July 4, the downloads of Didi's driver terminal "returned to zero overnight". At this time, the download volume of Meituan Taxi's driver terminal quickly increased to 17,000 times in mid-July.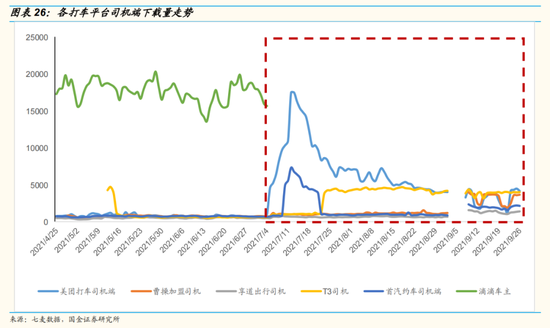 Figure / Sinolink Securities
Other online car-hailing platforms such as Shouqi Car-hailing and T3 Travel are also participating in the division of the Didi market.
An online car-hailing user told "Bullets of Fortune": "In that July of 2021, I witnessed no discounts on taxis during the 'Burning War' in 2014, and I also took taxis at AutoNavi many times. Enjoy a car service as low as '0 yuan'."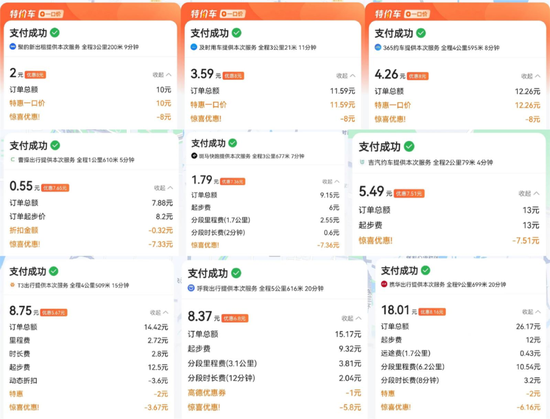 Figure / AutoNavi Map App (around July and August 2021)
Judging from this set of payment screenshots, this subsidy covers many mainstream online car-hailing services such as T3 Travel, Cao Cao Travel, Shouqi Car-hailing, Zebra Run, and China Travel. Online car-hailing passengers can easily get a discount of 8 yuan or more, which is almost equivalent to "free ride" for cities with a starting price of 8 to 10 yuan.
In fact, after the Didi App was taken off the shelves, Meituan Dache, which had already withdrawn from the online car-hailing market, made a comeback. AutoNavi launched a commission-free campaign, T3 Travel increased marketing and subsidies, and Cao Cao Travel increased subsidies to start a coin-spending model. …
Behind the crazy subsidy war is brutal market plunder. Today, this plunder is intensifying. After Baidu, Huawei, and Tencent entered the market, these "first movers" are not to be outdone.
The latest news shows that on August 8, Meituan Taxi set up the Shanghai Peak Haohaixi Joint Office to provide drivers with a three-stage "peak commission-free" activity in the morning, evening and night, and drivers can also receive high cash rewards.
Like Baidu, Cao Cao Travel has embarked on the development direction of autonomous driving. On August 2, Cao Cao and Pony.ai reached a cooperation to promote the large-scale application of Robotaxi (autonomous taxi) in urban travel scenarios. . From August 3, the Robotaxi service provided by Pony.ai will be launched in the Beijing area.
Epilogue
If the travel industry can also be ranked according to seniority, Didi is the pioneer of the industry, and Didi's censorship is the "fuse" that triggered this online car-hailing melee.
According to a report released by the China Internet Network Information Center, as of December 2021, the number of online car-hailing users in my country reached 453 million, an increase of 87.33 million from December 2020. In addition, according to the statistics of the national online car-hailing supervision information platform, as of June 30, 2022, a total of 277 online car-hailing platform companies across the country have obtained online car-hailing platform business licenses, an increase of 3 from the previous month.
It can be seen that the number of users of online car-hailing has not decreased due to the censorship of Didi, but has increased significantly. At the same time, the number of online car-hailing platform companies is still increasing, and the travel industry has risen because of Didi, but it will not end because of the Didi incident.
In fact, looking back on the development history of the car-hailing industry, we always believe that the price war "fighting" is only a temporary measure, and unchecked subsidies will only give birth to the next monopoly. In the long run, this will be harmful to the demand side of online car-hailing travel. The upgrade of service experience and the improvement of operational efficiency are the magic weapon for winning industry competition.
The online car-hailing market has grown from nothing, from decentralized to centralized to decentralized. Just like the general trend of the world, it is mighty and mighty. Nowadays, the rivers and lakes of online car-hailing are still surging. As for who will be the final winner? We might as well wait and see.

This article is reproduced from: http://finance.sina.com.cn/tech/csj/2022-08-08/doc-imizirav7318495.shtml
This site is for inclusion only, and the copyright belongs to the original author.