On August 8, 2022 (Shanghai), with the theme of "A Moment We Meet", Avita Technology officially released the world's first emotional intelligent electric coupe SUV – Avita 11, and the joint limited edition model Avi Tower 011, announced the price, model configuration and rights and interests of the whole series, and opened the first batch of ten-city experience centers and experience space operations.
Tan Benhong, Chairman and CEO of Avita Technology, said: "To create a smart life beyond travel is our commitment to users! Avita 11 will take the lead in fulfilling this promise and continue to evolve."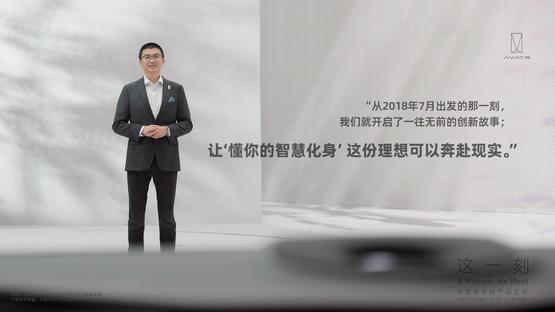 Avita 11 releases three models, leading the new track for smart electric vehicles
Avita11 National MSRP

Ultra-long battery life dual motor luxury version

409,900 yuan

Long battery life dual motor luxury version

369,900 yuan

Long battery life dual motor version

349,900 yuan
Avita 11 is the first product born in the "New Generation of Intelligent Electric Vehicle Technology Platform – CHN", which combines the advantages of Changan Automobile, Huawei, and CATL in their respective fields. The major features bring a casual and luxurious intelligent driving experience, and lead the new track of intelligent electric vehicles with strong product power.
The whole series comes standard with the Ningde era ternary lithium-ion battery pack . The long-range model has a battery capacity of 90 kWh and a cruising range (CLTC) of 555 kilometers; the ultra-long-range model has a battery capacity of 116 kWh and a cruising range (CLTC) of up to 555 kilometers. 680 kilometers, worry-free travel
The whole system comes standard with Huawei DriveOne dual-motor four-wheel drive system , with a maximum power of 425 kW and a maximum torque of 650 Nm. The acceleration time of the long-life version is only 3.98 seconds, and the acceleration time of the ultra-long battery version is only 4.5 seconds. Strong performance
The whole series adopts a 750V high-voltage platform , with a maximum charging power of 240 kW. The long-range version can be charged for 10 minutes, and the battery life can be increased by 200 kilometers. Energy replenishment is efficient and convenient.
The whole system is equipped with AVATR UST super-sensing system and AVATR UTH super-computing system as standard, equipped with 34 intelligent driving sensors, including 3 semi-solid lidars, 6 millimeter-wave radars, 12 ultrasonic radars, and 13 high-definition cameras; high-performance Computing platform, fusion perception algorithm, VRU interaction and game algorithm, with 360° full coverage fusion perception capability
The whole system is equipped with AVATR ANS intelligent pilot system . High-speed ICA intelligent cruise assistance and high-speed NCA intelligent driving navigation assistance 1 are available for free as car purchase rights. In the future, you can subscribe to urban NCA intelligent driving navigation assistance 1, 2 and urban ICA intelligent cruise assistance 2
The whole system is equipped with an intelligent parking assist system . APA automatic parking assistance and RPA remote parking 3 functions are opened for free as car purchase rights; in the future, you can subscribe to AVP valet parking1,2
The whole system comes standard with a driving safety assistance system , including 16 functions including adaptive cruise assistance, traffic light recognition, intelligent speed limit assistance, door opening warning, automatic emergency braking and various collision warnings, making driving safe and worry-free
The whole system is equipped with intelligent systems. The cockpit comes standard with a 10.25-inch full LCD instrument, a 15.6-inch suspended central control screen, a 10.25-inch co-pilot touch screen and multi-screen smart interconnection functions; standard intelligent voice interaction, emotion recognition, gesture control, fatigue monitoring , out-of-vehicle cockpit perception, mobile phone wireless charging, ultraviolet sterilization and other smart cockpit sensing functions; standard 5G communication, Wi-Fi hotspot sharing, Bluetooth connection communication functions; standard transparent chassis 3 , 360 ° high-definition panoramic image, driving Recorder, sentinel mode 3 and other environmental perception and recording functions; standard mobile phone Bluetooth key, NFC card key (supports Huawei mobile phone NFC function), intelligent welcome lights and other intelligent sensing functions. The luxury version is equipped with intelligent induction electric doors and RNC active noise reduction as standard, bringing a high-end intelligent experience
Exterior and interior options are rich, highlighting the expression of individuality. All Avita 11 series come standard with sail-type active lift tail, and the three models offer 6 colors to choose from, including 4 high-gloss colors of white, obsidian, mu red and fog green, and 2 matte colors of plain white and ink gray Light color; Wheels are available in 21-inch and 22-inch sizes, with 4 different styles to choose from. In terms of interior, the luxury version model comes standard with NAPPA leather seats , and the front seats have heating, ventilation and massage functions, and three styles of NAPPA plain black, NAPPA green gray and NAPPA burgundy red are available. In addition, all models can also be equipped with multi-function rear double multi-function seats, HALO screen and other configurations to further upgrade the honorable experience
Book Avita 11 now and enjoy limited-time car purchase privileges
Immediately after the global release, Avita 11 will be pre-ordered, and car purchases can enjoy dual benefits of limited-time rights and car owners' rights.
Time-limited car purchase rights: Customers who pay the intention fee of 5,211 yuan before October 31 and successfully become Dading will receive a personalized matching fund of 6,000 yuan and free official license service (including cost and service fee).
Owner's rights:
5 years or 120,000 km vehicle warranty (with vehicle)
8 years or 160,000 km three-power warranty (with vehicle)
10 years of free road assistance with unlimited mileage (with car)
Exclusive smart home charging pile 4 and free basic installation service 5 (with car): If the new owner is temporarily unable to install the charging pile, lifelong rights retention or one-time conversion of 3000 degrees of public charging
Free intelligent driving advanced package service (first owner): including high-speed NCA intelligent driving navigation assistance 1 , remote control parking assistance 3
Free IoV basic traffic and monthly 10G cockpit entertainment traffic (with car)
Gift brand points (E value) (first car owner)
24-hour exclusive online service (on-board): Provide exclusive communication channels for car owners, and provide full-scenario, all-weather, convenient and efficient 24-hour online professional services
Intelligent service scheduling (on-vehicle): Identify vehicle maintenance requirements and fault conditions, intelligently recommend appropriate service resources through cloud scheduling, and match the most suitable service for vehicle owners
Accident guard (on-board): If a major accident occurs in the vehicle, the E-call alarm will be automatically triggered; for minor vehicle accidents, users will be instructed to report the case online; accident vehicle maintenance, professional maintenance and full custody services will be provided
Mobile service (car-mounted): through the mobile service car, the door-to – door solution of user problems6
Co-branded limited-edition model Avita 011 is released at the same time, lock orders to enjoy exclusive benefits
Avita 011 joint limited edition
National suggested retail price of 600,000 yuan
As the opening piece of the Avita brand's fashion crossover "0" series, Avita 011 was jointly created by Matthew M. Williams and Avita Chief Design Officer Nader Faghihzadeh, which not only expresses contemporary fashion trends, but also perfectly interprets The technological interaction of emotional intelligence is limited to only 500 units in the world.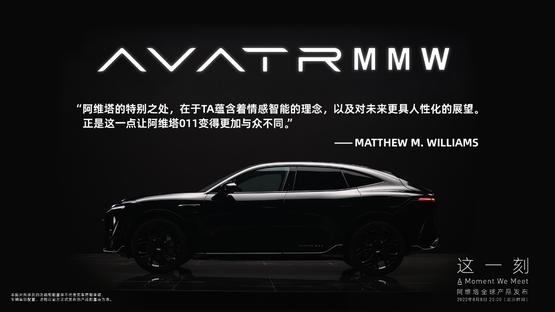 The body of Avita 011 adopts the exclusive color "light and shadow black". It comes standard with a 116 kWh ternary lithium-ion battery pack of CATL, and double seats in the rear row. It comes standard with 22-inch aluminum alloy forged wheels and a suspended car logo, and the cockpit is widely used. In addition to the high-gloss NAPPA leather with superior texture, the low-key and luxurious NUPRIMA matte leather is also applied to high-end mass-produced cars for the first time. As the unique logo of the limited edition of Avita 011 and MMW, "AVATRMMW" is also like the finishing touch, cleverly presented on the seat headrest, brake caliper, welcome pedal and boot screen and other components and interfaces.
Car buyers who pay a deposit of 9,999 yuan and successfully lock the order can enjoy the following exclusive rights on the basis of the user rights and interests of Avita 11:
3,000 kWh public charging quota per year (for the first car owner)
Complimentary intelligent driving high-end package service (with car): including high-speed NCA intelligent driving navigation assistance 1 , urban NCA intelligent driving navigation assistance 1,3 , remote parking assistance 3 , AVP valet parking 1,3
Exclusive access to Avita Zero Club benefits (first owner):

Airport VIP pass twice a year, including VIP dedicated parking lot, VIP lounge, co-organized or agency check-in, dedicated security check channel, VIP shuttle bus direct boarding, etc. Accompanying partners can share the service, and the total number of people in a single service does not exceed 11
NFT digital collection. Valid for life, specially invited trend artists to design limited paintings, use blockchain technology to make the collection irreplaceable, and make it a trend-leading car and machine avatar

Free MMW co-branded custom set of 8 sets (first owner): including MMW limited custom sunglasses case, multi-function flashlight, heated multi-function blanket, multi-function pet safety rope, foldable storage box, leather hand account notepad , carbon fiber long handle umbrella, power bank suit bag
1 set of high-quality invisible car cover (first car owner), including materials and installation fees
Complimentary Fun package (first car owner): including free private customized delivery; free agency official license including cost and handling fee; free installation of solar film, including materials and installation fees; free brand sunroof sunshade, free brand Juechen Foot mat, including trunk mat, cockpit mat, passenger compartment mat
The first batch of brand experience centers and experience spaces in ten cities were officially opened, and a high-voltage fast charging network was deployed.
The Avita 11 long-life version and Avita 011 will be delivered to users in December this year, and the Avita 11 ultra-long-life dual-motor luxury version is expected to be delivered to users in the first quarter of next year.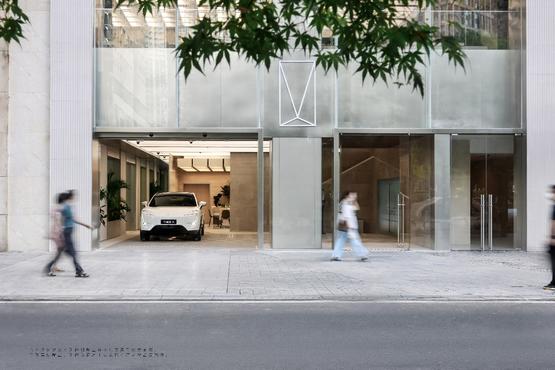 With the global release of Avita 11 and 011, the first batch of Avita experience centers and experience spaces in ten cities officially opened for business simultaneously. This year, the channel will cover 110 cities, bringing more users a real and interesting lifestyle and intimate services that know you well.
In order to truly realize the ultra-fast energy replenishment of "10 minutes of charging and 200 kilometers of battery life", Avita has signed a long-term strategic cooperation agreement with bp to jointly promote the construction of a high-voltage fast charging network. The two sides plan to build more than 100 standardized high-voltage fast charging stations in 19 cities across the country by the end of 2023. The power of a single station will reach 480 kilowatts, and the maximum power of a single gun can reach 240 kilowatts. As soon as the end of this year, users in first-tier cities such as Beijing, Shanghai and Guangzhou will enjoy the new experience brought by this efficient energy supplementation model.
Continuing to build interconnection with the public charging network is also an important way for Avita to optimize the user's energy replenishment experience. At present, Avita plans to connect nearly 200,000 public charging piles, including mainstream operators such as State Grid, China Southern Power Grid, Tecnion, and Star Charge, covering a wide range of urban business districts and all travel scenarios along expressways.
(Note 1 : It needs to be used when the national regulations allow and the high-precision map is open, and it is limited to cities with open functions; Note 2 : It is realized through subsequent OTA , and software services need to be purchased; Note 3 : After the vehicle is delivered, the function is realized through OTA upgrade; Note 4 : 7 kW or 11 kW can be connected to the Internet and can be authenticated as a smart home charging pile; Note 5 : Including 1 survey service and 40 meters of basic cable laying construction; Note 6 : Open city is regularly updated)
Disclaimer: The functions and configurations involved in this article do not represent a commitment to the actual vehicle. The actual configuration and functions of the vehicle are subject to the officially released product configuration table.
This article is reproduced from: http://www.guokr.com/article/461962/
This site is for inclusion only, and the copyright belongs to the original author.