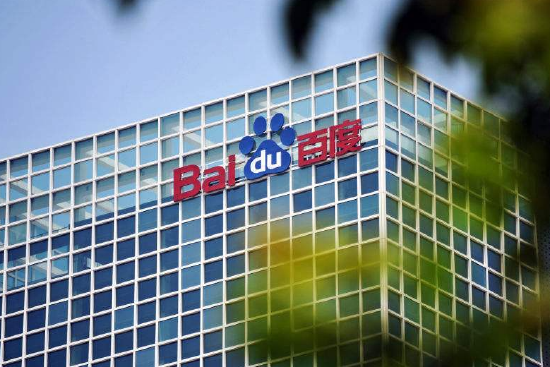 Welcome to the WeChat subscription number of "Sina Technology": techsina
Written by Wu Xianzhi and Wu Yihan
Editor | Wang Pan
On August 30, Beijing time, Baidu released financial data for the second quarter of 2022.
According to the financial report, Baidu's core revenue (excluding iQiyi) in the second quarter was 23.2 billion yuan, a slight decrease of 4% year-on-year. Due to the weak online advertising market, Baidu's advertising revenue, which is mainly based on information flow, was significantly affected in this quarter.
It should be pointed out that in the second quarter covered by this financial report, Baidu completed a business division adjustment, and there is indeed a certain shift in the data. A person familiar with the matter revealed that the rotation of the three Estaff members in May was the result of a comprehensive consideration by the core decision-making level.
On May 5th, Shen Dou, Executive Vice President of Baidu Group, was appointed as the head of the Intelligent Cloud Business Group (ACG); He Junjie was promoted to Senior Vice President of the Group and took turns to serve as the head of Baidu Mobile Ecological Business Group (MEG); Wang Haifeng Continue to serve as Group Executive Vice President and CTO, and no longer concurrently serve as the head of ACG.
MEG is Baidu's cash cow business, but due to macro influences, the growth is limited, so it is a kind of affirmation to let He Junjie come to the front desk and take over the baton. However, Shen Dou got out of the business with uncertain growth and moved to ACG, which may be a kind of protection for him. After all, ACG is Baidu's fastest growing business right now.
Obviously, the "5.5" adjustment will significantly affect the direction of Baidu's business and core executives in the next few quarters.
MEG storm eve
Baidu's revenue and profitability are determined by MEG, so the impact of online advertising revenue on the fundamentals is crucial.
In the second quarter, Baidu's online advertising revenue was 17.1 billion yuan, down 10% year-on-year, and its share of Baidu's core revenue was 74%, down from 79% in the same period last year.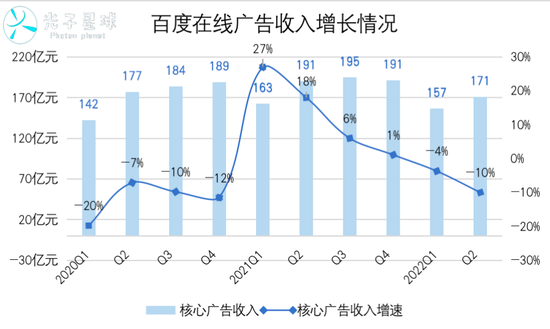 MEG, as Baidu's cash cow, feeds the two major business segments of ACG and IDG. An insider told Photon Planet earlier that Shen Dou's rotation to ACG, and He Junjie took over, is to make a drastic adjustment of the mobile ecological business group.
Shen Dou's rotation also led to local changes in Baidu's MEG business group, the most important of which is that Baidu's network disk was transferred from MEG to ACG, and business leader Ruan Yu also followed Shen Dou's rotation to ACG. It is understood that this is Shen Dou. After the rotation, the only VP taken away.
"Baidu's network disk can be placed in any business group. As a to C business, it was previously placed in MEG, but it can also be like Alibaba's 'cloud nail integration', saying that Baidu Smart Cloud needs to be integrated, and there seems to be no problem in ACG. The above-mentioned person analyzed that whether the online disk business is placed in MEG or ACG, or even in IDG, it is logically established, and ultimately it depends on where the business leader goes.
MEG is in an eventful time, and the online advertising market is under pressure. According to the "2022 Internet Advertising Market Semi-Annual Report" released by Questmobile earlier, the proportion of advertising revenue from news information and system tools is on a downward trend. No matter how talented Shen Jiu is, it is still difficult for him to cope with macro challenges.
Therefore, the transfer of Shen Jiu from MEG to ACG has a certain meaning of protection in a sense. The newly hired He Junjie does not need to be responsible for the decline of Internet advertising in Q2, not to mention that after the adjustment on 5.5, he entered the room and entered the core management team of Estaff-Baidu, which is actually a manifestation of his recognition.
MEG has already started personnel optimization at the end of last year. For example, the entire game department has been laid off, and the live broadcast business has also undergone large-scale personnel optimization. A MEG person who did not want to be named revealed that MEG may continue to cut costs to make room for other growth businesses.
During the 5.5 adjustment, He Junjie went from behind the scenes to the front of the stage and served as the head of MEG. He joined Baidu on June 5, 2019 as a vice president, responsible for the group's investment, mergers and acquisitions and strategic management. In addition to being responsible for a number of investment and mergers and acquisitions projects, he is also in charge of budget, sales, live broadcast, and concurrent posts related to MEG.
An insider told Photon Planet that He Junjie played the role of "money supervisor" after he joined the company, and also led the acquisition of YY.
Over the years, in order to seek new growth points, MEG has successively made efforts in the fields of information flow, e-commerce, and health, but failed to meet expectations. At this year's Baidu World Congress, He Junjie introduced the new concept of "one digital person per capita".
As early as the 2020 Baidu World Conference, the intelligent assistant "Du Xiaoxiao" was launched. As a product of Baidu's two core capabilities of voice interaction and AI intelligence, a lot of exploration has been made around commercialization for a period of time. Since the beginning of this year, major manufacturers have successively launched digital people, and Baidu has also launched digital people with different functions, seeking business opportunities from subdivided tracks.
Du Xiaoxiao and Wen Yaoyao are internally classified as functional digital people, backed by Wenxin's large model and AI hyper-realistic modeling, and face vertical categories and question and answer respectively. Xigaga, who appeared at the Jidu press conference before, is a digital performer who has invested more in graphics rendering.
Whether the digital people can undertake the next growth point of MEG, there are certain variables, in the current landing scene, except for e-commerce and live broadcast-advertising, it seems that there is no more stable transformation scene. However, Baidu's e-commerce and live broadcast businesses are either not large in size, or are still a certain distance from commercialization.
When Shen Dou was in charge of MEG, he proposed the "X+Y" strategy and adjusted the mobile ecological sales system around diversification. Why Junjie built a more mature framework.
Previously, Baidu's mobile ecological sales system was divided into four parts: KA (large customers), direct sales, channel distribution, and distribution agents. This sales system seems powerless to cope with the downward pressure on the industry and the increasingly subdivided environment of the industry.
After Shen Dou's adjustment, Baidu's mobile ecological sales system has changed to match the sales department with the customer industry. It is divided into four industry departments: mass consumption, big health, content consumption, and business services. The four departments of behavior analysis, industry research and other services, only the channel distribution department remains unchanged.
After the second quarter, the painful period of adjustment will also pass. He Junjie is good at investment and investment management. Whether his leadership indicates whether Baidu MEG will rely on external mergers and acquisitions to boost revenue remains to be seen.
Can the cloud and AI fill the position?
There is no doubt that ACG was Baidu's most important growth engine before the explosion of autonomous driving.
In the 2020 annual report, Baidu Smart Cloud disclosed relevant data for the first time. Last year, Baidu Smart Cloud's revenue increased to 15.1 billion yuan, a year-on-year increase of 45%. In the first quarter of this year, Baidu Smart Cloud's revenue was 4.1 billion yuan, and the growth rate was the same as last year.
In terms of growth rate, compared with the performance of Alibaba Cloud and Tencent Cloud this quarter, it is much better.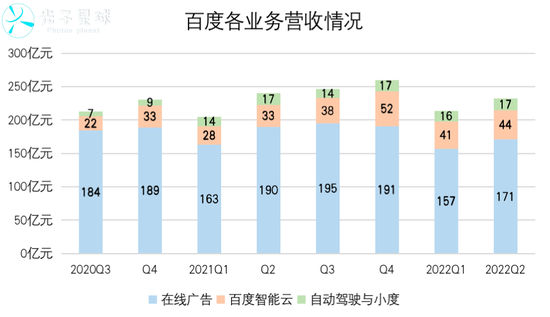 In the past eight quarters, Baidu Intelligent Cloud's revenue has grown significantly, but it has not yet become a stable profit point like Alibaba Cloud. In theory, the PaaS and SaaS layer businesses can achieve a gross profit margin of 50%-80%, but due to the fierce competition in the industry, Baidu cloud computing is still a long way from being profitable, and MEG blood transfusion is still required.
The four sectors of finance, industrial Internet, intelligent transportation, and smart city are Baidu's intelligent cloud. The financial cloud services include policy banks, six state-owned banks (China, agriculture, industry, transportation, construction, postal savings), More than ten joint-stock commercial banks, more than 30 insurance institutions, hundreds of city commercial banks, and financial institutions such as securities and asset management provide Baidu Smart Cloud with a relatively stable source of income.
In the industrial field, Baidu released Kaiwu Industrial Internet Platform 2.0 in July, covering 9 major areas including quality control, safety production, energy conservation and emission reduction, and manufacturing, and accumulated more than 200 industrial solutions. Compared with version 1.0, the industry has been expanded, thereby adding some solutions.
Intelligent transportation and smart cities are quite concerned with the ability of enterprises to G, which is a shortcoming of Internet technology companies. Baidu also has great challenges in this regard.
Compared with its peers, Baidu Cloud has always lacked C-side applications in the past, and cannot achieve "two-wheel drive" similar to Alibaba Cloud Nail Collaboration and Tencent Cloud + Qiwei. After the "5.5" adjustment, this problem was solved with Baidu's network disk being assigned to ACG.
In order to adjust MEG, Shen Dou was rotated to ACG. According to internal personnel, "Brother Dou only took away one VP", that is, Ruan Yu, the vice president of Baidu and general manager of Baidu Netdisk mentioned above. Objectively speaking, this adjustment can be regarded as an optimal solution in terms of internal power structure and business development.
From a personnel point of view, Shen Dou and Ruan Yu have continued their previous reporting relationship, which not only shows that the group has given some kind of affirmation to Shen Dou's performance in MEG, but also caused a compound reaction between Baidu Smart Cloud and Baidu Netdisk.
Baidu has an office product "Ruliu", but at present, there are almost few external customers except for the Baidu department. After Baidu's network disk is included in ACG, it finally has a national-level tool application to cut into the office scene. At the end of June, Baidu and China Internet Research Institute launched the "Tongxin Plan", claiming to help 100,000 small and medium-sized businesses to enter digitalization.
Whether the network disk is a good entry point, regardless of whether it is a good entry point, at least a to B path has been found for Baidu network disk. Relying on ACG to open the B-end market is definitely much better than being scolded and speed-limiting in the C-end market alone.
Among the core executives, Shen Dou is also the most suitable to B/G. "Most of Baidu's executives have technical skills, and the most lacking is fireworks. Brother Dou has a good alcohol capacity and good image and temperament. He is a typical son of the rivers and lakes." A person close to Shen Dou believes that Shen Dou in charge of ACG may be able to reverse the situation The passive situation when dealing with major government and enterprise customers before.
To be sure, when Shen Dou was transferred to ACG, the main task is to accelerate commercialization, which is also the area that needs to be focused on next.
Apollo commercialization accelerates
Whether MEG or ACG, Baidu's traffic responsibility is IDG (Intelligent Driving Business Group).
Due to the good macro outlook, the financial report shows that Carrot Run provided 287,000 rides to the public this quarter, a year-on-year increase of 500%. As of July 20, orders from more than ten cities across the country exceeded one million.
At the Baidu World Conference in July, Apollo RT6 gave a clear path for mass production and commercialization: deployment and mass production in 2023, operation in 65 cities in 2025, and coverage in 100 cities in 2030. This shows that in the future, the cost of Baidu's unmanned vehicles will mainly come from two aspects: safety and the whole vehicle. In theory, its Robotaxi can achieve large-scale deployment and all-weather operation, which can control the monthly cost to less than 10,000 yuan.
However, from the perspective of autonomous driving and small-scale revenue in the past few quarters, Baidu's autonomous driving business revenue does not seem to have appeared.
At present, it is obviously unrealistic to expect IDG to drive overall revenue. Baidu still needs MEG and ACG to provide strategic support for autonomous driving. Therefore, as "right-hand men", He Junjie and Shen Jiu have very clear tasks on their backs.
One must ensure that there is no significant decline in revenue now, and the other must be profitable in the short term.


(Disclaimer: This article only represents the author's point of view and does not represent the position of Sina.com.)

This article is reproduced from: http://finance.sina.com.cn/tech/csj/2022-08-31/doc-imizmscv8569226.shtml
This site is for inclusion only, and the copyright belongs to the original author.