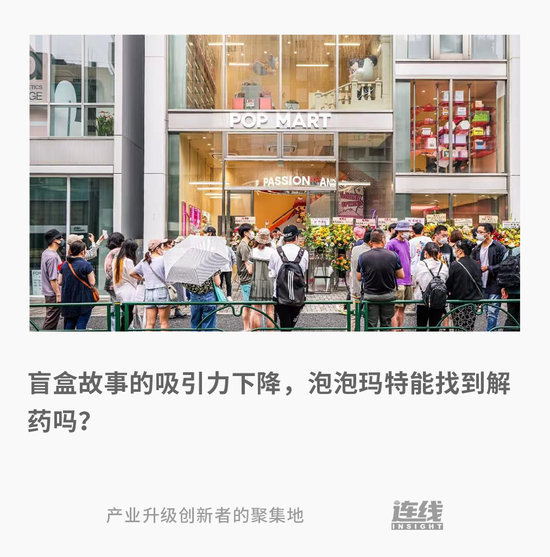 Welcome to the WeChat subscription number of "Sina Technology": techsina
Text / Zhou Yifei
Source/Connection Insight (ID: lxinsight)
Bubble Mart, who once created miracles, finally fell to the altar.
More than ten years ago, many people did not believe that the business of selling blind boxes could have a market value of 100 billion Hong Kong dollars; two years ago, many people would not believe that the market value of Bubble Mart, which achieved this miracle, would shrink by more than 100 billion Hong Kong dollars.
The stock price of this much-anticipated "Blind Box First Share" has dropped from the highest of HK$106/share after listing at the end of 2020 to below HK$20.85/share, setting a new low for listing, falling more than 80% from the high point. ; Compared with the peak market value of nearly 150 billion Hong Kong dollars, now there is only 31.9 billion Hong Kong dollars left.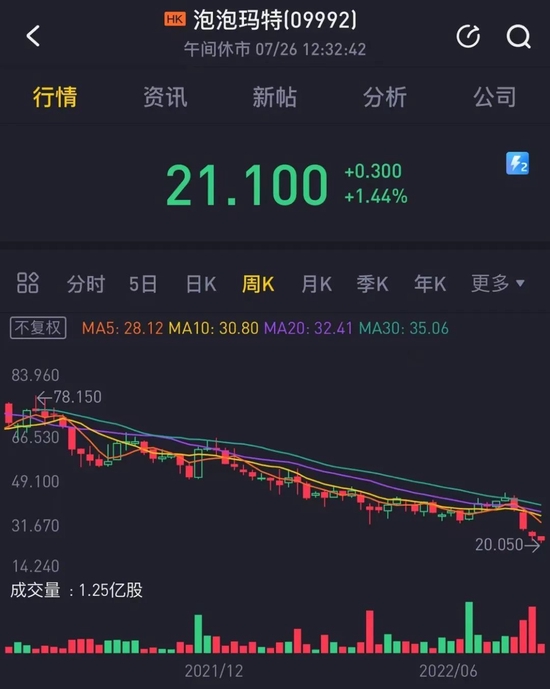 Bubble Mart's stock price trend, Tuyuan Tiger Securities
Even though Bubble Mart pushed a stock repurchase plan last week, which cost more than 320 million Hong Kong dollars for multiple repurchases, and wanted to show the outside world that Bubble Mart has firm confidence in the future through this plan, it has not stopped the downward trend of the stock price. .
Behind this is the business development difficulties and dilemmas that Bubble Mart has faced in recent years.
On July 15th, Bubble Mart released a performance forecast for the first half of 2022. It is expected that as of June 30, 2022, the growth rate of the group's revenue will drop to 30%, but the net profit will drop by nearly 35% year-on-year. This is the first time that Bubble Mart has seen a decline in net profit since its listing.
Three days later, Bubble Mart's stock price opened lower and then plummeted, hitting a record low of HK$20.85 per share. It has attracted many investors to express bitterness on social platforms, "I didn't expect that Bubble Mart, which once had the halo of 'big bull stock' and 'track stock', has fallen like this now."
The "abandonment" of Bubble Mart by the capital market is not unilaterally caused by the pressure on its performance in the first half of the year, but the attractiveness of Bubble Mart has been declining in terms of both communication and capital.
Wired Insight checked the financial reports in recent years and found that Bubble Mart's annual revenue in 2021 was 4.491 billion yuan, a year-on-year increase of 78.7%, which was higher than the 49.31% growth rate in 2020. However, if compared with the growth rate of 225.49% in 2018 and 227.19% in 2019, it has obviously dropped from triple digits to double digits, and the efficiency of making money has obviously shown a downward trend.
The decline in Bubble Mart's share price and performance is not only due to the weakness of the overall stock market, but also the possibility of de-bubbling. The opinion of a secondary investor is that "the market's expectations for Bubble Mart were too high in the early stage, and the contrast between the front and the back was too large."
The deeper reason is that the consumption power and income level expectations of young people are not as high as before, and they will naturally reduce non-rigid expenditures.
In the past year, Bubble Mart has made great efforts to tell new stories about trendy games, stories about going to sea and stories about theme parks. The products have been constantly innovating, but the rising prices and more and more quality problems have made many new and old players choose "Retreat". Its premium space in the second-hand market is also shrinking, and a large number of blind boxes have fallen below the original price.
When the capital market and consumer market gradually returned to calm, Bubble Mart tried his best to find a variety of solutions to try to get out of the predicament.
Bubble Mart, "abandoned" by the capital market
Entering July, Bubble Mart's stock price continued to float green. Who would have thought that the market value of the once "blind box first stock" would shrink by hundreds of billions of Hong Kong dollars after more than two years.
On July 15 this year, Bubble Mart fell into the dilemma of "increasing income without increasing profits" for the first time. At that time, Bubble Mart released the "Profit Warning Announcement" and announced that the company expects that the revenue growth in the first half of 2022 will be no less than 30%, and the net profit attributable to the parent will decrease by up to 35% compared with last year.
It was this performance warning that instantly became the catalyst for the rapid decline of the stock price.
On July 18, Bubble Mart once fell to HK$20.9/share during intraday trading, and then "falls and falls" all the way. Even though Bubble Mart carried out share repurchase for five consecutive days, costing more than 300 million yuan in total, to stimulate the stock price to rise, it has not changed its fatigue.
By July 25, the stock price hit a record low again, only HK$20.85 per share.
Compared with the market value of 147.2 billion Hong Kong dollars when the stock price of Bubble Mart reached 107.6 Hong Kong dollars per share when it was just listed for three months, now it only has a market value of 31.9 billion Hong Kong dollars (as of the close of July 25), which is less than a fraction of the peak period.
In this regard, the official explanation given by Bubble Mart is that the repeated epidemics in the first half of the year had a huge impact on first-tier cities, offline stores were closed, and offline logistics were limited.
However, judging from the data disclosed in the minutes of the announcement of the mid-term newspaper conference call, the epidemic situation was severe from March to May, and sales of various channels were indeed under pressure. However, the national market returned to normal in June, but the sales volume of Bubble Mart was still negative.
In addition, even if Bubble Mart is surging all the way in 2021 and its performance is impressive, it is not very popular in the capital market, so it was once said that "Bubble Mart won the market and lost the stock market". .
Behind the continuous decline of the stock price today, it reflects the decline in the growth of Bubble Mart. The historical annual report shows that from 2018 to this year, the growth rate of Bubble Mart's revenue was 225.5%, 227.2%, 49.3% and 78.66% respectively, and the growth rate of net profit was 6242.96%, 353.2%, 16.05 and 63.3% respectively.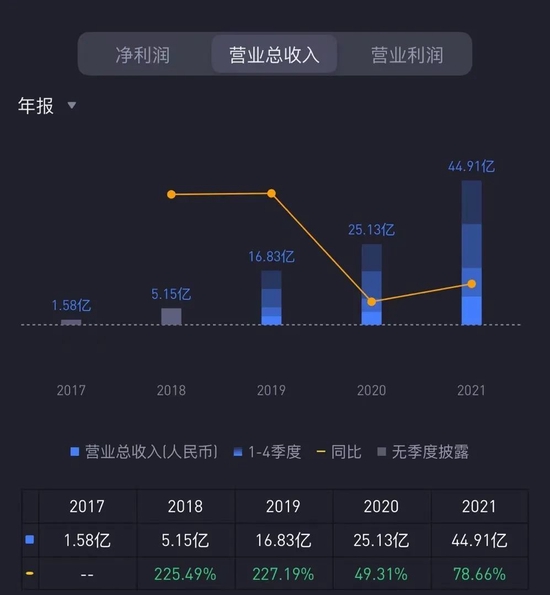 Bubble Mart's revenue growth in recent years, Tuyuan Tiger Securities
A Tier 1 investor once mentioned to Wired Insight that what capital really cares about is the future development potential of a company. Although both revenue and net profit have positive growth, from the perspective of growth rate, it has been directly cut in half. Bubble Mart's stamina is obviously much smaller.
Therefore, it is not difficult to understand why the capital market chose to "abandon" Bubble Mart. The above-mentioned investors said that, on the one hand, the characteristics of the trend culture that "come and go quickly" made Bubble Mart's early valuation too high, and now it belongs to the stage of skimming the bubble. On the other hand, as the tide play track becomes more and more crowded, the business model of "IP does not need the support of stories and values" pursued by Bubble Mart has been significantly impacted.
The operation of Bubble Mart Chaowan is mainly based on image IP, which is used for static display.
However, compared with the classic and enduring content IP, the image IP is not born out of a classic film or cartoon work, but mainly attracts consumers through design or joint name, and there is great uncertainty in terms of competition barriers and user stickiness.
The difference between the life cycle of image IP and content IP can also be reflected in the latest "Best-selling List of Media Franchise Products" launched by Wikipedia this year.
Among the world's most valuable IPtop 30 rankings, only Hello Kitt is an image IP, and the others (such as Batman, Harry Potter, etc.) are content IPs.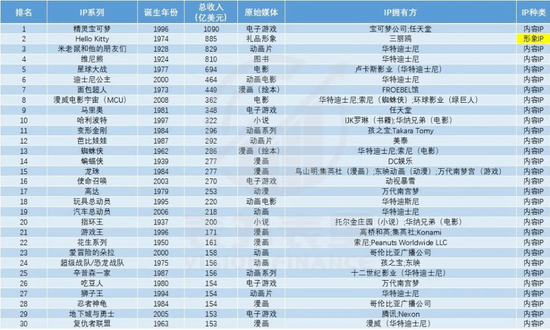 Tuyuan WiKi, Insight Data Research Institute
Therefore, Bubble Mart with image IP positioning needs to constantly introduce new products and iterate new products. However, once the new rhythm is disrupted, it will not only affect revenue, but also bring about a chain reaction of inventory overstock.
For example, in the first half of this year, the epidemic disrupted the rhythm of the old inventory, and the poor sales of new products created new inventory. But Bubble Mart can't drop prices like fast-moving consumer goods, otherwise it will be an irreversible blow to brand positioning.
Bubble Mart is also aware of this, and bluntly stated in this interim report preview conference call that in the second quarter, some more aggressive methods were used to clear inventory, including online blessing bags, etc., but in the long run, it is not a good way. The damage to products, brands and other aspects is relatively large.
The nature of capital markets is that new possibilities are always required for the target company. Bubble Mart was not abandoned by investors simply because of the decline in performance, but more because of the developability of its main business, which made capital no longer have higher hopes.
Bubble Mart, is falling out of favor
In the minds of consumers, there is no outdated "top stream", only the next "top stream". Bubble Mart is no exception.
Compared with the treacherous and ever-changing stock market, young people are concerned about whether the blind box doll drawn is the one they like. Today, Bubble Mart's IP business is increasingly challenging.
The financial report shows that self-owned products, including its own IP, exclusive IP, and non-exclusive IP, are the core revenue source of Bubble Mart.
Specifically, except for "longevity" IPs like Molly, whose hematopoietic ability is still the same, PUCKY, which was once regarded as the second largest IP, has dropped from 18.7% in 2019 to 4.1% in 2021; The fifth largest IP SATYR RORY and BOBO&COCO will no longer appear in the 2021 financial report; the old IP of YUKI will also disappear from the head queue within three years.

Comparison of independent product composition in 2021 and 2022
The new IPs SKULLPANDA and Bunny, which were listed in the 2021 financial report for the first time, have almost the same revenue share as Molly, becoming the company's second largest IP, but the latter's revenue share has not increased significantly in the past year.
Obviously, Bubble Mart is in an embarrassing stage where the old IP has insufficient vitality and it is difficult for the new IP to take the lead.
On the one hand, the IP business is difficult, and on the other hand, the product quality and after-sales service are constantly criticized by consumers.
Since April last year, the unit prices of various blind box products launched by Bubble Mart have been adjusted. For example, new series such as the new products SKULLPANDA and Yichan Little Monk were released, and the unit price rose from 59 yuan to 69 yuan, which aroused doubts from consumers at that time.
A month later, the price of a single box of the babydoll erosion series released by Bubble Mart rose to 79 yuan, and the single box of the Magic Kaka series released in October of the same year rose to 89 yuan. By January this year, the Molly steampunk animal locomotive series rose directly to 99 yuan/box.
The continuous increase in the unit price of blind box products has made it difficult for consumers to accept, but what is even more unacceptable is that the quality of products has not been improved.
"The product has serious flaws, but it cannot be replaced without the unboxing video" "The most basic spraying often has flaws, such as black spots or uneven paint, which was rare when Bubble Mart was just starting out" "Different batches of blind boxes can be painted differently"… Consumer complaints like this are not uncommon on major social platforms.
As the quality problems of Bubble Mart's products increased, players felt "more and more worthless". Searching for "Bubble Mart" on Xiaohongshu, the top three search keywords are "retreat"; the black cat complaint platform shows that the number of complaints about Bubble Mart has reached nearly 10,000, setting a new high.

Picture source black cat complaint
Consumers' desire to buy it is gradually declining, which is also reflected in the rapid dive of second-hand market prices.
Generally, blind boxes will have "hidden models". On second-hand trading platforms, the prices of "hidden models" and "hot-selling models" are even 10 times higher than the original price. Now this myth is gradually fading away from Bubble Mart.
Except for the high-end product MEGA, which was once madly fired to 15,000 yuan, the price has been cut in half, and the rest of the series of products are also being sold at reduced prices in the second-hand market. For example, Keith Haring 1000%, which was priced at 5,999 yuan and had a premium of 8,800 yuan, is now down to 5,000 yuan on second-hand platforms; Felix the cat, which was originally priced at 599 yuan, can now be purchased for around 200 yuan… Many Internet celebrity styles stop premium prices , basically lose the "speculation price" attribute.
Consumers have obviously cooled down, which is reflected in Bubble Mart's financial report that the marketing rate has increased significantly, but the overall repurchase rate has not increased positively.
From 2018 to 2021, the sales expenses of Bubble Mart have increased from 126 million yuan to 1.106 billion yuan, with a year-on-year growth rate of 75.5% in 2021. This means that the shopping desire that the blind box spontaneously stimulates consumers is gradually cooling down, and the intensity of active marketing is increasing.
It would be good if the high marketing expenses brought about a higher repurchase rate, but the fact is that the repurchase rate has not risen significantly.
The annual report shows that the repurchase rate of Bubble Mart members who rely on member purchases will be about 56.5% in 2021. In 2019, that percentage was 58%. That is to say, in the past three years, the overall trend of the repurchase rate of members has not decreased but declined.
Product complaints are on the rise, and marketing is frequently overturned… In this case, young people who are already holding their money bags will only restrain their desire to consume more.
Looking for an antidote, what is the best solution?
When Bubble Mart's "IP + blind box" style of play is no longer novel and easy to be copied, and investors have great doubts about Bubble Mart's business sustainability and business model. How will Bubble Mart seek the antidote?
The falling stock price and market value have shrunk by 80%, which is an unavoidable "pain" for Bubble Mart. Therefore, how to boost the stock price is a problem that it has been trying to solve for the past six months. Repurchases of shares have a greater probability of raising the stock price and increasing earnings per share.
Wired Insight checked the official announcements in the past three years and found that since this year, Bubble Mart has started and repeated stock repurchases.
From February 11, 2022, within two weeks, Bubble Mart has repurchased four times, with a total of 1.41 million shares repurchased. The repurchase price is between HK$37.50 and HK$39.50 per share. Even if there is a sign of boosting the market, as of the close on February 24, 2022, Bubble Mart's share price was reported at HK$37.60, a drop of 3.96%. Compared with the previous high in 2021, the market value has evaporated by about 90 billion Hong Kong dollars (about 73 billion yuan).
Three months later, Bubble Mart repurchased again for several consecutive days, accumulatively repurchasing 1,548,600 shares, and the repurchase price was between HK$27.95 and HK$29.05 per share, at a total cost of HK$44,992,400.
Until the "Profit Warning Announcement" was released this month, Bubble Mart repurchased a total of 16.728 million shares for 6 days at a total cost of 380 million yuan. This repurchase is the largest one, but it has very limited effect on the stock price. As of the close on July 25, 2022, the share price of Bubble Mart was reported at HK$20.85 per share, and the decline continued to expand.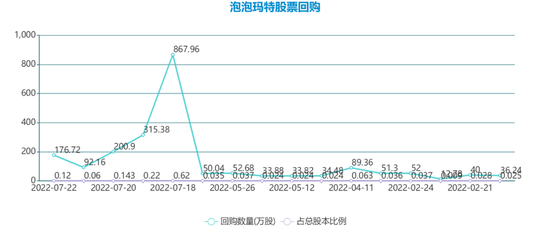 Bubble Mart's repurchase record in the past three years
Repurchase can reflect the company's good operating conditions and abundant cash flow, but it cannot be used as the main way to increase the stock price. After all, it must return to the business level.
Therefore, from going out to sea, to the launch of the "Mega" series of large-scale figures and theme parks, Bubble Mart is constantly expanding the scalability of the original IP, hoping to get rid of the reform of the blind box, through the development of IP's "film and television" and "" "Paradise" drives the second growth curve of IP.
In addition to the main business, Bubble Mart has also entered the investment circle, investing in the field of trendy consumption to deepen the layout of the pan-entertainment industry.
But as Bubble Mart's plate gets bigger and bigger, can it tell a new story?
Now that going overseas has become the consensus of Chinese enterprises, the overseas market has also become a life-saving straw for Bubble Mart, and he has given great expectations – "It is expected that this year's overseas income will reach 2-3 times of last year's, and I hope overseas income can be used in the future. 50% of the overall revenue."
But can it be localized in the western countries that it plans to expand into? Can you find competitive barriers in the competition of foreign top IPs and domestic overseas peers? Bubble Mart's prospects in overseas markets are not yet judged.
Since the first overseas direct store opened in Seoul, South Korea in September 2020, Bubble Mart has opened more than 20 offline stores overseas. DesignerCon, etc., to deepen its brand power in overseas markets.
But Chaowan was first born overseas. Art toys were initially popular among niche groups in Japan and the United States. Therefore, Chinese trendy toy brands are more likely to be tested by mature markets when they go overseas.
One of the biggest problems that Bubble Mart faces when going overseas is localization, that is, how to integrate with local IP, adapt to cultural differences in different countries, and whether it can obtain more overseas IP authorization, costs and other uncertain challenges.
Therefore, judging from the current contribution of less than 10% of overseas sales, Bubble Mart will undoubtedly have a long way to go to solve difficulties by going overseas.
While Bubble Mart develops its overseas business vertically, it is also horizontally cross-border theme parks.
He once said that he would not be Disney's Bubble Mart, but he still embarked on the same path as Disney. At the beginning of this year, Bubble Mart and Beijing Chaoyang Park began to cooperate to build a theme park. It was mentioned in the conference call of the performance forecast that the project has entered the design stage, with an overall investment of 270-300 million.
However, unlike Disney's commercialization path, Bubble Mart has always focused on image IP, which has led to the opposite growth trajectory of the former. However, Hong Kong Disneyland achieved its first profit after seven consecutive years of losses. Bubble Mart still needs to make huge up-front investments and a long-term return cycle.
Both the overseas business and theme parks could not achieve high growth figures in the short term. Bubble Mart tried to boost revenue by raising prices.
At the beginning of June last year, Bubble Mart launched the MEGA collection series, focusing on 400% (28 cm) and 1000% (70 cm) big babies, extending the product's tentacles to the high-end market, aiming to create the "first among young people in China". Collectibles", transitioning blind box toys to the level of art collections.
Establishing a new IP pool in this way will not harm the original ecology, but also further snatch the market and dilute the blind box label.
However, the collectible baby market represented by MEGA is not a complete blank in China. KAWS, [email protected] building block bears, etc., have long been the "old veterans" in this field. Whether it is awareness, popularity or premium in the secondary market, it is relatively higher.
In order for the new player Bubble Mart to really get a piece of the pie, he needs to complete the transition from the blind box to the trendy collection. For example, improving the match between high-end audiences and traditional blind box consumers, increasing the luxury level of co-branded brands, etc. Obviously, Bubble Mart needs more time to slowly build a product matrix and make high barriers.
In addition, for enterprises, especially consumer enterprises, investment is also a weapon to "strengthen business" and "fight involution". Bubble Mart is no exception.
Although the tide play market is huge, the involution is becoming more and more serious. It is undoubtedly the most convenient way to continue to increase the moat of its own brand with investment.
So last year, Bubble Mart frantically invested in companies such as Cat Galaxy, Two Point Ten, Thirteen More, Solestage, and Mumu Art Museum, extending its tentacles to pan-entertainment fields such as trendy brands, exhibition animation, and Hanfu. In addition, a special investment company was established.
Looking at the overall layout of Bubble Mart, it not only wants to consolidate its position in the cultural industry through investment, but also wants to further extend the value of its main business through theme parks, high-end and IP going overseas.
However, these routes all take time to cultivate and break through, and the patience of the capital market and consumers is limited. Bubble Mart still needs to find "near water" to quench their thirst.

This article is reproduced from: http://finance.sina.com.cn/tech/csj/2022-07-26/doc-imizirav5480143.shtml
This site is for inclusion only, and the copyright belongs to the original author.